Roundabout at Studio 54's Sondheim on Sondheim not only brings the master composer back to Bway and is his [sort of] onstage Bway debut but also marks the return of a list of long-time favs.
Welcome back Tony winner Barbara Cook, after an absence of 37 years*; Tony nom Vanessa Williams; and Euan Morton, returning after an absence of some three and a half years. Of course, it's always good to have Tom Wopat, Norm Lewis, and Leslie Kritzer back. Even though they've not been missing that long, welcome back Erin Mackey and Matthew Scott.
[*Actually, you could reduce that to about eight years since Miss Cook, one of the greatest interpreters of. Sondheim's work received a 2002 Tony nom for Best Theatrical Event for her solo, limited Beaumont engagement of Mostly Sondheim.]
And, as is always the case, no matter how often, welcome back Sondheim.
Ben Brantley in his NYTimes review wrote, "In the world of American musicals he is indisputably the best, brightest and most influential talent to emerge during the last half-century. Even when his shows have been commercial flops, they are studied, revered and eventually reincarnated to critical hosannas. No other songwriter to date has challenged his eminence, and it seems unlikely that anyone will in his lifetime. It is even possible, if sadly so, that he may be remembered as the last of the giants in a genre that flourished in the 20th century and wilted in the 21st."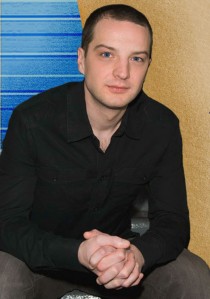 The cast performs new arrangements by David Loud of more than 45 songs [some complete, some with only a verse or a few lines; some cut from shows] from the Stephen Sondheim songbook in the multimedia production, conceived and directed by James Lapine. The director has a long association with the composer beginning with Sunday in the Park...[1984], then Into the Woods [1987], Passion [1994], and four revivals.
Morton performs "Franklin Shepherd, Inc." and "Opening Doors" from Merrily We Roll Along; and duets with Miss Cook on "Beautiful" from Sunday in the Park... In addition, he and the other cast members provide harmony for other solos and are featured in ensemble numbers.
The composer is often blunt assessing his early life in a dysfunctional family in video segments. It wasn't always everything's coming up roses, comedy tonight, or happily ever after. Some incidents in his life give you a window into the man who wrote such bittersweet songs as "Being Alive," "Losing My Mind," "Opening Doors," "Not A Day Goes By," "Is This What You Call Love?" and "Send in the Clowns."
Sondheim on Sondheim marks the sixth Sondheim musical produced by Roundabout*, which in 2005 honored the composer with the Jason Robards Award for Excellence in Theater.
[* Company (1995), Follies (2001), Assassins (2004), Pacific Overtures (2004), Sunday in the Park... (2008)]
When Morton got the call to audition, he drove up from Virgina, where he maintains a home with his family and where he was doing the Signature Sings concert series with Nastascia Diaz at Arlington's Signature Theatre. "The audition didn't seem to go well," he says, "but you never know. So I got back in the car and was returning to Washington. My phone rang, and I pulled over. It was my agent. He told me, 'You have the part.' I couldn't believe it. I cannot tell you how elated I was. I couldn't drive. I just sat there."
"Stephen has been in a very nice place," he states during a light supper break at Restaurant Row's Da Rosina. "Everyone has celebrated his birthday, a theatre is being named in his honor, and he is very happy with our show. It's a fantastic tribute to him. It's a Stephen Sondheim Year!"
He says he's working with the very best: he cannot sing the praises of Miss Cook [nor can she stop singing his]; Williams, and "the, oh, so laid back" Tom Wopat "who just opens his mouths and delivers an amazing sound. Wait till you hear him sing 'Finishing the Hat.'"
Morton has simply fallen madly in love with Cook. "She's 83. Three years older than Sondheim, and she's stunning. And the voice. Simply exquisite. Vocally, you can't help but marvel at how she sounds. Barbara hasn't done this kind of job - eight shows a week, in a long time. Over three decades. She was concerned. Early on, I told her I was nervous, not so much about the show but the fact that I'd been away three-and-a half years. And she admitted she was worried about her physical stamina."
He brought up the mythological powers of "Doctor Theater" and how it cures all that ails you as soon as you go out onstage. "You become another person. That's partly why most actors do what they do. You have to have quite a few ailments to want to become an actor in the first place. What's so wonderful about stepping onstage is that you can have a crappy day or you can be a cripple - physical or mental, is that there's a live audience whether it be a tiny black box or a Studio 54 and the energy just takes over and you flow with it. It's an emotional reaction. Everything you do is influenced by the audience."
Young Scotsman Euan Morton made a memorable Bway debut, earning Tony, Drama Desk and Outer Critics noms, on reprising the role of Boy George in Taboo, which had earned him an Olivier nom. "Rosie [O'Donnell], bless her heart, is a Boy George fan and really loved the show. She's got balls! How many people I'm going to throw $16-million into something I believe in? There are a lot of people around who have money. God knows where they get it from, but there aren't that many that put up the entire capitalization of a musical.

"It scared me how much money Rosie was spending. There was a kimono that I wore that cost $27,000! It was flown to India to be hand-beaded. I wore it for seven-and-a-half seconds. That was when I realized what a blast it was to be on Broadway! I came to this country on the back of those kinds of financial deals. I thought, 'My God, I've made it!' Little did I know that it was just like back home, and bloody hard making it. I was in Taboo for three years before we came to Broadway. I was resting on my laurels before I even got here."
He observed that Boy George "lived in a squat. The kimono he wore, he stole from Boots [a local pharmacy] and was probably worth no more than $10."
O'Donnell tried everything to keep it going, he states, "but we closed after three months. I'm amazed at the number of people who tell me, 'Oh, you were wonderful in Taboo' or 'I was a big fan of Taboo's.' If all of them had seen it, we'd still be running."
He explains that Taboo was one of those shows that was definitely ahead of the curve. "In five to eight years, it will come back. Not necessarily on Broadway. Maybe it shouldn't. Maybe it shouldn't have been there in the first place. It would have been a great downtown Avenue Qesque thing. I think had Joe Papp been around, it could have had a run at the Public."
The lights went out, and Euan Morton seemingly disappeared.
Following the early closing of Taboo, Morton found himself between a rock and a hard place. Because he had come over on a special Equity waiver to do Taboo, 'I wasn't legally allowed to work, so I became a tourist. Career-wise, it was harmful for a while. It's a strike-while-the iron is hot business." Months went by until he was able to solve his problem. "I literally had to start over."
Looking back on the experience, he says he has no regrets. "In the three years before Sondheim on Sondheim, I've learned how to work hard. My work ethic has gotten better, along with my accent."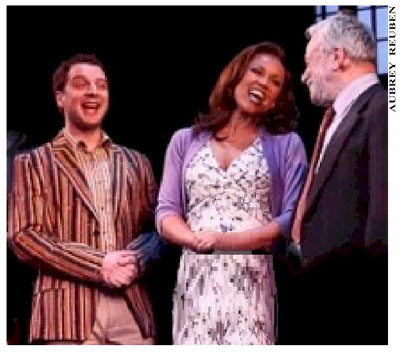 Morton observes that with the possible exception of Miss Cook, no one in the cast is someone you would associate with singing Sondheim. "You would expect Bernadette, Raul, Brian Stokes, and, oh my, Elaine Stritch! - not Euan Morton and Tom Wopat. So I admire James for doing something different."
It was a little scary. "I kept asking myself, 'Can I live up to what Mandy Patkin has done?
Can I live up to what Raul has done? There were some big shoes to fill."

The quality he admires the most about Lapine is that "he wants and loves to take risks. He likes to challenge himself as well as others. He cracked me up at rehearsal one day when he told us, 'There are two words I don't use: journey and cute.'"
Of Miss Cook, he states, "She's truly amazing. A national treasure. The light never leaves Barbara's eyes. On and offstage, she's got that cheesy Tinkerbell twinkle. And what a wicked sense of humor! You should hear some of the jokes she tells. Barbara so understands audiences. You pride yourself on wanting to be good for audiences."
Speaking of Williams, he says he's been most impressed that "she's so genuine, sweet and considerate. She brims with talent. No movie star diva there. Several times she's told us how excited she is to be back involved in theater."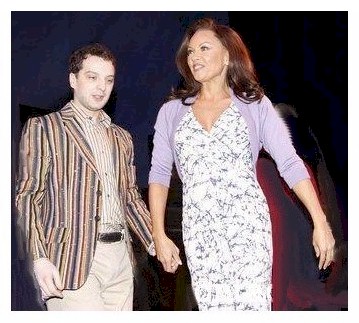 In SOS, Morton states that it's the first time he's allowed to go onstage and basically play himself. "It's a revue; and even though we have some book scenes, it's not such complicated and involved work. The songs have come down from those who undertook that. Now, we just go out and be us. It's quite a different experience."
He explains everyone has some big moments. "James has created an ensemble show. Barbara and Tom sing backup for Vanessa," he points out. "We switch around a lot. Then, on 'Happiness' [from Passion], we all sing."
He felt very relaxed singing Sondheim by the time rehearsals began. In his Signature concerts, he'd been doing the composers' songs. He started doing Sondheim when he was 19 in drama school and playing Old Ben in Follies "but I had very little life and musical experience, so I really didn't understand Sondheim. I didn't get it. I came from a little Scottish town. The year before, I was given "Finishing the Hat" [Sunday in the Park...] to do in a concert, and I was so petrified I gave it back to my teacher and pleaded to have something easy."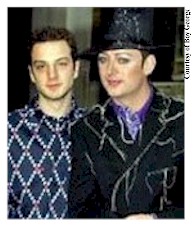 That fear eventually fell away as he got older. "When the casting director called and suggested I audition, my first thought was 'Me? Sondheim?' Then I thought: 'Broadway, Sondheim, Lapine. Barbara Cook. Broadway. Why not? I should go for this.' The fact that I'd just done Into the Woods [Kansas City Rep, directed by Moisés Kaufman] made going forward a lot easier."

After his audition, he stayed the night, got a call back for the next morning and then got back in his car to head to D.C. "I kept thinking, 'I didn't do well in the call back.' I was really annoyed with myself. I felt like I should hit myself over the head." And then came the call. "I don't mind telling you, I cried."
"But there was a bit of trepidation singing Sondheim, where every lyric, every phrase has to be exact, for Sondheim," he admits. "I haven't worked this hard in my life. I was fortunate to have a session with Stephen. He paid me a visit after a couple of rehearsals and told me to make sure I sing his lyrics, not substitute something. All those tunes are his babies, and he cares.
"Stephen's an artist," he continues, "and to some degree he has issues that celebrity brings - for instance, people who might recognize him in his doctor's office and ask what's the matter, or come up to him while he trying to eat to do chitchat -and the baggage all successful artists carry."
Morton is hoping that the show, "with such a great cast and such a commercial title," will do so well that it might move to a Broadway house. The Studio 54 engagement runs through June 13, but could extend into July. However, if the show extends, Morton may not be able to join the cast. He's set to trade in his Scottish brogue for a Russian accent to play Anatoly in Arlington, VA [where he maintains a home] in the award-winning Signature Theatre's production of Chess, which has a score close to his heart.
"When I was nine years old," he states, "I was singing all the songs from the score. Tim [Rice]'s lyrics are so poignant. Growing up, my Mom and I knew all the Abba songs and we were always singing around the house."
Eric Schaeffer [Million Dollar Quartet; and Signature's A.D. and co-founder] will direct. "One of Eric's talents that doesn't get talked about," Morton observes, "is that he's a great dramaturg, so I know he'll do a great job with the book."
Ellis Nassour is an international media journalist, and author of Honky Tonk Angel: The Intimate Story of Patsy Cline, which he has adapted into a musical for the stage. Visit www.patsyclinehta.com.

He can be reached at [email protected]





Why are you looking all the way down here?
For more articles by Ellis Nassour, click the links below!

Previous: Cirque du Soleil's OVO Has Brazilian Flair; Deborah Colker; CduS's Banana Spheel Slips Into Town; Announcing the Tony Nominations; Zero Hour Extends; A Starry Career Transition Gala; Benefits; New to DVD

Next: Openings, Nominations, Soon the Awards; Enron's Stephen Kunken and Playwright Lucy Prebble; Christmas Comes a Little Early This Year; Mr. Frank Comes to New York; Bette, Constantine, and Diana Find It Easy Going Green

Or go to the Archives