The season has come to an end. The mad April scramble to open shows before the season cutoff is over. Noms are pouring in from every imaginable corner. The Tony Award noms will be announced on Tuesday, and Drama Desk's on Monday. The Awards -- Outer Critics, NYDrama Critics, and the DD -- will soon follow. The Tonys, Bway's ultimate honors, are June 13 and will be telecast live in a three-hour spectacular event from Radio City Music Hall on CBS.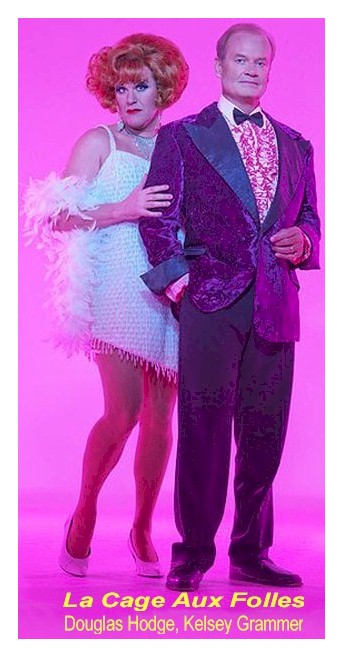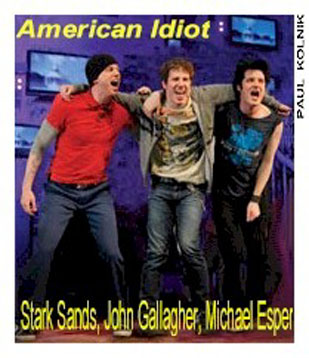 Since April 18, eight shows* opened - some so close together, first nighters didn't even have time to have their black tie finest dry-cleaned; with a number of others doing the same a week or two earlier.
[*La Cage Aux Folles - April 18; American Idiot, April 20; Sondheim on Sondheim, April 22; Promises, Promises, April 25; Fences, April 26, Enron, April 27; Collected Stories, April 28; and Everyday Rapture, April 29.]
When the season's shows were announced, the huge roster of Bway and Off Bway attractions puzzled many especially in light of the economic downturn and drop in tourism. It wasn't so foolhardy, after all. In spite of short-lived engagements of the Brighton Beach Memoirs revival, the revue All About Me, the eagerly-anticipated revivals of Finian's Rainbow and Ragtime and ever escalating ticket prices, there's been record-breaking theater attendance.


They're Not Fenced In
Oscar winner Denzel Washington and Oscar nom Viola Davis give such blistering performances in the Fences revival that they can proudly rest their portrayals of Troy and Rose Maxson next to the memorable and Tony-winning turns of James Earl Jones and Mary Alice in August Wilson's monumental 1987 Pulitzer Prize and Tony winning drama.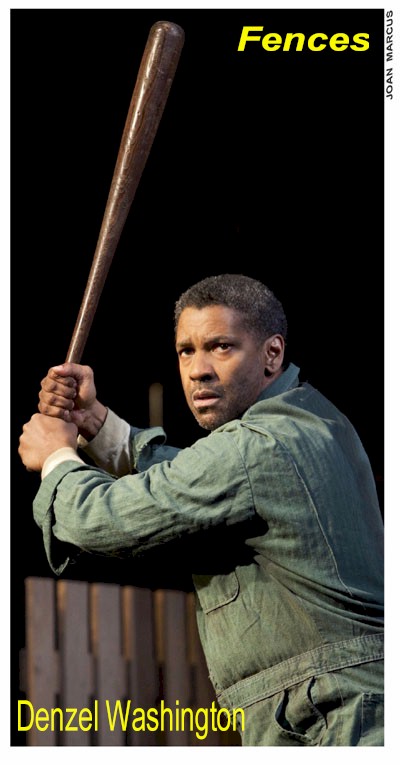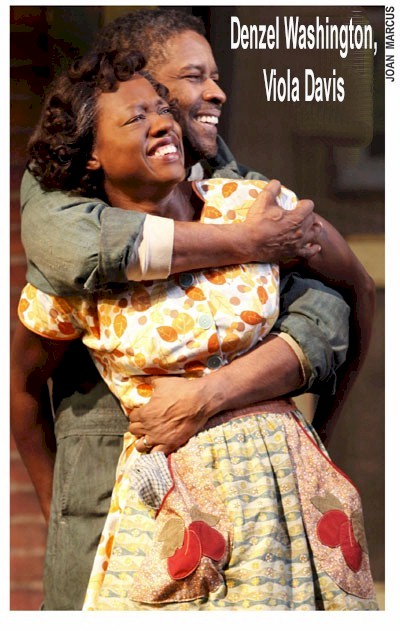 Several colleagues commented on the fact that they didn't remember so much humor in Act One of this intimate portrait of a black family on the brink of change in 1957 Pittsburgh.
A couple of reasons came to mind: Maybe director Kenny Leon [A Raisin in the Sun has Washington and co-star Stephen McKinley Henderson ratcheting up the humor element; then, too, with 500% more African-Americans now attending theater than nearly a quarter century ago, they may find humor where tried and true, jaded [okay: white] theatergoers don't.
Certainly, some black audience members make their feelings known. They're, shall we say, more vocal than more laid back [okay: white] audience members - every once in a while making a loud comment on the proceedings, akin to shouting "Amen!" in church,
Act One certainly has moments of high comedy, especially with Troy's boasting of his exploits. It only takes a moment for Act Two to take off like an Olympic skier out of the gate and dangerously racing to a climax. It's here Davis really comes into her own, as she reacts to the news that Troy has fathered a child out of wedlock.
Chris Chalk [Ruined] as son Cory and former Soul Train dancer and always watchable Mykelti Williamson [1995's Distant Fires, L.A. Theatre Critics Ensemble Award; film, Forrest Gump; TV, 24] also give outstanding performances.

The Art of Greed
The acclaimed London production of Lucy Prebble's Enron, a docudrama using song, movement, projections, and raptor costumes, tells the story of the collapse of the once fabled energy giant in a most unconventional way.
While still running on the West End, the play opened here with an American cast: Tony winner Norbert Leo Butz, Tony nom Gregory Itzin [The Kentucky Cycle; President Logan, TV's 24, The Mentalist], Stephen Kunken [Our Town, Rock 'n Roll, Frost/Nixon, Festen] and Tony/Olivier nom Marin Mazzie [Kiss Me Kate, Ragtime, Passion] play wrongdoers at the top of the Enron foodchain. Rupert Goold [Macbeth, starring Patrick Stewart], whose Headlong Theatre commissioned the work, continues as director.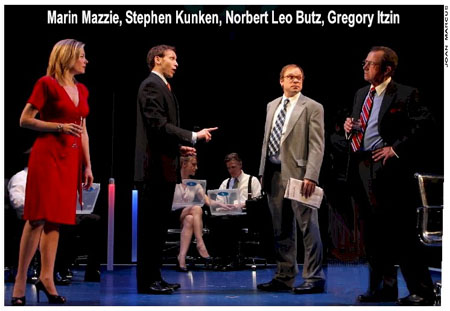 Kunken portrays Andy Fastow, Enron's chief financial officer who charts a slide into near dementia, albeit with ingenuity. As the company swallows up smaller companies and becomes to go-to stock for investors, Fastow is the one who finds the "sure-fire" way out of the depths of debt.
"Some have found it strange that an English writer decided to take on Enron's epic rise and equally epic fall," related Kunken, at Sardi's in a break from rehearsals across the street at the Broadhurst. "Lucy really did her research. What impressed all of us, as was my experience in Frost/Nixon [where he played Jim Reston], was that like [playwright] Peter Morgan and [director] Michael Grandage, Lucy and [director] Rupert [Goold] really invested in the American cast. They didn't just take us for granted."
Since the play is about such a famous American scandal, he says Prebble and Goold were interested in cast members' take far beyond the British sensibilities, especially regarding the language and if it had punch to it.
"We were not only quite open," he laughs. "It was a matter of try and stop us. Sometimes we would discuss something as simple as sentence structure, the rhythm of a bit of dialogue, or a British spin of an Americanism."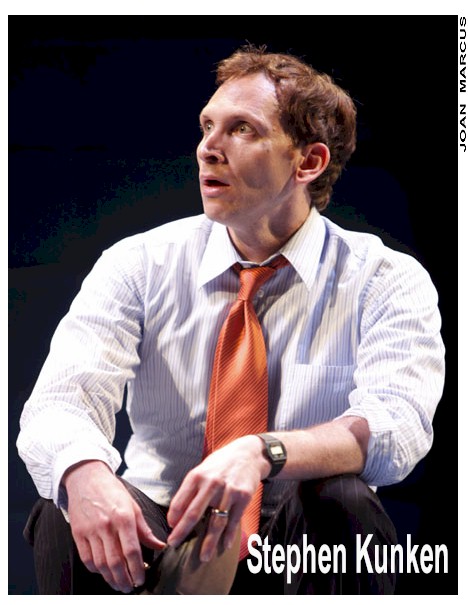 Regarding the latter, he, Butz, Itzin, and Mazzie gave input on our colloquial way of saying things. "They listened to our feedback," Kunken points out, "and tweaked some things."
He relates that the Brits didn't necessarily know the U.S. part of the story; and Americans didn't know the U.K. part. "On each side, there was much new information to be revealed."
Enron couldn't have opened on Bway at a more apt time. Americans are fed up with all manner of financial world shenanagians and if the headlines aren't screaming about Madeoff and the allegedly dirty doings at Lehman Brothers, it's Goldman Sachs.
Kunken notes that he plays "the good guy who becomes the bad guy. Andy got away with what he was doing for much too long. Interestingly, he may be out of prison next year. So much of investing is built on faith - the company's track record, who's running the comapny. Enron and so many businesses create this idea of groupthink. The bubble is built around spin, but when the bubble bursts, all the spin goes away. It was all perception."
Enron's amazing growth was in the end built on spin. Investors across the board had faith in the company, beleived what Lay was saying. Those who believed, worked there, and invested got really stung and literally lost everything.
Fastow did turn out to be less of a bad guy than the others, explains Kunken. "Some of the money people got back was because Andy, to save his skin, cut a plea bargain and gave back a lot of the $45-million he stashed making those wild deals."
He went on to say, "The Enron fiasco was sort of the first drip in the bucket, but everyday we're reading stories that have that bucket overflowing. There were so many lessons on greed in what was exposed at Enron, but no one seems to be learning from them.
"A lot of the financially-creative things Lucy has Andy doing," he continues, "such as his innovative way of creating numbers, often from thin air, are still being done. It goes on and on and on."
However, the real Fastow, Jeffrey Skilling [the Enron CEO convicted of 19 counts of fraud, conspiracy and insider trading], Kenneth Lay [Enron's ultra-religious chairman and original CEO], and Rebecca Mark, head of Enron's International division [the one top tier executive who wasn't indicted in the scandal; so in Enron, mainly because of certain liberties Prebble took, she's fictitiously-named Claudia Roe and played by Mazzie] didn't have what Tessie Tura, Mazeppa, and Electra so eloquently sung of in Gypsy: a gimmick.
Fastow/Kunken's is a whopper: vicious, red-eyed, miniature dinosaur-like creatures called raptors, who devour, at least in company ledgers, Enron's ever-mounting debt through shell companies.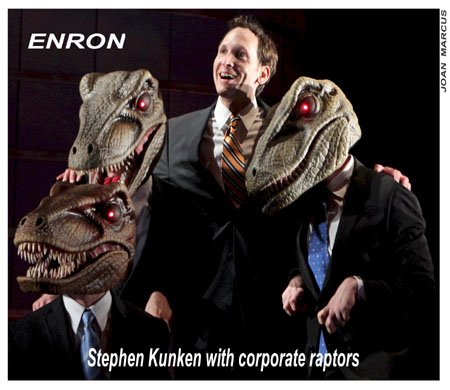 Ben Brantely, in the NYTimes, wrote, "Come to think of it, it's Fastow's relationship with the raptors, not Skilling, that is the show's most fascinating. The vision of Fastow -- a necktie wrapped around his head -- and his raptors in his inner sanctum, just before Enron goes boom, brings to mind a war-warped, jungle-fevered character out of Apocalypse Now or The Deer Hunter. It's a hilarious, scary image and ... suggests the real heart of darkness meant to be beating at its center."
Kunken said that as an actor, "being in Frost/Nixon, working with Peter and sitting between Frank [Langella] and Michael [Sheen] as they bounced their energy around was akin to a master class. It's that way again with Norbert and Rupert."
What's most interesting about Enron, he explains, "is that even though a majority of our audiences know all the ins and outs of what happened at Enron, perhaps because they were heavily invested and lost everything, Lucy's play still has a lot of thriller elements. You know the ultimate outcome, yet it's still edge-of-the-seat entertainment.
After auditioning for Goold, Kunken didn't know how long the process of a Bway transfer would take. "I was fortunate to have stepped into the Off Bway revival of Our Town [directed by David Cromer], which I loved. It was a fantastic company to work with, a kinder, gentler world than the one I'm in now!"

Lucy Prebble
Playwright Prebble, about to turn 30, says she didn't want to write a conventional docudrama about how tangled finances, superegos, and greed brought down an American energy giant. "I collaborated with Rupert [Goold, an associate director at the Royal Shakespeare as well as Headlong's A.D.] to shape a hyper-theatrical event."
The idea was not to proceed gently down the garden path. Goold took off running, with songs, dance, multimedia, surreal images and stylized action [for instance, homages to Jurassic Park and countless dinosaur flicks and Star Wars] and wrapped them around the dark, dank, often menancing subterranean world of Enron's downfall.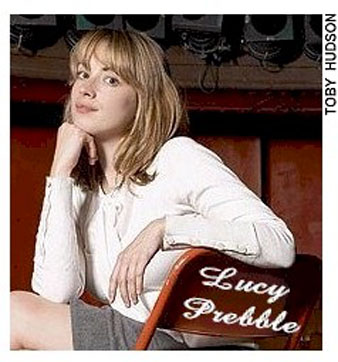 Prebble, now famous as the adaptor of Secret Diary of a Call Girl from a London escort's book of blog postings, grew up in Surrey. Her brother and sister are management consultants, her father works for a software company, and her mother is a state school teacher.
So where did her spin on Enron come from? "The workplace, where most of us spend most of their lives, is quite under-represented in theater," she says, "so it was a road-not-taken. I often think what would have happened if I'd entered that world since I've always found it hard to reconcile the idea of social responsibility with corporate, libertarian perspectives."
She surrounded herself with endless research about Enron and energy companies and contacted many of the people involved, "but not the principal players because some are in prison and one [Kenneth Lay] is dead. I decided there's no point in writing a drama where you condemn everybody and say, 'Isn't making money bad.' The delusion that goes on in all of us is what makes it fascinating."
The one rule she kept in mind was Do No Bore. "Financial trading floors are actually the most theatrical places. Though Enron is about numbers and economics, I thought, 'Let's do it with lots of swearing, hypermasculinity, motorbikes and lightsabers."

Only 238 Days 'Til Christmas
The Radio City Christmas Spectacular kicks off the 2010 holiday a bit early with the Music Hall's first-ever open house tomorrow from Noon to 3 P.M. in the spectacular Art Deco grand foyer and grand lounge. It's free, and you can win prizes, such as a "Holiday Fly-Away," have photos taken with the world-famous Radio City Rockettes, and try on costumes.
If you arrive early, you'll catch Rockette dance classes with aspiring dancers from tri-state area schools from 10 A.M. to Noon.
Tickets for the Radio City Christmas Spectacular, November 5 - December 30, are now onsale, with some bargains for early birds. For more information visit radiocitychristmas.com or our Facebook page at www.facebook.com/radiocitychristmas.

Lotsa Talk
The Temperamentals post performance TalkOUT Mondays series continues at New World Stages this Monday with Massachusetts Representative Barney Frank, recently named #2 in Out magazine's Power 50, an annual guide to America's influential gays.
The outspoken Frank has been in Congress since 1981. In 1987, he became the second openly gay member of the House. Frank chairs the powerful Financial Services Committee. Previously, he was a MA State Representative and an assistant to the mayor of Boston.
Beginning Monday, May 10, when Urie will host TalkOUT guest Cheyenne Jackson, a new performance schedule goes into effect with an addition of a Wednesday 8 P.M. performance and no Saturday matinee.
The Temperamentals stars Thomas Jay Ryan as U.S. Communist sympathizer and gay activist Harry Hay, and Michael Urie as trendsetting Viennese couture designer Rudi Gernreich. The story of their rocky relationship is set against the founding of the Mattachine Society. Jonathan Silverstein is the director.
The play received two Lortel nominations, Outstanding Play and Outstanding Lead Actor [Urie]; a Drama League nomination for Distinguished Performance [Urie]; and OCC noms for Outstanding New Off-Broadway Play and the John Gassner Award [Morans].
Upcoming TalkOUT guests include Charles Busch, Terrence McNally, former NJ governor Jim McGreevey, producer Daryl Roth, and political activist David Rothenberg [Fortune Society, WBAI Radio]. For the full lineup of guests and more information, visit www.thetemperamentals.com.

Going Green Today
"Let us try,
Before we die,
To make some sense of life.
We're neither pure, nor wise, nor good
We'll do the best we know.
We'll build our house and chop our wood
And make our garden grow..."
-- Candide, Lyrics by Richard Wilbur, John La Touche, and Dorothy Parker



Recording legend, film star, and proud New Yorker Bette Midler, American Idol top-tier finalists Constantine Maroulis, co-star of Rock of Ages, and Diana DeGarmo, now co-staring in Hair, are taking Going Green seriously.
The New York Restoration Project, launched in 2007 by Midler as a project very near and dear to her heart, celebrates Arbor Day this morning with the New York City Department of Parks and Recreation and 100 MillionTreesNYC corporate volunteers [from Home Depot, Toyota and BNP Paribas] planting trees in Bedford-Stuyvesant.
The planting will begin at 10:15 and continuue into early afternoon. There'll be remarks by Midler and Parks Commissioner Adrian Benepe at 12:45. Performances from Hair and Rock of Ages will be at 1:15. The location is the Atlantic Plaza Towers, 249 Thomas Boyland Street, Brooklyn, at Rockaway Avenue [best public transport option is the C train].
MillionTreesNYC is an innovative, public-private initiative between NYRP and the City of New York through which one million new trees will be planted and cared for across the five boroughs by 2017.
Ellis Nassour is an international media journalist, and author of Honky Tonk Angel: The Intimate Story of Patsy Cline, which he has adapted into a musical for the stage. Visit www.patsyclinehta.com.

He can be reached at [email protected]





Why are you looking all the way down here?
For more articles by Ellis Nassour, click the links below!

Previous: Euan Morton Sings the Praises of Sondheim and the Sondheim on Sondheim Cast

Next: Patti LuPone Hosts Sunday's Drama Desk Awards; A Starry, Starry Season; Tovah Feldshuh, Sherman Brothers Honored; Broadway By the Year Season Finale

Or go to the Archives