~ ~ March 11, 1983. A small makeshift theater at Michael Bennett's Studios at 890 Broadway. Potential investors are at the workshop of a new musical. If enough of them believe in what they see, the show will wend its way to Broadway.

But confidence is not instilled by the show's bookwriter-lyricist who
shakily walks to center stage. Perhaps he's just worried that he might slip on the sheet of plastic that covers much of the floor.
Dance a Little Closer
will have some ice-skating in it, and at least today, that plastic will have to pass for ice.

The writer has on his trademark white gloves. He often wears them to hide his inveterate biting of nails, which he often devours down to the quick. The gloves, though, can't disguise that his hands are shaking.

He is Alan Jay Lerner, who wrote all the words for My Fair Lady, Gigi and Camelot. But the now 64-year-old Lerner is nervously eyeing the 80 or so assembled. Finally does he dare to say something. It turns out to be one of dramatic literature's most famous lines: "I have always depended on the kindness of strangers."

How fast a legend can sink! Lerner's two previous new musicals had together only amassed 25 performances. The one before that, Lolita, My Love, closed out-of-town twice. He hasn't had a hit since Camelot.

At that moment, Lerner might have wished that he'd instead worked on Merlin, about King Arthur's favorite magician. Though it was probably wound up as that season's biggest money-loser, it did run 199 performances, thanks to producers who were reluctant to throw in the towel. As Merlin cast member Nathan Lane still likes to say, "It was the musical that wouldn't disappear."

But as facile a lyricist as

Merlin's

Don Black is, he's no Lerner. And Elmer Bernstein,

Merlin's

composer, is no Charles Strouse - the music man behind

Bye Bye Birdie, Applause, and Annie,

and now Lerner's partner.



However, Strouse's last three musicals had amassed even fewer performances (22) than Lerner's previous two. But this time, they had adapted Idiot's Delight, Robert E. Sherwood's 1936 Pulitzer Prize-winning play. Maybe that would make a difference. ~ ~

It didn't. The trouble-plagued Dance a Little Closer, directed by Lerner [big mistake] and starring Len Cariou, Liz Robertson [Mrs. Lerner], George Rose, and featuring Brent Barrett, ran 25 previews and opening night, May 11, 1983.
The Pioneering Female Lyricist of Countless Musicals
Pick Yourself Up: Dorothy Fields and the American Musical
by Charlotte Greenspan [Oxford University Press, Broadway Legacy Series; 298 pages; 16 pages of vintage photos; Index, Song index, 17-page section of source notes; SRP $28]
is a

lively biography of one of the most prolific and pioneering lyricists in American popular music history.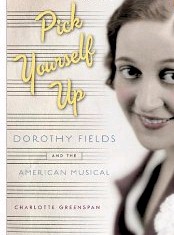 Dorothy Fields penned the words to more than 400 songs, among them mega-hits such as "Big Spender," "Hooray for Love," "I Can't Give You Anything But Love, " "If My Friends Could See Me Now," "Make the Man Love Me," "Nobody Does It Like Me," "On the Sunny Side of the Street," "It's Not Where You Start," and "The Way You Look Tonight."
In Pick Yourself Up , Greenspan, with her research and using countless sources, offers the most complete treatment of Fields's life and work to date, as she traces her rise to prominence in a male-dominated world.

Born in 1904 into a show business family. Her father, Lou Fields, was a famed stage comedian turned Broadway producer. She first teamed with songwriter Jimmy McHugh in the 1920s and went on to Hollywood collaborations with Jerome Kern, including the Astaire-Rogers classic Swing Time.

With her brother Herbert, she co-authored the books for several Cole Porter's shows and Irving Berlin's Annie Get Your Gun. Fields's lyrics -colloquial, urbane, sometimes slangy, sometimes sensuous - won her high praise from later generations of songwriters including Sondheim. Most importantly, her stellar career opened a path for other women, among them Betty Comden and Dory Previn.
One aspect of the bio is the creation of Annie Get Your Gun.

After their success with Up in Central Park, Herbert and Dorothy Fields had thought that their next show would be produced by Mike Todd, however, he wasn't high on Ethel Merman, whom he called "that old broad. She'll never work again." Merman had been known to rub some colleagues the wrong way but had brought in a smash for Todd in Something for the Boys.
Undeterred, the Fields took their idea to Rodgers and Hammerstein, who were asked what they thought of Merman in a musical about Annie Oakley, Rodgers said, "Go home and write it." The composers opted to become producers. There was one problem: Merman hadn't been asked. She'd just come off a difficult pregnancy and the birth of her daughter.
Fields visited her and popped the question. Merman said, "I'll do it." Now, all was in place, except the composer. The first choice was Jerome Kern, who had recently had a heart attack. In New York, to begin work, he collapsed and was hospitalized. [He died that November.]
Irving Berlin was approached, and the rest is, as they say, history.


Pick Yourself Up is the first definitive account of Miss Fields's career and its interactions with her famously-accomplished family, colleagues such as Rodgers and Hammerstein, and collaborators Kern, Berlin, Fosse, and Coleman. It's quite a fitting tribute to Dorothy Fields' indomitable optimism and enduring career.

An excerpt from Pick Yourself Up: Dorothy Fields and the American Musical by Charlotte Greenspan:
~ ~ ". . . As far as Dorothy Fields was concerned, Annie Get Your Gun was not especially a story about Annie Oakley, but rather Ethel Merman impersonating Annie Oakley. It's one of Merman's most notable roles, but far from a typical one . . . Merman usually played a tough, urban broad. Part of that persona is transferred to Annie -- the feistiness, fearlessness, and the awareness of her own talent. But Annie is a romantic innocent, inexperienced and vulnerable, and portraying this part of a woman's personality was uncharted territory for Merman . . .
The rapid pace with which Berlin turned out his songs did not preclude
tinkering with them and making small adjustments . . . "You Can't Get a Man with a Gun" was once titled "You Can't Get a Feller with a Gun" and "I Cain't Git a Man with a Gun" before the two possibilities were combined. "They Say It's Wonderful" was first titled "They Tell Me It's Wonderful" . . . the number that would become a show business anthem, "There's No Business Like Show Business," is indicated only as "Quartette--Annie, Frank, Charlie, Buffalo Bill" . . . Disappointed by the reactions of Rodgers, Hammerstein, and [director Joshua] Logan to it when he first played it for them, [Berlin] intended to drop it from the score . . .

The cast of Annie Get Your Gun is very large . . . 37 characters plus "a full cast of singers and dancers." Of course, there was only one star in the show, Ethel Merman. But even she needed someone with whom . . . Annie could believably fall in love at first sight and for whom she could pine until they are united at the end of the second act . . .

[Filling] the role of Frank Butler was Ray Middleton, who had a successful career on Broadway for more than 30 years. Merman and Middleton were well matched in terms of Broadway experience . . . The romance in Annie Get Your Gun is not between an ingénue and a juvenile. Annie and Frank have both had life experiences, but not ones that would prepare them for an easy relationship with each other. And perhaps the real love affair for both of them is with show business.

Dorothy and Herbert were pleased with the book . . . They wrote that Irving
Berlin "gave us a superb score, a score which never once deserts the mood or the story. The book didn't get in Irving's way. He strengthened it."

[It's been pointed out] that there were some differences in Berlin's and the Fields' conceptions of the relationship of Annie and Frank . . . Berlin's songs give Annie a softer side . . . [and he] allows himself flights of fantasy, whereas the book is more anchored in accuracy . . . Berlin wisely allowed himself some poetic license.

The Fields also had high praise for director Josh Logan. "He has such
great humor and such a sensitive quality that he has made scenes look and sound much better than they are. With Josh we were able to leave rehearsal for a cup of coffee and be absolutely certain when we came back we wouldn't have to say 'Annie' doesn't live here any more!"

Rehearsals began in March, but there were a few bumps in the road before the Broadway opening. At the New Haven tryouts, it was decided that the orchestrations by Philip Lang were unacceptable . . . Rodgers, who had hired Lang . . . acknowledged the problem and went about fixing it. [Russell Bennett was hired and] reorchestrated the entire score" . . .

A few days before the New York opening, the Imperial Theatre began to fall apart--literally. A steel girder holding up the roof of the stage buckled, and a wall of scenery fell. Richard Rodgers was on stage when it happened and was protected from what could have been a serious injury by an alert stagehand who pushed him out of harm's way. The show went back on the road--this time to Philadelphia--for two more weeks until repairs could be made on the Imperial.

Annie Get Your Gun opened at the Imperial Theatre on May 16, 1946. The reviews were generally excellent . . . The critics were unanimous in their praise for Ethel Merman both as a singer and as a comedienne. Reviews of Irving Berlin's music were initially more mixed. [One] wrote, "Irving Berlin's score is musically not exciting--of the real songs only one or two are tuneful" . . . [Another] had a very different impression . . . "Irving Berlin has outdone himself this time. No use trying to pick a hit tune, for all the tunes are hits . . ." ~ ~

Annie Get Your Gun became a musical theater perennial in the U.S. and abroad. It ran 1, 147 performances on Broadway. The musical ranks in the Top Five show licensed annually by Rodgers and Hammerstein. Mary Martin made her mark in the role of Annie in the touring company; Dolores Gray, for four years in London. The 1966 Lincoln Center revival included a new Berlin tune, "An Old Fashioned Wedding," and once again Annie was played by Merman, indefatigable at age 58.
Note
Dorothy Fields' son, musician/composer David Lahm is an old acquaintance; and I noticed in Ms. Greenspan's acknowledgements that she credits him and his sister Eliza for their cooperation. I contacted David, who edited Ms. Greenspan's first draft, for insights on his mother's contributions to musical theater. I was surprised to hear back that he feels the bio is "disproportionately a 'clip' job based on previously published matter with precious little original research . . . The writer has no experience in, familiarity with, or knowledge of the tradition that should frame the story of one of musical theater's major practitioners."


A book on this ground-breaking lyricist, an amazing wonder of one at that, is welcome. Published today when Miss Fields is, sadly, not a household name like Rodgers and Hammerstein and more contemporary theater figures, will introduce a new generation to her
accomplishments and life.
Marilyn Maye Gets Romantic on Broadway
Veteran, hit-making and much-lauded recording/cabaret artist Marilyn Maye returns to the Metropolitan Room Friday night at 9:30 with Her Own Kind of Broadway, a retrospective of the huge number of tunes from forthcoming hit Bway shows she recorded for RCA. Performances continue Sunday and through October 17, all at 7 P.M.

Songs will include her brassy renditions of "Cabaret," "Step to the Rear" [How Now Dow Jones], "Sherry," "I'll Never Fall in Love Again" [Promises, Promises]. These are among the numerous Bway tunes Miss Maye sang in over 70 appearances with Johnny Carson on The Tonight Show.
Onstage, regionally, Miss Maye has portrayed Mame, Dolly, Sally and Carlotta [Follies], and Pistache [Can Can].
Miss Maye receives the Mabel Mercer Award tonight at the NY Cabaret Convention at Frederick P. Rose Hall. On October 24, also at Rose Hall, she'll receive the Distinguished Achievement Award from the Licia Albanese-Puccini Foundation. Miss Maye received the 2009 and 2010 MAC Award for Celebrity Artist of the Year.
The music charge for Her Kind of Broadway is $30, with a two-drink minimum. To reserve, call (212) 206-0440, or go to www.metropolitanroom.com.


Dolores Hope, 101, a recipient of the Ellis Island Medal of Honor, states, "Bob would be so pleased to receive this honor. His arrival at Ellis Island was an important moment for him and the beginning of a new life full of opportunity."
The Library showcases exhibits memorabilia of Mr. Hope's career, his numerous USO tours, and a kiosk of his jokes, along with displays about famous immigrants who entered through Ellis Island. The third-floor reading area contains books, vintage photos, film and video, unpublished manuscripts, immigrant interviews, and other materials relating to the history of the Statue of Liberty and Ellis Island. The site is maintained by the U.S. Park Service.

The comedian/showman/actor who entertained in vaudeville, onscreen, and TV for 70 years, was born Leslie Townes Hope in England in 1903. Four years later, his mother, an aspiring concert singer, brought her five sons through Ellis Island joining their stonemason father. In 1920, by virtue of his father's naturalization, 'Bob' and his brothers became U.S. citizens.

Mr. Hope became a National Treasure and one of the nation's most-honored citizens. For his onscreen work, he often joked that Oscar time he was always passed over; but in 1959, the Motion Picture Academy bestowed the Jean Hersholt Award for Outstanding Philanthropic Contributions. He died in 2003 at age 100.

"This honor would have meant the world to my dad," says Ms. Hope. " He was proud of his English/Welsh roots, but as everyone knows he loved his adopted country with a passion. He loved the spirit of its people and used to marvel at the opportunities he had as an American. Dad lived the American dream and spent much of his life giving back to the men and women who made the freedom he enjoyed possible, the United States military."

The Library will be open every day except Christmas, 10 A.M. - 5 P.M.
Festival Musical
Through October 17, the New York Musical Theatre Festival and Other Side Productions are presenting Shine! The Horatio Alger Musical, which follows the tale of Ragged Dick - Alger's first best-selling hero) in 1870s lower Manhattan as he rises with a little bit of luck from penniless bootblack to Wall Street entrepreneur who interacts with ex-cons, comic villains, and colorful street characters.
The book is by former theatrical agent Richard Seff, with music and lyrics by Roger Dean Anderson [Chaplin] and Lee Goldsmith [Come Back Little Sheba musical, Sextet].

Peter Flynn directs Andy Mientus as Ragged Dick and a cast of 18. Choreography is by Devanand Janki with sets/costumes by the award-winning team of Michael Bottari and Ronald Case.
Tickets are $20. The venue is the rickety Theatre at St. Clements [423 West 46th Street, between Ninth and Tenth Avenues. For performance times and more information, visit www.shinethemusical.com.


Music Benefiting Good Causes

The PhilHallMonic [not misspelled!] Society's 12-member female ensemble, director Phil Hall, and guest KT Sullivan will perform Bewitched: The Songs of Rodgers and Hart at the Triad at 7 P.M. There will be an encore presentation on October 22 at 9 P.M. Bway dancer Mark Santoro will choreograph.
Under the leadership of composer [Dr. Jekyll and Mr. Hyde], Bway conductor, arranger, and musical director Phil Hall [Phil Hall Monic, get it?], the Society is an ensemble of Bway, cabaret, and classical artists contributing their talents in support of humanitarian causes such as entertaining at the Actors Fund Home and for other charitable orgs.

Tickets are $20, $30 for premium seating, with a two-drink minimum. The Society is a 501(c)(3) organization. Donations are tax deductible and can be made by sending a check to The PhilHallMonic Society Foundation, 303 Fifth Avenue, Suite 514, New York, New York 10016. For more information, visit www.thephilhallmonicsociety.org.

Whimsical Carnival

Friday-Monday, for the Columbus Day weekend, the Park Avenue Armory [643 Park Avenue, between East 67th and 68th Streets] will present an indoor carnival for all ages to relaunch the transformed 55,000-square-foot Wade Thompson Drill Hall into a "whimsical, theatrical, and fantastical landscape" that will have rides, games, stilt-walkers, jugglers, contortionists, magicians, concessions - all anchored by a soaring 50' Ferris wheel.

The Armory, a huge arena reminiscent of 19th-century European train stations and which has recently completed the first phase of a multi-year renovation and restoration, has long been used for spectacular special events but on an irregular basis. Planned future events "will fill a critical void in the cultural ecology of New York by enabling artists to draw upon its grand scale and distinctive character to both inspire and inform their work."

The first exhibition will be December's Leonardo's Last Supper: A Vision by Peter Greenaway, CBE [Commander of the British Empire] an epic multimedia work based on Da Vinci's masterpiece and the first U.S. appearance of the artist's installation. The Brit painter and filmmaker [The Draughtsman's Contract, The Cook, the Thief, His Wife & Her Lover] is professor of cinema studies at Switzerland's European Graduat School.
Carnival admission is $5 for adults, with children under 13 free. Single tickets for rides/games can be purchased. $20 buys a wristband good for unlimited rides. Hours are 3 -7 P.M. tomorrow; and 11 A.M. - 7 P.M. Saturday-Monday.