The new season is off and running. It's the season to be merry! A new theater season; another opening of another show. Actually, Openings...Shows. From the shows that have opened and those to come, it appears to be another star-studded, blockbuster, audience-pleasing one.
One of the prime reasons to celebrate is the return of Cherry Jones to the boards after an absence of over four years [Faith Healer and before that her award-winning Doubt] during which she portrayed the president of the United States on Fox-TV's megahit thriller 24, winning an Emmy Award.
The vehicle is Roundabout's revival of Shaw's scorching tour de force Mrs. Warren's Profession, the story of Kitty Warren, a mother who makes a fortune in an unsavory profession in order to achieve independence for her daughter.

That role is played to the hilt by Sally Hawkins [Happy Go Lucky film;numerous W.E. credits] in her Bway debut.


Jones, whom the Times' Ben Brantley noted confirms "her reputation as an actress of not only formidable charisma but also meticulous craft" and is "as illuminating as ever," and Hawkins, in an ironic mother/daughter twist, bout it out as two strong-willed women with ideas of their own.
Towering Ms. Jones makes quite an entrance in magnificently huge Victorian era hats and stunning outfits by five-time Tony winner Catherine Zuber and is beautifully coiffed in fashionable wigs by Tom Watson. There's no doubt that often Ms. Jones seems to be channeling Belle Watling from Gone with the Wind. Doug Hughes, who helmed Doubt, directs.
What Mrs. Warren does for a living raised hackles of controversy when the play premiered on Bway in 1905. Police closed the production, citing the cast for disorderly conduct. It wasn't critically well-received either. A Times critic termed the play "as elevating as a post-mortem."

Mrs. Warren has lots of good company already this season:
The chaotic and often mindboggling [because of its spin on history] but nonetheless fascinating Bloody, Bloody Andrew Jackson with hot Benjamin Walker [history just got all sexypants!] as America's first political maverick who made it from the Tennessee frontier to the White House, has moved to the main stem from the Public with its large cast intact. The feisty musical is written and directed by DD and Obie winner Alex Timbers and Obie winner Michael Friedman.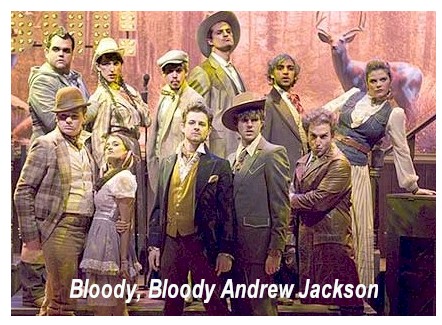 Roundabout has U.K. Kneehigh Theatre's hit spin on Noel Coward's classic romance Brief Encounter charming audiences at Studio 54. Adapted and directed by Kneehigh A.D. Emma Rice with a cast of nine, it uniquely combines elements of Coward's intimate screenplay and one act play with song, dance and "Technicolor displays of emotion." It arrives on Bway following sold out runs at Brooklyn's St. Ann's Warehouse, the Guthrie, and S.F.'s ACT.

Patrick Stewart and T.R. Knight are reliving Mamet's A Life in the Theatre, directed by Neil Pepe. Manhattan Theatre Club has the U.K. import The Pitmen Painters. Laura Linney, Brian d'Arcy James, and Eric Bogosian have returned to their roles in the returned Time Stands Still, with support from Christina Ricci in her Bway debut.
Charles Bush has an Off Bway hit with his campfest, The Divine Sister, that's so bad [actually, atrocious] that it's [nearly] drop dead hilarious.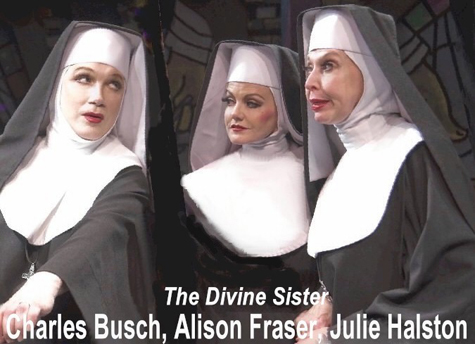 It's crammed with in jokes and so many homages to Julie Andrews/Ingrid Bergman/Joan Crawford/doubting Cherry Jones/Ida Lupino's roadhouse moll/Gloria Swanson/Loretta Young that you lose count.

Bush bulldozes a mile a second through this romp that really is nunsense - but pretty soon you're rolling along with it and don't really care.

Nuns wearing lipstick, mascara, and makeup?! Holy crucifix! but let's be thankfully because Divine Sister is saved by its excellent back up - in fact, it doesn't get any better. Julie Halston as Sister Acacius and Alison Fraser as visiting German Sister Walburga in six-inch heels know a thing about comic timing and play their roles to the hilt. There're also three excellent featured turns by Jennifer Van Dyck, Jonathan Walker, and Amy Rutberg.
You might think October's May with so many shows opening.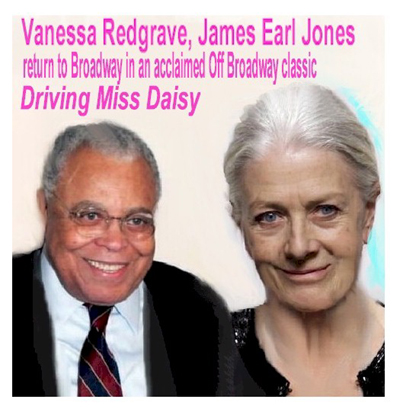 Mark Rylance, David Hyde Pierce, and Joanna Lumley opened last night in the revival of David Hirson's La Bete, directed by Matthew Warchus. Lombardi follows on the 21st at Circle in the Square; James Earl Jones will be in the driver's seat Driving Miss Daisy Vanessa Redgrave on the 25th in the revival of the Alfred Uhry classic; then there'll be Rain - A Tribute to the Beatles; then Kander and Ebb's The Scottsboro Boys officially uptown on Halloween night.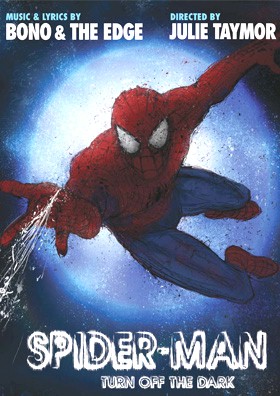 It'll be a busy November with LCT's much-anticipated all-star musical adaptation of Pedro Almodovar's Women on the Verge of Nervous Breakdown, opening the totally-renovated Belasco, by David Yazbeck and Jeffrey Lane and directed by Bartlett Sher and starring Patti LuPone, Laura Benanti, Sherie Rene Scott, Brian Stokes Mitchell, and Danny Burstein.

Not far behind will be the move to Bway of the NYSF's acclaimed production of The Merchant of Venice co-starring Al Pacino and Lily Rabe. In quick succession comes Long Story Short; The Pee-Wee Herman Show; and, kicking off the holiday season, Elf; followed by LCT's A Free Man of Color; and Elling.

December's big event is the much-anticipated, eagerly-awaited most expensive musical in Bway history: Julie Taymor's Spider-Man, Turn Off the Dark, with music and lyrics by Bono and the Edge.
2011 will be no less busy. From January through April, the shows will keep coming: Roundabout's revival of The Importance of Being Earnest; MTC's Good People; the musical adaptation of Priscilla Queen of the Desert; The Book of Mormon; the revivals of How To Succeed ... [marking Daniel Radcliffe's musical debut] and Anything Goes; the musical Catch Me If You Can; LCT's War Horse; Frank Wildhorn's whimsical musical adventure Wonderland: A New Alice; and Alan Menken/Glenn Slater/Douglas Carter Beane's musical adaptation of Sister Act.
Broadway Cabaret Festival

One of Fall's most eagerly awaited events, Town Hall and Scott Siegel's Broadway Cabaret Festival returns for its fifth season tonight through Sunday with Broadway Melody Makers, celebrating musical theater's legendary composers, tonight at 8 P.M.; Saturday, 8 P.M., Tony-winning and three-time Grammy nom legend Betty Buckley in concert; and Sunday at 3 P.M. with Broadway Originals, which as its name implies brings back the original stars of Bway musicals.

Headlining Broadway Melody Makers are Tony winners Michael Cerveris, Judy Kaye, Alice Ripley and Nellie MacKay, Mary Testa, and Tom Wopat. They'll perform tunes by Arlen, Berlin, Coleman, Gershwin, Kern, Porter, Rodgers and Hammerstein, and Styne. Scott Coulter directs with musical direction/arrangements by Ross Patterson, performing with his Little Big Band.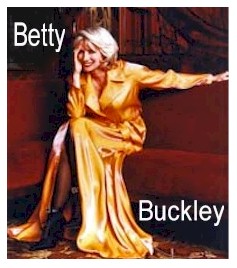 Miss Buckley will do a concert set of Bway, jazz, and blues. Fans, of course, hope she'll be heavy with Bway, but expect a very ecletic program - Berlin, Rodgers and Hammerstein to Paul Simon and Mary Chapin Carpenter. Expect a lot of emotion in her poignantly-delivered ballads - and tears. Her mini-CD [nine tracks], Bootleg will be on sale.
News: we may be seeing BB back on Bway. She says the workshop in S.F. of the musical adaptation of Armistead Maupin's Tales of the City [in which she plays Anna Madrigal] went well. They open in November and she hopes the show will be here in 2011.
Stephanie D'Abruzzo [Avenue Q], Jo Sullivan Loesser [The Most Happy Fella], Christa Moore [Big, Gypsy], Christiane Noll [Ragtime], Maureen Silliman [Shenandoah, I Remember Mama] and John Tartaglia [Avenue Q] will be among the stars reprising songs from their roles in shows. Michele Lee [Seesaw, Bravo Giavonni] directs and will also perform. John Fischer is M.D.
Tickets are $50 and $55 and available at the Town Hall box office and through Ticketmaster.com, or by calling (800) 982-2787.

Elaine Stritch Honor
Following the Broadway Cabaret Festival's Broadway Originals performance on Sunday, Town Hall will honor Tony, DD, and Emmy-winning legend Elaine Stritch, currently on the boards opposite Bernadette Peters in A Little Night Music], with the Hall's Friend of the Arts Award, presented annually in recognition and appreciation for "abiding interest in the development, enrichment and support of the arts." Tickets are $500 each and include a ticket to the Festival's Broadway Originals concert. Purchase at the Town Hall box office.


President Obama Welcomes Broadway Stars
WETA-TV, Washington's PBS affiliate, will present A Broadway Celebration: In Performance at the White House October 20 at 9 P.M. in a one-hour special taped in July that was hosted by President and First Lady Obama. Nathan Lane emcees the event. Performers include Elaine Stritch, Brian d'Arcy James, Idina Menzel, Audra McDonald, Chad Kimball, Karen Olivo, Tonya Pinkins, and Marvin Hamlisch.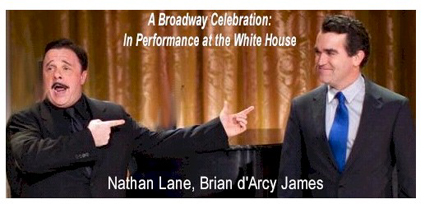 Highlights include Miss Stritch singing "Broadway Baby" and "I'm Still Here," James' rendition of Berlin's "Blue Skies," which he performed in a production of White Christmas, Mendel's "Defying Gravity," Lane and James doing Funny Thing...'s "Free," Kimball in his Memphis showstopper, "Memphis Lives in Me," and Olivo and dancers from the West Side Story revival with "America." The event was produced in association Bway's Margo Lion, with George C. Wolfe as event director. Jerry Mitchell choreographed a number from Hairspray. Rob Berman was music director.


President Obama commented, "The story of Broadway is also intertwined with the story of America. Some of the greatest singers and songwriters Broadway has ever known came to this country on a boat with nothing more than an idea in their head and song in their heart. And they succeeded the way that so many immigrants have succeeded - through talent, hard work, and sheer determination.

"Over the years," the President continued, "musicals have been at the forefront of our social consciousness, challenging stereotypes, shaping our opinions about race and religion, death and disease, power and politics. But, perhaps, the most American part of this truly American art form is its optimism. Broadway music calls us to see the best in ourselves and in the world around us - to believe that no matter how hopeless things may seem, the nice guy can still get the girl, the hero can still triumph over evil, and a brighter day can be waiting just around the bend."
No, the President did not do his rendition of "Tomorrow" from Annie!
Marilyn Maye On the Town
She's everywhere! Veteran, hit-making recording/multiple award-winning cabaret artist Marilyn Maye is knocking 'em dead again [through Sunday, at 7 P.M.] at the Metropolitan Room, this time in Her Own Kind of Broadway, a retrospective of the roster of Bway tunes she recorded for RCA.

It's one showstopping number after another, all delivered with amazing gusto. Highlights include Bacharach and David's "I'll Never Fall in Love Again" from Promises, Promises; Bernstein and Leigh's "Step to the Rear" from How Now, Dow Jones; the Frank Loesser tribute with songs from Guys and Dolls; and Sondheim's biting "I'm Still Here" and [Miss Maye's signature torch] "Losing My Mind" from Follies.

Admission is $30, with a two-drink minimum. To reserve, call (212) 206-0440, or log onto www.metropolitanroom.com.
But she'll be sticking around town.

On Monday at the Laurie Beechman, the two-time MAC Celebrity Artist, Bistro, and Nightlife Award winner will headline with multiple award-winning cabaret mezzo-soprano Lorinda Lisitza [Sondheim Unplugged], Carmen Ruby Floyd [Avenue Q], and vet actress and Golden Globe winning lyricist [The Rose] Amanda McBroom for Cabaret Cares' fundraiser for Help Is On the Way Today, which assists children living with HIV and AIDS. Jazz artist Gregory Generet hosts. Doors open at 6:15 P.M. for the 7:00 show. Admission is $25 with a $15 minimum. To reserve, call (212) 695-6909.
On October 22, Miss Maye will present her acclaimed Johnny Mercer tribute, Mercer, the Maye Way at Port Washington's Landmark on Main Street at 8 P.M. To purchase tickets, call (516) 767-6444 or log onto www.landmarkonmainstreet.org.
Two nights later, Miss Maye, who was just honored with the Mabel Mercer Award at the NY Cabaret Convention, will receive the Distinguished Achievement Award from the Licia Albanese-Puccini Foundation. Miss Maye received the 2009 and 2010 MAC Award for of the Year.
Rare Sondheim


One night only, Monday, October 25th, Stephen Sondheim and James Goldman's Evening Primrose, adapted from a 1966 teleplay, will be staged by Tony, Emmy and Oscar winner Tony Walton with a cast headlined by Candice Bergen, John Cunningham, William Duell, Jessica Grove, Sean Palmer, and dance legends Carmen de Lavallade, Frederick Franlin, and Sondra Lee.

The event is a benefit for the St. George Society to fund the first Anglo-American Cultural Awards and Grants for youth in the arts. It will also benefit Young Playwrights Inc.

The staged reading and wine reception will take place at 6;15 P.M. at the Gerald Lynch Theater in John Jay College [899 Tenth Avenue at West 59th Street] and followed by the Awards gala at the top of Hearst Tower [300 West 57 Street at West 57th Street].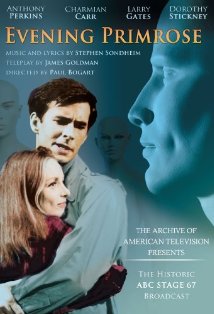 In addition to staging the event, Walton in addition to Harper's Bazaar editor-in-chief Glenda Bailey will be presented with special St. George Society honors by Angela Lansbury, who'll also present the first cultural grants. Jim Dale, Alan Cumming, and Chita Rivera will perform.
Honorary chairs include Sir Alan Collins, the British Consul-General; Mark Lyall-Grant, British Ambassador to the United Nations; Mrs. Sheila Grant Lyall, and Hearst International CEO Duncan Edwards.

Based on a short story by John Collier, E.P. tells of Charles, a young disenchanted poet, who hides from the world by day in the old Stern Brothers department store on Manhattan's West 23rd Street. However, he finds he's not alone: there are others keeping their existence secret. One is Ella, a young woman who wants to leave but is too frightened to do so. She becomes his muse and Charles is determined to show her the world outside. Songs include "Take Me to the World" and "I Remember."

The teleplay, broadcast by ABC-TV's Stage 67, starred Anthony Perkins, Dorothy Stickeny, Larry Gates, and Charmian Carr [Liesl in the Sound of Music film adaptation], was never seen after its original airing, nor has the musical ever been staged in America again. However, the kinoscope is one of the treasures of the Paley Center for Media on West 52nd Street. It will soon be available on DVD.



Tickets for the show and gala are $600; show only, $225; and are available at www.ovationtix.com/trs/pe/8506975 or calling at St. George's Society, (212) 682-6110, Anna Titley, X. 18.
One Acts by Nine's Mario Fratti
Theater for the New City is presenting Trio, three one-acts about sex, religion, and politics, by critic, author, and acclaimed prolific playwright Mario Fratti, best-known for his original adaptation the Tony-winning musical Nine. Tony and Drama Desk nom Rose Gregorio [The Shadow Box] headlines the cast of nine. Actor Stephan Morrow directs.

Fratti's plays have been published and performed in 19 languages in over
600 theatres. Gregorio appeared as Beatrice in the 1983 revival of A View from the Bridge, the Pulitzer Prize, Tony, and DD winning M. Butterfly, and opposite Dustin Hoffman in Jimmy Shine. She may be best known to audiences for her role as mother Hathaway on TV's long-running series ER.
Tickets are $12 and can be reserved by calling (212) 254 1109 or log onto www.theaterforthenewcity.net.
Can it be 20 Years?
Congrats to Jamie deRoy and her ongoing entertainment variety TV and live show Jamie deRoy & Friends. The bubbly will be flowing at the 20th anniversary celebration salute on Tuesday at 8 P.M. at the Triad. Guests will include Heather MacRae and Judy Gold. Admission is $25 with a two beverage minimum. Barry Kleinbort directs, with Lanny Meyers as M.D. To purchase, log onto www.smartix.com or call (212) 868-4444.

Trevor Fundraiser

November 1 at 6 P.M. the Beechman will present a It Gets Better: Broadway Supports the Trevor Project with a staggering star-studded lineup of Bway names lending support to this org, which for 12 years has provided suicide prevention efforts among LGBT youth through its helpline, in-school workshops, educational reach-out, online resources, and public policy advocacy.


Scheduled to perform are Brent Barrett, Kevin Chamberlin, Stephanie D'Abruzzo, Daisy Eagan, Annie Golden, Eric Michael Gillett, Randy Jones, Karen Mason, Liz McCartney, Judy McLane, Sarah Rice, Roz Ryan, Stephen Schwartz, Mary Stout, John Tartaglia, and, among numerous others, Barbara Walsh. Phil Bond is producing and directing with Mark Hartman as M. D.

Tickets are $35 with a $15 food/beverage min. Reserve at Smarttix, www.smarttix.com, or by calling (212) 868-4444.

The Trevor Project was founded in 1998 by producer James Lecesne, writer/producer Peggy Rajski, and producer Randy Stone, whose film, Trevor, about a gay teen who attempts suicide, received the 1994 Best Short Film Oscar. For more information, visit www.thetrevorproject.org.


The Bard's Globe Theatre

Shakespeare at Pace University presents the Shakespeare's Globe's production of Shakespeare's beloved hectically-paced comic romp The Merry Wives of Windsor October 28-November 7 at the Schimmel Center for the Arts. The production was the hit of the Globe's 2008 season and enjoyed a recent return engagement. The reconstructed Shakespeare's Globe, a U.K. charitable trust, located in London's Bankside section, attracts over 750,000 visitors annually.

Former Shakespearean actor Christopher Luscombe directs the large cast of colorful characters which include Falstaff and Mistresses Page and Ford. The original score is by Nigel Hess. Tickets are $40-$75. For more information, transportation options, and to purchase seats, go to www.pace.edu/culture. The Schimmel Center is at 3 Spruce Street, near the corner of Gold Street, accessible from Park Row and City Hall Park.


Tommy Tune Honor
The Boston Conservatory, the nation's oldest performing arts conservatory, tomorrow honors Broadway veteran and multiple Tony and Drama Desk winner Tommy Tune tomorrow at the grand opening of their Hemenway Project, commemorating the $32-million, 16-month renovation of the Conservatory's theater building, 31 Hemenway Street.

Tune, a recipient of the National Medal of Arts our highest honor for artistic achievement, this year marks his 50th year in show business. He's currently touring Steps in Time, A Broadway Biography in Song and Dance.
The evening performance will feature theatrical numbers performed by Conservatory students, faculty and guest artists, such as alumnus and 2010 Tony Best Actor Nominee Chad Kimball [

Memphis

].





"I'm really honored to be part of this grand event," says Kimball. "As I approach 400 shows with

Memphis

on Broadway, I can honestly say I've used every tool imparted to me through my education at Boston Conservatory. This new facility will students to learn and practice their craft on their path to successful careers."
There'll be guided tours, open to the public. Tickets to the 8 P.M. performance, which will be followed by a Champagne and dessert reception, are $150 and $110 for Conservatory alumni and students, and available at the Conservatory box office or by calling (617) 912-9222. For more information, visit www.bostonconservatory.edu/openingnote.

Of Note

The late tenor Jerry Hadley was always a joy to behold on and off stage. He not only had a stunning voice that could lift the spirit and a marvelous stage presence but also was one of the most personable artists in the business.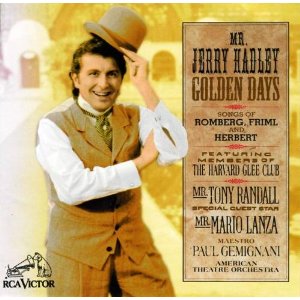 Sony/BMG Masterworks Broadway following the digital release of the out-of-print Leonard Bernstein Songbook has digitally released Hadley's marvelous Golden Days, Tenor Hits from the Golden Age of Operetta album, filled with Friml, Herbert, and Romberg chestnuts. The 18 tracks include the title song [a "duet" with Mario Lanza] and the rousing "Drink, Drink, Drink" from The Student Prince, "I'm Falling in Love with Someone" from Naughty Marietta, and "The Streets of New York" and "Every Day Is Ladies Day with Me" from The Red Mill.

Additional tracks are "Neapolitan Love Song" from Princess Pat, "The Song of the Vagabonds" from The Vagabond King, "When I Grow Too Old to Dream" from the film The Night Is Young, and three of the most romantic and lush songs ever "Serenade" from Student Prince, "Softly, As in a Morning Sunrise" from The New Moon, and "One Alone" from The Desert Song.

Bway's legendary Paul Gemignani conducts the American Theater Orchestra, with guests Tony Randall and members of the Harvard Glee Club.
Among upcoming digital releases is the studio recording of Pin and Needles featuring Barbra Streisand. Visit www.masterworksbroadway.com for more info.
Poe Revisited
Direct from is successful run at London's Barbican, 42nd Street's historic New Victory Theater will present from October 29-November 7[Edmonton] Canada's Catalyst Theatre's "deliciously dark dreamscape about master of the macabre" Nevermore: The Imaginary Life and Mysterious Death of Edgar Allan Poe, "a whimsical, chilling musical fairytale for adults" that has also become quite popular with teens.


The production, two hours with intermission, is a cross between Grand Guignol and Comedia dell'arte. It contains references to Poe's poems and short stories. It combines true events and fictitious ones.


"Nevermore takes a childlike openness to discussing Poe's intense life," states Jonathan Christenson, Catalyst's A.D. who directs a cast of eight. "It spends a lot of time on Poe's life as a child, his feelings of alienation, and struggle with identity.
"It was actually created for adult audience," he continues, "but touched a nerve with teens. Those that came with their families began telling their friends about it and also returned to see the show multiple times - without their parents! They talked about Nevermore on Facebook and YouTube."
Notes Christenson, "Poe wrote, 'All that we see or seem is but a dream within a dream.' So Nevermore, while stylist and bizarrely beautiful, is equal parts whimsical and delightfully dark. It's a tale that reveals the psychology of a man whose haunting comic writings continue to resonate in each of our telltale hearts."
Nevermore, designed and costumed by Bretta Gerecke with choreography by Laura Krewski, uses haunting song [by Christenson and Wade Staples], poetic storytelling, and surreal imagery to explore the events that shaped Poe's career and ignited his lifelong battle with "visions dark and sinister." Back home, won several Best awards including Musical, Director, Score, Choreography, and Costume/Lighting Design.

A highlight of the run will be World of Poe family workshops on November 6 at 11 A.M. and 4:30 P.M.


Nevermore
tickets are $28 and $38 and available at the New Victory box office and online at www.
newvictory.org

, where you will also find showtimes and can access a video preview.

Boo!

There's always lots to do in and around Halloween, a very special "holiday" in NYC [that now rings in the Christmas season!] and an opportunity for generally normal, or fairly normal, folks to shake up their inhibited side.

The big event is Sunday, October 31th's Greenwich Village Halloween Parade, the 38th annual, courtesy of the Village Voice and co-sponsors zipcar and Jeep, among others. Though the route will be shorter this year [due to NYPD restrictions], it will begin to roll and march uptown via Sixth Avenue at 7 P.M. from Spring Street, just below Houston, to West 16th Street. This year's theme is Memento Mori, where "expressions of the dead [are] a reminder that life, despite its hardships, is a gift." There'll be the usual political statements of dissatisfaction from various contingents, giant puppets, bands and other musicmakers, dancers, and a motley cast of thousands of costumed everyday New Yorkers. If you can't be there in person, the Parade will be broadcast on PIX and NY1. For more information, and to make a donation to support this always eagerly-anticipated event that is famous worldwide, visit www.halloween-nyc.com. What follows after, especially on such Village streets as Christopher, might be called the Exhibitionists Parade!


For some daytime fun, there's the Bronx Zoo's Boo at the Zoo fest. The huge array of animals in the vast complex won't be wearing costumes but there will be plenty of focus on the Zoo's creepy inhabitants, which include bats, rats, owls, and snakes. In the trick and treat department, activities will include a magic show, spooky stories, costume parades, musical haunted hayrides, and even some trick or treating. A bit closer to the City is the Central Park Zoo with it's infamous sea lions and polar bears.

Beginning tonight, through the weekend and the weekends of October 22 and 29th, Coney Island's spanking new Luna Park will be transformed nightly at 5 P.M. into Nights of Horror with rides, "sheer terror, thrills, and chills" that will include a live "haunt." For ticket information, visit www.lunapartknyc.com.

Weekends through October 31st, Six Flags Great Adventure, a 90-minute ride away [in Jackson, NJ] by car or from Port Authority, presents its annual Fright Fest with thrills by day [from all those roller coasters including the jet-propelled rocket cars of the towering Kingda Ka] and chills by night from the ghosts and ghouls surrounding the Fountain of Blood. Visitors are invited to come in costume. There'll be character parades, face-painting, live shows [such as Monster Mash Bash: A Tale of Love at First Fright, Dead Man's Party featuring the Zombie Dancers, and Denny More's Hypnosteria] in addition to special presentations of Six Flag's dolphin and tiger exhibitions. The children's ride park will also be open. Any visit should include the free-with-admission [if you drive through in your own vehicle] Wild Safari, the world's largest such attraction outside of Africa. The Safari has seen huge population growth with dozens of new babies born this season. For pricing, directions, and transportation options, log on to www.sixflags.com/greatadventure.
Ellis Nassour is an international media journalist, and author of Honky Tonk Angel: The Intimate Story of Patsy Cline, which he has adapted into a musical for the stage. Visit www.patsyclinehta.com.

He can be reached at [email protected]





Why are you looking all the way down here?
For more articles by Ellis Nassour, click the links below!

Previous: The New York Film Festival Reels to a Close; Turning Pages with Peter Filichia; Dorothy Fields Bio; Marilyn Maye Croons Broadway; Bob Hope Tribute; More

Next: Broadway's Lights to Dim Again; Angela Lansbury Hosts CTFD Gala; Unplugged Returns; Music of Jerome Kern; Benefits; New to DVD - Sondheim Birthday, Glee; More

Or go to the Archives