Off Off and Off Bway pioneer and champion Ellen Stewart, 91 and the founder/director of La MaMa ETC, the theatre that began in 1961 and became a major multicultural force of performance art and avant-garde theater, died Thursday at Beth Israel Hospital of natural causes after an extended heart-related illness.

For years, Ms. Stewart, who lived high above her original theatre on East 4th Street and who was directly or indirectly responsible for the build-up of theater in that sector of the East Village, was unable to walk and confined to a wheelchair. That didn't stop her from being very hands on. When she needed to be in the theatre, an army of volunteers were always eager to carry her down.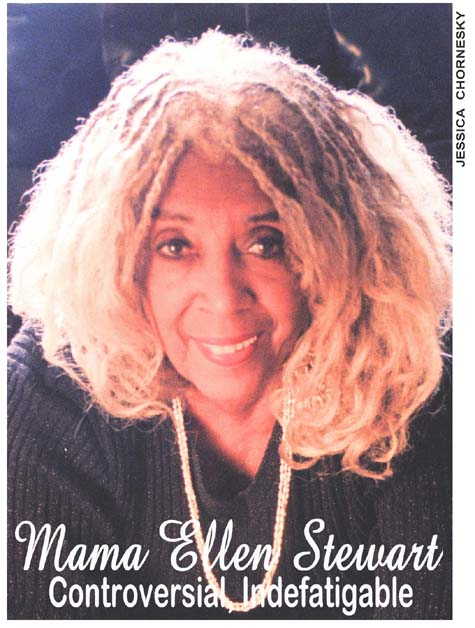 Ms. Stewart, though quite controversial, was venerated by the theater artists whose work she supported with indefatigable energy even a series of deliberating illnesses. In her 49-year tenure, she was unstoppable, presenting over 3,000 productions and earning countless cultural awards worldwide. She was the rare Off Bway artist named to the Theater Hall of Fame.


In remembrance of this feisty theater legend, here is a career retrospective first run in February 2008 in celebration of Black History Month:
Ms. Stewart was a novice, totally without theater experience, when she began La MaMa in 1961. She had been a dress designer who had little interest in theater until she found that being controversial netted publicity and headlines.
F. Murray Abraham, DeNiro, Dreyfuss, Olympia Dukakis, Tom Eyen, Fierstein, Diane Lane, Midler, Nolte, and Pacino had their first appearances at La MaMa. Ms. Stewart was also instrumental in given career opportunities to Peter Brooks, Joseph Chaikin, who'll be a posthumous inductee into the Theater Hall of Fame this year, Philip Glass, Wilford Leach, the Mabou Mimes troupe, choreographer Meredith Monk, Tom Polish ultra avant-garde director Jerzy Grotowski, O'Horgan, Steven Schwartz, Romanian director Andrei Serban, Sam Shepard, Elizabeth Swados, Robert Wilson, and Eastern bloc theater.
La MaMa celebrated its 50th Anniversary last year. The company occupies a unique presence not only in the storied world of Off Off and Off Bway and in international theatrical circles.
Make no mistake about it, experimentation, politics, risk-taking and challenging artistic boundaries - and the public or various city administrations' definition of decency - have been the focus of work created at La MaMa.
The stories about Ellen Stewart, her struggles against censorship and the establishment are legendary. She was arrested and ridiculed and harangued in news articles. Ms. Stewart doesn't grant many interviews. But when she does, you can bet it's going to be freewheeling, informative, and a helluva lot of fun.
Her East Village loft atop La MaMa is filled with photos, books, plays, and a vast array of music and theater memorabilia; so vast, in fact, you might wonder if this lady could put her fingers on something she wants when she wants it. Worry not because! Ms. Stewart, knows exactly where it is, how long it's been there, and who touched it last. And you better ask before you touch it!
The company's philosophy can be summed up in their mission statement: "La MaMa believes that in order to flourish, art needs the company of colleagues, the spirit of collaboration, the comfort of continuation, a public forum in which to be evaluated and fiscal support."
Annually, La MaMa prides itself on introducing artists from around the world to audiences. "Cultural pluralism and ethnic diversity have been inherent in the work created here," notes Ms. Stewart. "Whatever else you say about us, and plenty has been, you definitely can say we are an international theater company."
To date there have been more than 1,900 productions - and over 1,000 original scores. Resident troupes have traveled the world: Australia, Austria, Brazil, Columbia, Belgium, Croatia, Denmark, England, Finland, France, Greece, Holland, Iran, Italy, Korea, Lebanon, Venezuela, Macedonia, The Netherlands, Scotland, Siberia, Spain, Sweden, Switzerland, Turkey, Ukraine and Yugoslavia.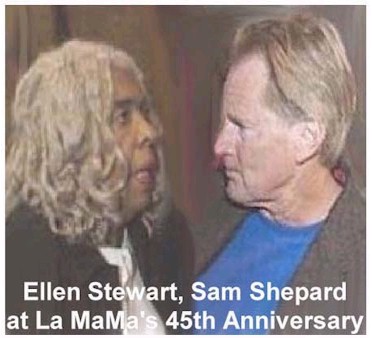 Mama, as everyone calls Ms. Stewart, has lectured and directed, written librettos and composed music for shows presented throughout Africa, Asia, Europe and Latin and South America.
The company name came about because playwrights, directors, actors, designers and staff in the early years considered Stewart a mother figure. As one put it, "In those days, we were all kids and she was the adult." In mind, body, and spirit, she was probably younger than them. To this day, even in her late 80s, she still thinks young and has a sly, devilish spirit. And an incredible memory!
She's been honored with dozens of Drama Desk Awards, over 30 Obies.and so many honorary doctorates and distinguished service awards that she has an archivist to keep track of them.
La MaMa started ever so simply. It was such a lark that, according to Mama, no one knew what they were doing. They just had ideas and decided they were going to bring them to fruition.
"Never in a million years did I ever think we would accomplish all we've accomplished and become what La MaMa has become," she says. "Our mission was and is to develop, nurture, support, produce and present new and original performance work by artists of all nations and cultures."
In fact, growing up in Chicago, theater never entered Ellen Stewart's mind. She wanted to be a fashion designer. As a young black woman, she knew it wouldn't be easy. "No surprise," she laughs, "it wasn't. At that time Chicago had nothing on the Deep South as far as racism rearing its ugly head."
To escape, she came to what she thought was very cosmopolitan NYC; but there were surprises here. "Bernard Gimbel, then president of Gimbel's, hired me as an executive designer for their Sak's Fifth Avenue store, but found resistance from their high-end customers." But stick by her, he did. By the time doors started to open, she had met an interesting circle of friends - some in very high places. And, in a nutshell, she decided one night to put on a show.
La MaMa began as a tiny, second-floor space over a Second Avenue tailor shop. Interestingly, Miss Stewart said she didn't start off looking to be controversial, "but we certainly stirred up quite a bit of controversy."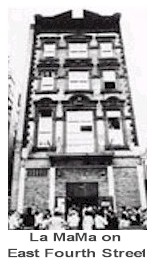 The first play "to get us some headlines" was O'Horgan's 1964 production of Genet's The Maids "because of his decision to do it with boys." She notes that the show that really put La MaMa "on the map," and in more ways than one, was 1967's Futz by Rochelle Owens and directed by O'Horgan.
The dark, very dark, comedy didn't exactly conform to social norms of the day. Without raising her voice in exclaimation - in fact, very matter-of-factly, Mama recounts the story. "It was about a farmer who's had so many bad experiences with women that he falls in love with Amanda, his pet pig, and marries her."

There was also a very attractive, but not too tightly wrapped hayseed who's a peeping Tom. The town's most beautiful and richest girl - a stunning blonde, has a crush on him. While Mr. Futz had "his way" with his pig and promised they'd always be together, the chorus made sexual sounds that excited the boy, arousing great desire for the girl and leading him to do a particular action - onstage.
The then hot, handsome hunk Frederick Forrest played the boy. Sally Kirkland did narration.
"Tom is a composer and musician," says Mama. "He could play every instrument imaginable. So there he is in the wings with various instruments tied and hanging on him - a one-man orchestra. He had made a living singing on the Borscht Best as a counter tenor and he was making these sounds.
"One night, the boy brings the girl to watch Mr. Futz and Miss Pig. He starts using Mr. Futz's rhythm and the more Mr. Futz gets - gets - you know - yes - aroused, the more the boy gets excited, In a very graphic scene, he rapes the girl. He's arrested and sentenced to hang. His mother comes to pay a last visit and they commiserate in a Southern cracker dialect. To suckle him, she exposes a breast and puts it in his mouth. Well, that's sort of it in a nutshell." There's such a silence, you can hear a pin drop. Breaking the silence, Mama adds, "Right. Nothing like this had been done before. All hell broke loose."
As word spread, lines formed around the block. La MaMa's tiny space couldn't contain the crowds. When asked how long a run the play enjoyed, Mama laughs, "We don't got runs. We never had runs. Unless you want to count me running. La MaMa's early history is marked by the number of times I was running. Running from the police! Always running! We couldn't stay long!"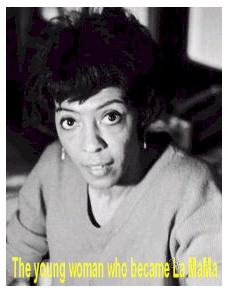 At first, Mama was thought of as the scourge of the neighborhood. There were vicious complaints and threats to close La MaMa down. At first, there was a huge misconception about what was going on. Many neighbors thought La MaMa was a brothel. She quipped, "A lot of folks wondered why would so many white men be visiting this black woman down in the basement!"
Somehow, and, as she put it, "often by the seat of my panties," the shows went on. La MaMa segued from controversial, East Village "coffee house theater" to what might be called "alternative mainstream."
The first international success - and damnation, came when Mama decided to tour Futz in England and Europe. "After what happened here, imagine this in very conservative Edinburgh!" Were there protests? "Protests?" she asks. "Oh, yes! The Scottish Daily Mail accused me of exporting filth to their country."
The controversy sold tickets. "They had lines down the block," she states not able to control her excitement or laughter, "and around the block, down and around another block, across the street and down another block. You had to see this scene. There were the people in line and hoards of local women protesting with placards accusing us of all sorts of things. We had to do five shows a night!" As it played Germany and other cities in Europe, the scene was repeated over and over.
"You wanted to know what put us on the map!" Mama shrieks. "That did it! We were known! So, when thee was all that fuss over nudity in Tom's Hair, we laughed. That was nothing!"

Futz! transferred to what is now the Lucille Lortel and the Actor's Playhouse; and was filmed, says Miss Stewart, "with Sally riding buck naked on a pig!"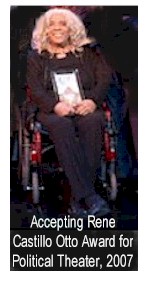 Bette Midler got her first theatrical break at the original La MaMa on Second Avenue with Tom Eyen in Miss Nefertiti. "She had just arrived from Hawaii," recalls Mama, "and she was a knockout. Quite voluptuous. Those breasts! She was supposed to be nude from the waist up, but Bette was quite modest in those days. She wouldn't take her hands off her boobs. We would go, 'Bette, psssst. Come on. Go ahead.'"

Harvey Fierstein, whom Mama introduced at his induction into the Theater Hall of Fame, started at La MaMa. "I'll never forget his debut!" she states. "He came running onstage with his fly unzipped and his cockylove popped out. He ran off stage and I had to get down on my hands and knees to sew the fly shut."
If you get the idea that Mama was involved in all aspects, you'd be right. "I had to be," she says. "You've heard of shoestring budgets? We didn't even have that!" Tickets were cheap "because I wanted our doors open to all." Early on, salaries, when there were any, came from her modest savings and money she continued to earn from her designs.

Mama created a family. Actors, playwrights, designers down on their luck always knew they had a home. Many slept in her apartment or in the theatres. To make sure they had some of the comforts, Mama installed a kitchen and washer and dryer in the basement.

Volunteers abounded, but when there was no one to clean the theatre or sweep the sidewalk out front, Mama did it. "When you want desperately to succeed, you have no pride." In the beginning, she During the earliest days of her theater, she supported her family of artists -- her children, she called them -- with the money she continued to earn designing clothes.
If La MaMa was a three-ring circus, Mama was rringmaster. She'd welcome audiences and introduce shows by ringing a cowbell.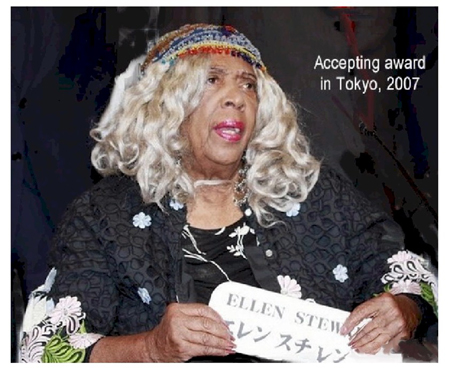 Nudity in La MaMa shows caused problems, but, says Mama, "Back in the day, I was really beautiful and if a role called for me to run naked, I would have. But no more!"
It didn't take long for La MaMa to outgrow Second Avenue. In 1969, it began business on East Fourth between First and Second Avenues in a building that now comprises two theatres and a cabaret.
Stewart discovered the work of Serban and brought him to La MaMa. "I was much more political then, and concerned with the state of the Negro or black or whatever we were called and how we were shown culturally. I wanted to do theater where a black could play a role that didn't require a needle in the arm, a jail cell, being a domestic washing dishes or clothes or being in the morgue."
To accomplish this goal Serban, "who didn't know from black and white," and Swados chose Medea, and cast black actress Betty Howard. She's cracking up laughing, having a difficult time catching her breath as she described the long process of putting on the play. "To Andrei and Elizabeth's ear, the way Americans spoke English didn't sound poetic enough. They tried French, German, and several other languages. Finally, Andrei, who's half Greek, said, 'Let's try Greek.' I got a tutor to teach the company and it was sounding pretty good."
When Howard was cast in a Bway show, Priscilla Smith stepped in, receiving great acclaim in what became another landmark production. It was the first of several collaborations between Serban and Swados.
Controversy followed to the new site. She was often like that bull in the China shop. When she read a play by Pinter, she liked it so much she just decided to put it on - without authorization and a batallion of agents and lawyer rained down on her. Not being the experienced theater producer, she says she operated "on instinct and leaps of faith."

Mama believed, "more than anything, that artists need more freedom to create without interference." Seemingly, she meant outside interference because Mama had a way of interferring.
Popularity and demand for tickets meant having to find larger space and, in a lottery for East Village buildings owned by the City, Mama landed a few doors West in what is called The Annex. Grant money from the Ford Foundation paid for the extensive renovations in a building that had once been a TV sound stage and, as legend has it, the last place Judy Garland recorded a song for a movie.
It opened in 1974 with The Trojan Women presented in language invented by Swados.

Later, she began to direct. Reviewers, and some audience members, found her gifts, her talent hard to pin down. But persist she did. And, get this: she was even rewarded with grants from the ultra conservative National Endownment and received a MacArthur Foundation Genius Award.

Mama got arrested several times. She recalls harrasment from the Fire Department over safety issues, especially during the Koch administration. She claims the former Mayor was out to get her and close La MaMa. "Eddie was an s-o-b and simply didn't like me."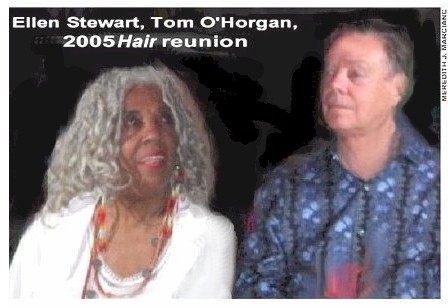 The first show in the new location was Caution: A Love Story, written and directed by Tom Eyen, who went on to become a Bway director, playwright, and lyricist. One of his first assignments was Paul Jabara's 1973, Robert Stigwood-produced Rachael Lily Rosenbloom and Don't You Ever Forget It [the musical satire Jabara wrote with Midler in mind to star. She felt it much too close to the truth. Jabara, Ellen Greene, Anita Morris, and Andre De Shields starred], which never officially opened. Of course, he will forever be known in theatrical books as the lyricist/book writer of Dreamgirls, with music by Henry Krieger.

Along the way, Mama found generous benefactors; and La MaMa's work has benefited from the usually conservative National Endowment for the Arts. In addition to theater and cabaret, Mama began internships at the high school and college level and a ticket subsidy program open to students, seniors, social orgs, and the physically and mentally-challenged.
In 1986, with the proceeds from a MacArthur Genius Award, Mama founded La MaMa Umbria, an artists' retreat in Italy, where workshops and festivals are held each summer. Until later illnesses took their toil, Mama was there reigning over every aspect.
La MaMa had many memorable milestones, from the controversial to the beautiful - such as the first chamber opera in 1970, Camila, about two lesbian vampires. It was created by then A.D. Wilford Leach, He went on to become a resident director at the Public and direct The Pirates of Penzance and Rupert Holmes' The Mystery of Edwin Drood, for which he won Tonys and DDs.
According to Mama, Leach as designer and director, was quite ahead of his time. "He used projected slides and film to enhance the opera. Cast members used mikes onstage. When I tell people this, they call me a liar. They say nothing like that was done; but it was."
When Leach returned to La MaMa in 1981 to revive Camila, recalls Mama, "The Village Voice lead theater critic wrote a page-long article asking how we could stoop so low as to claim we had opera, projections, and the like when it didn't exist anywhere in the world. Needless to say, a big fight broke out between me and the Voice. I went down there with a baseball bat, but I won. I even went so far to forbid entry to their critics. However, they threatened a lawsuit, stating that I couldn't bar anyone."
Some La MaMa productions, such as Schwartz's Godspell, moved to larger Off Bway spaces, even on to Bway.
~ ~ ~
Ellen Stewart's longtime stalwart friend and supporter Harvey Fierstein says, "Eighty percent of what's now considered the American theater originated at La MaMa." Torch Song Trilogy was developed there.
For many, Mama was an acquired taste. For countless thousands of others, many of whom would have never set foot in A Bway theatre, she introduced a world of wonder and excitement. It was theater by the seat of her panties, often wild and frenzied but always colorful and often with great merit.
Ellen Stewart: Unique. Innovator. Original. The theater world will never see the likes of her again.
~ ~ ~
A funeral Mass will be celebrated Monday at 10 A.M. at St. Patrick's Cathedral. Memorial donations to La MaMa ETC can be sent to 74A East Fourth Street, New York, NY 10003. For more information, visit www.lamama.org.


Ellis Nassour is an international media journalist, and author of Honky Tonk Angel: The Intimate Story of Patsy Cline, which he has adapted into a musical for the stage. Visit www.patsyclinehta.com.

He can be reached at [email protected]





Why are you looking all the way down here?
For more articles by Ellis Nassour, click the links below!

Previous: More Broadway for the Buck; Sondra Radvanovsky, Exquisite in Tosca Debut in Exciting Night at the Met; A Must-See Earnest; More

Next: Encores!: Weill/Anderson's Lost in the Stars; Patti LuPone Tribute; Nightlife Awards; Opera Treasure Trove from the Met; Licia Albanese; More

Or go to the Archives