The 83nd Academy Awards ceremony, presented by the Academy of Motion Picture Arts and Sciences, will honor 10 nom'd "best" from 2010 on Sunday 8 P.M. [with red carpet arrivals], telecast on ABC from Hollywood's Kodak Theatre. As last year, special and honorary award winners will be saluted, but their trophies were handed out two weeks ago [no doubt to make room for highlights from the 10 nom'd films].
In quite a break from tradition and no doubt to increase viewership among the Facebook and Twitter generation Anne Hathaway and 2010 nom James Franco host.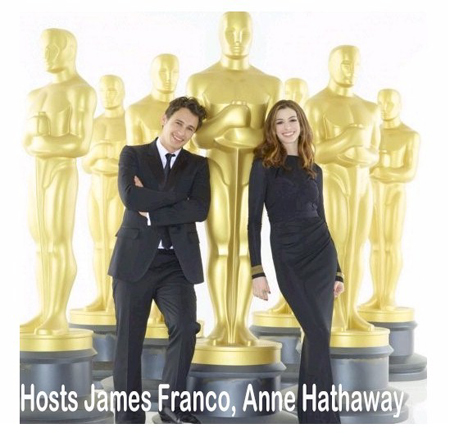 The co-hosts plan to "play it nice." There'll be no down-and-dirty or skank comments reminiscent of a certain Brit writer/actor who recently hosted another cinema awards show.

"That kind of humor's difficult to pull off," says Hathaway, "and I'm not particularly adept at it. Not that I would feel comforable even if I were." Noting that she and Franco are the youngest hosts ever, she adds, "I have no business being cynical or calling anyone out. I haven't earned that right."

Opening the show will be a medley of clips from the 10 nom'd films with Hathaway and Franco in cameo roles.

The faltering economy didn't
hurt business at cineplex box offices. More than $10-billion in tickets were sold, which means more people than ever went to the movies [the gross is also the result of skyrocketing movie prices in the last 10 years].
When the going gets tough, America goes to the movies - even to tough movies, and those not so easy to watch. We like hissing supervillians, line up for romance, love comeback stories, and are willing to support more than mindless drivel and the adventures of superheroes.
Let's go to the movies is still a rallying cry to younger audiences, while others remain home with iced Coke and buttered popcorn, comfortable on couches and recliners with DVDs.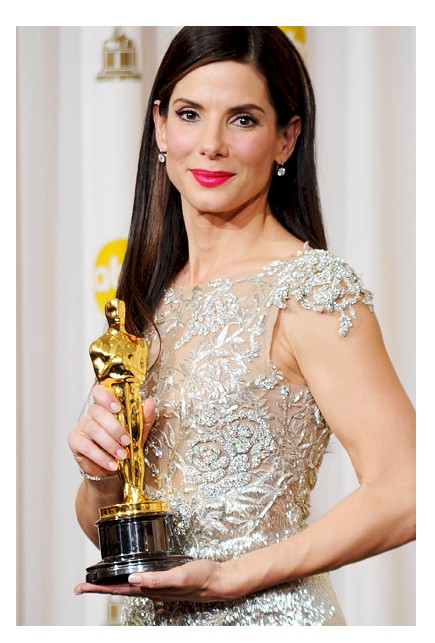 Thanks to James Cameron's re-introduction of 3-D, movies in that dimension [or digitally transformed into it] make it even more fun.

3-D scored at box offices not always because the films were great but because higher admissions went into effect for them.
Compared to other forms of entertainment, even with NYC's highest movie prices in the nation, going to the movies is still one of the least expensive [even less than bowling - especially in NYC (a coupla hours on the lanes here cost as much as a Bway musical, dinner and parking!)] excursions you can make, especially if you stay away from concession stands.

Of course, it would be nice if even 50% of the films released were worth going to see. That said, it would be hard to argue this year with any of the chosen 10.
An audience of an estimated 35 million have the pizzas ordered, the trail mix mixed and the Champagne on ice. Viewers in 200 countries will watch via satellite. The big parties are the Vanity Fair and Academy's Governor's Ball, the places to be seen. Wolfgang Puck's menu for the latter will be Beverly Hill-style comfort food, with lots of caviar and smoked salmon - the opium of celebs.
In an effort to please movie buffs and in an attempt to keep the TV ratings high, the list of presenters reeks with variety - someone old, someone new, someone blue, someone for everyone.

They include Oscar winners Javier Bardem, Halle Berry, Cate Blanchett, Jeff Bridges, Sandra Bullock, Tom Hanks, Nicole Kidman, Helen Mirren, Hilary Swank, Marisa Tomei, Oprah Winfrey and Reese Witherspoon. Berry will intro a Lena Hore tribute.


On hand will be past nominees Annette Bening, Josh Brolin, Robert Downey Jr. and Jude Law. Also appearing will be Russell Brand, Hugh Jackman, Scarlett Johansson and Matthew McConaughey. It's rumored that three former hosts, Billy Crystal and, get this, Bob Hope will be making surprise appearances [the latter should be quite innovative]. Alec Baldwin and Oscar winner Morgan Freeman will make cameos.
The behind-closed-doors Oscars scuttlebutt is that the Academy, wishing to give LiLo a fourth chance to redeem herself and in appreciation of her stellar performances on/off screen, had her on the possible presenters short list.

The problem was LiLo only had skin-tight, low and no-button outfits - mostly suitable for court appearances. However, couture designers and jewelers who loan their "stuff" to stars, when asked, emphatically said, "No!" One jeweler with showcases of multimillion dollar necklaces was heard to say, "Even surrounding her with armed guards, we were afraid we wouldn't get our loaners back."
A certain NYC society dame, famous for Ringling Bros. and Barnum & Bailey satin, chiffon and taffeta outfits with trains that extend across a stage, offered LiLo one of her most photographed gowns ... but on condition that she'd be surrounded by at least four of the military brass who escort/guard her in appearances. Strangely, LiLo said, "No!"

But the show will, undoubtedly, go on and on and on. There'll be lostsa entertainment.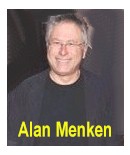 Zachary Levi
and Mandy Moore perform "I See the Light" as they did in Disney's animated blockbuster Tangled, accompanied by theater musical legend and eight-time Oscar-winning composer Alan Menken [Sister Act, soon to open on Bway; Little Shop of Horrors; he's won be
st score and best song for four Disney animated movies]
.

Perennial fav [20 noms!, one win]

Randy Newman, who brings an everyman touch to the eve's glitter,

sings his nom'd tune "We Belong Together" from another animated megahit, Toy Story 3. A much-anticipated moment will be Gwe

neth Paltrow

performing "Coming Home," the song she croaked in Country Strong, one of the year's biggest stinkers. Oscar winner

A.R. Rahman

[Slumdog Millionaire] and Florence Welch, of Florence + the Machine, will perform the very strange, very somber "If I Rise" from 127 Hours.
Celine Dion will into the In Memoriam segment. A newcomer as M.D. will be composer, orchestrator and arranger William Ross.
The Academy Board of Governors voted to present the Irving G. Thalberg Memorial Award to Francis Ford Coppola. Honorary Awards have been presented to historian/preservationist Kevin Brownlow, avant garde director Jean-Luc Godard and veteran stage/screen actor Eli Wallach.

"Each of these honorees has touched movie audiences worldwide and influenced the motion picture industry through their work," said Academy prez Tom Sherak. "It's an honor to celebrate their extraordinary achievements. Eli Wallach's body of work merits great celebration. He's that prize among valued American actors. The film world is indebted to Kevin Bronlow for his cinema studies and restoration of film classics."
This year's "battle" for Best is worthy of the bloodiest ring match. The "class" pictures, The King's Speech,and the ballet psycho babble thriller Black Swan, are up against the "now" and ever-growing The Social Network with working class New England slugging its way to a knockout in The Fighter.
Many outstanding performances hit screens late last year to qualify for noms. Snubs and surprises are never a surprise when the noms are announced. This year's no different.

Brave, daring Jim Carey and Ewan McGregor camped in the gay black comedy I Love You, Phillip Morris, but ignored by the Academy. Kevin Spacey's superlative performance in Casino Jack, the rollercoaster black comedy based on the scandal-plagued career of charismatic, manipulative, ultra religious lobbyist Jack Abramoff and his schemes, didn't mesmerize critics or the Academy; but he did get a Golden Globe nod. Is that consolation?

Colin Firth and Geoffrey Rush, The King's Speech, and they received nods. Jeff Bridges got what he really didn't earn last year and his grizzled, one-note Rooster in the True Grit didn't shake everyone up; but the Academy put him on the ballot. Jesse Eisenberg amazingly rose up from the jackass claptrap he's been so famous for to give a startlingly and, dare say, career making performance of a thieving PC nerd in Social Network; and the Academy took notice. But isn't it Firth's year? Unless Franco upsets the
apple cart.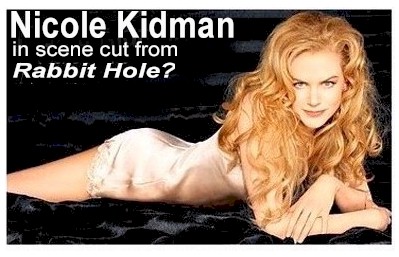 Rush, who knows how to dominate a film even when he's reading the paper, can always be depended upon, but isn't Christan Bale simply unbeatable for his emaciated turn in The Fighter? [What's he doing in the Supporting category? Wasn't he the star?]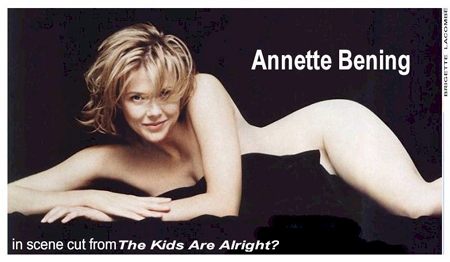 Nicole Kidman knows how to play heartbreak, often sans make-up even in tight closeups, and she did to a hilt in David Lindsay-Abaire's adaptation of his Rabbit Hole, directed by John Cameron Mitchell; the Academy took notice. Dancing diva Natalie Portman's wild 'n wooly in the Black Swan and Michele Williams's hot in Blue Valentine, and then there's Annette Bening underplaying so brilliantly in The Kids Are All Right. Hard to say if it's Portman or Bening steamrolling to the podium.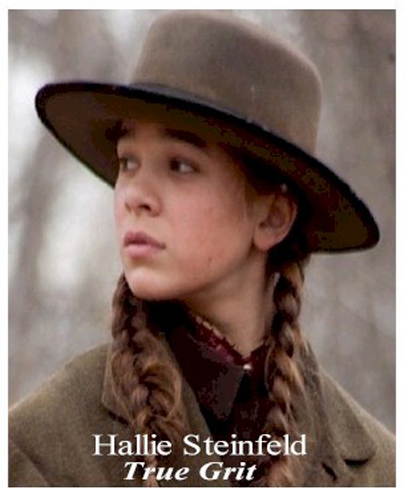 Young, unknown Hailee Steinfeld, seeming to channel Mercedes MacCambridge as feisty Mattie Ross, absolutely stole True Grit, but she's up against two perennial favs, Amy Adams and Melissa Leo, both beyond excellent in The Fighter. Odds are it's Leo's year [unless Academy voters were turned off by her ad campagin touting her superlative talents]. However, in a perfect world, and maybe it will be Sunday night, the gold would go to Steinfeld.



Nomination Highlights:

Have you voted? How many have you seen?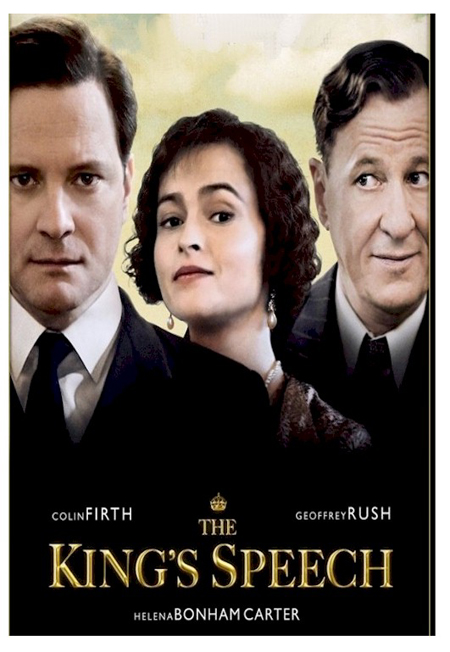 Picture
Black Swan
The Fighter
Inception
The Kids Are All Right
The King's Speech
127 Hours
The Social Network
Toy Story 3
True Grit
Winter's Bone
Director
Darren Aronofsky, Black Swan
David O. Russell, The Fighter
Tom Hooper, The King's Speech
David Fincher, The Social Network
Joel and Ethan Coen, True Grit
Actor
Javier Bardem, Biutiful
Jeff Bridges, True Grit
Jesse Eisenberg, The Social Network
Colin Firth, The King's Speech
James Franco, 127 Hours
Actress
Annette Bening, The Kids Are All Right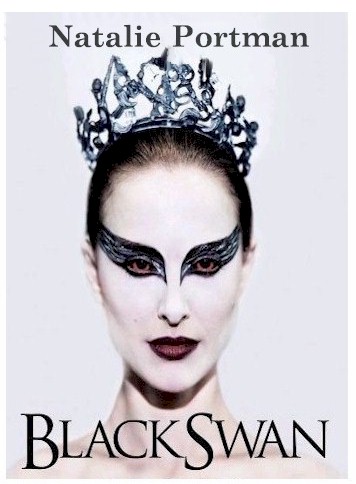 Nicole Kidman, Rabbit Hole
Jennifer Lawrence, Winter's Bone
Natalie Portman, Black Swan
Michelle Williams, Blue Valentine
Supporting Actor
Christian Bale, The Fighter
John Hawkes, Winter's Bone
Jeremy Renner, The Town
Mark Ruffalo, The Kids Are All Right
Geoffrey Rush, The King's Speech

Supporting Actress
Amy Adams, The Fighter
Helena Bonham Carter, The King's Speech
Melissa Leo, The Fighter
Hailee Steinfeld, True Grit
Jacki Weaver, Animal Kingdom
Animated Feature Film
How to Train Your Dragon
Illusionist
Toy Story 3
Best Foreign Film
Biutiful - Mexico
Dogtooth - Greece
In a Better World - Denmark
Incendies - Canada
Outside the Law - Algeria
Best Original Screenplay
Another Year
The Fighter
Inception
The Kids Are All Right
The King's Speech
Best Adapted Screenplay
127 Hours
The Social Network
Toy Story 3
True Grit
Winter's Bone
Best Original Song
"Coming Home" - Country Strong
"I See the Light" - Tangled
"If I Rise" - 127 Hours
"We Belong Together" - Toy Story 3
Best Original Score
How to Train Your Dragon, John Powell
Inception, Hans Zimmer
The King's Speech, Alexandre Desplat
127 Hours, A.R. Rahman
The Social Network, Trent Reznor, Atticus Ross
Best Documentary
Exit Through the Gift Shop
Gasland
Inside Job
Restrepo
Waste Land
Best Documentary (Short)
Killing in the Name
Poster Girl
Strangers No More
Sun Comes Up
The Warriors of Qiugang

For a full list of the nominations, special and honorary awards given out, the Countdown to Oscar feature, a printable ballot, video clips, trailers of the 10 nominated "Best" and play-along games visit www.oscar.go.com.
Fraver Design Fever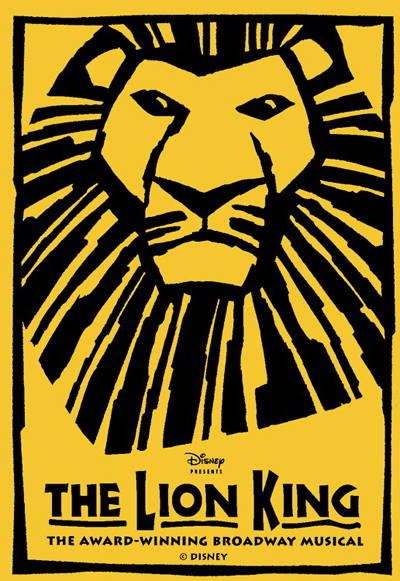 Lincoln Center's New York Public Library for the Performing Arts at Lincoln pays tribute to theatrical advertising artist Frank "Fraver" Verlizzo with Design: Fraver, in the Cullman Center [through April 30], an exhibition of some of his memorable poster designs [for over 300 Bway and Off Bway productions. Admission is free.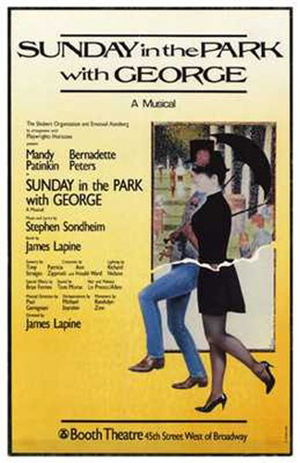 Fraver received a 1987special Drama Desk Award for "inspired artwork for theatrical productions," an honor never before bestowed in the area of theatrical advertising. Among his poster art on display will be Sweeney Todd, Sunday in the Park with George, The Lion King and Deathtrap.
Musical Tributes to Show Biz Greats
Musical Legends, a series of four 70-minute tributes performed in rep celebrating the careers of Pearl Bailey, Kaye Ballard, Marlene Dietrich and Nat 'King' Cole will be presented by Urban Stages [259 West 30th Street, between Seventh and Eighth Avenues] February 24 - March 13.

In Grand Illusions: The Music of Marlene Dietrich, Janice Hall, directed by Peter Napolitano, will perform her well-received cabaret act where, rather than impersonating Dietrich, she reinterprets many of the songs Dietrich made famous.


In her tribute, Pearl Bailey...By Request, Roz White, directed by Tom Jones, channels Bailey's infectious sultry tones and wit in the act she originated in the D.C. area, performing 16 tunes Bailey recorded at the height of her career.

Nat 'King' Cole: Unforgettable Smooth Grooves, stars Cleve Douglass, directed by Lee Summers, whose voice the NYTimes described "as silky as the lapels of his tuxedo."

And the still alive and kicking haven't been forgotten. Nightlife, Bistro and MAC Award winner Gretchen Reinhagen headlines Special Kaye: A Tribute to the Incomparable Kaye Ballard, directed by Barry Kleinbort, which mines more than five decades of material performed by Ballard onstage, screen and TV.

Tickets are $25 or $40 for two shows in one night and are available at Smarttix.com or by calling (212) 868-4444. For show schedules and more information, visit www.urbanstages.org.

Harry's Back
Twenty years after dazzling audiences in his first solo Bway concert early in his career, three-time Grammy-winner and Tony/Drama Desk nom Harry Connick, Jr. returned to perform in his trademark New Orleans style at the Neil Simon. The show was taped and Harry Connick, Jr. in Concert On Broadway airs March 2 at 9:30 P.M. on PBS' Great Performances. Connick, playing both a concert grand and upright honky-tonk piano, is backed by a 12-piece string section. The program is a production of WNET THIRTEEN.

Connick's no stranger to Great Performances. In 1990, the series presented Connick's first primetime solo special, which garnered an Emmy.
Tom Jones to Play House
Merkin Concert Hall at the Kaufman Center [129 West 67th Street, between Broadway and Amsterdam Avenue] introduces its first scene-writing contest with four NYC public schools with the presentation Broadway Playhouse: Tom Jones and Harvey Schmidt on March 6 at 11 A.M. Tom Jones will be guest of honor.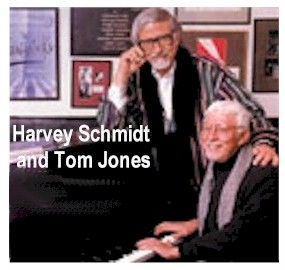 The concerts, directed by Sean Hartley, introduce the next generation of musical theater fans, age four - 11 to Bway's great musicals. Jones and Schmidt are creators of The Fantasticks, 110 in the Shade and I Do! I Do!


The concert includes sing-alongs, medleys, games celebrating the theme of "Imagination" and songs and scenes from The Fantastiks and I Do! I Do! Scene writers from P.S. 84, 124, 152 and 859 [Kaufman Center's Special Music School] submitted one-page scenes. The winner's work will be performed by Broadway Playhouse cast members Jason Robinson, Kathryn Markey, Martin Landry, Christina Bianco and Sean Hartley.
Tkts are $20 and available by calling (212) 501-3330 or online @ www.kaufman-center.org.
More Classic Movie Scores
Today's movie scores just don't compare to those from classic films. But movie buffs can relive some of those sweeping themes in new releases from the Classic Film Series treasure trove [Sony Masterworks; SRP, $13 and change].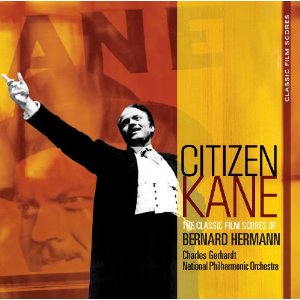 The scores are by musical geniuses Bernard Herrmann, Citizen Kane; Erich Wolfgang Korngold, The Sea Hawk; Max Steiner, Now, Voyager/King Kong; David Raksin, Laura/The Bad and the Beautiful; Miklós Rózsa, , Spellbound; and Franz Waxman, A Place in the Sun/Sunset Boulevard. There's also a CD devoted to films starring Bette Davis, Now, Voyager, composed by Steiner. Included themes are from The Private Lives of Elizabeth and Essex and Jezebel.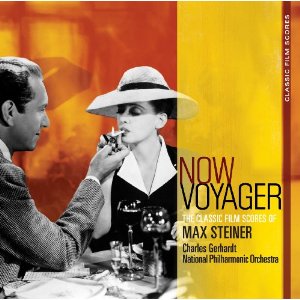 All titles are conducted, using original orchestrations, by Charles Gerhardt and the National Philharmonic Orchestra and recently remastered for CD. Each contains a photo book containing extensive original liner notes.
They join the recently remastered complete score for Gone with the Wind [Steiner], and compositions from the films of Humphrey Bogart [including Casablanca], Bette Davis, Errol Flynn, and Tyrone Power and other themes from Korngold and master composers Alfred Newman and Dimitri Tiomkin.
Ellis Nassour is an international media journalist, and author of Honky Tonk Angel: The Intimate Story of Patsy Cline, which he has adapted into a musical for the stage. Visit www.patsyclinehta.com.

He can be reached at [email protected]





Why are you looking all the way down here?
For more articles by Ellis Nassour, click the links below!

Previous: Broadway by the Year Season Opener a Valentine to 1921; All-Star Cast Party! Benefits BC/EFA; Linda Lavin Sings; Dangerous Beauty Prems in Pasadena; Song Therapy; New to DVD

Next: Veteran Actresses Loni Ackerman and Lorraine Serabian Return "with a Vengeance" - and in Rep; The Making of the Boys Documentary; Encores! Presents Where's Charley?; Celebrating Placido Domingo; Carmen Joins the 3-D Craze; New Directors/New Films; More

Or go to the Archives