For their inaugural season, Lenny Leibowitz and Amy Estes' Marvell Rep took a giant leap by becoming NY's only professional theater company producing new and classic plays in rotating repertory. Joining a double bill already "in progress" at the Abingdon Theatre Arts Complex [312 West 36th Street, between Eighth and Ninth Avenues] are Lorca's rarely performed Blood Wedding, beginning performances tomorrow [through April 2]; and the NY prem of Joseph Landis' translation of Ansky's The Dybbuk, beginning performances Sunday [through April 3].

Marvell A.D. Lenny Leibowitz directs the plays, which also include Nora, Bergman's adaptation of Ibsen's A Doll's House and J.M. Synge's dark comedy In the Shadow of the Glen.

The 20 + cast, a large undertaking especially for Off Bway, includes award-winning veterans such as:

Loni Ackerman[Off Bway in Diamonds, the short-lived baseball revue created by a Who's Who of theater composers; a later Grizabella in Cats; Evita in the West Coast premiere and a later Bway Evita; Betty Brown in No, No, Nanette; a Ruby Off Bway in the original Dames at Sea], who's playing the Messenger in The Dybbuk, and appearing in Blood Wedding's ensemble;

Joy Franz [Cinderella's stepmother in Into the Woods and who later joined the 2002 revival in the role; Catherine, into the run of Pippin; and a later Sarah Brown in the 1965 Guys and Dolls revival] is the Neighbor/Servant in Blood Wedding and Channa Esther in The Dybbuk;

Marc Geller [noted journeyman actor whose shows include Cloud 9] portrays Sender in The Dybbuk; and Dr. Rank in Nora.

Lorraine Serabian [a later Frau Wendel in the original Cabaret, a Tony nom for her acclaimed portrayal of the Leader in the original Zorba! and winning Best Actress awards for a regional revival in the same role and her Golde in Fiddler on the Roof; Off Bway, in the short-lived The Secret Life of Walter Mitty and a later Lita Encore in the cult fav Ruthless] as Mother in Blood Wedding, and appearing in The Dybbuk ensemble.

Ackerman and Serabian, caught during rehearsals during a break, discussed their return to the NY stage - chiming in as one to say, "We're back with a vengeance."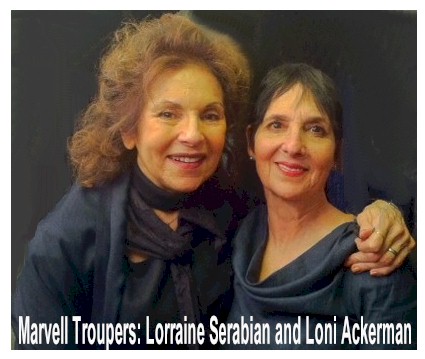 The duo have credits coming out of credits. However, in spite of knowing each other for years, this is their first time working together. Interestingly, they have less than six degrees of separation from Kander and Ebb and Hal Price.
Since Zorba!, Serabian hasn't been too far from the theater scene. During her 11-year break from performing, she worked in academia, appeared in NY workshops of The Rink and Kiss of the Spider Woman "when there were still other women in the cast," regionally, internationally, and won raves as Maria Callas in the 2003 tour of Master Class.

In Evita, Ackerman met sound engineer Steve Canyon Kennedy -introduced by her Che, Scott Holmes [Ryan's Hope, As the World Turns - now a Drama Desk-winning sound designer. "It wasn't exactly love at first sound," she admits. "He was very critical. One day, he grabbed the mike and in a very low-key voice said, 'See this? It's a microphone. It's here to help you. Stop screaming.' I wanted to kill him." She didn't! Realizing it was constructive criticism "which saved my voice during the show," she fell in love with him. They married.

Ackerman dispels the belief that Evita has this impossible score that singers dread. "I've heard it all about Lloyd Webber's score, and all those high notes, but it wasn't difficult for me. Some scores just fit right into your voice and range. I was lucky. It was the right time, and I was in the right place. It was something meant to be."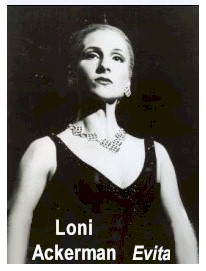 However, she quickly point out that if she had auditioned for the original cast of the Bway production, she doubts if she would've been as good. "I really owe it all to Patti. I learned so much watching her. I was working in L.A., trying to break into TV, so I was fortunate to see her before they came to New York. It was obviously a difficult time, and I could see how vulnerable she was.
"I watched her and told myself 'I can't do that,'" she continues. However, "when time came to audition for the L.A. company, I told myself, 'This is it, Loni! I can do that!' And, somehow, I did. I think it was mind over matter. I set myself up to get it and I got it."

After Evita, Ackerman took time off for marriage and raising two sons. "There wasn't any time for thinking about it, no big decision-making drama. It was what I felt I had to do. If I was going to put a human being on the earth, I felt I had to be there. I'd been in the business since I was 18, so, looking back, it probably wasn't as easy as I think. Some things passed me by, but it was the right decision - one I never regretted."

She stayed in touch with her voice by singing with local bands and with theater by teaching dance. Both have great stories from their time treading the boards.

"Our oldest son, Jack, made his Broadway debut before he was born," Ackerman laughs. "I discovered I was pregnant during Evita. I can never forget how wonderful the entire company was, how they would watch from the wings with fingers crossed that I wouldn't fall and miscarry."

Being pregnant did catch up with her. "In my last performance, I wasn't able to finish the show. I did the first act, and when I looked up at the balcony of the Casa Rosada I became very dizzy. I thought, 'If I go up there, I'm going to lose the baby.' It was panic time. My wonderful understudy Nancy Opel was in the cast. The SM pulled her out of the ensemble and, boom, she went on."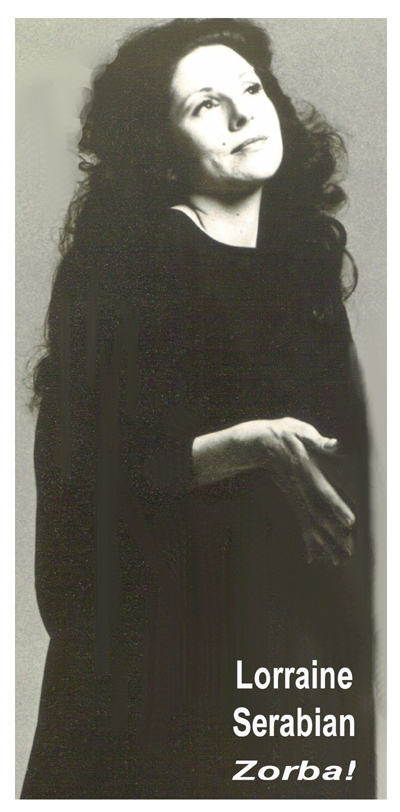 Jack was born and eventually began to follow in his dad's footsteps as a sound man. "My younger son, George, is an actor. So, I guess show business is in the blood." [Ackerman is the daughter of former Bway producer Cyma Rubin.]

Serabian made her Off Bway debut in 1959, "playing the Queen of Babylon in this very serious play, The Sign of Jonah," and was singled out for a mini-rave by Times critic Howard Taubman. "That was the beginning of a very long and quite fulfilling journey in theater."

It was Kander and Ebb/Joseph Stein's Zorba! that put her on the map. She tells the incredible story of how Hal Prince plucked her from understudy to stardom as the Leader in the musical.

"To this day, we never found out what happened," relates Serabian. "It's history. Hal had cast a cabaret singer who had absolutely no stage discipline. For our final dress at the Shubert in New Haven, the stop before beginning previews here, she simply disappeared. Left no number where she could be reached, nothing.
"Of course, I didn't know any of that until a few minutes before we were to begin. There was a knock at my door. It was Hal. He said, 'We don't know where so-and-so is. You want to go on?' I thought, 'Do I wanna go on!' He told me to get into costume. It was an adult-making moment. As I dressed the entire show ran through my head.

"Now, mind you, I've never been one to be terrified," she continues, "even then as young as I was. But I'd never been directed by Hal or anyone. As is often the case with understudies, I observed and listened as the role was created. Your job was to be a copycat. I was like a sponge, absorbing every move, every note.
"Of course, right in the middle of the run through our absentee actress arrived. The first words out of her mouth were, 'What's that rhymes-with-witch doing up there?' Hal told her to return to the hotel and he'd get back to her. I went on - totally untried. There was this rush of adrenaline as the music and lights rose. Everything rushed over me like a tide coming in. I did all the moves. Got all the lyrics. Hal couldn't have been more congratulatory.

"He got back to the actress," Serabian concludes, "and let her go. He told me I had the job. The next night, I went on for our first performance. To paraphrase that classic line from 42nd Street, 'I went out there an understudy, but I came back as a star!' Or, in this case, a featured star."

Zorba's Leader, explains Serabian, is a very dark, surreal character who "hovers over all that transpires from life to the fullest to death. She has human qualities, but I don't know where my spin on her came from - probably something from the ethers."
A few years later, she repeated her portrayal in productions in Kansas City and Pennsylvania [where she was nom'd for a Barrymore]. "It all came back as if I had done it the day before yesterday. I loved the role and the essence of her really stuck with me."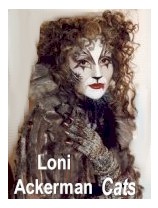 After Zorba!, Serabian decided she had to take a step back. "Everything happened so fast. I needed to investigate my psyche, my voice. I was in a quandary, but the business - agents, everything - was awful. The way they grab at you and don't care what you want to do. The way they push and think you're supposed to go. That's not me!
"People were trying to make decisions for me that I didn't want," she adds. "I had to do what I had to do and in my time. That's how I feel into academia. It was my safe harbor."

However, she was never far away from her first love. She would take time off to do things, such as appearing with Tony Randall's National Actor's Theatre and Joan Micklin/Julianne Boyd's A...My Name Is Alice. "One foot was here," Serabian says, tapping the floor, "and one foot was there. I loved both."
By 1989, theater was winning, "weighing quite heavily on me. I knew it was time, again. I had to get back full time."

She was back at her desk at SUNY/Empire State College from a regional production just one day when at 5 P.M. the phone rang. "It was my new agent. He said a theatre wanted me for a show. I told him, 'I'm outa here!' I went to the dean's office and gave her the news. That was my exit from academia. I haven't stopped since."

Well, sort of. When she's not performing, Serabian can be found Mondays at HB Studios. "I can't leave theater, and I can't leave teaching. Both are too ingrained." Now, she wants to move into directing. "A lot of students interested in directing attend my classes to learn the process of how directors speak to actors."

Ackerman had challenges in her career, especially after giving birth. "When I went into Cats, I had 'baby voice.' I got into this mode where I was trying to recreate what I sounded like before. It was frightening. I joined the company six years into the run. Everybody was directing me. John Joseph Festa [who was playing Mistoffelees and Pouncival] took me aside and asked, 'What are you doing? What happened to you? You're a star. Leave mommy at home and become the actress you are.' He told me that Grizabella has to be vulnerable but forceful. It wasn't happening. I had to put me on ice."

The actresses have their share of theatrical horror stories, most of them unprintable. Serabian, without naming a name, revealed that one of her "worst nightmares was having to share a dressing room in a certain hit 1992 Off Bway musical with an actress "who was a horrible human being. In fact, certifiable. We came close to killing each other!" Pushed for more details, Serabian would only say, "As Bette [Davis] once said of Joan [Crawford], 'She was wonderful to work with!' Once!" she laughs. "Never again!"

Tkts for Marvell Rep's Blood Wedding and The Dybbuk are $35, or two plays for $62. They're available through Ovation Tix, (866) 811-4111 or online @ www.ovationtix.com/trs/cal/30515. Dates vary. For a performance schedule, visit www.marvellrep.com; for more information, call (212) 518-6085.

[Leon Carr/Earl Shuman/Joe Manchester's musical The Secret Life of Walter Mitty, starring Marc London as Mitty, Cathyrn Damon and, as Agnes Mitty, Lorraine Serabian, has been issued on CD for the first time by Masterworks/Broadway.]

Landmark Play/Film Documentary

In 1967, when "starving" writer Mart Crowley "on the brink of destitution" but sitting in the lap of Hollywood luxury, housesitting for actress Diana Lynn, finished his play The Boys in the Band, he says he intended it to be controversial. But, having distanced himself from gay politics, he didn't set out to be a rights activist. "I probably didn't even know what that meant," he laughs.

The title came from a Garland line in A Star Is Born, but he says the stimulus that motivated him after more than two years of failure as a screenwriter was a New York Times feature by Stanley Kaufman on "closeted drama." "He wondered why America's leading playwrights who were gay didn't really write what they were really writing about. He was insinuating that female characters in plays by Williams, Inge and Albee were actually masked gay men. It stirred lots of controversy and I thought, 'Why hasn't anyone done that? ' then after a few beats, 'I can do that.'"

The inspiration for the setting at an all-gay birthday party came about following being taken by his best friend to an all-gay birthday party. The rest is, as they often say, history, but not without highs, lows, in-betweens, great success, setbacks and personal challenges.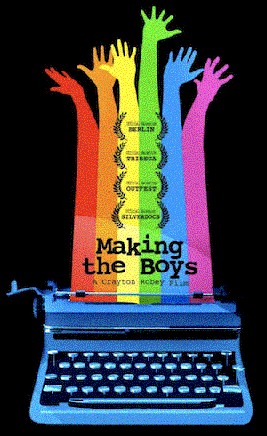 Young director Crayton Robey, after nearly eight years of development, fund-raising and shoestring budgets, brings the story of how Crowley's 1968 landmark play came to life in the poignant doc Making of the Boys, which opens here on Friday at Greenwich Village's Quad Cinema.

The Boys in the Band , developed by producer Richard Barr and his Playwright's Unit [in which he partnered with Albee], became a groundbreaking play that earned historical significance as the first successful work depicting gay characters as anything but stereotypes - though to many detractors, including Albee, the characters in the play were stereotypes.
It stood alone for years as the premiere depiction of the gay lifestyle. In fact, it became a worldwide phenomenon [U.K., Japan, Germany, France, Denmark, you name it]. When time came to adapt it into a movie, Crowley was a pioneer again. He turned down a vast amount of money from producer Ray Stark [Funny Girl, among many films] and decided he would produce it himself. Stark wanted to replace the unknowns in the cast with stars. Crowley would have none of that. He felt obligated to star the original cast. With help from renowned writer Dominick Dunne, he was able to do that.


Not all was bright, sunny and coming up roses for Crowley and a majority of the cast, who had tough times finding work.

Success at age 32 was exhilarating for a Mississippi boy who dreamed all his childhood of writing and making movies; but it also brought demons: stress, depression and alcoholism. Following the failure of his second play, Remote Asylum, in L.A., he began to ruminate about being a "one hit" playwright, a theme that haunted him for years.

At 74, the past is behind him, Crowley accepts his role as "landmark playwright" and "pioneer"; however, he admits he went though "tons of money" buying the good life in NY, LA and throughout Europe. Yet, he's still here, now hobnobbing with style with the rich and powerful.

The Making of the Boys traces the behind-the-scenes drama of creation with set/costumes sketches by Peter Harvey, stills from the play, scenes from the movie, stills of his long-time, devoted friends Natalie Wood [he became her secretary after working with Kazan on Splendor in the Grass] and Robert Wagner, anecdotes from Crowley, acclaimed director William Friedkin [who helmed the film adaptation], surviving cast members Laurence Luckinbill, Peter White and, from the tour and second company, Page Johnson.

The doc has snippets from early docs on homosexuality, which if not so ridiculously stern and sadly misinformed would be hilarious. Albee, Larry Kramer, Tony Kushner, Terrence McNally, Paul Rudnick and composers Marc Shaiman and Scott Wittman appear in cameos discussing the impact of the play and how it opened doors for gay artists. They are joined in vignettes by Carson Kressley, Michael Musto, even former NYC mayor Ed Koch.
Up Next at Encores!
Encores! presents Frank Loesser's spirited, hilarious Where's Charley? as the third production of the City Center season. There'll be five performances: March 17 and 18 @ 8 P.M.; March 19, 2 and 8; and March 20 @ 6:30.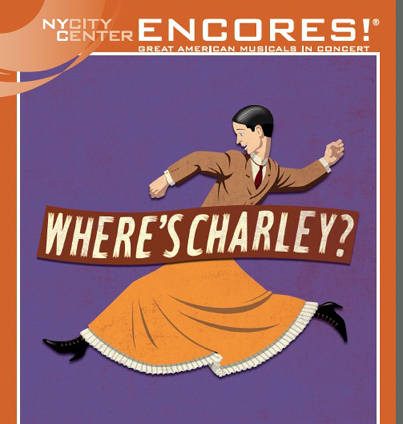 Longtime favs, Tony and DD-noms Rebecca Luker and Howard McGillin [both veterans of POTO] will headline this concert, directed by John Doyle [Sweeney Todd, Company], of the hilarious musical comedy, Loesser's first Broadway score.


Music directing is Encores! Rob Berman, with choreography by Alex Sanchez.
Featured in the 20 + cast are Sebastian Arcelus, Jeff Brooks, Dakin Matthews, Rob McClure, Jill Paice and Lauren Worsham. Of note, in the lineup, is the name Ashlee Dupre, but surely this must be another Dupre. Ah, the spelling of a name can lead to misconceptions; or can it?
As adapted by master George Abbott from Brandon Thomas' classic college farce Charley's Aunt, the show is filled with "wit, romance, sophistication and high jinks." Songs include the now classic "Once in Love With Amy," "My Darling, My Darling" and "The New Ashmolean Marching Song."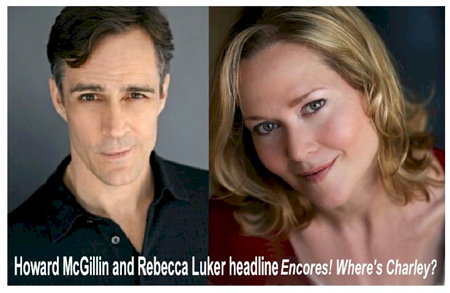 The musical opened at the St. James in October, 1948, playing an amazing 792 performances. It was directed by Abbott, choreographed by Balanchine and starred Ray Bolger, who took home a Tony for his performance.

Mr. Bolger's niece, Christianna Rickard, will attend. She's written Remembering Oz, My Journey with the Scarecrow about her uncle and Aunt Gwen. Her mother, Katherine Reeve, now 85, was in the chorus of Where's Charley?

Encores! is supported by the Stephanie and Fred Shuman Encores Fund, American Express, Stacey and Eric Mindich and Newman's Own Foundation.

Tkts for Where's Charley, $25-$100, are available at the City Center box office, through CityTix at (212) 581-1212 or online at www.NYCityCenter.org.

Opera Lover's Dream
Plácido Domingo's name is synonymous with some of the greatest roles in opera - 130 different one, in fact - more than any other tenor. His repertoire spans Mozart to Verdi, Berlioz to Puccini and Wagner to Ginastera. The just released three-CD collector's limited edition, The Plácido Domingo Story [Deutsche Grammophon; profusely illustrated; mini-bio, extensive notes; SRP, $23] celebrates his amazing legacy with arias from 1968-2010, in this bargain-priced package with 45 tracks.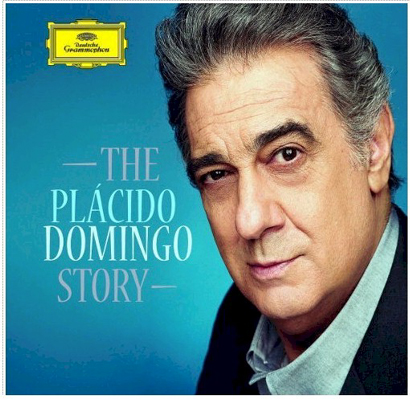 Domingo has sung at the world's celebrated opera houses, made over 100 recordings, most full-length operas, often recording the same role more than once. He's been seen in more than 50 opera videos and three feature opera films. His telecast performance in Tosca, filmed on location in Rome, was seen by more than a billion people in 117 countries.

The Spanish tenor has opened Met seasons over 20 times, surpassing Caruso's storied record. As conductor, he has led opera performances in all the important houses, from the Met to Covent Garden, from the Vienna State Opera to L.A.'s Music Center. He's also conducted symphonic concerts with the Berliner and Wiener Philharmoniker, L.A. Phil, London and Chicago Symphonies.
In addition, he was a founder of the L.A. Music Center Opera in 1984, remaining its music adviser and principal guest conductor until 2000, when he became A.D. He's been A.D. of the Washington Opera since 1996.
Carmen Jumps Out at You
Soon, there's talk of Real 3-D at the Met in Ring productions, and without glasses. Until then, and in NY theatres beginning this weekend, Bizet's Carmen, one the most popular operas, will give viewers the best seat in the house, taking them on a magic carpet ride into the heart of the production and immersing them with incredible depth of field into a story of love, jealousy and betrayal. And in spectacular, dazzling 3D! - with glasses.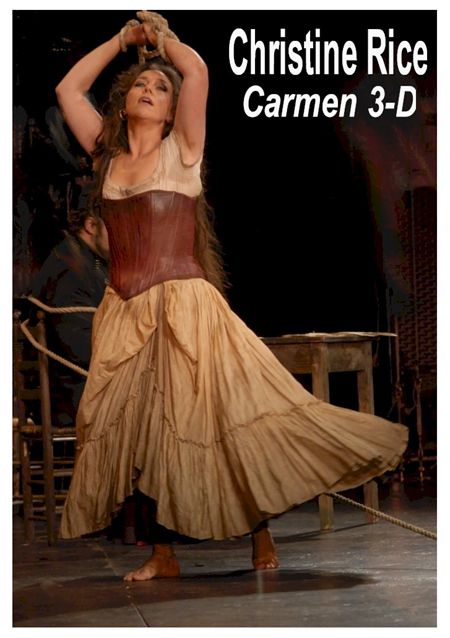 A co-production of RealD and London's Royal Opera House, Carmen 3-D stars Christine Rice in the lusty lead role, with Bryan Hymel as Don Jose and Aris Argiris as Escamillo.

The opera production was directed by Francesca Zambello, with Julian Napier directing on film. Conducting the ROH orchestra is Constantinos Carydis. Choreography is by Arthur Pita.

The film, just short of three hours [with intermission], is presented in French with English subtitles.

Manhattan theatres presenting the filmed opera are AMC's Lincoln Square 12 at Broadway and 68th Street, Empire 25 in Times Square and Kips Bay 15 on Second Avenue; Regal's UA Union Square Stadium 14; and Clearview's 1st & 62nd Street Cinemas.
Classic Modern Dance

The Martha Graham Dance Company, founded by the legendary choreographer in 1926 and which went on to become the world's oldest, most celebrated modern dance company, in association with Paul Szilard and Michael Brenner/Sundance Productions, will celebrate its 85th anniversary season March 17-20 with a classic Graham repertory and new works at the Rose Theatre, Frederick P. Rose Hall, Time-Warner Center.
Highlights include choreography by Robert Wilson and Dance is a Weapon, with dances by Isadora Duncan and Martha Graham.

Tkts are $40-$85-$125 for premium seats and are available at the Rose/Jazz at Lincoln Center box office, by calling CenterCharge, (212) 721-6500 or online at www.jalc.org.


Mr. Broadway 2011?


Multiple Tony nom, multiple Drama Desk and Obie-winning Tovah Feldshuh, just back from spreading some Arsenic and Old Lace [opposite Betty Buckley] in Dallas, will return as hostess with the mostest for the Fifth Annual Broadway Beauty Pageant! March 21 @ 8 P.M. @ the Peter Norton Symphony Space [2537 Broadway at 95th Street].

Conceived by Jeffery Self and directed by Ryan Davis, the event will featuring select males from Bway shows and benefit the Ali Forney Center, NY's primary emergency housing resource for homeless LGBT youth. M.D. will be Christopher Denny.
Passing on his crown will be 2010 winner Charlie Williams, Mr. Memphis, appearing in the revival of How To Succeed... Contestants vying in talent, swimsuit and Q&A are Matt Anctil, La Cage...; Michael Cusumano, Chicago; Raymond Lee, Anything Goes; Brandon Rubendall, Spider-Man...; and James Tabeek, Mary Poppins.


Judges are six-time Emmy winner Bruce Vilanch, SNL/Second City vet Rachel Dratch and OWN-TV Carson-Nation star and Queer Eye... fashion icon Carson Kressley.
Tkts are $25-$150 [VIP, and includes after party and gift bag] and available at S.S.'s box office and on line at www.symphonyspace.org/event/6590-the-5th-annual-broadway-beauty-pageant. For more information, visit www.aliforneycenter.org/beauty.


Onscreen
MoMA and Film Society of Lincoln Center present the 40th edition of New Directors/New Films, March 23 - April 3. Dedicated to the discovery of new works by emerging and dynamic filmmaking talent, the festival will screen 28 feature films, which include four documentaries, from 22 countries including Egypt, Turkey, Israel, Japan, Romania and Mexico.
The opening night attraction will be Margin Call, a timely and terrifying expose, on March 23, at 7 P.M. at MoMA. J.C. Chandor makes his feature directing debut in a story that tackles 24 hours on an investment bank trading floor, during a period "of human and professional wrongdoing that jeopardizes the entire banking system's fabric." Starring are Kevin Spacey, Paul Bettany, Zachary Quinto, Demi Moore, Stanley Tucci and Jeremy Irons.
The closing night presentation will be Maryam Keshavarz's 2011 Sundance Film Festival Audience Award winner, Circumstance, on April 3 at 7, also at MoMA. The controversial story follows "two young Iranian women in the shadow of the regime, doing things absolutely forbidden [going to parties, listening to music] while starting to explore feelings for each other."
F.S.L.Center. program director Richard Pena said, "We're thrilled to have such a diverting lineup of dynamic and riveting dramas from first time feature film directors. They give a unique view into the human lives at the core of two vastly different, but very immediate worlds."

Highlights include Anne Sewitsky's comedy Happy, Happy, which took the Jury Prize for World Cinema, 2011 Sundance Film Festival, which focuses on a sophisticated couple jarring the world of a less sophisticated one; Daniel and Diego Vega's Octubre, Jury Prize of "Un Certain Regard," Cannes 2010, about a barrio money-lender who must learn to care for a baby left on his doorstep; and Athina Rachel Tsangari's Attenberg, a drama starring Ariane Labed, 2010 Venice Film Festival Best Actress, about the changing dynamics in the lives of a father and daughter.

Festival tkts can purchased at the Film Society box office at the Walter Reade Theatre and at MoMA.
For feature videos and filmmaker testimonials visit www.newdirectors.org, where you will also find a complete roster of the features, information and showtimes.
A Don't Miss Event
The acclaimed Broadway by the Year concert series continues with Broadway Musicals of 1932 on March 21 at 8 P.M. at Town Hall. Returning are some familiar faces and voices and some we've missed:
Carole Bufford, Scott Coulter, Bill Daugherty, Jeffry Denman, Jason Graae, Kendrick Jones, William Michals, Christiane Noll and Meredith Patterson. Coulter will also direct; Denman also choreograph. Ross Patterson is the musical director/arranger with his Little Big Band.

Show tunes will include "April in Paris," "Brother Can You Spare a Dime," "Let's Have Another Cup of Coffee," "I Gotta Right to Sing the Blues," "It's Only a Paper Moon," "Night and Day" and "Soft Lights and Sweet Music." You can def expect some unplugged moments.

Tkts are $50 and $55 and available at the Town Hall box office and through TicketMaster, (800) 982-2787, and online at www.ticketmaster.com.


Upcoming for BBTY: The Broadway Musicals of 1982, May 16 at 8; and, closing the season, The Broadway Musicals of 1997, June 25 at 8.


In Concert, On TV

The 25th anniversary concert of Alain Boublil and Claude-Michel Schönberg's Les Miserables, presented last October in London and which deubted on DVD [Universal Studios Home Entertainment] just last month, airs on PBS Sunday @ 7 P.M.
Cameron Mackintosh's original production on the West End was translated from French by Herbert Kretzmer.
"PBS offers every American a front-row seat to experience some of the best-loved music of all time in a remarkable concert performance," said PBS Prez/CEO Paula Kerger.
Concert headliners are Alfie Boe/Jean Valjean, Norm Lewis/Javert, Lea Salonga/Fantine, Nick Jonas [yes, that Jonas!]/Marius, Katie Hall/Cosette, Matt Lucas/Thénardier and Jenny Galloway as Madame Thénardier.
Oscar Winner at Radio City
Red State, Kevin Smith's controversial religion-gone-wild horror flick [Smodcast Pictures], about a trio of thrill/sex-seeking boys going into the woods and falling prey to murderous Christian fundamentalists, may be one of this year's unique films - based on story line alone. It had it's world prem at the 2011 Sundance Film Festival to mixed reaction and some vigorous protests. As has been reported, Smith [Clerks] has been on the Religious Right's radar since his 1999 biblical comedy, Dogma.
John Goodman, Oscar winner Melissa Leo and Michael Parks are among Red State's stars. Leo will join Smith [Clerks] to kick off the tour tomorrow night at Radio City Music Hall. Along the tour route, Smith conduct post-screening discussions.

Tkts, $47-$325, are available at Radio City and through www.TicketMaster.com or by calling (800) 982-2787. For tour dates, visit www.coopersdell.com; for information on Smith, go to www.theredstatements.com.
Ellis Nassour is an international media journalist, and author of Honky Tonk Angel: The Intimate Story of Patsy Cline, which he has adapted into a musical for the stage. Visit www.patsyclinehta.com.

He can be reached at [email protected]





Why are you looking all the way down here?
For more articles by Ellis Nassour, click the links below!

Previous: The Red Carpet Rolls Out for Oscar; Poster Art and Musical Legends; Harry Connick Returns; Jones and Schmidt Salute; More Classic Film Scores

Next: Connecting Theater Degrees of Separation/Association; Superb Acting in a New Play That Keeps You Guessing; Jamie deRoy Celebrates and Julie Budd Makes NY Club Debut; Opera on TV; At the Movies; New to DVD

Or go to the Archives