Celebrate Valentine's Day in memorable fashion as Town Hall and Scott Siegel begin Broadway by the Year's 11th season February 14 at 8 P.M. with Broadway Musicals of 1921. "And it's going to be a really big show," states Siegel, uncategorically. "It's a perfect Valentine Day date night!"

The acclaimed concert series will highlight that bygone, golden era of revues, such as the Ziegfeld Follies, George White Scandals and Music Box Revues, which were crammed with song, comedy, dance and beautiful girls.
"It was quite an exciting time," notes Siegel, "because that's when Broadway, as we know it, was taking shape."

The show created, written and hosted by Siegel will features the largest cast in the history of the BBT Y series. Headliners will include Kate Baldwin, Erin Davie, Erin and Jeffry Denman, Kevin Earley, Stephen Mo Hanan, Kendrick Jones, Liz Lark Brown, Bobby Steggert and the "Siegfeld" Follies Girls, 10 chorines who'll recreate the look and style of the Bway that existed 90 years ago.

"The ladies aren't just showgirls," Siegel says. "They are among the best of Broadway gypsies." The ladies are Elizabeth Clinard, Jaime Lyn Frola, Naomi Hubert, Angela Kahle, Bethany Moore, Lauren Pastorek, Amanda Paulson, Jennifer Rias, Kiira Schmidt and Hilary Thompson.

"One of the special treats of 1921," notes Siegel, "is Tony nominee Stephen Mo Hanan, one of the original stars of Cats [Bustopher Jones], who did a masterful impersonation of singing sensation Al Jolson in Jolson & Company. We're introducing Nightlife Award-winner Liz Lark Brown to the Broadway community; and delighted to introduce another newcomer, Los Angeles actor/recording artist Kevin Earley, who's been making his mark here."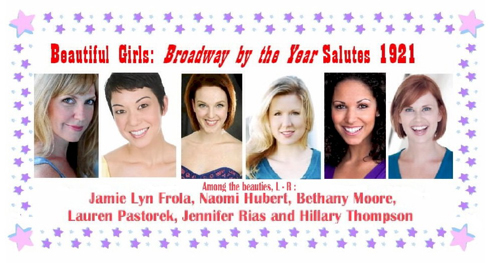 These artists join Tony noms Baldwin and Steggert. The Denman duo are co-directing/co-choreographing.

Among the classic songs first performed in '21 are "My Man" and "Second Hand Rose," signature tunes for the legendary Fanny Brice in the Ziegfeld Follies; "April Showers," "Avalon," "California, Here I Come" and "Toot, Toot, Tootsie, Goo'bye," all introduced by Jolson; Eubie Blake's "I'm Just Wild about Harry" from Shuffle Along; and, in a salute to Irving Berlin's first Music Box Revue [at his Music Box Theatre], there'll be "Say It with Music" performed by Davie, and a tap number to Berlin's "Everybody Step" by dancer extraordinaire Jones.

Davie and Earley will perform duets from Romberg's Blossom Time, one of the most famous operettas of the era - so popular that it toured for a quarter of a century.

The BBTY season kick off will also be a love letter to Town Hall, the "people's hall," which is beginning a year-long celebration of its 90th birthday. Under A.D. Lawrence Zucker, this non-profit org serves the City with concerts, dance, lectures, film classes and education in one of its most acoustically-sound venues.

Upcoming at BBTY: Broadway Musical of 1932 , March 21; Broadway Musicals of 1982, May 16; and Broadway Musicals of 1997, June 20. The majority of the BBTY concerts are available on CD from Original Cast Records [available at the kiosk in the T.H. lobby].

Season subscriptions are available at www.the-townhall-nyc.org. Single tkts, $45-$55, are available at the box office, through Ticketmaster, (800) 982-2787 or @ www.ticketmaster.com. BBTY lead sponsors are Bank of America and the Edythe Kenner Foundation.


Star-Studded Cast Party
Impresario Scott Siegel strikes again, this time with the masterful M. C. Jim Caruso. Together they'll will be putting on the ritz - well, certainly one of the ritziest shows with one of the most stellar star lineups in years. The Best of Jim Carouso's Cast Party, a benefit for Broadway Cares/Equity Fights AIDS on February 17 at 8 P.M. at Town Hall, will long be remembered for it's amazing roster of headliners. And the bargain-priced tkts!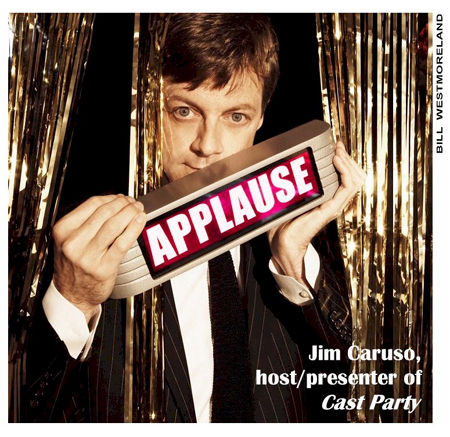 Stars at press time are Lucie Arnaz, Hinton Battle, Klea Blackhurst, William Blake, Natalie Douglas, Jenna Esposito, Larry Gatlin, Hilary Kole, Marilyn Maye, Sally Mayes, Liza Minnelli, Lisa Mordente, Chita Rivera, Christopher Sieber, Aaron Weinstein and Karen Ziemba.

Artists are still being added and, according to Siegel, there're going to be some surprise guest appearances. "Nope, can't tell," he states, emphatically. "Top secret!"
However, he does say, "This'll be the Cast Party of all Cast Parties! The talent onstage is a Who's Who of show business. Jim and I are proud so many stars stepped up to the plate to perform on behalf of Broadway Cares/Equity Fights AIDs. It's also the most reasonably-priced, star-studded benefit ever with tickets starting at $25. It's a bargain beyond measure because where can you see the likes of Broadway royalty Chita, Liza, Karen and Hinton? The icing on the cake will be appearances by Larry, Lucie and Marilyn."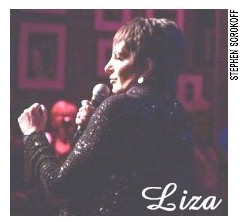 Caruso is a noted song-and-dance man. His Cast Party, an extreme open mic night that showcases impromptu performances by an A-List entertainers and unknowns, has been running Monday nights for eight years at Birdland, NY's premiere jazz emporium.

Playbill described the evenings as "Starrier than the Hayden Planetarium...a hot spot where Broadway and Hollywood tip, twirl and hit the mic." More recently, Cast Party! became a bi-monthly event at the famed Magic Castle in Hollywood in the shadow of the Kodak complex.
"I'm over the moon presenting these superstars on the Town Hall stage, all in one night," Caruso states. "Everyone I called said 'Yes.' That's a testament to the respect we have for Broadway Cares/Equity Fights AIDS. I feel like a modern-day Ed Sullivan!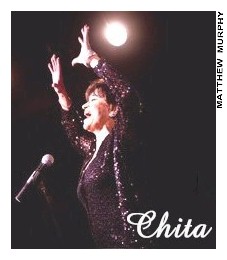 "When will you ever see Liza sharing a stage with Countess Luann of Real Housewives of New York City?" he continues, "or Chita on the same bill as YouTube sensation 'Miranda Sings' [the alter ego of comedienne/singer
Colleen Ballinger] and ]
rock violinist duo] the Dueling Fiddlers [Adam DeGraff/Russell Fallstad]? All we need is Topo Gigio and a plate-spinner or two! I can't wait to gather our shockingly unique and brilliant cast into one room to thank them all for making a dream come true!"

[Hmmmm, did someone just let a couple of surprise guest stars out of the bag?]
"Jim is, indeed, a modern day Ed Sullivan," claims Siegel. "The only difference is Jim has talent. He's going to put on a show that won't be forgotten. The talent line-up is jaw-dropping. The applause will be deafening! Be there or be square."
The Best of Jim Caruso's Cast Party, part of T.H.'s "Siegel Season," sponsors include ASCAP, TheaterMania.com, Berkshire Theatre Festival Thoroughbred Records and Jill and Irwin Cohen.


Tkts are $25 - $75 and available at the Town Hall box office, through TicketMaster.com or by calling (800) 982-2787.
Linda Lavin Sings
TV legend, Tony/DD-winner Linda Lavin, currently starring in LCT's Other Desert Cities, will officially launch her CD of jazz standards, Possibilities, with a Broadway at Birdland concert February 21 at 7 P.M. Jim Caruso will be presenting.
Possibilities includes "swinging" renditions of "Quiet Nights of Quiet Stars," "Two for the Road," "Hey, Look Me Over," and L.L.'s signature "You've Got Possibilities" from It's a Bird...It's a Plane...It's Superman. Ms. Lavin will be accompanied by M.D. Billy Stritch on piano, Bucky Pizzarelli on guitar, John Brown on bass, Aaron Weinstein on violin and Steve Bakunas on drums.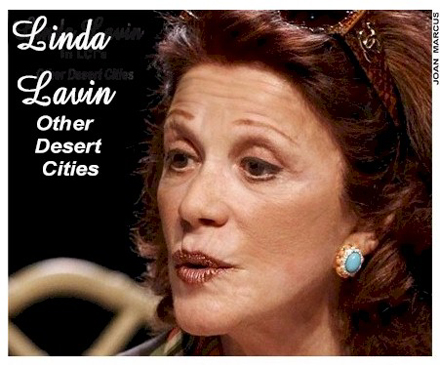 [Bakunas is L.L.'s hubby. The couple reside in Wilmington, NC, where they're active in community projects such as helping to rehabilitate neighborhoods and homes. They donated a park and, in 1997, founded the Red Barn Studio, where L.L. has directed plays. She's also founder of the Linda Lavin Foundation there, which mentors to 11- to 14-year-old girls.]


Ms. Lavin burst on the Bway scene in 1962 in John Kander and James and William Goldman's short-lived A Family Affair, then joined the cast of On a Clear Day ... Stardom followed in ... Superman, Little Murders [DD award] and Neil Simon's Last of the Red Hot Lovers. Then, TV beckoned. She had a recurring role on Barney Miller before winning Alice, the TV adaptation of Martin Scorsese/Robert Getchell's Alice Doesn't Live Here Anymore [1974] - and becoming a household name - nine seasons, two Golden Globes and an Emmy nom.

On her return to the stage, she replaced Tyne Daly in Gypsy [1989 revival] and went on to Simon's Broadway Bound [Tony/DD awards], The Sisters Rosensweig, Death Defying Acts [DD nom, Obie], The Diary of Anne Frank [Tony/DD noms], Hollywood Arms, The New Century [DD] and Collected Stories [Tony nom]. She'll be long-remembered for her hilarious and shrill turn in Charles Busch's The Tale of the Allergist's Wife [Tony nom]. She's been in over 20 features and sit-coms.
Tkts for Linda Lavin at Birdland are $30 and $40 with a $10 food/drink minimum. To reserve, call (212) 581-3080.


New Musical in Pasadena
Recording artist/veteran actress Amanda McBroom [Jacques Brel is Alive and Well and Living in Paris], who wrote the Janis Joplin classic "The Rose," has written the lyrics for the musical Dangerous Beauty, based on the 1998 film of the same name from Margaret Rosenthal's novel The Honest Courtesan. Jeannine Dominy, who adapted the screenplay, has written the book. Music is by Michele Brourman [The Land Before Time]. It plays through March 6 at the Pasadena Playhouse.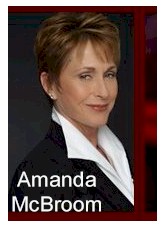 Based on a true story in16th Century Venice, it's set against the infamous period of the Catholic Church's inquisition, Dangerous Beauty tells of the tumultuous love affair of Veronica Franco and wealthy Marco Venier, but his father won't allow marriage. Veronica's mother urges her to become a courtesan. She also becomes a popular poet and firebrand, who "launched a hundred ships into battle, challenged kings and clergy and fought for the truth - even when her life was at stake after being accused of witchcraft.

Tony nom Sheryl Kaller [Next Fall] directs a cast of 20, headlined by Jenny Powers [Grease, Little Women] as Veronica , James Snyder [Crybaby] as Marco, Bryce Ryness [DD nom, Hair revival], Laila Robins [Heartbreak House, Frozen] and Michael Rupert [Tony, DD Awards, Sweet Charity '86 revival].
M.D. is Fred Lassen [South Pacific], with orchestrations by Bruce Coughlin [Tony, Light in the Piazza] and Ben Butler. Benoit-Swan Pouffer, A. D. Cedar Lake Contemporary Ballet and Alvin Ailey American Dance Theatre, is choreographer. Costumes are by Soyon An [two-time Emmy winner for Fox's So You Think You Can Dance.]
"A while back," says McBroom, who made her Bway debut in Seesaw, "I was looking for a good Saturday afternoon movie to enjoy with a big bag of popcorn and discovered Dangerous Beauty. I'm a Rufus Sewell addict, so it was a perfect way to stare at his face for two hours. Within five minutes, I was smacking myself, thinking, 'This is a musical! A big, old honking romantic sexy musical.'"

She called writing partner Brourman and insisted she "run, don't walk!" to rent the film. "She called the next morning," recalls McBroom, "and said 'Yes! Yes! and Yes!'"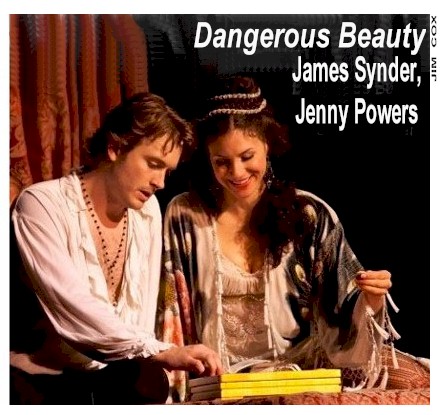 McBroom bought a DVD and plunked it down on the desk of producer pal Suzi Dietz. "I insisted that she watch it immediately. She agreed this could be an astounding musical. And so Dangerous Beauty was launched as a theater piece."

The musical was selected for the 2004 West Coast ASCAP Workshop. In 2005, it workshoped at Vassar's New York Stage and Film, followed a year later by a production in NAMT's Festival of New Musicals.

McBroom describes the musical as "a beautiful, intelligent, seductive piece about an astounding woman - with book, music and lyrics by women, directed by quite a talented woman and produced by two powerful women [Dietz and Tara Smith]. This couldn't have happened 20 years ago."

The musical, she adds, "is totally in synch with today's women - and men don't have to be afraid. It's as sexy as it gets in musical theater!
Kaller said the show has been one of the most joyous experiences of her career, due especially to the incredible support from P. P. A.D. Sheldon Epps and exec director Stephen Eich. "The cast is anchored by Broadway, national tour, regional and West End actors, bu the richness of musical theater talent in L.A. is stunning."
For additional information visit www.PasadenaPlayhouse.org and www.DangerousBeautyTheMusical.com.
Trivia: When told the Joplin biopic was looking for a title tune, McBroom, who'd never submitted a song "because I didn't consider myself a songwriter," took a leap of faith. When she turned "The Rose" in, "the producers hated it. They said it was totally wrong, dull and a hymn. Not rock 'n roll." However, music supervisor Paul Rothchild, who'd been Joplin's producer, asked them to reconsider. "Again," says McBroom, "they said 'No.' So he mailed it to Bette [Midler]. She liked it! And that's how my life changed forever!"

McBroom laughs, "Originally, the film was called The Pearl, after Janis' nickname, but her family refused permission to use that name. Lucky for me. Pearl is much harder to rhyme."


You, Too, Can Be a Star
Sing out, Louise or Lou! "It's good for your health, spirit and soul," says Linda Amiel Burns, MAC Award-winning director and vocal coach, of her Singing Experience workshops, begun in 1977.
Cabaret legend Julie Wilson and even an acclaimed singer such as Oscar nom Danny Aiello agree with Burns. Both have stated the program, "for pros and newbies," hones your vocal skills and much more.

Burns speaks of the program as "an extraordinary voyage of self-discovery, where you learn or relearn technique, are dared to take risks and develop self-confidence. In the end, you soar above your imagined limitations and discover the artist within. It's for people of all ages and from all walks of life."
The workshop is a package of four three-hour rehearsal sessions with seasoned accompanists. "Tuition" is a non-refundable $485. So you have to do more than just show up. You have to get out there and live your dream.

Participants experiment with arrangements, keys and tempo. Then comes a performance at a NY cabaret [audiences are welcome and pay standard cover charge and minimum], followed a week later by a tape-viewing party, where the performance is evaluated. Rehearsals are geared to individual needs, beginner or pro.


Upcoming workshops begin February 15 and April 20. For registration and information, visit www.SingingExperience.com.

New to DVD
The intact TV adaptation of Alan Ayckbourn's acclaimed The Norman Conquests is available for the first time on DVD [Acorn Media; three discs; five hours, five minutes; SRP, $60]. The trilogy, told from three same-time angles, is a romantic comedy of errors and uproarious study in family dysfunction as confusion reigns, passions flare and tempers rise.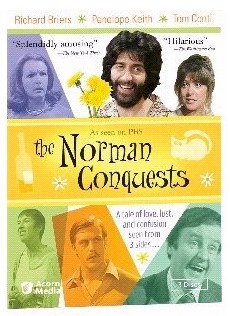 [Acorn are distributors of the Lost Treasures Collection: Rare Performances from the Archives of the Tony Award Broadcasts.]

It stars irrespressible Oscar nom Tom Conti, Penelope Keith [To the Manor Born], Richard Briers [Good Neighbors], Fiona Walker [I, Claudius], Penelope Wilton [Downton Abbey] and David Troughton. The plays Table Manners, Living Together and Round and Round the Garden weres seen on PBS' Great Performance series in 1977 [winning an Emmy], directed by Herbert Wise.
The action unfolds around a kitchen table, in a garden and in a living room. Though you see the same course of events from three vantage points, Ayckbourn wrote it so that the plays can be viewed in any order and actually made sense. A bonus feature is an Ayckbourn biography.


Discovering Hamlet [Athena Learning/Acorn; two discs; 53 minutes; SRP, $40] is a revealing, behind-the-scenes look at the process of staging Shakespeare's most demanding tragedy.

In 1988, rising star Kenneth Branagh tackled the role of Shakespeare's prince of Denmark for the first time under the directorial guidance of celebrated actor Derek Jacobi, considered by the NYTimes "the best Hamlet of his generation."

Four-time Oscar nom Branagh, actor/director/writer, brought Hamlet and Henry V to the screen in acclaimed productions. Tony winner [Much Ado...], five-time DD-nom and Emmy winner Jacobi [I, Claudius; Bway, Uncle Vanya 2000 revival, Breaking the Code, Cyrano de Bergerac] has played some of the bard's most challenging characters in his 50-year career, including Hamlet, Prospero, Macbeth and Lear.


Filmmakers Mark Olshaker [director] and Larry Klein followed the company and given full access from the first read-throughs, through four weeks of rehearsals, to opening night.


There's three-and-a-quarter hours of bonus features including interviews with Jacobi; behind-the-scenes footage; cast and creative team interviews; biographies; photo gallery; and the doc Hamlets through the Ages, narrated by Patrick Stewart. A 12-page viewer's guide is included.


Coming March 29 is the 40th anniversary 21-disc complete edition of the Upstairs, Downstairs, with over 25 hours [yes!] of bonus features, some brand new. The award-winning, landmark program, which takes place over three decades from the early 1900s in class-conscious England's Bellamy household. It became the most popular Brit drama series in TV history. Gordon Jackson, David Langton, Jean Marsh, Angela Baddeley and Christopher Beeny lead a huge ensemble.

For a complete catalog of available TV specials and series, visit www.AcornOnline.com.
Classic Films on DVD
TCM Greatest Classic Films [Warner Home Video; two discs; SRP, $28] continues to release double-sided DVD discs showcasing Hwood legends. The newest sets are Jean Harlow [Dinner at Eight, Libeled Lady, China Seas, Wife versus Secretary], Errol Flynn [The Adventures of Robin Hood, Captain Blood, The Sea Hawk, Adventures of Don Juan] and John Ford [She Wore a Yellow Ribbon, Three Godfathers, Cheyenne Autumn, Wagon Master].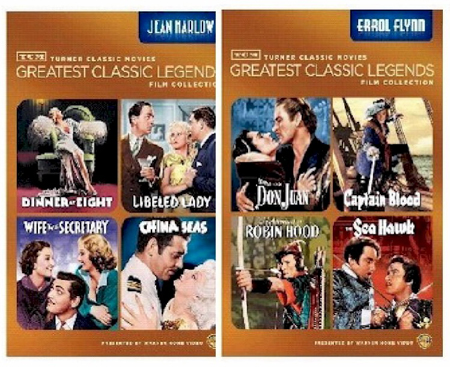 The packages are bargain-priced, but the series films have not been remastered. That said, except for an occasional scratch, the transfers are mostly pristine. You certainly can't quibble over entertainment value.

John Wayne stars in three of four-time Oscar-winning director Ford's masterful Westerns. Cheyenne Autumn [1964], Ford's last, packs a wallop of star power: James Stewart, Karl Malden, Richard Widmark and Carroll Baker. The assembled Flynn films are, indeed, classic of the swashbuckling genre he made so popular.

Turner Classic Movies will feature Harlow, among AFI's "Top 25 Female Legends," as its March "Star of the Month.". Though thrown into the role of a sex kitten at the mere age of 20 and most often shrill and one-note, Harlow's a force to be reckoned with.

The Harlow set gives a terrific through line to her all-to-brief career. She died in 1937 at the age of 26, having made over 40 films.

Her four films, except for the vastly watchable all-star Dinner at Eight, directed by George Cukor [based on George S. Kaufman and Edna Ferber's award-winning play but with some especially sprightly additional dialogue by pioneer female screenplay writer Frances Marion and Hwood's go-to screenplay doctor Donald Ogden Stewart], might be unknown to all but ardent film buffs.

Clark Gable stars in all but Dinner. The title Libeled Lady might lead you to believe it's a piercing drama, but it's a comedy.

The prize here is Wife versus Secretary, with Harlow actually giving a performance and sans bleached blonde hair - holding her own quite well against the formidable talents of Gable, Myrna Loy and James Stewart. The film, a sharp, sophisticated comedy, was shot after the industry-adopted Hays Code but gets away with murder with it's central theme of wife-swapping and who's married to who.

Releasing in April will be TCM Greatest Classic Legends sets showcasing Bette Davis and Marlon Brando. The latter will include A Street Car Named Desire: The Original Director's Version. That director would be Elia Kaza, who directed Tennessee Williams' landmark stage production.


The Saint at the Mini-Met


Dicapo Opera will present a new production of Gian-Carlo Menotti's controversial Pulitzer Prize-winning The Saint of Bleecker Street February 24 at 7:30 P.M. and February 26 at 8 P.M. [184 East 76th Street, between Lexington and Third Avenues, St. Jean Baptiste Catholic Church, lower level]. There'll be additional performances on March 4 at 8 and March 6 at 4. Saint will be performed in English and Italian, with supertitles. Michael Capasso will direct. Pacien Mazzagatti conducts.

The opera was last performed here two decades ago. The story, which pits religious faith against agnostic disbelief, tells of a simple young girl in NY's Little Italy who's blessed or afflicted with the stigmata. Neighbors believe her to be a saint, much to the concern of her
protective but
atheist brother convinced that she needs hospitalization.
Upcoming: Tchaikovsky's Eugene Onegin April 29, May 1, 5 and 7.
Tickets are $50 and available at www.smarttix.com [service charges apply]. For more information, including cast, visit www.dicapo.com.
Don't miss the
53rd Annual Grammy Awards,
Sunday, 8 P.M. Eastern, CBS
Ellis Nassour is an international media journalist, and author of Honky Tonk Angel: The Intimate Story of Patsy Cline, which he has adapted into a musical for the stage. Visit www.patsyclinehta.com.

He can be reached at [email protected]





Why are you looking all the way down here?
For more articles by Ellis Nassour, click the links below!

Previous: Encores!: Weill/Anderson's Lost in the Stars; Patti LuPone Tribute; Nightlife Awards; Opera Treasure Trove from the Met; Licia Albanese; More

Next: The Red Carpet Rolls Out for Oscar; Poster Art and Musical Legends; Harry Connick Returns; Jones and Schmidt Salute; More Classic Film Scores

Or go to the Archives