Tony and Drama Desk nom Christian Borle [Legally Blonde, Spamalot], prior to opening as Black Stache in the NYTW's Lortel-nominated Outstanding Play Peter and the Starcatcher [Outstanding Actor nom] portrayed Prior Walter in the acclaimed Signature Theatre revival of Tony Kushner's Angels in America.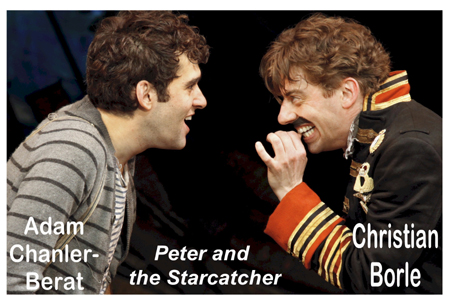 But that's only the tip of the iceberg when it comes to current six degrees of separation and associations this season.

For instance, Michael Urie replaced Borle as Prior Walter in Angels, now in its last weeks at Signatgure as Kushner's much-anticipated The Intelligent Homosexual's Guide to Capitalism and Capitalism and Socialism with a Key to the Scriptures prepares to open at the Public [a co-production with Signature and the Guthrie], under Michael Greif's direction. Greif happens to be an artistic associate at the NYTW.

The play co-stars Tony/DD winner Stephen Spinella, who was Prior Walter in the original Angels. Spinella later joined the cast of Spring Awakening, which co-starred Tony winner and DD nom John Gallagher Jr. as Moritz. Gallagher, recently in American Idiot, is back on the Bway boards opposite Tony and DD winner Mark Rylance [Boeing-Boeing, and the recent La Běte revival] in the Royal Court production of Jez Butterworth's Jerusalem, opening April 21 under director Ian Rickson [Hedda Gabler, The Weir].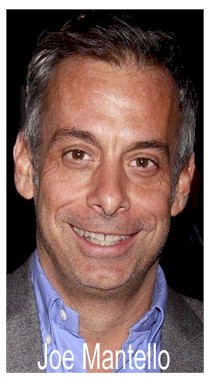 Michael Urie, of course was part of the Drama Desk-winning Outstanding Ensemble of Jon Maran's award-winning The Temperamentals, currently making its W.C. prem starring Dennis Christopher at L.A.'s Blank Theatre. Arnie Burton, also part of that play's ensemble, is playing the scene-stealing role of Mrs. Bumbrake in PATS.

PATS has been adapted by Rick Elice, writer/lyricst of The Addams Family and co-writer of the Tony-winning Jersey Boys, from the novel by Dave Barry and Ridley Pearson. Co-director Roger Rees is currently starring in the Addams Family role created by Nathan Lane. PATS has been extended through May 1, giving you an opt to catch this hilarious theatrical send-up.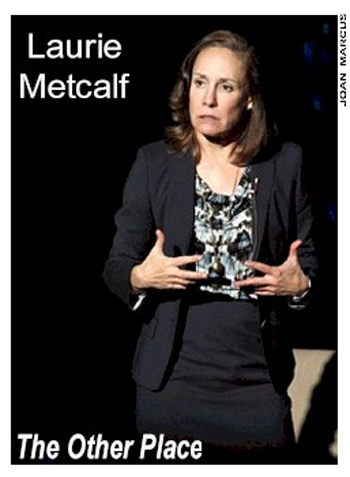 Joe Mantello, back on the boards as actor in the soon-to-open revival of Larry Kramer's The Normal Heart, as an actor and award-winning director must have 36 degrees of association to just about everyone in the business. He certainly has a connection to the brilliant DD/Obie winner Laurie Metcalf [original member of Chicago's acclaimed Steppenwolf], who's giving one of the standout emotional, high-drama performances of the season in MCC's The Other Place by Sharr White [at the Lortel], directed by - don't get ahead of me! - Mantello, who also directed her opposite Lane in David Mamet's political comedy November.
You can catch Donna Murphy live in Roundabout's musical The People in the Picture at Studio 54 and animated and in 3-D, singing and chewing the painted scenery to nubs, in the just released Disney Blu-ray of Tangled, a sort of prequel to the Rapunzel fairy tale.
This could go on and on, but won't.
However, how ironic to have two shows with the same title playing at the same time.
They would be Bill Quigley's Tomorrow Morning, about an artist visited by a mysterious stranger, Off Off at the HB Playwrights Theatre; which is not to be confused with Laurence Mark Wythe's four-character musical Tomorrow Morning, about marriage and divorce, love and heartache, at the York.
A Must-see and Free
Bill Quigley's Tomorrow Morning, directed by Karen Ludwig, Off Off at the HB Playwrights Theatre [124 Bank Street, between Greenwich and Washington Streets] is a provocative, timely [in lieu of recent budget-busting headlines] and some may think politically incorrect play. In a very tight 85 minutes, no intermission, Quigley's story of a young, emotionally-fragile sculptor living alone who awakens terrified to find a stranger, a teenaged boy, confronting her. Tensions mount as she realizes her door is bolted and the windows locked. As he reveals knowledge of the secrets of her life, the play takes on edge-of-the-seat thriller aspects.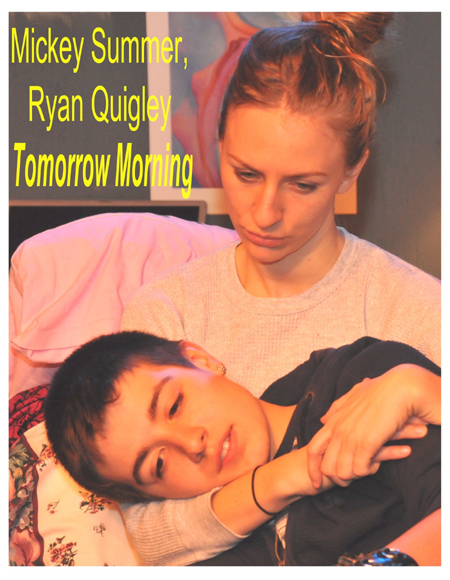 Tomorrow Morning features stark, memorable performances by the remarkably-gifted Mickey Summer [daughter of Sting and Trudie Styler], who's reminiscent in her radiance and statue to Tilda Swinton and Cate Blanchett, and Ryan Quigley [the playwight's nephew], 14 and a multi-talented actor definitely with a theatrical future.

Veteran actress Karen Ludwig directs with a firm hand to keep things moving fast and furious.

"Audience response has been overwhelmingly passionate and positive, especially among women," says Quigley. "It keeps getting stronger and stronger and are keeping fingers crossed that word-of-mouth will give it a strong life beyond this run."

Quigley, a member of HB's Playwrights Unit, as well as a playwright-in-tesidence with the Bleecker Company, wrote Don't Ask. It had its W.C. prem last August at S.F.'s New Conservatory Theatre. His screenplay has been optioned. Chip Off the Moon is a finalist in the 2011 Julie Harris National Playwrights Awards Competition.
Tomorrow Morning plays through April 20. Free, limit two tkts. Reservations, (212) 989-7856, Monday - Friday, 1 P.M. - 5 P.M. Tkts must be picked be picked up 15 minutes before curtain.
Jaime, Jaime, Jaime
If her friends could see her now! Wait! They will. The unstoppable Jamie deRoy will mark the culmination of the 20th season of her multi MAC Award-winning variety show, Jamie deRoy & friends [MNN cable, Sundays, 7:30 P.M.] on April 17 at 8:30 P.M. at Feinstein's at Loews Regency.
Three-time MAC-winning comic and Late Show with David Letterman warm-up comedian/talent coordinator Eddie Brill; Grammy-winning singer/songwriter Larry Gatlin; vocalist Clint Holmes; Tony/DD nom Christiane Noll; and MAC-winning jazz singer/pianist Daryl Sherman join the celebration. Barry Kleinbort will direct, with Ron Abel as M.D.
Tickets are $50 [premium] and $30 in addition to a $25 food and beverage minimum. To reserve, call (212) 339-4095. Mention the code Jamie 2011 and the handling charge will be donated to the American Songbook Project.



Julie, Julie, Julie
After her incredible teen years as an emerging star and after appearing in films, TV variety programs and concerts worldwide, megavoiced recording artist [The New Classics] Julie Budd is finally making her long overdue Metropolitan Room debut on May 11 and 12 with a tribute to one of the female pillars of Broadway songwriting, A Tribute to Dorothy Fields.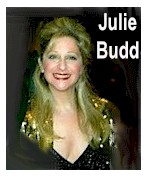 Budd appeared with the likes of Ole Blue Eyes, Carol Burnett, Liberace, often with Marvin Hamlisch and in over a 100 appearances on the Merv Griffin Show. She'll be accompanied by a quartet under the direction of famed arranger/pianist to numerous recording legends, Herb Bernstein [who's worked with Budd since she was 12!].



Miss Fields collaborated with Cy Coleman, the Gershwins, Kern and Jimmy McHugh. Among her Broadway shows are Sweet Charity, Two for the Seesaw and A Tree Grows in Brooklyn. She was honored with Tonys. Miss Fields and Kern won a 1935 Best Song Oscar for "The Way You Look Tonight" from Astaire/Rogers' Swing Time. It went became a cherished classic, recorded by a Who's Who of stellar artists. With her equally-acclaimed brother Herbert, she wrote the book for Annie Get Your Gun.



She penned more than 400 songs, among them "Big Spender," "Hooray for Love," "I Can't Give You Anything But Love," "If My Friends Could See Me Now," "It's Not Where You Start,""Make the Man Love Me," "Nobody Does It Like Me" and the perennial classic "On the Sunny Side of the Street."



For more on Miss Fields, read Charlotte Greenspan's lively biography Pick Yourself Up: Dorothy Fields and the American Musical [Oxford University Press] and/or visit the Broadway Stars Discussions column of October 7, 2010.



The music charge for Julie Budd's A Tribute to Dorothy Fields is $25, with a two-beverage minimum. Shows are at 7 P.M. To reserve, call (212) 206-0440 or log on at www.metropolitanroom.com.


How About Some Opera?
Great Performances from the Met present Puccini's La Fanciulla del West or The Girl of the Golden West at 8 P.M. on April 21 [and April 24 at Noon]. The sumptuous, brushed-up Giancarlo del Monaco production remounted last December from his 1992 revival, probably has opera's most unusual setting: the Old West and the California gold rush. The cowpokes and sifters all belly up to the bar, with horses galloping in the backgroud, of course, singing in Italian.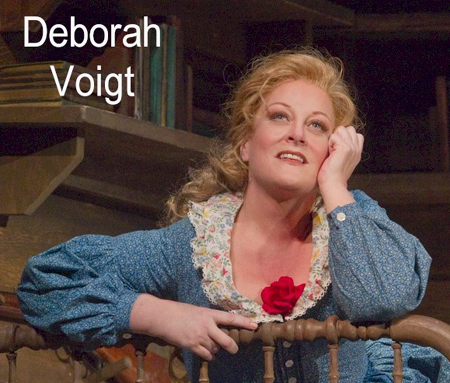 It commemorated the 100th anniversary of the opera's world prem at the original Met. Deborah Voigt and Marcello Giordani headline. Nicola Luisotti conducts.
Guelfo Civinini and Carlo Zangarini, who never visited the U.S., based their libretto, which is set against the California gold rush, a little too closely on David Belasco's play of the same name.
The lyrics often border the mundane, but Puccini's soaring score, one of his most beautiful, compensates.


At the Movies:
The Not-so-perfect Crime

Last weekend, something a bit different opened in the megaplexes: a black comedy about a bank heist. Yeah, come to think of it, that's been done a few times; but hold on! Henry's Crime, starring Keanu Reeves, Oscar nom Vera Farmiga and, back on the big screen after much too long an absence, crusty Oscar nom James Caan, add a unique boy-meets-girl scenario and, about a third of the way through, quite the unpredictable twist.
The laid-back Reeves, in one of his very best performances ever, plods along in life as a Buffalo toll collector. He's in a dead marriage and has no ambition. His bad bud, played by Fisher Stevens, drops in on the excuse of needing a lift to a game. But it's actually to rob a bank, which he and his mates botch - leaving poor, unsuspecting Henry in the getaway car. He does time for a crime he didn't commit.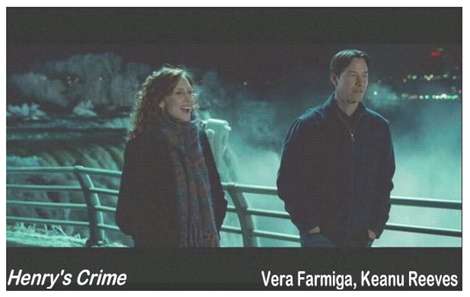 Cellmate is veteran con man Max, portrayed by Caan. On Henry's release, he finds his wife has been unfaithful, which doesn't seem to bother him in the least. In fact, he becomes ambitious enough to finally have a dream: he will rob the bank that he never robbed. But he can't do it alone. He needs a pro, but Max loves prison and Henry has a helluva time talking him into taking parole.

When he finally does, things go alternately up and down hill from there in the very original script by Sacha Gervasi and David White, from a story by Stephen Hamel and Gervasi. Reeves and his production company spent five years sharpening the script and raising the cash.
Reeves and Farmiga have the most awkward, innovative and hilarious meeting in cinema. It eventaully, and in a round about way, leads to romance for Reeves and Farmiga. They ignite quite well. She plays an actress, pretty full of herself even if she's only done one commercial, dreaming that regional theater is her path to Hollywood and finding her way against a bullying director [a scene-stealing, scenery-chewing turn by Peter Stormare] in a production of The Cherry Orchard. Farmiga has screen presence and comic timing and this could be her best role yet.

Caan, now outside is still enjoying the con life, plans a meticulous heist and pulls it off. You'll have to go and discover how the Cherry Orchard connects with the planned bank robbery. Because of some unpredictable events, you won't know what's coming next.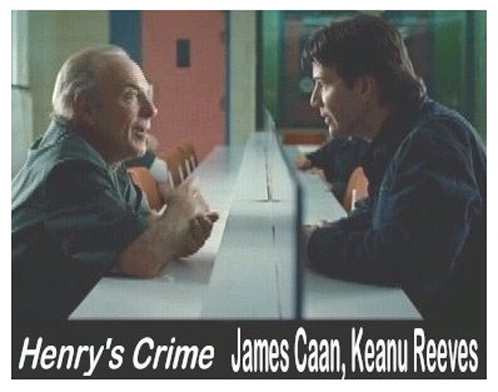 Speaking with Reeves, Farmiga and Caan, it quickly became obvious that director Malcolm Venville probably had a hard time suppressing the on-set hijinks even after he yelled "Cut!"

"The rapport between Keanu, Vera and James was wonderful," say Venville.

Caan said, "I didn't really know Keanu. We weren't friends. I knew his work, obviously. He may have seen one of my pictures. So, from the beginning, everything was new and real. I learned more about him everyday. He learned more about me. It was pretty natural, not something we had to work on."

"There was ad-libbing and takes did run on," says Melville, "but that gave me a lot of options in the edit. It was an embarrasment of riches."
Caan was full of life at the press junket. Asked what it was like, psychologically, to play a prison locked behind bars for years, he quipped, "From my point of view, we're all prisoners in one way or another. Mine has been marriages! It's like rehab. When you stop fighting it, it's not so difficult."
Addressing the low-key nature of the film, he put it quite succinctly, "This isn't Shakespeare, but a simple film that'll, hopefully, give you a few laughs and make you feel better as you exit than when you came in."
New to DVD:

A Disney Animated Milestone

Disney's modern twist on the the classic, hair-raising fable of Rapunzel, Tangled [Disney Home Entertainment; 100 mintues], the studio's milestone 50th animated feature, unraveled in brilliant color and 3-D to boffo b.o. last holiday season. It dazzles again in the recently released four-disc DVD 3-D Blu-ray combo pack [SRP $50; also available as two-disc Blu-ray package with DVD, SRP $40].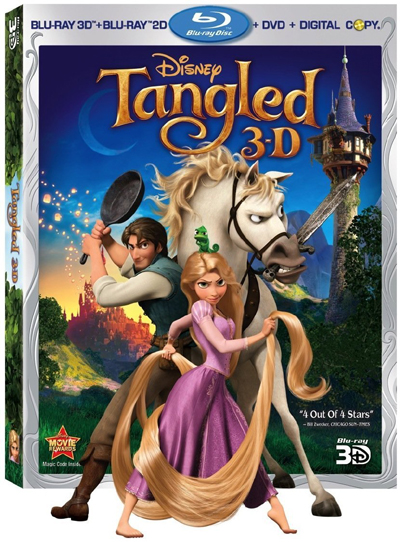 You wouldn't know it from the packaging, but the score is by multi-Oscar-winning Alan Menken and lyrist Glenn Slater [tune "I See the Light" was nom'd for a 2011 Oscar for Best Song] and the voice artists are Mandy Moore [A Walk to Remember, The Princess Diaries], Zachary Levi [TV's Chuck; sit com Less Than Perfect] and, as Rapunzel's alternately villainous and loving mother, Broadway's Tony/DD winner Donna Murphy, now in previews at Roundabout's Studio 54 in Iris Rainer Dart/Mike Stoller/Artie Butler's musical The People in the Picture, which will be the last show of the season to open [April 28].

In fact, unless you are in the know, you have to wait until the end credits to discover these artists are even connected to the film. Other voices are supplied by Brad Garrett, Jeffrey Tambor, Ron Perlman and the ominous Richard Kiel [Jaws in The Spy Who Loved Me].
Blu-ray bonus features include the featurette Untangled: The Making of a Fairy Tale in which Moore and Levi take viewers on a kooky behind-the-scenes tour; extended song sequences; original version of the "storybook" opening to the film; and deleted scenes.


A mini highlight of the release is a faster-than-a-speeding-bullet video montage "countdown" of Disney's animated oeuvre from Snow White..., Pinocchio, Fantasia, Dumbo, Bambi, Cinderella, The Little Mermaid, Beauty and the Beast and The Lion King to Tangled.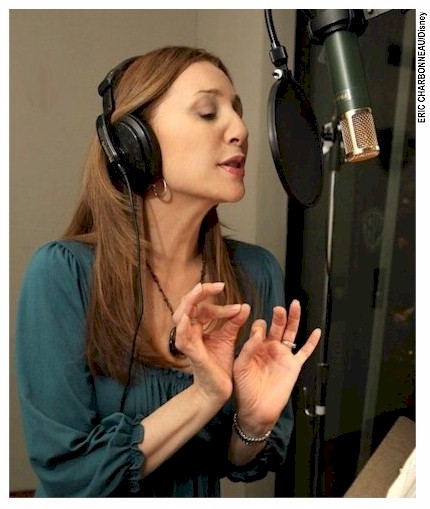 Donna Murphy, in a break from rehearsals at The People in the Picture, spoke of her Tangled experience: "I had a truly wonderful time working on Tangled. It was a delightfully collaborative experience with amazing, supportive people and becoming a part of the magic of Disney animation history, which was a treasured part of my childhood and now my daughter Darmia Hope. I felt beyond lucky to have such a juicy and fun role as Mother Gothel.

"I didn't initially realize that it might be a bit complicated for our five-year-old to process Mommy voicing/playing the scary Mommy- figure. She is not happy that Mother Gothel is mean to Rapunzel and does nasty things to Flynn Rider [Levi]. It must be surreal to hear your Mom's voice coming out of a character that doesn't look exactly like me, but was animated to behave and have facial expressions that resembled mine.

"We were happy she got that it's all pretend. She adores the film, loves listening to singing Alan and Glenn's terrific score. Now, she wants to know when Mandy and Zach can come over to play. Another great experience for her - and me - was the press junket at Disneyland, where we shared some memorable family bonding."
Memorable, Landmark TV Series
Might you, dear chaps, have some time on your hands? Say, about 57 hours? If so, something special has come your way in the form of memorable, landmark entertainment world history from across the pond.

TV's most popular and successful Brit drama, Upstairs, Downstairs, set in the Edwardian world of the Bellamy family and their posh Belgravia townhouse, has arrived again on DVD. This time, however, it's a fan/collector's dream: Upstairs, Downstairs, Complete Series: 40th Anniversary Edition [Acorn Media/ITV; 21 discs, all five series (color/B&W), 57 hours/six + hours each; SRP $200] [Series 1-5 are also available in standalone packages, four discs each; SRP $50].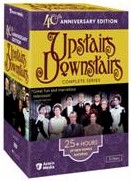 It's all here: the aristocratics and their loyal, lively servants as they survive social change and the obligatory conflict between classes, political upheaval, affairs/scandals, the Titanic disaster and WWI.

The packaging is quite sumptuous, with its distinctive gold foil banner, and has 25 hours of never-before-seen extras including the 25th anniversary retrospective Upstairs, Downstairs Remembered and a five-part behind-the-scenes doc featuring interviews with the stars and creators.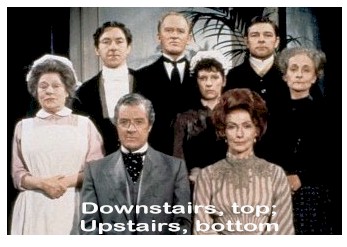 The beloved series, always good for entertaining soap dish, was co-created by Jean Marsh.

The cast included Marsh [Rose, the parlor maid], David Langton [Lord Richard Bellamy], Angela Baddeley [Mrs. Bridges, the cook], Gordon Jackson [the estimable Scottish butler Hudson], Pauline Collins [Sarah; later, Shirley Valentine], Simon Williams [James Bellamy], Lesley-Anne Down [the beautiful Georgina], Jacqueline Tong [Daisy], Nicola Pagett [Elizabeth] and Rachel Gurney/Hannah Gordon [Lady Bellamys].

For five heart-tugging, humorous seasons [1971 to 1975], it's estimated to have been seen by a billion people in 40 countries. U,D won seven Emmys, two BAFTAs, a Golden Globe and a Peabody.

Upstairs, Downstairs
i
nspired the recent Downton Abbey, Part One of which was seen on PBS, and the premiering BBC/PBS Masterpiece revival starring Jean Marsh in her original role.

The Voice presents the Obies
The Village Voice's 56th Annual Obies are May 16 at Webster Hall. Foundedc by journalist Jerry Tallmer, the awards honor the best of Off and Off-Off Bway but with a twist: there are no noms, just winners [and lots of them], structured in informal categories that change annually.

Presenters will include Nina Arianda, Alec Baldwin, Margaret Colin, Mamie Gummer, John Larroquette, Robert Sean Leonard, S. Epatha Merkerson and Lin-Manuel Miranda. Co-hosts are yet to be announced.

VV chief theater critic Michael Feingold chairs the judges panel. Tkts are $25, available through TicketFly at obies.villagevoice.com.
Ellis Nassour is an international media journalist, and author of Honky Tonk Angel: The Intimate Story of Patsy Cline, which he has adapted into a musical for the stage. Visit www.patsyclinehta.com.

He can be reached at [email protected]





Why are you looking all the way down here?
For more articles by Ellis Nassour, click the links below!

Previous: Veteran Actresses Loni Ackerman and Lorraine Serabian Return "with a Vengeance" - and in Rep; The Making of the Boys Documentary; Encores! Presents Where's Charley?; Celebrating Placido Domingo; Carmen Joins the 3-D Craze; New Directors/New Films; More

Next: Season of Power Performances; The Normal Heart; Larry Kramer; AIDS Walk; Nina Arianda; Town Hall at 90; Doctor, Doctor; Get Thee to the Parties on Time; Cy Coleman Revue; Katharine Hepburn in Print/on DVD

Or go to the Archives