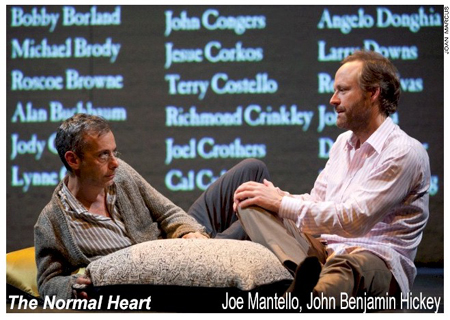 Millions Infected, Millions Dead
Kramer states, "Everything in The Normal Heart happened. These were and are real people who lived and spoke and died, and are presented here as best I could. Several more have died since."

Those include Paul Popham and Rodger McFarlane, who embody the characters of Bruce and Tommy. Dr. Linda Laubenstein, boldly portrayed in the play by Ellen Barkin as Dr. Emma Brooker, from a return bout of polio.

According to Kramer, four members of the original cast died, including Kramer's long-time friend Brad Davis [Midnight Express], who played Ned Weeks.
Kramer has been out front as audiences exit handling out a letter crammed with startling facts. Why?
"To get the word out, again," he states. "AIDS is a worldwide plague. No country, including the U.S., has ever called it a plague, acknowledged it as one or dealt with it as one. After all this time, the amount of money being spent to find a cure is still miniscule, impossible to locate in any national health budget. Research is totally uncoordinated."
He notes that case numbers continue to rise here and abroad. "The numbers are so grotesquely high, they're rarely acknowledged. All efforts at prevention and education continue their unending record of abject failure."
He puts the number of infections at least 75 million, the number of deaths at a staggering 35 million.
According to Kramer, "Most medications are inhumanly expensive and government funding for the poor to obtain them is dwindling and often unavailable. The pharmaceutical companies are among the most evil and greedy nightmares ever loosed on humankind. What 'research' they embark upon is calculated only toward finding newer drugs to keep us, just barely, from dying; but not to make us better or, God forbid, cured."
Help Make AIDS History
Join GMHC for the 26th Annual AIDS Walk New York on May 15th.
More than 100,000 New Yorkers live with HIV - and one-in-five don't know. AIDS Walk New York is the world's largest AIDS fundraiser with 45,000 coming together across the country to fight AIDS to support medical needs and fighting poverty, hunger and homelessness.
AIDS Walk New York benefits GMHC and tri-state AIDS service organizations, ensuring life-saving care and cutting-edge HIV prevention work continues.
Other AIDS Walk cities include Boston, Houston, L.A., Orlando, San Diego and S.F. Supporting this year's campaign are Duane Reade, Bristol-Myers Squibb, Delta Airlines, Bloomberg, WCBS-TV, 1010 WINS, Gap, Barclays Capital, Empire Blue Shield and, among others, the Village Voice.
To make a matching gift donation, register to walk, form or join a team, be a volunteer and more information, visit www.aidswalk.net/newyork.
Sultry Blonde - She's Back!
Few theatrical performances the last couple of years generated the kind of buzz that accompanied Nina Arianda's performance March, 2010, as Vanda, the very extroverted but seemingly flighty actress arriving past late to audition as a dominatrix, in Classic Stage Company's acclaimed production of David Ives' Venus in Fur. Now, in a season where there have been so many standout performances, Arianda is delivering one herself in her much-anticipated Bway debut as the very extroverted but seemingly scatter-brained mistress Billie Dawn in Tony-winner Doug Hughes (Doubt) revival of Garson Kanin's Born Yesterday. Seemingly, being the optium word.

The sex comedy, set against the political backdrop of the mid-40s, co-stars author [Real Men Don't Apologize] and Emmy nom Jim Belushi (TV's According to Jim) returning to the stage after a long absence [Conversations with My Father, Pirates of Penzance] and Tony winner Robert Sean Leonard [The Invention of Love, Long Day's Journey; TV's House].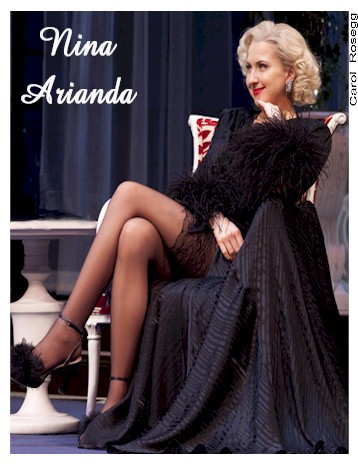 The plot revolves around a conniving businessman, Belushi, out to "capitalize" on everything Washington has to offer, his blonde body-beautiful [with legs that should be insured] mistress and investigative reporter, Leonard, out to get a scoop. Turns out Billie's not-so-dumb and knows a good thing when she sees it [in Leonard].
Nina Arianda, receiving the sort of raves you wait a whole lifetime in theater for, grew up in a NJ Ukrainian family where she learned English watching Sesame Street taking children's theater classes at age four. She's come a long way, baby - recently graduating from NYU's graduate acting program. Except for a brief period where she wanted to be an opera conductor, acting has been her goal. Still, she had only a few professional stage credits when she auditioned for Hughes.
She feels very well-suited to the role of the tempestuous Dawn, "Billie's another character you should never underestimate. I fell in love with her from the get-go. Since I can't escape myself, there's a lot of me in her. However, onstage, parts of me are more amplified. Things seemed to be going along an expected path, then boom, they're off in another direction. That makes the role even moret fascinating."
For Venus, Arianda read for director Walter Bobbie and playwright Ives only once, rather late in the audition process - sort of true to the play's plot. "Five hours later, I got a call from my agent!" she recalls. "Working with Walter and David was a revelation."
She feels quite blessed that lightning is striking twice. "Like Walter, Doug's incredibly intuitive. It's not always 'Do this, do that,' but rather a push this way or that way. There is always a jolt of surprise when you find great chemistry. Working with Jim and Sean has been a great on-stage collaboration because there's lots of chemistry's there."
Town Hall Turns 90
The Town Hall, as it's officially known, is celebrating 90 years of politically informative, musically innovative cultural history. Scott Siegel's tribute is Monday at 8 P.M., at the house where his Broadway by the Year series and Unplugged and Broadway/Cabaret Festival take place.
Appearing will be Tony-winning composer Jason Robert Brown, Tony and DD nom Liz Callaway, Tony nom and DD-winner Tovah Feldshuh, jazz guitarist Bucky Pizzarelli, choreographers/dancers Jeffry Denman and Noah Racey, who've been known to bring the house down and, among others, Tony and DD-nom Emily Skinner. Siegel will host.
Marvin Leffler is president of Town Hall and Lawrence Zucker is exec director. Some T.H. highlights include appearances by Woody Allen, Al Gore, Billy Joel, Garrison Keillor's Prairie Home Companion, Jay Leno, Dave Matthews, Bruce Springsteen and Robin Williams.
Tkts are $55 and available through Ticketmaster, (800) 982-2787, at www.ticketmaster.com and the Town Hall box office. Proceeds benefit T.H.'s Educational Outreach program. For more information, visit www.the-townhall-nyc.org.



Doctor! Doctor!
This has been the season of "Doctor, doctor! Is there a doctor in the house?" Even the most legendary of musicals had some behind-the-scenes tinkering, not necessarily by the bookwriter;.but by, perhaps, a George Abbott-type or maybe even George Abbott himself.
There's been a virtual triad center set up in the heart of Bway to rush critical care docs into theatres on a moments notice. Theater's known to be a collaborative effort, but this season, like so many before it, plays and musicals have seen "collaboration" take on new meaning.
Cheri Steinkellner, an exec producer on the TV series classic Cheers, often had the responsibility of pumping up the scripts to get the max laugh quotient. But did she ever expect to have her book for Sister Act rewritten by Douglas Carter Beane. It's reported she was unfazed. After six years of trying to get the musical up, I have a feeling she was a bit fazed.
It's been the season to beat up on Julie Taymor, but imagine after finally coming to Broadway with Spider-Man: Turn Off the Dark, being shown the door by the very people she thought were her closest collaborators. I have a gut feeling somewhere in all those sticky cobwebs, there's more to the story and that she might have been made the scapegoat.
Doctoring has been an often discreet Bway tradition -- Michael Bennett and Jerome Robbins was often brought in to make suggestions on a sluggish musical; Bway's most famous comic playwright Neil Simon was often rushed into the intensive care unit and given white scrubs to punch up a comedy that just wasn't comic enough. Even the legendary megahit Fiddler on the Roof had doctors arriving daily through revolving doors.
This season Catch Me if You Can, Priscilla, Queen of the Desert and Wonderland sought major medical assist just the way, last season, Jerry Zaks [Sister Act] was brought in to revamp a troubled Addams Family.

On Wednesday, NYTimes theater reporter Patrick Healy did a feature on show doctors. Here's the BroadwayStars link to it:


A Doctor in Just About Every Theatrical House
by Patrick Healy
Show doctors have become fixtures this season on Broadway, with musicals like Sister Act, Catch Me if You Can, Wonderland and Spider-Man: Turn Off the Dark all making use of them.



They're Late, They're Late for a Very Important Date
Several chatroom regs call it the Donna Murphy Syndrone, named in honor of the Tony/DD-winning actress being seemingly oblivious to the fact that on the opening night of the 2003 revival of Wonderful Town, she was expected within an hour at the big do. She arrived very late. Photographers, media, not to mention the show's producers and their investors were disappointed.

Murphy was razzed quite a bit but went on to give a much-acclaimed performance in LoveMusic, arriving on time for that musical's post-opening party. Now, she's about to open, and officially end the 2010-2011 season in the new musical The People in the Picture, at Roundabout's Studio 54.
However, at least several others are trying hard to claim to the DMS title: Nina Arianda, who kept everyone, including some very impatient photographers, waiting almost two hours following Born Yesterday's opening night curtain. By the time she arrived, co-star Jim Bulshi had departed.
Wonderland's Alice, Janet Dacal kept partygoers and media waiting nearly an hour to get out of the rabbit hole and out the Marquis stage door for an escalator zip up to the Marriott ballroom.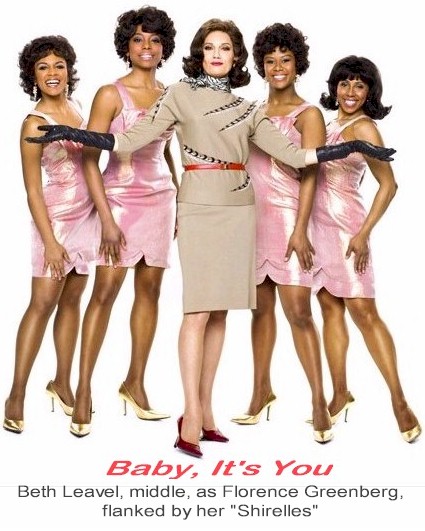 Last night, all Baby, It's You's vocally-gifted "Shirelles," Erica Ash, Kyra Da Costa, Crystal Starr Knighton and Christina Sajous, took forever, according to reliable sources, to merely cross West 44th Street from the Broadhurst to Bowlmor Lanes to join Beth Leavel and company.

All-Star Cy Coleman Revue
59E59 Theaters welcomes Rubicon Theatre [Ventura, CA] to Americas Off Broadway with their production of The Best Is Yet to Come: The Music of Cy Coleman, devised/directed by Tony-winner, Oscar, Grammy and Golden Globe nom David Zippel.

Performances of this first revue saluting Coleman's music begin May 18 [current end date, July 3]. Headlining will be Tony-winner Lillias White, Grammy-winner Billy Stritch [also, M.D.], Tony-nom Sally Mayes, Tony-nom and POTO veteran Phantom Howard McGillin, DD-winner Rachel York and Helen Hayes-winner David Burnham. White and Mayes mades their Bway debuts in Coleman shows.
"I could do a whole other show just with the tunes we don't include," states Zippel. "I didn't want the show to be a 'oh, then Cy wrote this' show and that show. The goal was to have Cy's famous pop standards, such as 'The Best is Yet to Come' and 'Witchcraft' making up a third of the songs, with another third his well known theater songs, like 'Big Spender,' with the final third premieres of less well known tunes. Hence, the best is yet to come."
Costumes are by four-time Tony/five-time DD-winner William Ivey Long. Veteran dancer/performer Lorin Latarro [and, most recently, associate choreographer, American Idiot] is choreographer. Don Sebesky is orchestrating.
Featured songs will be from Barnum, City of Angels, The Life, Little Me, On The Twentieth Century, Seesaw, Sweet Charity and The Will Rogers Follies. Lyrics are by Alan and Marilyn Bergman, Betty Comden & Adolph Green, Dorothy Fields, Ira Gasman, Carolyn Leigh, Michael Stewart and Zippel.
Performances are Tuesday - Thursday at 7, Friday at 8, Saturday at 2 and 8 and Sunday at 3 and 7. Tkts, through May 24, $45 ($35 for 59E59 members); after, $65 ($45.50, members). To purchase, call Ticket Central, (212) 279-4200 or book at www.59e59.org.



Hepburn as Page Turner

The just released trade paper edition of I Know Where I'm Going: Katharine Hepburn, A Personal Biography by Charlotte Chandler [Groucho Marx, Hello, I Must Be Going; I, Fellini; and biographies of Bette Davis, Ingrid Bergman, Joan Crawford, Mae West, Alfred Hitchcock and Billy Wilder] [Applause Theatre & Cinema Books/Hal Leonard; trade size, 368 pages, B&W photos; Index; Filmography; SRP $19] draws on highly intimate interviews with Miss Hepburn and peers such as director George Cukor, producer Joseph Mankiewicz, Douglas Fairbanks Jr. and, among others, Cary Grant.

Miss Hepburn's suffragette mother and physician father were a great influence, as was relationship with brother Tom, whom she considered "the most important man in my life." As a teen, she discovered his body [an apparent suicide]. She speaks with candor of her marriage and divorce from Ludlow Ogden Smith [they remained lifelong friends] and her affair with Howard Hughes [including how they, just a coupla fellas, enjoyed diving nude off the wings of his seaplane when they'd land in some remote waterway]. Her warmest recollections, as you might expect, are of her 27-year affair with Spencer Tracy.

"Our screen characters fell in love," Miss Helpburn told Ms. Chandler. "I don't know which came first, our screen characters falling in love, or us falling in love. I think it was us first, but our screen characters knew it first."

Here's an excerpt from Charlotte Chandler's I Know Where I'm Going: Katharine Hepburn, A Personal Biography, Chapter Five, as Miss Hepburn and Mankiewicz discuss the Hepburn/Tracy pairing. The duo's first was Woman of the Year [1942]:

>>>Kate said, "I also had in mind the actor I wanted to play opposite me. I knew Spencer Tracy would be perfect"... Mankiewicz said, "So we had a new team like Myrna Loy and William Powell were. I think even greater. Tracy and Hepburn. It was greater because there was not only magic on the screen between them, but it was clear there were genuine sparks as well. [George] Cukor, who was Hepburn's favorite director and best friend, was busy ... so Kate suggested George Stevens ... Tracy wasn't thrilled ... He said, 'Stevens is that woman's friend, and he's going to direct the picture as a woman's picture, giving "that woman" all of the advantages, the best angles, close-ups.' He was talking about Kate, calling her 'that woman.' No respect. Plenty of antipathy...
"As the film progressed, and the onscreen relationship between Sam Craig and Tess Harding seemed to be changing, the real-life relationship between Spencer Tracy and Katharine Hepburn seemed to be changing, too ... I was surprised that they didn't hit it off at all. It was icy-cool between them. I wasn't expecting love at first sight, but I wasn't expecting hate at first sight, either! They were like cats and dogs guarding their territory.
"Kate was wearing high heels, so she was a little taller than Tracy. She said, 'I fear I may be a little too tall for you, Mr. Tracy.' I said, 'Don't worry, Kate. He'll cut you down to size' ...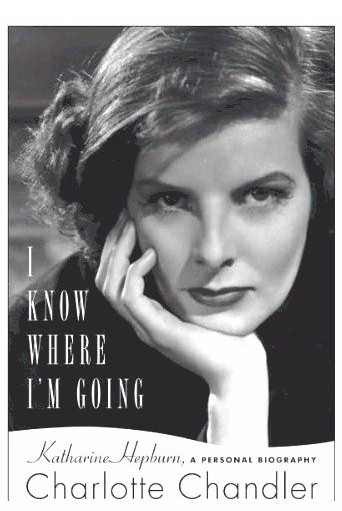 "As they got to know each other, there was still an edge to their conversation [instead of] a battle of the sexes in which the sexual attraction played a big role.
"Tracy said to me, 'I think Stevens is favoring me in his setups. Can you talk to him so he does better by Kate.' I noticed he wasn't calling her 'that woman' anymore ... A little later, Kate [came] to tell me that she thought George was favoring her because they were friends, and she would prefer it if he would shift his emphasis to show Spence more ... I told him [what they said]. He wasn't at all surprised. He'd already heard from Tracy and from Kate ...
"George and I ... understood. Our stars were living out the script in real life. Our stars were falling in love!"
"There'd been sort of a front office discussion of how it looked having Spencer Tracy's name precede Kate Hepburn's in the credits," Mankiewicz told Chandler. "Most of them thought it should be Hepburn-Tracy rather than Tracy-Hepburn ... I asked Kate how she felt about it ... She said, 'Spence is the bigger star, so it should be up to him. Tracy-Hepburn sounds better and is easier to remember than Hepburn-Tracy, and besides, I don't give a damn!' ...
"Kate confessed, 'professionally speaking, Spence did much more for my career than I did for his. He was a bigger star. No one ever called him 'box office poison.'"
Woman of the Year won an Oscar for the best original screenplay. Kate was nominated for best actress ...
"They talk about actors and actresses who fall in love while they're having a romance onscreen, making a movie together," Miss Hepburn told Chandler. "Sometimes it leads to an affair, sometimes marriage. Sometimes it's a wrap when the movie wraps. I could not imagine any of these things ever happening to me.
"I wasn't usually attracted to actors ... I already knew the only actor I needed to know. Me. When I was working, my concentration was too intense on what I was doing, and there wasn't enough of me to go around to moonlight with romantic wanderings, mental or physical. I needed my sleep ...
"I had passed thirty, a birthday which seemed very big at the time, and I had my head on straight, I thought. And then, there he was, Spence. All my logic, out the window. Which window? Any window. I never wasted any time thinking about reason. I just fell in love with him. If you fall in love, it's already not reasonable. Sometimes Spence reminded me a little of my father ...
"Spencer had ambivalent feelings about acting, He wanted very much to be an actor when he was young. He was very dedicated, even desperate. Acting and being good at it was very important to him. By the time I knew Spence, he had become successful and lauded. He had begun to doubt the worthwhileness of what he was doing ... a part of him had become a little ashamed of what he was doing. Maybe because it came so easily, so naturally to him and the rewards were so great. He told me he felt 'over-rewarded' ...
"Spence and I represented the perfect American couple for the filmgoing public of that time ... he represented an ideal sort of American male. He was strong-looking, with a big head, a boar neck, and a craggy face. He couldn't be called handsome, but he had sex appeal. He was intelligent, but not intellectual. He loved sports, especially those he could play himself. He was a man's man, but he appealed to women, too ...
"He really was like a big bear ... I could needle him, irritate him. I could try in every way to get around him. I think audiences found this sort of male-female relationship rather romantic ...
"I don't like talking much about what Spencer and I had because I don't believe in chewing over stuff till all the magic is gone. Being in love in a private way that is yours alone, shared with only one other person, is not so different from the love affair with an entire audience. Each can give you that wonderful feeling you have of being desired, of seeing that highly favorable reflection of yourself in the eyes of the person you love, or in the audience reaction."<<<
Excerpted with permission.


More Hepburn and Tracy
Tracy and Hepburn: The Definitive Collection, the first and only complete anthology of films starring the devoted duo just dropped [Warner Home Video; ten discs; illustrated booklet; SRP, $60].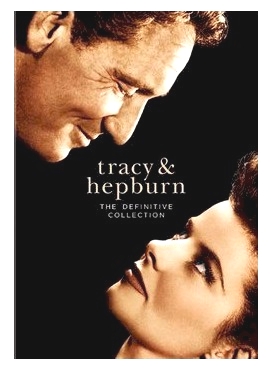 The remastered films are Woman of the Year (1942), Adam's Rib (1949), Pat and Mike (1952), Desk Set (1957) - four of the team's best-know comedies, Guess Who's Coming To Dinner (1967, wrapping shortly before Tracy's death) and four rarely-revived but quite interesting movies: Keeper of the Flame (1942), the highly controversial marital farce Without Love (1945), Sea of Grass (1947), State of the Union (1948).

A bonus disc features Miss Hepburn moderating the 87 minute Emmy-winning Spencer Tracy Legacy: A Tribute by Katharine Hepburn (1986).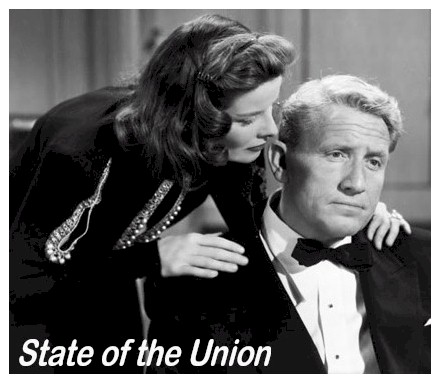 Making their DVD debuts are KOTF, directed by multiple Oscar-winning George Cukor [Philadelphia Story, A Star is Born (1954), My Fair Lady]; and the odd duck Western SOG, controversial for its day and directed by Elia Kazan, with Kate as the wife of a stubborn cattle baron. Melvyn Douglas and Robert Walker co-star, with an excellent featured turn by veteran character actor Harry Carey.
KOTF, not a comedy by any stretch, cinematically has much in common with Citizen Kane though itS a touch too overblown and you can pretty well predict the big secret long, long before it's revealed. Here's a little hint: to catch a major blunder in the film: After you watch the movie, play the trailer in the bonus material. Presenting a sequence taking place between Tracy and Hepburn very near the fade-out, the trailer leaves in a few words from Tracy that puts an entirely different spin on the plot. Perhaps, Cukor decided to cut those words from the film. Though onscreen very little time, Margaret Wychery, as the great man's mother, makes an impact. Richard Whorf, who began directing film/TV midway through his career and eventually segued to TV series, is slippery as an eel as the great man's personal assistant. Cukor must have known the film would need some comic relief and it's sublimely supplied by Audrey Christie, who went on to a long career in character roles. In another feature role is Percy Kilbride, channeling Pa Kettle.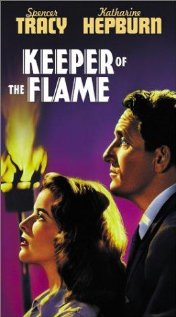 SOTU, directed by Frank Capra with losts of Capraesque touches and co-starring Angela Lansbury as a media kingmaker and the ever so clever and delightful Van Johnson. Adolphe Mejou almost steals the picture.
Lucille Ball tries hard to save WL, but even she can't speed it up. Hard to believe this was a Philip Barry [Philadephia Story] play and that Donald Ogden Stewart did the adaptation. It takes a good 35 minutes to even get to the starting line.

Bonus material includes Tom and Jerry cartoons and shorts. The set's also available On Demand from cable/satellite providers. Individual titles can also be purchased digitally through Amazon On Demand and iTunes.


Miss Hepburn holds the record for the most Best Actress Oscar wins with four [12 nom], and is ranked by AFI as the Greatest Female Screen Legend. In this collection, she was nominated for an Oscar for WOTY and won for GWCTD. Tracy's tied with Olivier for the most Best Actor Oscar noms.
Elizabeth Taylor Retrospective
Tkts go on Thursday for the Film Society of Lincoln Center's Elizabeth Taylor: The Golden Age series May 20-22 at the Walter Reade. The retro will include a photo exhibit from the Kobal Collection.

Tkts can be purchased at the Reade box office. For screening showtimes and/or to purchase, visit: www.FilmLinc.com.