Tony and Drama Desk winner Donna Murphy, not unexpectedly, is giving one of the most acclaimed performances of the season in Roundabout's Iris Rainer Dart/Mike Stoller/Artie Butler's musical The People in the Picture.
In an apt tribute to the musical, Murphy has transformed the sitting area of her Studio 54 dressing room into a beautifully-framed and mounted gallery of paintings and photos of the people in her "picture": vintage family photos, snapshots of friends and photos of she and husband Shawn Elliott with their daughter Darmia Hope and stepdaughters Justine and Ivy.


Some span several generations, just as in the show her character spans three generations, seguing from young, vibrant Raisel, the darling of the Yiddish theeatre in pre-war through Nazi-occupied Poland [1935-1946]; desperate war/death camp survivor; and, over 30 years later, ill/confused grandmother Bubbie in NY.

Murphy's often asked about her transitions from old-to-young and vice versa that happen miraculously right under our eyes - sometimes right in the middle of a sentence. Not only that, but there are a number of quick changes right onstage.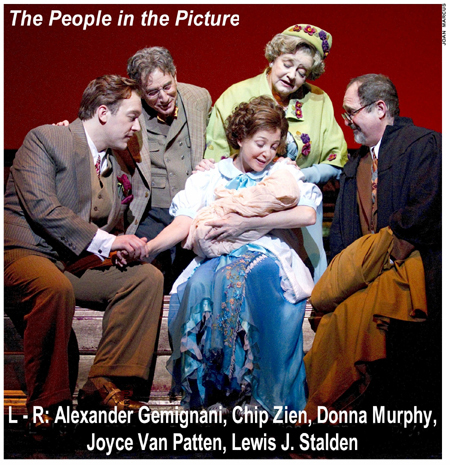 "It was more difficult in rehearsals," she says, "even though our wonderful director Leonard Foglia tried to schedule working in a logical manner. But rehearsals are rehearsals. They're a period of discovery and not always linear and logical. It wasn't always easy to let go of the intensity at the end of each day. Now that we're onstage, the arc is there. It feels organic and is one of my favorite aspects of inhabiting this character."
Bubbie has a loving relationship with her granddaughter who's fascinated with the stories she passes on from her youth; but the mother/daughter relationship is much more difficult since Red [her daughter] will do anything to keep from looking back.
Book and lyrics are by best-selling author Dart, whose Beaches not only became an international best seller but also a cult movie classic. Kudos for the score must go to rock/pop legends Stoller and Butler, who have amassed shelves of gold and platinum selling smashes. [You might have caught Stoller, paying a visit to American Idol on Wednesday night, as the four remaining hopefuls sang some of his and Jerry Leiber's rock 'n roll chart-toppers.]
In the affecting second act, there're so much sobbing from the story of a mother forced to give up her daughter to save her from the death camps, that Kleenex should be handing out little tissue packages. It's hard to imagine anyone with dry eyes after three back-to-back, highly sentimental songs, "Saying Goodbye," "Child of My Child" and the reprise of "Remember Who You Are."
"Those were such unspeakably hard times," explains Murphy, "filled with every imaginable emotion. Now, with a daughter [in addition to step-children], I cannot fathom what hell that must have been. It's wonderfully satisfying to know that, like Raisel, many parents were reunited with their children. Of course, much sadder, many more were not."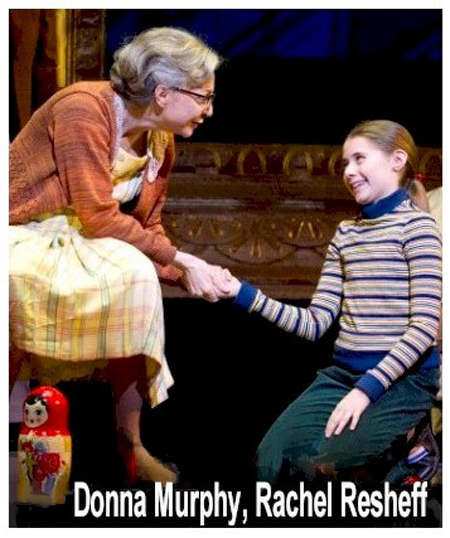 Murphy said she was fascinated with the history of families in the ghettos faced with the choice of whether or not to place their children with Christian families in order to give them a chance of survival.

She gleamed background from the PBS doc Irena Sendler, in the Name of Their Mothers, the story of Polish women who risked their lives to save thousands of Jewish children from the Warsaw ghetto during WWII. Sendler was captured, tortured and barely escaped death. She hide over 2,500 children.

"Most of the children survived," Murphy points out, "and were reunited with their families. For decades in Communist Poland, neither the children nor their protectors could tell their stories. The documentary features the last interviews Irena gave before her death in 2008 at the age of 98."
After this tearjerker, Murphy should fulfill a life-long dream and do Mame! With her amazing gift for physical comedy, so brilliantly displayed in the Wonderful Town revival, she'd be the ideal to coax the blues right out of the horn, charm the husk right off of the corn, and having the whole plantation's hummin' and make that weepin' willow tree smile!

TPITP has an outstanding featured cast, namely the always-dependable Joyce Van Patten in a delightful comic turn as a fading actress who refuses to fade; Alexander Gemignani as a homosexual actor who comes to Raisel's rescue, Christopher Innvar as Raisel's love interest who goes off to Hwood, Lewis J. Stadlen and Chip Zien as Polish vaudevillans, young Rachel Resheff as the granddaughter and the even-younger golden-voiced Andie Mechanic [making her Bway debut but a seasoned vet with roles as Les Miz's Young Cosette and Annie's Molly] as Young Red.
The Understudy Goes On


Actors are amazing in what they can pull out of their hats. Just days following the April 28 opening night, Nicole Parker, who plays Red in The People in the Picture took ill. Without benefit of an U.S. rehearsal and only two hours notice, Jessica Lea Patty was quickly run through her blocking and went on - acquitting herself superbly.

Nominees Complain


Take heed, American Theatre Wing and Broadway League. Next season, don't hold the media meet and greet for Tony noms on a Wednesday. It makes for an especially exhausting day for those noms currently on the boards. There was a reason so many of the noms were wearing deep, dark sunglasses. They weren't quite ready for their close-ups.
It was a pretty vocal chorus, but here's what two noms had to say at the reception, held on two floors of the Millennium Broadway Hotel in Times Square: "The nominations were yesterday," weighed in one nom, "and here we are the very next day, when we have two shows, having to look all bright and bushy-tailed. I'm thankful for the nomination but it would've been nice to have a day for it all to sink in."
A few days later, a run-in with another nom led to this comment, "We just came off a performance last night, and then had to get up at the crack of dawn to do hair and make-up and decide what to wear. Then, we had to be here at 10, and do photos and interviews. In a couple of hours, we have a matinee. You want to do whatever you can because it helps the show, but I'm already exhausted. I hope 'Doctor Theater' kicks in when the lights hit me!"
So, American Theatre Wing and Broadway League, wouldn't it make more sense to have the event at least two days following the noms? You would not only get more publicity with a day in between but also get it in the well-read weekend media.
Broadway, 1982


The 11th season of the acclaimed Broadway by the Year series continues Monday at 8 at Town Hall. Created/written/hosted by Scott Siegel and produced by Town Hall.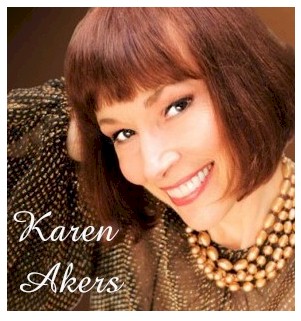 1982 will be celebrated by song stylist and Tony nom Karen Akers [Nine], Tony/DD nom Liz Callaway [reprising the Grisabellla she played in Cats for five years], Tony nom Stephen Mo Hanan [recreating the role of Gus, the Theater Cat, he played in Cats], DD nom Kerry O'Malley and Tony/DD nom Barbara Walsh.

Songs will be featured from the short-lived Rock 'n Roll: The First 5000 Years and Seven Brides for Seven Brothers and the short-lived but now cult fav Is There Life After High School?, with composer Craig Carnelia. The concert offers a first: the Mark Stuart Dance Theater. There'll also be a mystery guest - a DD nom who'll, Siegel promises, "rock the house" performing songs from the short-lived Blues in the Night. You can expect an "unplugged" moment.


Among '82's Bway shows were Dreamgirls ['81], 42nd Street ['80], Joseph and the Amazing Technicolor Dreamcoat [after move from Off Bway], Pump Boys and Dinettes and the short-lived Little Me revival.

Scott Thompson directs with BBTY m.d./arranger Ross Patterson, appearing with his Little Big Band.
Tkts for Broadway Musicals of 1982 are $55 & $50 and are available through TicketMaster at (800) 982-2787, www.ticketmaster.com, or the Town Hall box office.
Upcoming, the BBTY season closer, The Broadway Musicals of 1997 on June 20. Broadway Musicals of 1982 is part of Town Hall's 90th anniversary season that includes Kelli O'Hara [June 3] and Easy To Love: Andrea Marcovicci & Jeff Harner Sing Cole Porter [June 9].
Opera on PBS


Gluck's rarely performed masterpiece, Iphigénie en Tauride, ("Iphigenia in Tauris"), starring Susan Graham, Plácido Domingo and Paul Groves, airs on PBS/THIRTEEN's Great Performances at the Met on May 26 at 8 and May 29 at Noon. Patrick Summers conducts this revival of the Metropolitan Opera's much-lauded 2007 Stephen Wadsworth production.
The title role is a touchstone for Graham, who's performed it worldwide. Domingo added the role of Iphigénie's long-lost brother Oreste [a baritone role] to his repertoire for the 2007 premiere. Groves reprises his Pylade, sung at leading opera houses.
IET, sung in French with English subtitles and based on the Greek myth about a priestess facing her family's violent history, is considered Gluck's perfect union of music and drama.
Costumes are by Tony and DD-winner Martin Pakledinaz [current, Anything Goes]. The IET HD transmission is hosted by soprano Natalie Dessay. Former VP and exec producer for Sony BMG Records, Emmy and seven-time Grammy winner Jay David Saks, producer of numerous Bway cast albums, is the music producer.
Great Performances is funded by the National Endowment for the Arts, public television viewers and PBS. Corporate support for Great Performances at the Met is provided by Toll Brothers homebuilders, the Philip and Janice Levin Foundation and Joseph Wilson.
The Met production of John Adams/Alice Goodman's Nixon in China, conducted by the composer and staged by Peter Sellars, airs June 1 at 9 on Great Performances at the Met [encore broadcast, July 3, 12:30]. Based on President Nixon's 1972 China visit, James Maddalena stars. Janis Kelly
is Pat Nixon with Richard Paul Fink as Secretary of State Henry Kissinger and Robert Brubaker as Chairman Mao. Mark Morris choreographed.

Classic Opera Remastered
Sony Classical, in partnership with the Metropolitan Opera, continues its series drawn from the Met archives with remastered multi-disc sets of Beethoven's Fidelio [two discs, SRP $16], Mozart's Le Nozze di Figaro and Wagner's Die Walküre and Die Meistersinger von Nürnberg [latter two, three discs, SRP $20]. It's the first commercial CD release of the operas originally broadcast 1960 to 1972.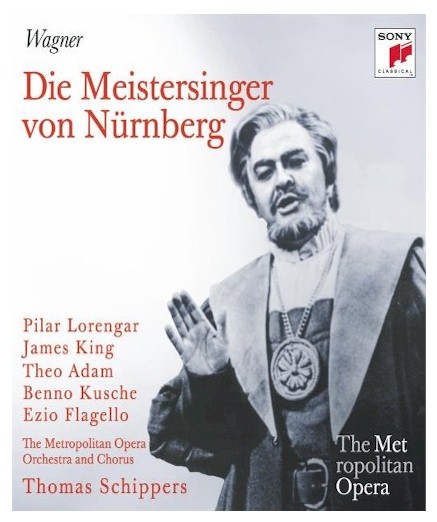 Fidelo stars Birgit Nilsson as Leonore, who disguises herself as the youth Fidelio to save husband Florestan [Jon Vickers]. German baritone Hermann Uhde [Don Pizarro] and acclaimed bass Giorio Tozzi [Don Fernando]. Featured are Italian bass Cesare Siepi, beloved soprano Roberta Peters and the legendary Leonie Rysanek [Marcellina].
Walküre boasts a stupendous cast of Wagnerian pros who electrify this second opera in the composer's Der Ring des Nibelungen: Miss Nilsson, one of the greatest Brünnhildes, Miss Rysanek [Sieglinde], Vickers [Siegmund] and Christina Ludwig as Fricka. Meistersinger stars German bass-baritone Theo Adam in one of his signature roles, philosopher/poet Hans Sachs, Spanish soprano Pilar Lorengar as Eva and Met vet James Morris, early in his career.

On the podium for the broadcasts were conductors as Karl Böhm, Berislav Klobučar, Erich Leinsdorf and Thomas Schippers.


Dancers at the Feast
Broadway's busy dance corps -- those invaluable gypsies, didn't have to dance for their supper - or even sing - last Wednesday when the Shubert Org again hosted them at the Buffet Dinner & Between-Shows-Get-Together in Sardi's Eugenia Room. This annual Career Transition for Dancers is not only an opt for a sumptuous meal with all the trimmings underwritten by the Shubert Org but also for them to learn about the programs, grants and scholarships offered by CTFD.
Invitees hobnobed with choreographer Mercedes Ellington, veteran dancers Joann Hunter [Jerome Robbins Broadway, numerous others], Mary Macleod [Fosse; currently ASM, Sister Act], Judine Somerville [Hairspray] and director/choreographer Ann Marie DeAngelo.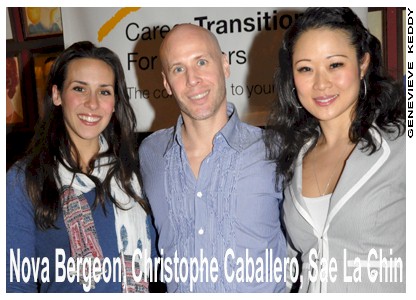 Emcees were CTFD career counselor Lauren Gordon and Christophe Caballero [dance captain/ US for Francis/Jacob, La Cage]. Testimonials about CTFD support were given by Nova Bergeon [Wicked], Sae La Chin [Wonderland] and Caballero.
Shubert Org president Philip Smith said, "Dancers are the backbone of musicals. Broadway is blessed to have the best in the world. We congratulate Career Transition for Dancers for the support they give them for their second careers."
Bergeon, who received a grant for a wellness program at the Institute for Integrative Nutrition, said, "Thanks to Career Transition for Dancers I was able to continue dancing eight shows a week, take dance class, say yes to outside projects and start applying what I'm learning at Integrative Nutrition within the dance community. As dancers, we define ourselves by what we do, sometimes not knowing if there is room for another dream. That new dream creeps in quietly, whispering to us.

"As we grow older," she continued, "we hear that voice more clearly. When it speaks, Career Transition for Dancers is there. We're lucky to be a part of a community where we can ask for help - and receive it! Career Transition for Dancers gave me the opportunity to do everything I love - and all at once. That's living the dream."
Since 1985, CTFD, with offices in NY, LA and Chicago, has helped over 4,800 professional dancers in 47 states identify unique talents with career counseling and programs in preparation for establishing new careers when dance is no longer an option. It has awarded millions in scholarships for education and grants. For information, go to www.careertransition.org.

Scholarships and grants are made possible by proceeds from CTFD's annual gala at City Center, underwritten by Rolex. Save the date: October 31, A Halloween Thriller: A Dance Celebration of Ghosts, Ghouls, Vampires & Wilis & Witches, directed,choreographed by DeAngelo.


Big Screen Blockbusters
It's not officially summer, yet big screen blockbusters are pouring in weekend after weekend. Have you noticed there are more family-oriented films, many animated?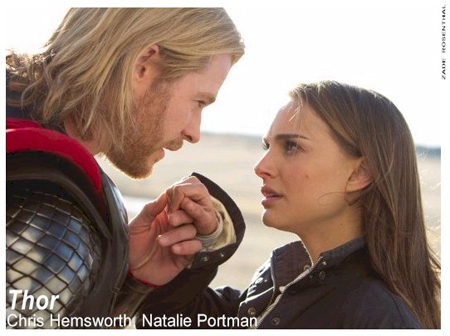 Paramount/Nickelodeon's animated Rango [voiced by Johnny Depp and directed by Pirates vet Gore Verbinski and Twentieth Century Fox's animated smash Rio, Universal's new addition to the Fast and Furious franchise, the car-crushing Fast Five [set in Brazil, but mostly shot in Puerto Rico and Arizona], and Paramount/Marvel's Thor, directed by Kenneth Branagh, with the bellowing of Anthony Hopkins as Odin and the hammer of new screen hunk Chris Hemworth in the title role [thankfully, he can act and has great screen presence] and, those chicflix Warner Bros.' Something Borrowed [stolen by John Krasinski] and Universal's absolutely crass, sometimes absolutely gross but ROTF hilarious Bridesmaids [totally stolen by Melissa McCarthy, TV's Mike & Molly; and surely with a toilet-humor sequence that'll be much discussed; Jill Clayburg's last film].
But as Warner Bros. used to wax enthusiastically about Jolson, "You ain't seen nothing yet!" Pirates of the Caribbean: On Stranger Tides, opens next Friday - to be followed Memorial Day weekend by the eagerly-awaited The Hangover 2 [Warner Bros.] gross-out. Then comes Paramout's Kung Fu Panda 2, Disney's Owen Wilson and Larry the Cable Guy-voiced Cars 2; and, in July, again from Paramout, Transformers: Dark of the Moon and Captain America: The First Avenger. And on it goes, these days most often in 3-D.



Rob Marshall Helms Pirates Return - in 3-D


Swords will be swashbuckling and waved and swarms of mermaid tails will be right in your face accompanied by grimaces from gold-toothed Johnny Depp as Disney and Jerry Bruckheimer's Pirates franchise arrives in theatres - in 3-D for the first time.
Pirates of the Caribbean: On Stranger Tidesopening May 20, is the fourth installment of the misadventures of Captain Jack Sparrow, this time on a journey to the find the fabled fountain of youth that's interrupted by meeting his impersonator, ravishing Angelica, played by Oscar-winner Penélope Cruz, who matches him wit for wit, sword for sword and lures him aboard the ship of barbarous Blackbeard, portrayed by Ian McShane.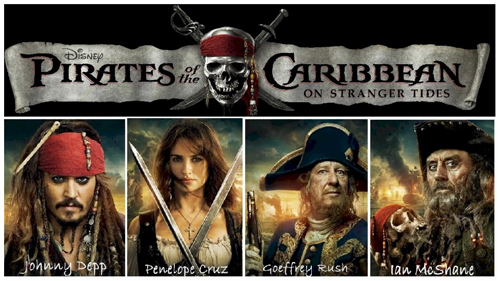 There are not-so-enchanting mermaids luring the pirates to their doom, and a reverend in a fishy love affair. As the indestructible Captain Hector Barbossa, Oscar-winner Geoffrey Rush is aboard once again. He and McShane compete in the scene-stealing/scenery-eating departments. Along for the bumpy ride are Judy Dench, Richard Griffiths and Keith Richards - yes, that Keith Richards - in cameos. The end credits are about half the length of the film, but if you want a hint of the upcoming Pirates 5, don't leave until the very end.
The film is much too long, though shorter than 3. The Depp antics and chase through old London highlight the first 20 minutes, which are hard to beat. When the swords are down and there's time for actual converstion, there are some hilarious quips and one-liners from Depp. Dariusz Wolski's cinematography is luscious, especially the Hawaii locations, and the depth of field benefits greatly from 3-D. There's a pounding, thumping score by Hans Zimmer.

"When you're done playing Captain Jack," explains Depp, "there's decompression getting out of that skin. I like playing him because you have license to be completely irreverent and subversive. I know him so well, it just comes naturally. I was happy with Ted [Elliott] and Terry [Rossio]'s screenplay. The gates were reopened and it was all fresh. It actually felt closer in spirit to the first film."
Depp was enthusiastic working for a fourth time with Bruckheimer. "Without Jerry's support, we wouldn't have gotten away with a third of what we did on Pirates 1. It would have been generic, not much fun, and I would've been fired! Jerry really produces. He's untamed and allows us to be in an atmosphere that's conducive to making something different."
Pirates 1 through 3 were directed by Gore Verbinski, whose unavailability due to his Rango commitment made for quite a dilemma. When it came to finding a director for "On Stranger Tides," both Jerry Bruckheimer and Johnny Depp found themselves in complete agreement with whom that should be: Rob Marshall, multiple Tony/DD nom who directed Oscar-winner Chicago and the greatly ambitious film adaptation of Nine.

"Rob's a filmmaker unafraid to take on big challenges and risks," says Bruckheimer. "What's more, his background in musical theater, choreography and film were huge benefits. You need somebody who can stage huge action and understands movement. Rob's also a wonderful storyteller, and he's got impeccable taste."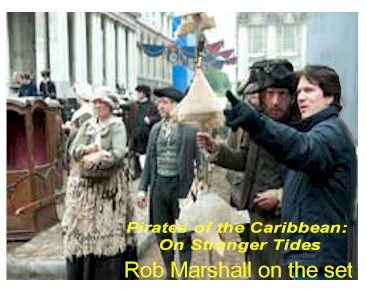 "When Rob's name came up I thought, 'That's got to be it. Let's just hope he's a nice guy.'" says Depp. "I've seen his films. He's got great sensibility and a unique approach to characters. His aesthetic sense is magnificent. I knew he was the guy from the moment we first talked.
"Rob gave the franchise a new angle," he continues. "He brought a new pair of eyes, a fresh look. He's a real force. His on set style can accurately be described as iron covered in velvet."
Bruckheimer states, "A masterful director who's also cast-friendly is pure gold. Rob's a throwback to another time. He comes on set and shakes hands with everyone. Actors love him, as he loves them. He's worked with the best, and every one wants to work with him again, or for the fi­rst time."

"I've always wanted to do a classic adventure film," states Marshall. "Some thought that this would be a departure from what I do, but not really. It's more of an extension because 'action' is a kind of choreography. The sequences are put together carefully, like a detailed mosaic, similar to dance."

For Marshall, everything begins at the same place. "Stage or film, it's really about story and character, telling a story that makes sense, that's intriguing, and that you are engaged in so that you can get onboard and take a fantastic ride. On Stranger Tides took more time because of 3-D, but the result was well worth it."

He loves period films, especially classic adventures. "I watch more old movies than new. I find them more inspiring, and On Stranger Tides has that classic nature. It's one of the aspects that drew me to it.

"Johnny has a strong work ethic," he continues, "but he's also so much fun; we laughed all the time. It was a grueling schedule with an enormous amount to accomplish, but it was joyous because of him."

"Right off the bat Rob knew how to keep it lean," notes Depp. "He's incredibly efficient, saying 'Let's stay to the heart of the story and have fun while we're doing it.'"

Courtesy of Disney, here's a Johnny Depp and Penélope Cruz Pirates of the Caribbean: On Stranger Tides featurette:



Drama Desk Awards

The Drama Desk Awards, honoring Bway and Off Bway and hosted by Harvey Fierstein, are May 23 at 9 at the Hammerstein Ballroom. The event will be shot in HD for a one-hour Ovation network telecast on June 4. Robert R. Blume is exec producer of the Awards, co-presented by Theatermania.com. Jeff Kalpak is writer/director. For tkt options, gala tables, noms and more information, visit

www.dramadeskawardsgala.com

.

Actors Fund Honors Pacino and Neuwirth
The May 23 Actors Fund gala at the Marriott Marquis honors Al Pacino with the Lee Strasberg Artistic Achievement Award, Bebe Neuwirth and Michael J. Stengel and Marriott International with the A.F. Medal of Honor. Cocktails are at 6; dinner, 7. Co-chairs include Alec Baldwin, Annette Bening, Nederlander Org prez James L. Nederlander, Jujamcyn Theatres prez Jordan Roth and Shubert Org chair Philip J. Smith. Individual tkts begin at $1,000. To reserve: (212) 627-1000 or [email protected].
Marilyn Maye Returns to Feinstein's

It's Maye In May from perennial fav and Grammy-nom Marilyn Maye opens May 24 [through June 4] at Feinstein's at Loews Regency. Miss Maye sings jazz and pop American Songbook standards, Bway tunes, and Peter Allen and James Taylor songs. Tedd Firth is m.d. with bassist Tom Hubbard and Jim Eklof, Miss Maye's drummer of almost 50 years.
Performances are Tuesday through Thursday at 8:30 and Friday and Saturday at 8 and 10:30; $40 and $60 with additional $25 food/bev min. To reserve: (212) 339-4095, www.feinsteinsatloewsregency.com or TicketWeb.com.
Elizabeth Taylor Retrospective

The Film Society of Lincoln Center's Elizabeth Taylor: The Golden Age series is May 20-22 at the Walter Reade. The retro, spanning Taylor's peak years and four of five Oscar-nom'd performances, includes a Kobal Collection photo exhibit. Highlights include Cleopatra [1963], a 60th anniversary screening of George Stevens' acclaimed Giant, co-starring Rock Hudson and James Dean; National Velvet; Steven's equally-acclaimed A Place in the Sun, co-starring Montgomery Clift and Shelley Winters; Raintree County, co-starring Clift and Eva Marie Saint; Who's Afraid of Virginia Wolf?, co-starring Richard Burton, Sandy Dennis and George Segal; and a rare screening of Julia Misbehaves [1948], featuring 16-year-old Taylor's first on-screen kiss with Peter Lawford.

Tkts can be purchased at the Reade box office. For screening showtimes and/or to purchase, visit: www.FilmLinc.com.
New to DVD
If you're a movielover, the superb, just-released Moguls & Movie Stars: A History of Hollywood, a seven-episode production [Warner Home Video; three discs; SRP, $40] is a must-have. Narrated by two-time Emmy winner, Oscar nom and stage legend Christopher Plummer, the set is loaded with incredible footage [some rarely seen] and insights into the origins of the immigrants who went from rags to riches to, well, moguls and created the Hwood we know.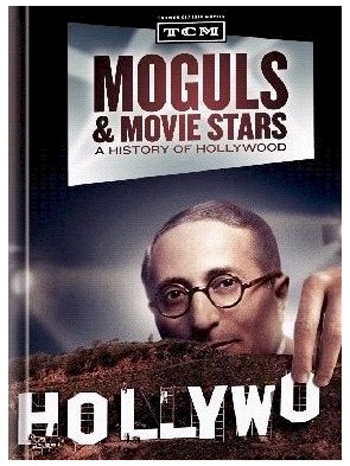 The series covers - often too briefly, how sex ruled cinema and how it was cooled, the birth of sound, changing fortunes and behavioral patterns, TV, the birth of cinema 3-D, discarding 3-D [if they only knew!] to segue to wide and wider screen entertainment, the end of the studio system, how foreign-born arrivals created a new Hwood and the return of sex. The package comes with a 40-page book covering 1889-1969 with vintage photos documenting the powerbrokers and the films they made.

TCM continues its DVD series Greatest Classic Legends with Marlon Brando [WHV; two two-sided discs; SRP, $28] four films: Elia Kazan's director's cut of A Streetcar Named Desire, co-starring Vivien Leigh, The Teahouse of the August Moon, set in WWII Okinawa and co-starring Glenn Ford and proving Brando had comedy chops, Joseph Mankiewicz's production of Julius Caesar, co-starring John Gielgud and James Mason; and the controversial, even kinky for it's time, Reflections in a Golden Eye, which didn't exactly have 'em lined up at the box office, is directed by John Houston [who shot in a golden glow sepia, based on Carson McCullers' novella, set in late 40s at Southern Army post, stars Elizabeth Taylor, stunning and reprising her Virginia Wolf and Raintree accent, in sometimes lurid story of a repressed homosexual major and his harping wife; co-stars Brian Keith and Julie Harris, introduced Robert Forester [Brando's mumble coupled with a cornbread accent, is good reason to use subtitles] [priceless for Taylor on all fours, lighting a fire; and Brando preening in front of a mirror and later for a visit from suspected admirer].

Also dropping is Bette Davis [WHV; two two-sided discs; SRP, $28], with four films already with wide DVD release but which are classic Davis fare: Now, Voyager; Dark Victory, Oscar nom'd and opposite one of her fav actors, George Brent and co-starring Geraldine Fitzgerald and Humphrey Bogart - with Max Steiner's Oscar nom'd score; Old Acquaintance, scheming opposiite her least fav actress [more despised than J.C.!], the scene-chewing Marian Hopkins, as battling authors; and Jezebel, opposite Henry Fonda and Brent, in her tribute to Scarlett O'Hara [since she didn't get that role], and guided to an Oscar-winning performance by legendary director William Wyler.
Ellis Nassour is an international media journalist, and author of Honky Tonk Angel: The Intimate Story of Patsy Cline, which he has adapted into a musical for the stage. Visit www.patsyclinehta.com.

He can be reached at [email protected]





Why are you looking all the way down here?
For more articles by Ellis Nassour, click the links below!

Previous: Season of Power Performances; The Normal Heart; Larry Kramer; AIDS Walk; Nina Arianda; Town Hall at 90; Doctor, Doctor; Get Thee to the Parties on Time; Cy Coleman Revue; Katharine Hepburn in Print/on DVD

Next: The 65th Tony Awards; Last Chance to Meet Vera Stark; You Can Be a Broadway Star!; More

Or go to the Archives