What do the Rolling Stones, Bob Marley, Sting, Motorhead, the Temptations, Kenny Rogers and the Dalai Lama have in common? They played the historic, Art Deco 2,894-seat UWS Beacon Theatre. Thanks to Cirque du Soleil's Zarkana taking over the Music Hall for summer, the Tony Awards join that iconic list.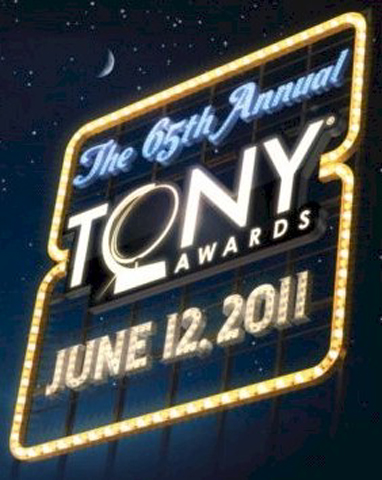 The excitement's building. Harry Winston and Tiffany's have raided their vaults for diamond loanouts. Rentals of black tie have been exhausted. Designers have fitted their gowns. Nerves are at the breaking point, but the champagne's iced and gift bags are stuffed with luxury items.

The 65th Annual Tony Awards will telecast Sunday from 8 -11 P.M. Hosted by Neil Patrick Harris, who did a bang-up job two years ago, there'll be enough A+-List smiles to boost Con Ed's output for the long, sauna summer.

Harris will perform two specialty numbers, written by Emmy/Grammy winner David Javerbaum [The Daily Show; book/lyrics, Cry-Baby]. The topper will be "Broadway Isn't Just for Gays Anymore," and you can expect it to be very gay.
One of the show's major highlights will be when he introduces former three-time Tony host Hugh Jackman and they have planned a battle of the hosts number to a medley of show tunes that include "Anything You Can Do (I Can Do Better" from Annie Get Your Gun.

There'll be "unforgettable opening and closing production numbers and non-stop entertainment" [not to mention some spectacular background effects courtesy of a gigantic LED screen] : songs from Anything Goes, featuring Sutton Foster; "Live in Living Color"/"Don't Break the Rules" from Catch Me If You Can, with Norbert Leo Butz, Aaron Tveit and chorus ensemble; "The Brotherhood of Man" from How to Succeed in Business Without Really Trying, featuring Daniel Radcliffe, John Laroquette and cast members; Sister Act, featuring Patina Miller and the nuns in "Raise Your Voice"; Andrew Rannells will perform "I Believe," one of the rare performable-on-network-TV songs from Book of Mormon; and "Hey, Hey, Hey, Hey" and a medley of songs from The Scottsboro Boys, featuring Joshua Henry and company.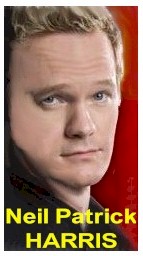 There'll also be Nick Adams, Tony Sheldon, Will Swenson and Priscilla, Queen of the Desert company with guests Paul Shaffer [M.D., The Late Show] and Martha Wash ["It's Rainin' Men"]; Chad Kimball, Montego Glover and company from last season's Best Musical, Memphis, "Steal Your Rock and Roll"; from this season and next's, Spider-Man: Turn Off the Dark, Reeve Carney and Jennifer Damiano; John Leguizamo of Ghetto Klown; and a special appearnce by War Horse's Joey.

Cole Porter's "Anything Goes" goes "Times have changed and we've often rewound the clock since the Puritans got a shock when they landed on Plymouth Rock ... In olden days, a glimpse of stocking was looked on as something shocking, but now, God knows, anything goes ... Good authors, too, who once knew better words now only use four-letter words.
That's an apt assessment of the season in many ways. In spite of some shows having a religious subtext [The Book of Mormon, Sister Act, Anything Goes], profanity in its worst guise has been abundant, especially in TBOM. People laugh at giving God the finger and even worse. And how true is Mr. P's statement about those four [and-more] letter words.

In that regard, giving several of his recent appearances, it's unknown if CBS is doubling Bleep Button personnel since it's not known if Chris Rock of The Motherf**ker with the Hat, who, sadly, has no concept of time and place, will let loose with a litany of four, five and 13-letter words.

Presenters are Alec Baldwin, Bono, Christie Brinkley, Matthew Broderick, Harry Connick, Jr., Tyne Daly, Viola Davis, The Edge, Whoopi Goldberg, Kelsey Grammer, Joel Grey, Marg Helgenberger, Samuel L. Jackson, James Earl Jones, Angela Lansbury, Robert Morse, Jim Parsons, David Hyde Pierce, Daniel Radcliffe, Vanessa Redgrave, Chris Rock, David Schwimmer, Robin Williams, Patrick Wilson and Catherine Zeta-Jones.

An added attraction is "Side by Side" from the cast of NYPhil's April Company concert, which includes Stephen Colbert, Jon Cryer, Katie Finneran, Neil Patrick Harris, Christina Hendricks [Mad Men], Aaron Lazar, Patti LuPone, Jill Paice, Martha Plimpton, Anika Noni Rose, Jennifer Laura Thompson and Jim Walton.


During the first half hour of the Awards, prior to the telecast - and in a new time-saving experiment, also during commercial breaks, craft and special awards will be bestowed by Katie Finneran and Laura Benanti.
This year: Lifetime Achievement in the Theatre to playwright Athol Fugard and Shubert Org prez Philip J. Smith; Regional Theatre, Chicago's Lookingglass Theatre Company; Isabelle Stevenson Award, to playwright/performer/activist/philanthropist Eve Ensler [The Vagina Monologues]; with a special Tony honoring War Horse's Handspring Puppet Company.

The entire Awards ceremonies will simulcast on Times Square's jumbo ClearChannel Spectacolor HD screen from 6 P.M.'s red carpet arrivals on, courtesy of Times Square Alliance and the Broadway Association. TonyAwards.com will have a live feed with behind-the-scenes tweetering, at Twitter.com/TheTonyAwards.
The Tonys are co-presented by the Broadway League. Partners include Visa, United Airlines, Sprint, Avis and Intercontinental Hotels.
At www.TonyAwards.com,, there're video vignettes with noms and past winners and interactive features such as mobile alerts, an archive of noms/winners, Tony trivia and a profile of Antoinette Perry, namesake of the Awards.

Hey, You Never Know

It's supposed to be a great-lack-of-suspense Awards, but you never know until the envelope's opened. Even though the bets are on War Horse and Book of Mormon, there can be surprises. Here's a story about a "great-lack-of-suspense" Awards that had a surprise ending:
Tony Stands Taller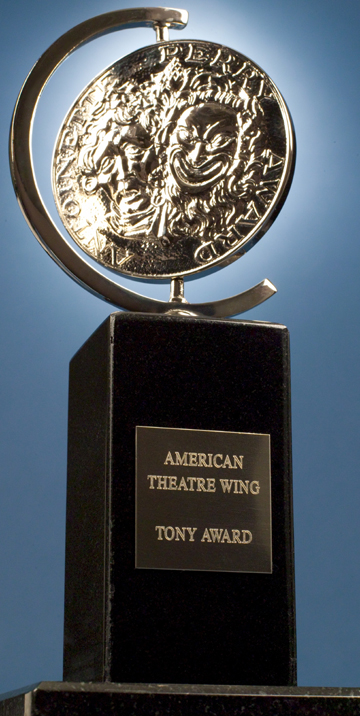 When finally taken out of velvet-lined cases, the 3"X3" Tony medallion was placed on a 3 ¾" black laminate pedestal, which made the full height eight inches. Thanks to a crescent-shaped armature, it was designed to swivel.
The Tony remained essentially unchanged, except for when the League changed its name as it expanded its mission [the wording went from League of American Theatres and Producers to the Broadway League], until the adjustment last year. Tweaks were made to the pedestal, not the medallion.
Wing exec director Howard Sherman said, "The pedestal was extended an inch and three-quarters [now 4 ¾" high] and the base is now granite. The weight has increased to two pounds."
Sherman pointed out that the intent was to make the Tony something the winner could hold more easily. "The irony is that now we hear the Award's really something to lug around."


Nominees Speak:

Norbet Leo Butz
"I'm deeply honored," says Norbert Leo Butz, "very grateful for the nomination. In the recent past, I became fed up and considered leaving the business." There was personal tragedy and career indecision. "Due to what was going on in my life, I was ready to hang it all up. I didn't think I'd be able to get onstage again. I was thinking 'Who needs show business?'

"It was a hard road getting here, but Jack [O'Brien, director] and [composers] Marc [Shaiman] and Scott [Wittman]'s Catch Me If You Can saved me. I used to be glib about awards, but I've never been more excited to be nominated. To have this outcome after so much pain and suffering makes the experience much more fulfilling."
Re: the interpretation of his character, FBI agent Carl Hanratty, the role Tom Hanks played in the film, "I'm a curmudgeonly, middle-aged, arthritic, flat-footed guy. I love the part. He's a pure character. Best of all, I'm working with friends. Jack, Jerry and I did Dirty Rotten Scoundrels. I've worked benefits and cabaret with Marc and Scott." Butz says that a tight-knit feeling of trust makes going to work a pleasure. "It's been five years. The principals have been through it from the beginning. We're a family. That's the best part. Life is good!"
Bobby Cannavale
"To get to this point, after lots of years, lots of work, open calls, rejection letters," explains Bobby Cannavale [The Motherf**cker with the Hat], "there's a sense of satisfaction." This is only his second Bway outing since his 2007 debut and over 14 years of Off Bway. "The Tony nomination is nice because you're really included as part of this community." Cannavale's a different person than all those years ago. Evidently happiness with Sutton Foster has helped bring him there.
Beth Leavel
"Since getting the nomination," states Beth Leavel [Baby, It's You], "I've flux awaited between astonishment and not believing it really happened. I keep pinching myself to make sure I'm not dreaming. I keep asking myself, 'Are you sure?' 'Yes?' Well, okay! Fantastic! It's hard to articulate how special and privileged you feel being a Tony Award nominee."
Joe Mantello
"It's completely surreal to be nominated for acting, because I assumed that part of my life was over when I decided to leave acting and become a director," states Joe Mantello [The Normal Heart]. "It's a role I've dreamed of playing, so being cast as Ned Weeks makes it all the more meaningful. Larry [Kramer]'s play still packs a wallop and I'm happy at the recognition he's receiving. The nomination is truly a wonderful surprise."
Donna Murphy
With five Tony noms [and two wins] and eight DD noms [and three wins], being nominated is not exactly something new to Donna Murphy, "but it's always quite exciting and it's not something you ever take for granted."

In Roundabout's The People in the Picture [closing June 19], Murphy's character spans three generations, seguing from young, vibrant Raisel, the darling of the Yiddish theeatre in pre-war through Nazi-occupied Poland [1935-1946]; desperate war/death camp survivor; and, 30 years later, ill/confused grandmother Bubbie. Murphy transitions from old-to-young and vice versa right before our eyes - sometimes right in the middle of a sentence.
"It was difficult in rehearsals," she says. "[Director] Leonard [Foglia] tried to schedule work in a logical manner, but rehearsals are a period of discovery and not always logical. It wasn't easy to let go at the end of the day. Now that we're onstage, the arc's there. You have a beginning, middle and end."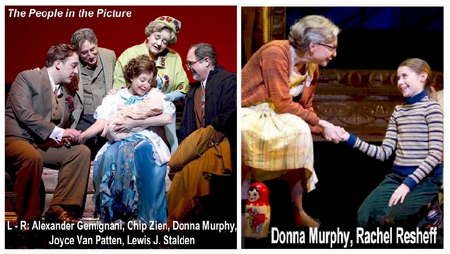 "Those were unspeakably hard times," observes Murphy, "filled with every imaginable emotion." Now, with a daughter [in addition to step-children], she "simply can't fathom what hell that must have been. It's wonderfully satisfying that many parents were reunited with their children. Much sadder, many more were not. I'm happy we've been able to tell the story because for decades, neither the children nor their protectors could."

Who Was Tony?

Toni, later Tony, was the nickname of Denver actress Antoinette Perry, who, after several years playing Bway ingenues turned to producing and directing in an era when women in theater were relegated to acting, costume design, or choreography. When she decided to move from acting and become a producer and director, she became a trailblazer for women.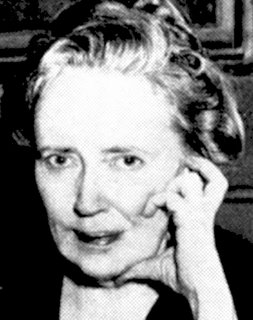 Well into the 70s, Miss Perry was the only woman director with a track record of hits. Today, except for mentions on the Tony Awards, she's all but forgotten.

In her prime, she showed innovative theatrical instincts and scored an enviable roster of hits - producing and often directing 17 plays in 13 years. In one month in 1937, according to her daughter Margaret, Miss Perry directed and produced three productions. Among her impressive hits were Strictly Dishonorable [1929, Personal Appearance [1934] Claire Boothe's Kiss the Boys Goodbye [1938], and Harvey [1944].

Miss Perry, a co-founder of what's today known as the American Theatre Wing, made a huge impact in an era of male powerbrokers. She was successful and envied, but never criticized on the basis of being a woman.


______________________ Matching the Eyes: ____________________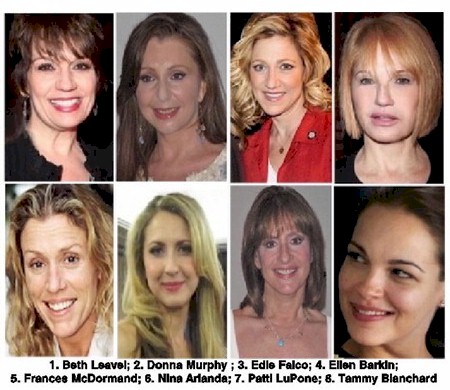 Have You Voted? Nomination Highlights:
A complete list of the nominations appears at TonyAwards.com, where you can download a printable ballot.
Play
Good People, David Lindsay-Abaire
Jerusalem, Jez Butterworth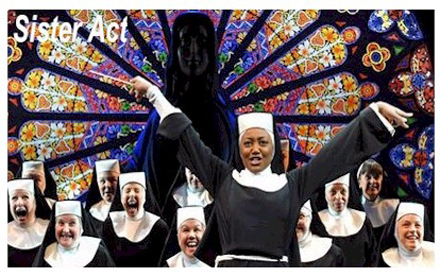 The Motherf**ker with the Hat, Stephen Adly Guirgis
War Horse, Nick Stafford
Musical
The Book of Mormon
Catch Me If You Can
The Scottsboro Boys
Sister Act
Book, Musical
Bloody, Bloody Andrew Jackson, Alex Timbers
The Book of Mormon, Trey Parker/Robert Lopez/Matt Stone
The Scottsboro Boys, David Thompson
Sister Act, Cheri Steinkellner/Bill Steinkellner/Douglas Carter Beane
Original Score
The Book of Mormon, Trey Parker/Robert Lopez/Matt Stone
The Scottsboro Boys, John Kander/Fred Ebb
Sister Act, Alan Menken/Glenn Slater
Women on the Verge of a Nervous Breakdown, David Yazbek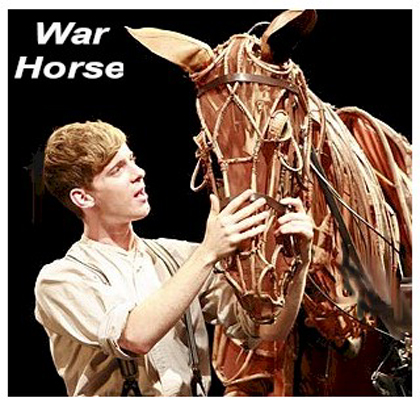 Actor, Leading Role, Play
Brian Bedford, The Importance of Being Earnest
Bobby Cannavale, The Motherf**ker with the Hat
Joe Mantello, The Normal Heart
Al Pacino, The Merchant of Venice
Mark Rylance, Jerusalem
Actress, Leading Role, Play
Nina Arianda, Born Yesterday
Frances McDormand, Good People
Lily Rabe, The Merchant of Venice
Vanessa Redgrave, Driving Miss Daisy
Hannah Yelland, Brief Encounter
Actor, Leading Role, Musical
Norbert Leo Butz, Catch Me If You Can
Josh Gad, The Book of Mormon
Joshua Henry, The Scottsboro Boys
Andrew Rannells, The Book of Mormon
Tony Sheldon, Priscilla, Queen of the Desert
Actress, Leading Role, Musical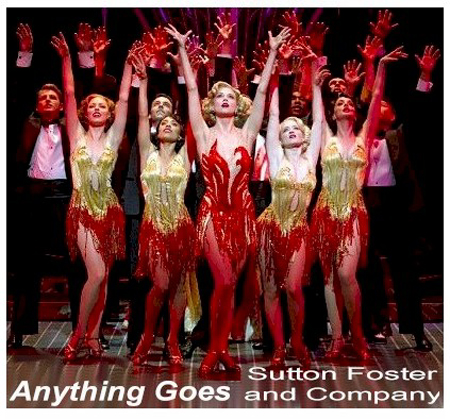 Sutton Foster, Anything Goes
Beth Leavel, Baby It's You!
Patina Miller, Sister Act
Donna Murphy, The People in the Picture
Actor, Featured Role, Play
Mackenzie Crook, Jerusalem
Billy Crudup, Arcadia
John Benjamin Hickey, The Normal Heart
Arian Moayed, Bengal Tiger at the Baghdad Zoo
Yul Vázquez, The Motherf**ker with the Hat
Actress, Featured Role, Play
Ellen Barkin, The Normal Heart
Edie Falco, The House of Blue Leaves
Judith Light, Lombardi
Joanna Lumley, La Bête
Elizabeth Rodriguez, The Motherf**ker with the Hat
Actor, Featured Role, Musical
Colman Domingo, The Scottsboro Boys
Adam Godley, Anything Goes
John Larroquette, How to Succeed in Business Without Really Trying
Forrest McClendon, The Scottsboro Boys
Rory O'Malley, The Book of Mormon
Actress, Featured Role, Musical
Laura Benanti, Women on the Verge...
Tammy Blanchard, How to Succeed...
Victoria Clark, Sister Act
Nikki M. James, The Book of Mormon
Patti LuPone, Women on the Verge...

Director, Play Director, Musical
Marianne Elliott/Tom Morris, War Horse Rob Ashford, How to Succeed...
Joel Grey/George C. Wolfe, The Normal Heart Kathleen Marshall, Anything Goes
Anna D. Shapiro, The Motherf**ker with the Hat Casey Nicholaw/Trey Parker, The Book of Mormon
Daniel Sullivan, The Merchant of Venice Susan Stroman, The Scottsboro Boys
Revival, Play Revival, Musical
Arcadia Anything Goes
The Importance of Being Earnest How to Succeed...
The Merchant of Venice
The Normal Heart
Choreography
Rob Ashford, How to Succeed...; Kathleen Marshall, Anything Goes
Casey Nicholaw, The Book of Mormon; Susan Stroman, The Scottsboro Boys


Tony Trivia [Answers below]
1. What composer was rehearsal pianist for the original production of Gypsy?
A. Cy Coleman
B. Jerry Herman
C. John Kander
D. Charles Strouse
2. Which of these one-word musical titles took Best Musical Tony Awards?
A. Carnival!
B. Fiorello!
C. Gypsy
D. Mame


3. Which actress duo tied for the Best Actress, Musical, Tony in 1968?
A. Mary Martin, Sound of Music; and Ethel Merman, Gypsy
B. Julie Harris, Skyscraper; and Angela Lansbury, Mame
C. Angela Lansbury, Dear World; and Dorothy Loudon, Fig Leaves Are Falling
D. Patricia Routledge, Darling of the Day; and Leslie Uggams, Hallelujah, Baby!
4. Family members have been Tony-nominated in the same category in the same year. Which duos aren't correct?
A. Tammy Grimes and daughter Amanda Plummer, 1982
B. Rosemary Harris and daughter Jennifer Ehle, 2000
C. Lynn Redgrave and niece Natasha Richardson, 1993
D. Richard Rodgers and daughter Mary Rodgers, 1960
5. In 2003, Vanessa Redgrave in Long Day's Journey Into Night became one of a handful to have won a Tony, Emmy and Oscar. Who else can boast that?
A. Zoe Caldwell
B. Whoppi Goldberg
C. Rita Moreno
D. Joanne Woodward
6. Which one-word play didn't win a Best Play Tony?
A. Art
B. Closer
C. Copenhagen
D. Da

7. Who is the only Tony to have hosted the Tony Awards?
A. Tony Bennett
B. Tony Curtis
C. Tony Danza
D. Tony Randall

8. Cast members from the original production of which 2010 Best Revival nominee performed at the first Tony Awards ceremony in 1947?
A. Finian's Rainbow
B. A Little Night Music
C. The Royal Family
D. Ragtime
E. A View from the Bridge
______________________________________
[Answers: 1. C; 2. B and D; 3. D; 4. C and D [who also won Grammys]; 5. B and C; 6. B; 7. D; 8. A]

In Memoriam


Theoni V. Aldredge, Michael Allinson, Ray Atherton, Leslie Barrett, John Barry, Jerry Bock, Tom Bosley, Joseph Brooks, Jean Bruno, Carmen Capalbo, Jill Clayburgh, Crandall Diehl, Blake Edwards, Hillard Elkins, James Gammon, Jay Garner, Betty Garrett, Pam Gems, Mark Gordon, Michael Gough, Farley Granger, Mary Cleere Haran, Jill Haworth, Larry Keith, Michael Langham, Arthur Laurents, Douglas Leeds, Marcia Lewis, Romulus Linney, Sidney Lumet, Kenneth Mars, Kevin McCarthy, Rue McClanahan, Marian Mercer, Sidney Michaels, Patricia Neal, Leslie Nielsen, Neva Patterson, Arthur Penn, Pete Postlethwaite, Addison Powell, Beverley Randolph, Peggy Rea, Jane Russell, Cesare Siepi, Tom Signorelli, Joseph Stein, Helen Stenborg, Ellen Stewart, James Stovall, Allen Swift, Elizabeth Taylor, Sada Thompson, Michael Tolan, George Weiss, Margaret Whiting, John Willis, Dolores Wilson, Lanford Wilson, Norman Wisdom, Edward Woodward, Randall Wreghitt, Bob Wright

Broadway Lost Treasures

Anyone interested in great performances from the Tony Awards, including those produced through 1986 produced by Broadway impresario Alexander Cohen will treasure telecast excerpts presented on Broadway's Lost Treasures, Volumes 1-3 [Acorn Productions; SRP, $60]. Volume 3 is a motherlode of rare Broadway moments: 23 production numbers, including a full company number from the 42nd Street revival; Gwen Verdon in "Whatever Lola Wants" from Damn Yankees; an eight minute tribute to Ethel Merman; Julie Andrews medley; and numbers from Funny Thing..., Into the Woods, Kiss Me, Kate, Ragtime and WSS. A bonus DVD has rare excerpts from 18 nominated Best Plays.

Last Chance

Tony nom Sanaa Lathan, DD nom Stephanie J. Block, Tony/DD nom Daniel Breaker, Tony nom David Garrison and Tony winner/DD nom Karen Olivo know something about dominating a scene, but in Pulitzer Prize winner Lynn Nottage's By the Way, Meet Vera Stark, which, sadly, closes this weekend at Second Stage, they've become expert at scene-stealing. They're ably abetted by the comic antics of Kimberly Hébert Gregory and Kevin Isola.

This screwball comedy deserves a longer life, and maybe it will have one - even be adapted for the screen. It's the story of the quest of headstrong, ambitious 1930s African American actors to overcome the racial stereotypes of "step 'n fetch it" roles of slaves and maids.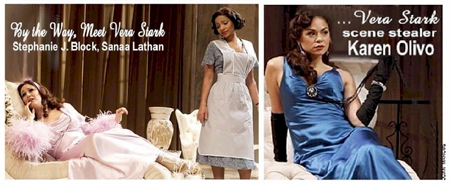 Block can sing but as the insecure star grasping to hold on to stardom who knew she could play slapstick so well - and on a divan, no less. The other huge surprise is Olivo. Who knew she could play sexy/funny so well?

...Meet Vera Stark is as far away as possible from Nottage's Ruined, which was set in a Congo rain forest brothel amid the brutality of war. Run to Second Stage and grab any seat you can. Tkts at the box office, @ (212) 246-4422 or online @ www.2ST.com.

You Can Be a Broadway Star

The path to stardom on the NY stage just got easier. In fact, it's only a hop, skip and jump away! There's some tasks involved. You'll def have to audition, and that might include auditioning at the drop of that motherf**ker's hat - maybe even in an elevator when you find yourself face-to-face with a casting director and sing out like Louise.



Producer Ken Davenport [recent Blithe Spirt, Speed the Plow, upcoming Godspell; founder, BroadwaySpace.com] had a blast designing the new board game, Be A Broadway Star!, which he calls "a social network for people who love Broadway" [www.BroadwaySpace.com; SRP, $40]. It comes fully-equipped with a faux $1,000 to help you and at least three other friends achieve your dreams [plus colorful game board, dice, game pieces and a variety of draw cards].

Be A Broadway Star! tests your knowledge of musical classics. The goal is the gain the most fans. You audition and hire an agent and publicist. Then unless you're beset by mercury poisoning, outed placing racy photos on Facebook or receive a negative NYTimes review, your ultimate dreams are realized: a solo bow, thunderous applause, standing ovations, a much-deserved Tony and induction into the Bway Hall of Fame.
Ellis Nassour is an international media journalist, and author of Honky Tonk Angel: The Intimate Story of Patsy Cline, which he has adapted into a musical for the stage. Visit www.patsyclinehta.com.

He can be reached at [email protected]





Why are you looking all the way down here?
For more articles by Ellis Nassour, click the links below!

Previous: Donna Murphy's People in Her Pictures; Tony Nominees Complain; Broadway, 1982; Opera on PBS and from Met Archives; Dancers Treat; Onscreen: Rob Marshall on Pirates Return; Marilyn Maye; Elizabeth Taylor Retro; More

Next: Royal Danish Ballet and Nikolaj Hübbe Return; Brent Barrett Returns in Silence; Lea Salonga at the Carlyle; Broadway 1997; Willy Falk at Feinstein's; Hurry to the Barnes; Broadway at the Shore; Fringe Hits Return; More

Or go to the Archives