There's no stopping Nina Arianda. She's making career moves from Off Bway to Bway to movies and TV.
As the not-so-subtle Vanda in in Venus in Fur, David Ives' play [first seen at CSC/Classic Stage Company early last year], directed by Walter Bobbie, now in previews and set to open November 8, she's late for an important audition, the lead in a play based on Austrian author Leopold von Sacher-Masoch's scandalous 1870 novella. As she arrives, lights flicker from downed power lines due to the storm.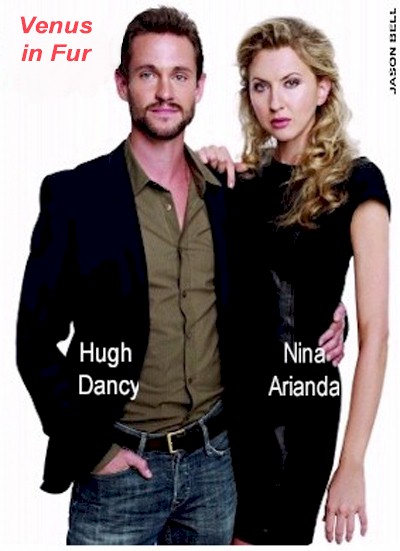 Thomas, the writer/director, played on Bway by Hugh Dancy [Journey's End, Off Bway in The Pride; numerous films including the current Martha, Marcy, May, Marlene; TV's The Big C] is packing headshots, but Nina/Vanda stops him in his tracks. At first breathless, she lets the fur fly with a litany of excuses for being late. The power may be fading due to downed lines in the aftermath of the storm, but there's no shortage of electricity onstage.
However, her name not on the list. Thomas tells her to return another time. But, for Vanda, it's now or never. She strips away her street clothes, revealing a sexy leather outfit, does vocal exercises and auditions whether he ready or not.

From her Pandora's bag, Vanda utilizes props and costumes, to convince Thomas the part's hers. Fireworks erupt in this comically tense and often erotic cat and mouse game with a sprinkling of S&M as Arianda's not-so-mild-mannered Vanda transforms into a wanton beauty and vessel of sexual desire, wrapping Thomas around her little finger and just about everywhere else.

Arianda, OCC nom'd for the original VIF, was Tony and DD-nom'd for her recent portrayal of Billie Dawn in the Born Yesterday revival. Now, thanks to the impact she made Off Bway and on Bway, she's not only back on Bway but in demand for movies. Seen to advantage in Woody Allen's Midnight in Paris and all-too-briefly in Vera Farmiga's Higher Ground, she's appears next in Universal's Tower Heist, opening November 4, starring Ben Stiller and Eddie Murphy. She recently made her TV dramatic debut in an epside of CBS' The Good Wife.
The actress, now a seasoned 27, doesn't describe herself as a beauty in the "drop dead" sense. In fact, she points out that Vanda's beauty and sexiness come from her spontaneity and absolute confidence. "That translates to create an outer beauty," she says. "The most appealing thing, and what makes the role an actress' dream, is her unpredictability."

There are unsubtle subtleties and double-entendres at breakneck speed. Pay attention since Arianda's Vanda switches frequently from Brooklynese to a German accent. "It does move," she laughs. "David's written the play in such a way that it never becomes stale."
She states that the chemistry and trust between she and Dancy grows with each performance. "We feel very secure with each other, which allows us to really go for it. Vanda knows what she wants and what Thomas wants. As Vanda, I want to see how far I can push. A partner's job is to make it difficult. We've made it into a game where we feed off each other.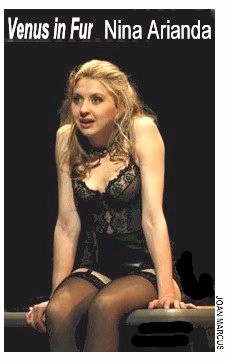 "There's a lot of knockabout," she adds. ""It's bruise central, with occasional war injuries but I have no idea how they happen because the role demands total focus."
How much of Vanda is Nina Arianda? "Since I can't escape myself, there's a lot of me. However, onstage, parts of me are more amplified. Vanda's the character I've waited to portray. I fell in love with her from the get-go and said, 'I've got to do this.' I read it with such passion and conviction that I got her. It was a good mindset when I auditioned.

"What's interesting," she continues, "is that through exploring the character with [director] Walter [Bobbie], I've learned so much about myself. He's so incredibly intuitive that there weren't that many 'Do this, do that,'s, but rather a push this way or that way."

Manhattan-born, she grew up in NJ in a Ukrainian family where she learned English watching Sesame Street. Arianda says she doesn't think about her performance prior to going onstage. "You go out, the light hits you, you act, and suddenly it becomes real. Afterwards, I often wonder, 'Where did it all come from?'

A recent graduate of NYU's acting program, Arianda had been "struggling" since taking children's theater classes at four. Her mother created fantasy worlds for her to explore characters, sometimes from opera and in costume. Except for a brief period where she wanted to be an opera conductor, acting's been her goal.


Prior to VIF, she had small roles in Shakespeare and late in the run of Diane Paulus' Off Off Bway The Donkey Show: A Midsummer Night's Disco with survival jobs, such as a restaurant hostess, in between.


Arianda has long been a fan of Ives. "There always a jolt of surprise in his plays, but Venus in Fur impressed me in a different way. Things go along one way, then boom, they're off in another direction. That makes it fascinating and helps us arrive at the various transitions in different ways."

She loves the fact that audiences are exiting arguing about what happens. "We attract people from different walks of life. Sometimes, they get heated. I love it when S&M couples discuss the show."

She sees a similarity with John Patrick Shanley's Doubt. "He's another playwright I admire. What I loved so much about Doubt was that you left not knowing who to believe, Sister Aloysius or Father Flynn. I spent months thinking about it."
Mutual Admiration Society
"Nina Arianda's the real deal," says Donna Murphy. "When my manager saw her in the original production of Venus in Fur, she told me 'Have you seen this actress Nina Arianda? She reminds me so much of you. You guys should play sisters.' So, I had to see the play. Ever since, people have been saying that Nina reminds them of me. I'd see photos and couldn't see it."
Well, they didn't end up playing sisters, but mother and daughter in Vera Farmiga's Higher Ground. "Here's what strange," adds Murphy. "When we met at the read through, Nina told me that when she was first meeting casting directors, she heard more than a few times, 'You're like a young Donna Murphy.' I think part of it is the Slavic side we share. It's in the cheekbones, the mouth - among perhaps other things."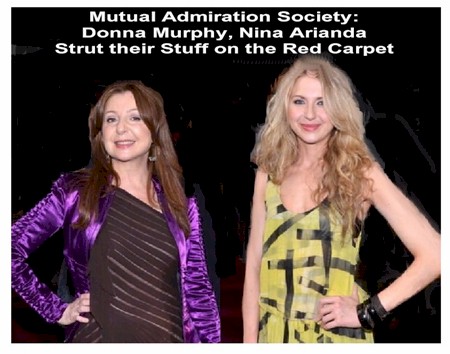 Arianda says, "It was a genuine honor to work with Donna, and an even greater honor to get to know her. I look up to her not only as a performer but as a woman. She's so very fearless, compassionate and kind. I can only hope to attain even half of Donna's presence and character in my work. I was so grateful for her words of encouragement and her support. It meant the world to me."

Murphy, who'll be among the headliners at City Center's reopening gala Tuesday, has been busy with family and doing film work. Upcoming is Todd Solondz's Dark Horse , which was showcased at the Venice and Toronto Film Festivals. The two-time Tony and three-time DD winner plays opposite Justin Bartha, the scene-stealing Max in the 2010 revival of Lend Me a Tenor, Oscar winner, and two-time Tony and DD nom Christopher Walken, Tony nom and three-time DD nom Lee Wilkof, Aasif Mandvi [2002 Oklahoma! revival] and DD nom Tyler Maynard [On a Clear Day...].


Time magazine raved, "Best is Murphy, who may be a wallflower or a cougar or the love of a loser's life. She sits at the side, then moves into the heart, of Solondz's most waywardly endearing film, his gentlest triumph."
She also just filmed Tony Gilroy's The Bourne Legacy, which stars Jeremy Renner Edward Norton and Rachel Weisz. Also featured are Joan Allen, Scott Glenn, Albert Finney, Stacy Keach and Michael Berresse.
"I haven't given up on theater," she states. "In fact, I'm reading a lot of scripts."


Something to Sink Your Teeth Into
Chita Rivera hosts October 31's Career Transition For Dancers' 26th anniversary gala A Halloween Thriller: A Dance Celebration of Ghosts, Ghouls, Vampires & Wilis at City Center, where the "cobwebs" have been swept away to reveal a "new" and gleaming interior, at 7 P.M.

Among the entertainment woven together in a "spook-tacular" are "spine-tingling"dance works in an array of styles from Broadway and America's greatest dance companies and Broadway.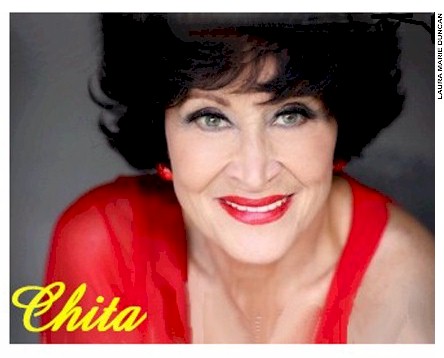 Bebe Neuwirth and a posse of former Fosse dancers open the program with "Magic To Do" from Pippin. Announced featured entertainment includes Noah Racey and the New York Song & Dance Company performing to Cole Porter's "I've Got You Under My Skin"; Houston Ballet members performing Giselle's Act Two pas de deux; Les Ballet Trockadero de Monte Carlo members in their comical "The Dying Swan"; and American Repertory Ballet.
There'll also be performances by members of Carolina Ballet; Mark Stuart Dance Theatre; MOMIX; Peter Pucci Plus Dancers in a piece starring NYCBallet's Charles Askegard, Daniel Ulbricht and Savannah Lowery and the Tap City Youth Ensemble; the Street Beats; NE-YO; actress Lynn Cohen; and the National Dance Institute [in a performance of Michael Jackson's "Thriller"].

Among those attending are film legend Jane Powell, stage veterans Eli Wallach and Anne Jackson, award-winning choreographer/director Pat Birch, Noah Racey and dance legends Carmen DeLavallade, Judith Jamison and Sono Osato.

The fundraising gala, sponsored by Rolex [U.S. president Steward Wicht], is produced and directed by Ann Marie DeAngelo. Presenting the Rolex Dance Award to Nigel Lythgoe, co-creator/executive producer of So You Think You Can Dance and exec producer, A.I., will be Ms. Jamison. Among the awards presented by Ms. Rivera will be one to longtime CTFD benefactor Victor Elmaleh.


Honorary chairs include Robert Battle, Jacques d'Amboise, Marcelo Gomes, Cynthia Gregory, Gelsey Kirkland, Darci Kistler, Angela Lansbury, Natalia Markarova, Peter Martins, Liza Minnelli, Jerry Mitchell, David Parsons, Ann Reinking, Desmond Richardson, Christopher Wheeldon and Karen Ziemba.

CTFD, with offices in NY, LA and Chicago, has helped over 5,000 professional dancers in 47 states identify their unique talents in preparation for establishing new careers when dance is no longer an option. Since its founding in 1985, the organization has provided more than 51,000 hours of one-on-one career counseling and program services - at no cost - and awarded millions in scholarships, entrepreneurial grants and certification programs.
Tkts for A Halloween Thriller are $45 - $130 and available at the City Center box office, through CITYTIX at (212) 581-1212 and online at nycitycenter.org. For more information on CTFD, visit www.careertransition.org.


She's Back and Jerry's Got Her
Marilyn Maybe may be the most honored singer in show biz history. Honors, oh my, there's a long roster.* And, heck, at 80 something she's still going strong so no telling what might be coming up roses.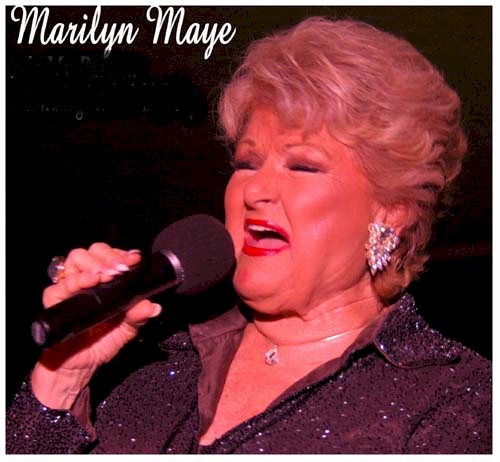 However, the new show November 1 - 12 at Feinstein's at Loews Regency is Marilyn Maye: The Best of Times Is Now, a Salute to Jerry Herman, a tribute to one of her oldest and dearest friends, in his 80th birthday year, and the contemporary master of Bway musical comedies.

Featured are songs from Hello, Dolly!, Mame, Mack and Mabel and Milk and Honey. Miss Maybe starred in numerous productions of Hello, Dolly! and recorded a CD of the songs from the Tony-winning show.
* Grammy nom as Best New Artist, Jazz Heritage Award, Mabel Mercer Foundation's Mabel Award, 2008 and 2009 Nightlife Critics Awards as Outstanding Vocalist, Licia Albanese-Puccini Society Lifetime Achievement Award, Back Stage Bistro Lifetime Achievement Award, MAC Celebrity of the Year three consecutive years [2009 - 2011] and the Bruekelein Institute's 2009 Gaudium Award for Illuminating the Horizon of Human Experience.
"Discovered" by Steve Allen, Miss Maye was invited her to appear on his TV show. On signing with RCA, where she recorded seven albums and 34 singles [many Bway showtunes], she on The Tonight Show starring Johnny Carson, where she holds a record of 76 appearances.

Miss Maye is accompanied by pianist/conductor Tedd Firth and, from November 8 - 11, Billy Stritch, bassist Tom Hubbard and drummer Jim Eklof [celebrating 50 years with Miss Maye].
Admission for Marilyn Maye: The Best of Times Is Now! is $40 [$60, premium seating] and $25 food/beverage minimum. To reserve, call (212) 339-4095 or book online at feinsteinsatloewsregency.com and ticketweb.com, service charges apply. For more information: www.marilynmaye.com.
Upcoming at Feinstein's
November 15 - 26, Bebe Neuwirth; November 29 - December 30,
Michael Feinstein and Kennedy Center honoree Barbara Cook, performing selections from their CD Cheek to Cheek, including "You Could Drive a Person Crazy," "I've Got the World on a String," "Here's to Life," "Without a Song" and "I've Got You Under My Skin."

From Fellini and Spain to Off Broadway
The return engagement of the Spanish-language adaptation [with English titles] of Fellini's 1954 masterpiece La Strada will be presented Off-Bway October 22 - December 4 at the TBG Theater [312 West 36th Street, third floor, between Eighth and Ninth Avenues].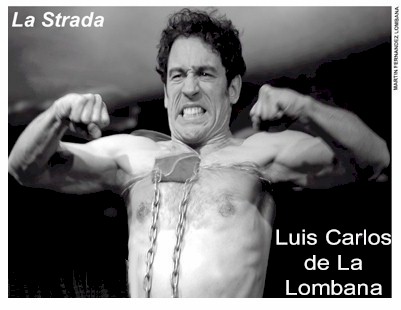 The production is co-helmed by award-winning director Rene Buch, A.D., Repertorio Espanol, and Jorge Merced, A.D., Pregones Theatre.

La Strada is is the recipient of two HOLA [ispanic Organization of Latino Actors] Awards for Excellence in Theater. Buch and Merced have received HOLAs for Outstanding Achievement in Direction.

The international cast features Nanda Abella, Adela Maria Bolet , Winston Estevez, Jennifer Harder, Israel Ruiz and ACE and HOLA Award winner Luis Carlos de La Lombana [The Island, Mick Jagger: The Devil in All of Us] as street entertainer Zampano. Ruiz, the Fool in L.S., received the HOLA for Outstanding Performance by a Featured Actor.
Tkts for L.S. are $25 through October 29, then $35; $20, students/seniors. Purchase www.smarttix.com or by calling (212) 868 4444. For more information, visit www.lastradacompany.com.
Onscreen
Blu-ray Debut and New Deluxe Package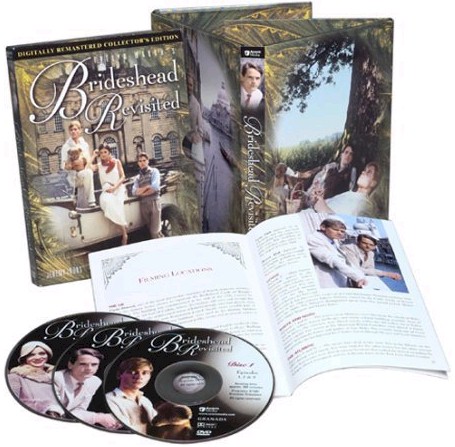 Brideshead Revisited, the iconic series returns in a stunning 30th anniversary release forg the first time on Blu-ray and deluxe DVD set.

The series, which launched Jeremy Irons' career and won 17 international awards, drops November 1 [Acorn Media; 11 episodes; SRP, three-disc Blu-ray, $70; four disc DVD, $60].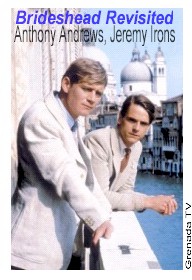 Punctiliously adapted from the timeless novel by Evelyn Waugh, the visually ravishing BR was two years in the making [Grenada TV]. Starring are Anthony Andrews, Oscar/Emmy winner Irons, Diana Quick, Sir John Gielgud, stunning Claire Bloom, Charles Keating [as the callous Rex Mottram], the adorable Phoebe Nicholls as young sister Cordelia Flyte [an astonishing performance, Simon Jones [Lord Brideshead], Roger Milner, the wickedly hilarious Nicklas Grace, John Grillo and Oscar winner Sir Laurence Olivier.

It's the story of "romantic yearning and loss set in the world of British aristocracy." WWII Brit Army officer Charles Ryder [Irons] is garrisoned at the country estate [actually Castle Howard, also a star of the series], where he spent much of his younger years with the flamboyant master of the house, Sebastian Flyte [Andrews] and his sister Julia [Quick]. In this sweeping epic, memories are triggered of a sometimes wild and carefree youth, his loves and his journey of faith and anguish."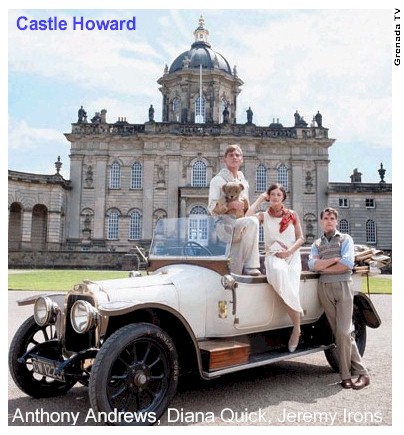 Among BR's awards are seven BAFTA awards, including Best Actor [Andrews] and Best Drama Series. Amazingly, Sir Laurence wasn't even nom'd. Irons, Sir John, Miss Bloom and Quick were nom'd.
Sir Laurence received a Featured Emmy. Andrews and Irons were Emmy nom'd as Outstanding Lead Actor in a Limited Series or Special.
B.R. also won the Golden Globe for Best Miniseries or Motion Picture Made for TV.

This release, the equivalent of seven feature films, is an all-new HD transfer and packed with bonus features, including the doc Revisiting Brideshead, four commentaries including with producer Derek Granger and director Charles Sturridge; photo galleries, outtakes and, among others, a viewer's guide.


Worldwide Art Tour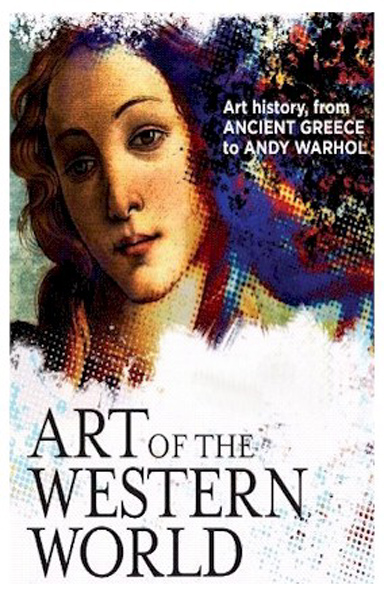 PBS's celebrated and illuminating 1989 nine-part doc Art of the Western World [Acorn Media; three discs; nine episodes; SRP $60], which presents a sweeping, eye-opening overview of 2,500 years of paintings, sculpture, and architecture from the bloody French revolution which inspired The Death of Marat, ancient Greece to Andy Warhol's Campbell Soup Cans and the post-modern era.

Historian Michael Wood [Legacy, The Story of India] hosts the series, which was four years in the making and filmed at over 150 locations in eight countries - sun-bleached temples to soaring cathedrals, palaces to villas, galleries and museums to gardens, and London's Soho to the Arizona desert.
The package includes a 20-page viewer's guide; a history of frescoes; articles on the windows of Chartres Cathedral, the Paris salons, the pop-art controversy, great works lost to history and a timeline of artistic movements. In addition, there're fun facts about oil paints, poems by Michelangelo and discussion questions in association with Athena Learning.

All in all, it's an art lovers beguiling feast - and would make a supremely-appreciated holiday gift.
Ballet on the Beach
THIRTEEN/WNET Great Performances and PBS Arts Fall Festival puts the spotlight on one of America's finest dance companies in Miami City Ballet Dances Balanchine and Tharp at 9 P.M. October 28. MCB, under A.D. Edward Villella, is celebrating its 25th season. Showcased will be the company's critically acclaimed performances of Balanchine's Square Dance [music, Vivaldi and Corelli] and Western Symphony [music, Hershy Kay] and Tharp's The Golden Section [music, David Byrne]. Directing is dance veteran Matthew Diamond [Balanchine Celebration, Paul Taylor Co.'s The Wrecker's Ball , ABT's Swan Lake].
Villella is one of America's most celebrated male ballet dancers. His artistry and versatility during 18 years with NYCB as well as appearances internationally and on TV did much to popularize the role of the male in dance.
Great Performances is funded by the Irene Diamond Fund, National Endowment for the Arts, Vivian Milstein, Jody and John Arnhold and the Corporation for Public Broadcasting.
Halloween
Of course, the big event is the Village Voice Halloween Parada, a not-to-be-missed-only-in-NY spooktacular.

But don't forget Sleep No More , that twist on that play by The Bard whose title we never mention, at the creepy McKittrick Hotel [530 West 27th Street, between Tenth and Eleventh Avenues], that is, if you can get tkts. Not only is the "show" fill of surprises, many in very dark spaces, but the lounge is a great place to linger over a drink. www.sleepnomore.com or (866) 811-4111.

Then, you might consider taking the PATH to Journal Square in Jersey City and cross the street into another era at the magnificent and slowly-being-restored landmark movie palace, the Jersey, where the October 28 and 29 programming is a fright and fun-fright fest: William Castle's The House on Haunted Hill, Abbott & Costello Meet Frankenstein, one of the best in the A&C franchise, and the great horror 1930 silent classic The Cabinet of Dr. Caligari, presented with live organ accompaniment. All shows are preceeded by a grand concert on the huge Wonder Morton organ. Tkts are cheap, as is the fresh-popped popcorn. www.loewsjersey.org.


Onscreen Fright Fest
Following in the footsteps of Film Society of Lincoln Center expansive 49th NYFilm Fest and just in time for Halloween, FSLC will gift horror fans with a veritable feast with everything but bobbing for apples in its popular Scary Movies series October 28 - 31. Highlights of the hair-raising fright classics and prems include the NY prems of three 2011 flicks: Ben Wheatley's genre-crossing Kill List, Ti West's supernatural caper The Innkeepers, Scott Leberecht's fresh take on vampirism Midnight Son and the deliciously grotesque multiple-director omnibus The Theatre Bizaree. Seung-wook Byeon's South Korea's claustrophobic horror film The Cat have it's North American prem.
Among the classics onscreen will be two masterpieces of the occult and the supernatural, Mark Robson's 1943 The Seventh Victim, starring Oscar winner Kim Hunter [A Streetcar Named Desire; later, the original Planet of the Apes]; and Tobe Hooper's 1982 Poltergeist, starring JoBeth Williams and Craig T. Nelson. For a little comic twist from Russia, Italy and the U.K., enjoy Mariano Baino's 1993's surreal, entrancing and dreamlike "nuns"ploitation Dark Waters [Baino will be on hand for the screening].

On Halloween at 6:30, Scary Movies will offer Stuart Gordon's 2007 The Black Cat starring Jeffrey Combs and a live-stage performance of Combs' Nevermore, An Evening with Edgar Allan Poe.

Screamscreening also will be Roger Corman's gem House of Usher, starring one of the masters of horror, Vincent Price. Also set is a rare showing of David Lowell Rich's 's stylish 1969 Eye of the Cat, written by Joseph Stefano, shot in S.F. and starring Michael Sarrazin, feline phobic Gayle Hunnicutt and screen veteran Eleanor Powell as "cat lady"Aunt Danny - with costumes by multiple Oscar winner Edith Head and a score by Lalo Schifrin.

The full schedule with showtimes, cast/director credits and brief notes is available at www.filmlinc.com. The series is being programmed by Laura Kern and Gavin Smith.


New to CD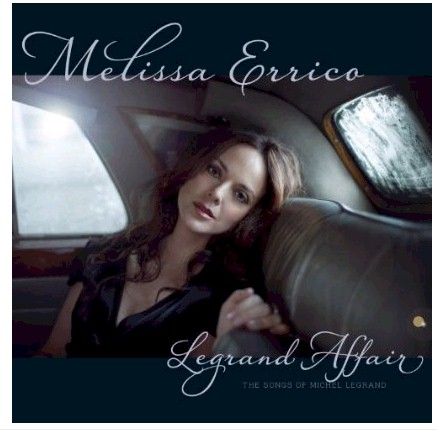 Just out and garnering raves is Melissa Errico's Legrand Affair [Ghostlight Records; SRP $15], culminating in the singer's six year collaboration with Michel Legrand and producer Phil Ramone. Legrand conducts the 100-piece Brussels Phil.

The 15 lush tracks include "How Do You Keep the Music Playing," "The Windmills of Your Mind," "His Eyes, Her Eyes," "What Are You Doing the Rest of Your Life" - four of the 10 tunes with lyrics by three-time Oscar and Emmy winners [and multiple nominees] and Grammy winners Alan and Marilyn Bergman - "Once Upon a Summertime" [Johnny Mercer] and "I Will Wait for You" [Norman Gimbel]. Errico brings her soaring vocals to Joe's Pub on November 19.


More Later on These, but Mark Your Calendar
* Tony winner Lea Salonga will headline a crop of top and rising Filipino Americans, all Bway vets, in Suites by Sondheim at Alice Tully Hall November 7.
* In honor of its 50th Anniversary, TCMovies is bringing back Robert Wise' West Side Story, winner of 10 Oscars including Best Picture, not only in a deluxe Blu-ray edition but on November 9 onscreen for a one night nationwide blockbuster event.
* The NYPops orchestra will salute the Mad Men era November 18 at Carnegie Hall with guest star Cheyenne Jackson.


Ellis Nassour is an international media journalist, and author of Honky Tonk Angel: The Intimate Story of Patsy Cline, which he has adapted into a musical for the stage. Visit www.patsyclinehta.com.

He can be reached at [email protected]





Why are you looking all the way down here?
For more articles by Ellis Nassour, click the links below!

Previous: Frank Langella on NPR; Rapp's Dreams of Flying...; Jack Lemmon Remembered; Broadway Cabaret Festival; Final Credits Crawl Soon for Expansive 49th NY Film Festival; Coming Soon; More

Next: The Hugh Jackman Experience: "Stupendous," "Sensational"; Linda Lavin Thriving in The Lyons; Lea Salonga, Filipino Artists Salute Sondheim; Noël and Cole in Love?; Arts Weekend; Andrea Bocelli; Pops Go Carnegie Hall; Onsreen/DVD: Celebrating WSS; More

Or go to the Archives