At Hugh Jackman: Back on Broadway audiences are rapturously in love with Hugh Jackman. They are not alone. The revue doesn't open until November 10, it's already breaking house records at the Broadhurst: the latest, in excess of $1.2-million [no doubt due to the jacked up tkt pricing; regular seats go from $67 - $350 but premiums are through the roof; not to mention those scalping tkts].

If the Shubert Org and producer Robert Fox could somehow get the next Wolverine movie canceled and get producers to forget about making Les Miserables, they could keep HJ on Bway now and forever. From the massive crowds, sold-out shows, ticket demand and enthusiastic response, HJ could easily become a permanent tourist attraction right up there with the ESBldg!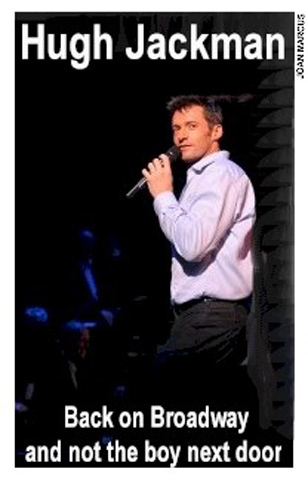 From observing arriving audiences and overhearing conversing once they enter, it appears they know in advance whatever they've paid is worth it. They know they'll be getting a knock out show. No disappointment there. They do.
Audiences don't wait to give him a standing ovation, they do it as soon as he enters singing "Oh, What a Beautiful Morning."

HJ has talent, charm and a very playful sense of humor. Audiences feel they know him. All of this creates more of an air of excitement. There's a line before the show even starts to purchase HJ memorabilia and show posters. Audience members want to take something of him home. So what if it's only a tee or a poster.

Many audience members are amazed they managed tkts. One woman, Annie A., visiting from GA, came to NYC for her birthday treat with only one thing in mind: seeing HJ. And, boy, did she get her wish. Now, she's planning at least two more trips, but admits it may be harder to come by tkts.


Bursting with enthusiasm at performances are those lucky students who entered the daily morning lottery for discounted seats in the boxes. They almost feel they are part of the show; and, in a few instances, a lucky one or two are. The other night, the woman in the first box at Stage Left nearly had a heart attack when the lights went down for the beginning of Act Two and the curtains flew opened and HJ in gold lame as The Boy from Oz was standing in front of her. When HJ tried speaking to her, she seemed literally to be in ultra shock and was speechless.
There's a love affair afoot with HJ! As soon as intermission, you hear comments such as "Stupendous!," "Sensational!," "Amazing!" His show certainly can easily join the show biz roster of memorable Bway one-person shows, right with Judy Garland, Julie Harris, Hal Holbrook, Robert Morse, Lena Horne, Elaine Stritch.

Sitting mid-orchestra on the aisle were a couple from L.I. The wife only recently found she was cancer free. Her husband related that the show was her first outing in over a year. At intermission, her face filled with rapture, she couldn't contain herself and blurted, "Coming here was the best tonic I could wish for." The husband did something he said he'd never done: sprung $15 for a poster; and though he had noted they had a long drive - and he'd have to be up at the crack of dawn for work, he said he was determined to get Jackman to sign it. Let's hope he somehow succeeded.
Much of the concert is scripted with a prescribed set of songs; but, as directed [and choreographed] by Warren Carlyle, the show's so loose that HJ is allowed time off page. He takes great advantage, creating some memorable and hilarious moments.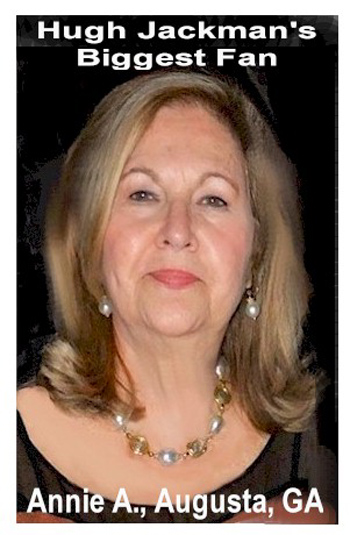 Jamie S. of Williamsburg, Bklyn, and Annie A. of Augusta, GA, experienced those and they're something they won't forget.

Jamie, who prefers not to have his last name published, was seated way down front. "I'd seen him three times in The Boy from Oz years ago," says Jamie, "and it was easy to relate to him. My partner and I were sitting pretty far over, so we never for a moment thought we might be in the so-called danger zone. Having Hugh pick me to join him onstage to bump and grind to 'Fever' was the last thing I expected.
"He was so relaxed onstage that he built an extraordinary rapport with the audience through his enthusiasm and love of being there. It was as if he was saying to us all, 'Isn't it amazing what I get to do?' I can't think of another performer who's as consummate an entertainer or another evening of theater which was more thrilling.
"In my work," continues Jamie, "I've done enough extemporaneous public speaking so I didn't panic or get too uptight. He had made us feel as though we knew him, so being up there with him was an unexpectedly personal extension of that bond. That made a difference."

Jackman asked Jamie, "Who are you with?" And Jamie replied, "My partner." He asked him name and said, "Daniel, come on up." He wouldn't, so Jackman tried to bring him up, but Daniel wouldn't budge.

"Though I was a stranger," Jamie explains, "Hugh spoke to me as he knew me. He got the banter going easily. Once he pulled my jacket off and got me to loosen my tie, it was really fun. Now I can say that Hugh Jackman helped undress me! It felt great to be arm-in-arm with him and get a big hug from him."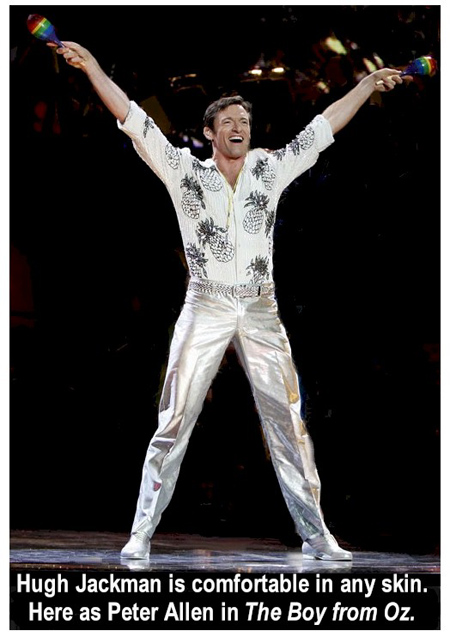 When Jackman sent Jamie back to his seat, he felt the moment was over. "However, I was touched that for the rest of the evening, whenever Hugh was over on the right side of the stage that he made eye contact and grinned. It still feels unreal. I'll certainly remember it for years and always think of that night with a glow.


When Jamie got home, he e-mailed friends. "They were green with envy." He adds that he's been "teasing Daniel that he's one of the few guys to turn down a request from Hugh Jackman!"

Annie A. was in the City celebrating her birthday "and my husband managed to get tickets on Row M. for the Wednesday matinee. Hugh Jackman's fabulous and loaded with charasima. There aren't that many in his class today."
She loved the show so much, they went right out to the box office and lucked into a pair of seats on the left side aisle, second row. "Talk about luck! We couldn't believe it."

Annie is a singer with a Dixieland jazz band and performs locally and on cruises. When HJ began singing "I Got Rhythm" in his movie tribute medley, she began singing along. When HJ segued over to Stage Left, he saw and heard her. Then began "one of the most exciting experiences" of her life.
"His smile truly dazzled me when he took my hand," says Annie. "I'm told he had his arm around me and I had mine around him, but I was in such a daze I can't remember." She wasn't sure she sang along, but she did." One thing she remembers is HJ kissing her on the cheek. "I told my husband Hank I was never going to wash my face again. He laughed."
When Annie returned to the couple's hotel, she began e-mailing dozens of friends. She gushed, "I told them I'd just made my Broadway debut and with guess who?...Hugh Jackman! No one believed me. They said, 'Yeah, sure!' Well, I did; and it was an out of body experience. He's such a showman and has amazing charisma! Plain and simple, he's the ultimate WOW! factor. It's something I'll never forget!" And, from the sound of things, it's something her friends will be hearing about for a while.
"You know how Hugh says 'Let's give it a go?'" Annie ask. "Well, I'm ready. I'll give it a go anytime. We're already planning to come back and see the show again and maybe again!"
The Ferocious Lyons
Nicky Silver's hilarious [with some dramatic overtures] about a magnificently dysfunctional Jewish family, The Lyons, is quite a critical and audience triumph for the not-for-profit Vineyard Theatre [108 East 15th Street, between Park Avenue and Irving Place], where it's breaking box office records. Already with two Pulitzer Prize-winning plays and several transfers to Bway, it would be a shame if this seventh Silver play to debut there doesn't move on up to Bway.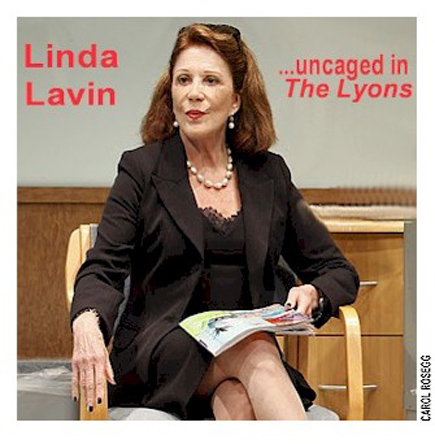 Many wondered why Tony and DD winner Linda Lavin chose not to come to Bway with Follies [after the Kennedy Center revival] or Jon Robin Baitz's Other Desert Cities to play self-centered matriarch Rita Lyons. Wonder no more.


"When I read the script," she says, "I was floored. I knew I had to do it. And I'm having a ball, in fact the time of my life."
Lavin, delivering full blast, co-stars with Tony and DD winner Dick Latessa, Kate Jennings Grant [in a fine and ferocious performance after that disastrous 2009 Guy and Dolls revival], Michael Esper, Brenda Pressley and Gregory Woodell. Directing is DD winner Mark Brokaw [Vineyard's Pulitzer Prize winner How I Learned to Drive by Paula Vogel].

The Lyons has been extended through November 20. Tkts are $70 [$100, premium seating]. Run, don't walk, to the box office, call (212) 353-0303 or purchase online at www.vineyardtheatre.org.
Historic Filipino American Concert
Tony winner [Miss Saigon], Disney princess and recipient of a Disney Legend Award and recent Miss Universe judge Lea Salonga, who's constantly bi-coastal and bi-continent, will headline a roster of Bway's Filipino American singers in a one-night-only benefit concert on Monday at 7:30 at Alice Tully Hall.

The program, Suites by Sondheim, a salute to the composer receiving the City of NY's highest honor for achievement in the arts, the Handel Medallion; and who was just presented with the Chicago Tribune Literary Prize for lifetime achievement.
Directed Victor Lirio states that the evening will present "a company of 30 amazing singers in a carousel of Sondheim's worlds and extraordinary characters from such musicals as Company, West Side Story, Saturday Night, Sweeney Todd, Anyone Can Whistle, Follies, A Little Night Music, Merrily We Roll Along and Sunday in the Park with George." M.D. is Tom Myron.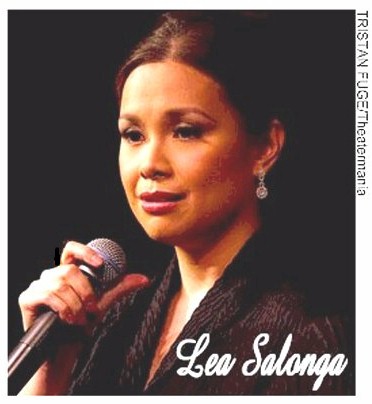 Salonga, who's appeared in only one Sondheim musical, Into the Woods [Singapore Repertory Company] will have her just desserts performing songs from Company, Merrily..., Night Music and Sunday in the Park...
Among those joining Salonga are Joan Almedilla [a Saigon Kim, Les Miz], T.V. Carpio [Spiderman...] y); Rona Figueroa [Saigon, Les Miz, Lennon, Nine], Jose Llana [King and I, Spelling Bee, Flower Drum Song], Paolo Montalban [King and I, Pacific Overtures, Prince Charming in Disney's Cinderella]. Emily Morales [LCT's South Pacific]; Jennifer Paz [Saigon, Les Miz] and Diane Phelan [S.P., West Side Story].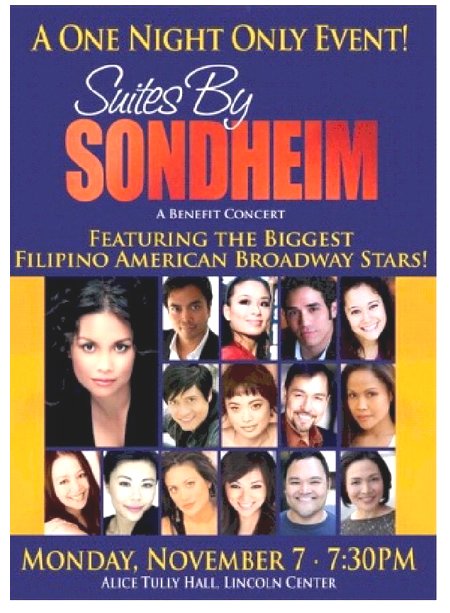 "It isn't often that a performer gets to perform at Lincoln Center," says Salonga, "much less with 29 other like-minded individuals who share your passion for musical theater. That opportunity is Monday and I couldn't be more proud. It will be exciting to sing in Alice Tully Hall with friends that I've had the great pleasure of working with the last 20 years; and to watch a new crop of Fil-Am talent take the stage."

According to Salonga, Filipinos represent the most significant number of Asian Americans on Bway and on Monday, Lirio notes, "almost every conceivable Filipino-American or Filipino that's performed on Broadway in recent history is going to be a part of this concert, which benefits the Philippine Development Foundation. It's certainly going to be historic."
Tkts Suites by Sondheim are $100 - $250. Purchase at the Tully box office, online at www.lincolncenter.org, or by calling CenterCharge, (212) 721-6500. For VIP seating [that includes a pre-concert reception], $500 - $1,000, contact [email protected] or call (650) 288-3937. Among the concert sponsors are Tallwood Venture Capital and Alvarez & Marsal, Gladney Center for Adoption, Philippine Airlines, Prince Street Capital Management and VuQo Vodka. Media support is provided by Asian Journal and the Filipino Reporter.
What? Noël and Cole in Love?
The Kaufman concert hall's next edition of Broadway Close Up, Noël and Cole in Love on November 7 and 9 at 7:30 P.M [Merkin Concert Hall, 129 West 67th Street, between Broadway and Amsterdam]. isn't a romantic expose but Coward and Porter love songs in new arrangements. Tunes such as "Let's Do It," "Love For Sale," "Someday I'll Find You" and "If Love Were All," along with scenes from C & P musicals, will be performed by Tony and DD nom Judy Kuhn [Les Miz, Chess], Tony and DD nom Barbara Walsh [Company, Falsettos], Patty Goble [La Cage...], Tony nom [Love! Valour! Compassion!], Stephen Bogardus [White Christmas, Man of La Mancha, Falsettos]; Matthew Scott [Sondheim on Sondheim] and Graham Bickley [Les Miz, Ragtime]. M.D. is David Loud. Tickets are $45. Purchase on site, by calling (212) 501-3330 or online at www.merkinconcerthall.org.



Arts Weekend

A rare opportunity to spend time with the acclaimed opera star Jessyne Norman; one of the most familiar faces in Brazil/South America's music scene for decades, Gilberto Gill; and opera diretor Peter Sellars will be during the Rolex Arts Weekend at the New York Public Library's Stephen A. Schwarzman Building [4 West 42nd Street, off Fifth Avenue]. The host will be NYPL curator Paul Holdengraber [director of LIVE from the NYPL].

Mr. Gil, Brazil's Culture Minister from 2003 - 2008, is November 10 @ 7 P.M. Ms. Norman will be interviewed on November 11 @ 7. Both are in the Schwarzman's Celeste Bartos Forum.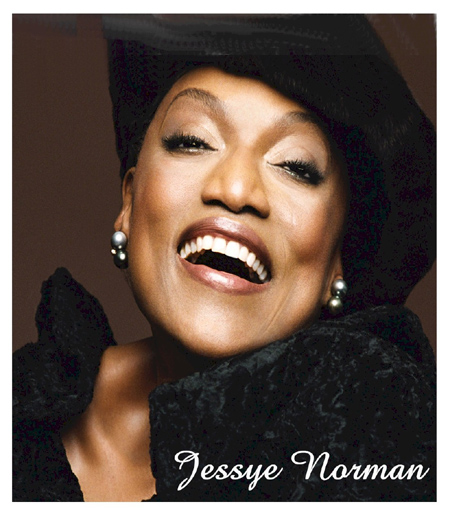 Also in the Forum, on November 12 @ 3 P.M., among those speaking about film will be Oscar winner Danny Glover; then @ 7 P.M., Belgian opera star José Van Dam and award-winning Argentine classical composer Osvaldo Golijov will converse.
Closing the weekend on November 13 @ 1 P.M. [Forum], will be theater/opera director Peter Sellars, composer Brian Eno and visual artist Anish Kapoor; then at 3:30 [in the Wachenheim Trustees Room], Mr. Sellars will introduce acclaimed Lebanese actress/writer Maya Zbib, who'll perform her "people's installation" The Music Box, [normally staged in people's homes]; and the finale, at 7:30 [in Astor Hall], will be Music for Six Guitars & More.

Rolex is presenting the weekend programs in conjunction with their international philanthropic program, Mentor and Protégé Arts Initiative.
Space is limited. Book now. For full event lineup, visit www.nypl.org/live. Tkts [open seating] are $25; $15, senior/student/Library Friends and available by calling (888) 71-Tickets or online at www.showclix.com.


From Central Park with Love
Andrea Bocelli, widely regarded as the world's most popular Italian tenor [on records, that is - over 70-million albums sold], performed Andrea Bocelli Concerto: One Night in Central Park for over 60,000 under dark clouds, high winds and rain on September 15 on Central Park's Great Lawn.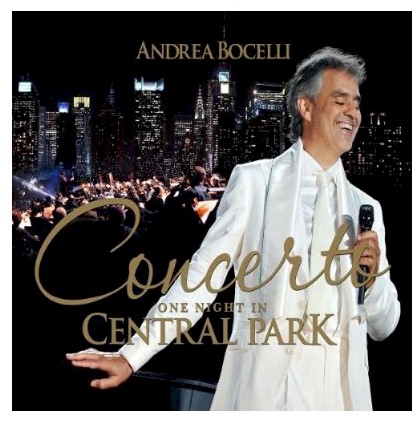 Presented by Barilla pasta, Bocelli lovingly described the event as "my father's dream finally realized." On November 15, Sugar/Decca Records will CD release the concert's 17 songs [SRP, $12]. Bocelli was backed by the NYPhil, under M.D. Alan Gilbert, and a huge choral ensemble. Guests included Tony Bennett, Céline Dion, David Foster and opera stars Ana Maria Martinez and Bryn Terfel.

He sang arias from from Andrea Chénier, Il Trovatore, La Bohéme, La Traviata, Les Pêcheurs de Perles, Rigoletto and Turnadot in addition to a "Central Park version" of "Ave Maria" and his signature hit "Con te Partiro (Time to Say Goodbye)."
Bocelli introduced four songs into his repertory: "Amazing Grace"; "New York, New York," a duet with Bennett; "More," with Botti and Foster; and "Your Love," the theme from the film Once Upon a Time in the West.
Andrea Bocelli Concerto: One Night in Central Park will be telecast on PBS Great Performances on December 2.
In Concert
Go back in time, back to another era: the Mad Men Era, when on November 18 at Carnegie Hall, the NYPops orchestra, conducted by Steven Reineke, will rule with the hip sounds of Ole Blue Eyes and the bossa nova. Cheyenne Jackson is guest starring and plans to swing you to the stars with tunes such as "Feeling Good," "Luck Be a Lady" and "Sway."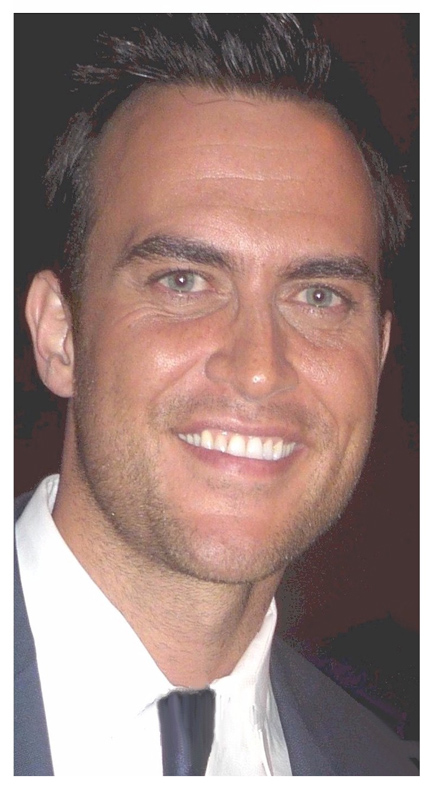 "This is going to be a really hip concert," says Reineke, "with favorite tunes from the 50s and 60s, even contemporary songs that are a throwback to that time. The concert will be more special because we'll have Cheyenne headlining."
Like all Pops concerts, there'll be surprises [maybe a duet between Jackson and Jonn Hamm? A visit from Christina Hendricks?]. Reineke advises, "Wear your finest Mad Men era attire, but no smoking!"
Tkts are $37 - $108, Carnegie Hall series subscription, $165 - $520; and available at C.H. box office or calling CarnegieCharge, (212)
247-7800.


West Side Story, the Film, Restored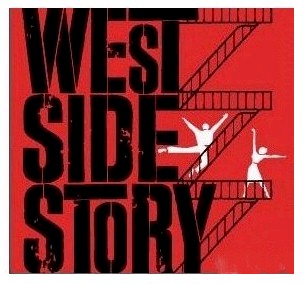 In honor of its 50th Anniversary, are bringing West Wide Story back to the big screen [NCM Fathom and Turner Classic Movies] on November 9 at 7 P.M. [local time] for a one-night event in 400 cinemas nationwide. The event includes a screeing of M-G-M's 50th Anniversary restoration of West Side Story, one of the most acclaimed Bway-to-screen musicals of all time.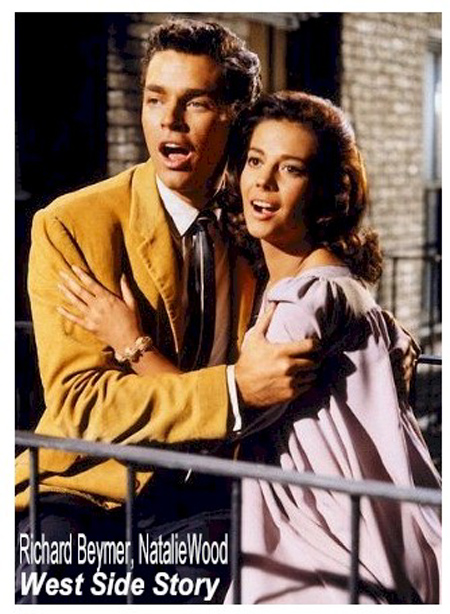 The film adaptation of the Bernstein, Sondheim, Laurents musical, which was directed by the legendary Robert Wise and featured Jerome Robbins' choreography, won 10 Oscars including Best Picture. An event highlight is a TCM behind-the-scenes feature.

This is an opt for audiences to see the dazzling dance numbers, some captured on the streets of NYC [the 'hood that existed where Lincoln Center now stands] and on the big screen. The TCM doc features a discussion with producer Walter Mirisch, Oscar-winner actor George Chakiris [Barnardo] and Marni Nixon, Natalie Woods' Maria singing voice. TCM host Robert Osborne moderates.

The cast includes Richard Beymer as Tony, Oscar winner Rita Moreno [Anita], Russ Tamblyn [Riff] and from the original Bway cast, Tony Mordente [Action] and William Bramley [Officer Krupke].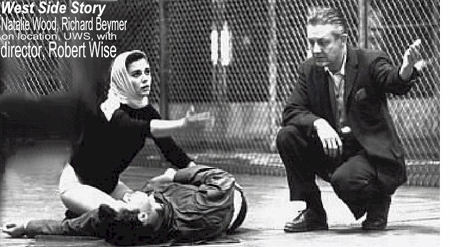 Tkts, a list of venues and prices are available at participating theatre box offices and online at www.FathomEvents.com.

On November 15, West Side Story: 50th Anniversary Edition debuts in a limited edition four-disc boxed set [Twentieth Century Fox Home Entertainment] featuring Blu-ray/DVD; two docs, The Dances of West Side Story and A Place for Us: West Side Story's Legacy; commentary by Sondheim; and collectible memorabilia; also available as a two-disc Blu-ray Collector's Edition.


Showcasing Preservation at MoMA
The Museum of Modern Art's To Save and Project: The Ninth MoMA International Festival of Film Preservation, projecting preserved and restored cinema heritage from around the world, runs through through November 19. There're 35 films from 14 countries, virtually all in their NY premiere and some shown in versions never before seen here. Complementing the fest is a Jack Smith retro, featuring 11 new prints acquired for MoMA's collection. They'll be introduced November 13 by Mario Montez, star of Smith's Flaming Creatures [1962] and Normal Love [1963] series. To Save and Project is curated by Joshua Siegel, MoMA Department of Film associate.

Monday, Martin Scorsese and his longtime editor Thelma Schoonmaker will introduce Michael Powell and Emeric Pressburger's newly restored classic The Life and Death of Colonel Blimp [1942]. November 11, the hand-painted version of Georges Méliès' landmark Le Voyage dans la Lune (A Trip to the Moon) from 1902 and unseen for 109 years, will be screened on a bill with the world prem of Serge Bromberg and Eric Lange's doc The Extraordinary Voyage. On November 14, in association with the Academy of Motion Picture Arts and Sciences [the Oscars], iconic title sequence designer Saul Bass [The Man with the Golden Arm, Around the World in 80 Days (where the elaborate end title sequence was as good as the film itself), Vertigo, The Anatomy of a Murder, North by Northwest, Vertigo, WSS and the unforgettable It's a Mad, Mad, Mad, Mad World] will be feted. His Oscar-winning short, Why Man Creates [1968], newly preserved, will be shown.
For the full roster of films being shown and showtimes, visit www.moma.org.

La MaMA Series
As part of its 50th anniversary season, Mondays at La MaMA presents a company of 25 in the premiere of Tony-nom'd composer Elizabeth Swados multi-lingual The La MaMA Cantata, comprised of quotes from the theatre's late founder Ellen Stewart, performed at the Ellen Stewart Theatre [66 East Fourth Street] at 7:30 on November 7, on what would have been her 92nd birthday, and November 8. Upcoming: conversations with Julie Taymor, Philip Glass and Meredith Monk.


Mark Your Calendar

Year-end is nearing and the studios will be releasing films, hopeful of receiving Oscar nods. It's going to be a very good season for moviegoing.

This weekend, get ready for the first holiday blockbuster: Brett Ratner's comedy thriller Tower Heist [Universal], starring Ben Stiller and Eddie Muprhy, opens. Finally, Ben and Eddie score a good one. The co-stars are Alan Alda, Casey Affleck, Téa Leoni, Matthew Broderick, Gabourey Sidibe, Nina Arianda, Judd Hirsch, the Macy's Thanksgiving Day Parade and some mind-boggling special effects. There're enough holes in the plot to fill a donut shop, but it's all unmitigated fun - and great to see Stiller and Murphy in top form and Alda as a villian.

Coming up soon are two absolute don't miss films [from Weinstein] that'll especially appeal to filmlovers - and that'll def be in the Oscar running: Michelle Williams in a star-making performance, Kenneth Branagh simply superb as Sir Laurence Oliver, Eddie Redmayne and Judi Dench in My Week with Marilyn; then comes a silent [save for the excellent score] French film, made in Hollywood that's a homage to the early days of filmmaking, Michael Hazanavicus' The Artist, starring Jean Dugardin and Bérénice Béjo.


Condolences
Tom Donovan, a man not familiar to many but whose contributions to the business are legendary, passed away Thursday at 89. Mr. Donovan, briefly and actor and stage manager became a prodigious TV director/producer - working from the medium's live golden age well into the late 90s and again as late as 2006. Among the stars he worked with: Mary Astor, Ralph Bellamy, Richard Burton, Claudette Colbert, Patty Duke, Kate Mulgrew, Edward G. Murrow, Susan Sarandon and Maria Schell.

Mr. Donovan's tireless work outside the area gained him enormous respect. With legendary director Frank Capra, he was instrumental in merging the Radio & Television Directors Guild and Screen Directors Guild into the Directors Guild of America and played a leadership role for over 30 years -from board member to VP.
He also played key roles at the Actors Fund, eventually becoming a Trustee. According to AF president/CEO Joseph Benincasa, "Tom was always insightful, supportive and articulate on how we could help best and instrumental in organizing craft unions to make for a stronger Actors Fund."


Celebrating Tony Stevens

Choreographer/director Tony Stevens, whose love and support for show business and everyone in it was legendary, will be rememered on November 8 at a 2 P.M. memorial service at the Ethical Culture Society [2 West 64th Street and Central Park West]. Tony passed away July 12.
He danced in over 10 Bway shows in the 1960's and 70's and was seen on TV variety shows before becoming a choreographer. Tony worked with Gennaro, Champion as well as Fosse [on the original Chicago]. Fred Ebb conceived the club act Chita Plus Two for Chita Rivera, who starred with Tony and Christopher Chadman. The act went on to play Vegas, Miami and L.A.

In 1974, Tony was among those who organized and taped sessions with dancers about their lives. With Bennett, James Kirkwood, Nicolas Dante, Edward Kleban and Marvin Hamlisch's involvement, that material became A Chorus Line. He choreographed TV specials, Ringling Bros. Circus and films [including The Great Gatsby]. He directed and/or choreographed for Betty Buckley, Joel Grey, Gene Kelly, Nathan Lane, Bette Midler, Liza Minnelli, Bernadette Peters, Dolly Parton, Debbie Reynolds and Martin Short.
Chita Rivera, Harvey Evans, Robert Cuccioli, Debbie Shapiro and Sam Harris will be among those celebrating Tony's life. Donations in Tony's memory may be made to the Actors Fund Dancers Resource, 729 Seventh Avenue, NY, NY 10036.
Ellis Nassour is an international media journalist, and author of Honky Tonk Angel: The Intimate Story of Patsy Cline, which he has adapted into a musical for the stage. Visit www.patsyclinehta.com.

He can be reached at [email protected]





Why are you looking all the way down here?
For more articles by Ellis Nassour, click the links below!

Previous: Nina Arianda on Venus; Nina and Donna Murphy; Tricks and Treats at CTFD'S Spooky Halloween Gala; Maye Sings Herman; La Strada Onstage; New to DVD/CD; More

Next: Theater and Arts Honorees; Broadway Unplugged Tonight; New Alan Ayckbourn, Films Open to Vie for Oscar Nominations/Soundtracks; More from the Met Archives; Broadway Stars on TV; New to DVD/CD; More

Or go to the Archives