The Metropolitan Museum's Christmas tree and Neapolitan Baroque crèche are long-established yuletide traditions [more than 40 years]. The 20-foot blue spruce decorated with lights and more than 200 18th-century Neapolitan angels and cherubs collected by Loretta Hines Howard was gifted to the museum with a Christmas tree and the crèche figures flanking the Nativity scene are on view through January 8.
Set in front of the 18th-century Spanish choir screen from the Cathedral of Valladolid, the scene's enhanced by background pieces, including Romann temple ruins, an Italian fountain with a lion's-mask waterspout, animals and daily lighting ceremonies.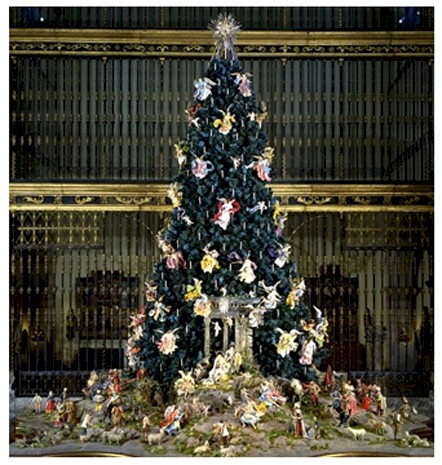 The display has evolved through the gift of the late Mrs. Howard, who began collecting the figures in 1925. Since 1964, more than 200 figures have been given. Linn Howard, Mrs. Howard's daughter and her daughter continue the tradition.
Lighting ceremonies take place Tuesday - Thursday and Sunday @ 4:30 and Friday and Saturday @ 4:30, 5:30 and 6:30.
While at the Met, check out the stunning The Renaissance Portrait from Donatello to Bellini [through March 18]. An unprecedented survey of portraiture ranging from painting and manuscript illumination to marble sculpture and bronze medals, it features rarely seen international loans and masterpieces from the Met. Spanning eight decades,160 works by artists including Botticelli, Antonello da Messina, Verrocchio, Ghirlandaio, Mantegna and Pisanello are amassed.
Spend some holiday time traveling the world, courtesy of art from the Met. Showings, free with museum admission, are geared for children five - 12. The one hour programs will take place December 27 @ 2:30; December 28 @ 3:30; and December 29, @ 11 and 3:30

The Met closes @ 4:45

on December 24, but though usually closed on Mondays, will be open 9:30 - 5:30 December 26 and January 2. Galleries clear 15 minutes before closing.
Set Your Tivo/Mark Your Calendar
Want a break from all that holiday wrapping? How about some early morn Jack? The Hugh Jackman kind? The King of Bway and the most exorbitant prices ever will be Michael Riedel and Susan Haskins' guest December 24 @ 1:30 A.M. on THIRTEEN's Theater Talk. Encore broadcasts on CUNY TV are Saturday @ 8:30 P.M., Sunday, Christmas day, @ 12:30 P.M. and December 26 @ 7:30 A.M. and 1:30 and 7:30 P.M. What will he auction off for BC/EFA? It's anybody's guess!


K
ennedy Center Honors
The 34th annual Kennedy Center Honors gala, taped earlier this month, telecasts on CBS @ 9 December 27. Recipients are Barbara Cook, Neil Diamond, cellist Yo-Yo Ma, jazz legend Sonny Rollins and Meryl Streep. Honorees will be seated with President Obama and Mrs. Obama. There'll be coverage of the White House reception.

Theater Hall of Fame
Celebrating its 41st Anniversary on January 30, the Theater Hall of Fame will induct Tyne Daly and Ben Vereen; producers Woodie King Jr., Elliot Martin and George White; director Daniel Sullivan; costume designer Ann Roth; and, posthumously, director/writer/actor Paul Sills.

The ceremoney takes place at the Gershwin. To purchase tkts, visit www.theaterhalloffame.org.
Broadway Hootenanny
DD nom Kerry O'Malley [On A Clear Day...] headlines Scott Siegel's 11 P.M. Thursday Broadway Hootenanny on December 29th at Feinstein's at Loews Regency. Joining O'Malley are Scott Coulter, Morgan James [Godspell] and Kristen Beth Williams [Anything Goes]. $15 cover, one drink min.

A Must-See at MoMA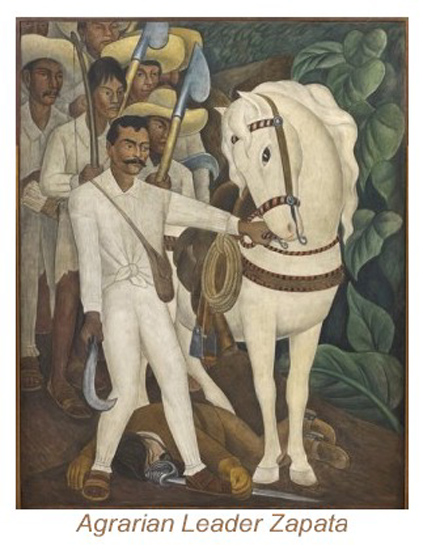 The spectacularly colorful Diego Rivera: Murals for the Museum of Modern Art [through May 14] is a celebratory revival of MoMA's wildly-popular 1931 Rivera exhibition of eight bold frescoes based on Mexican history and NY's Great Depression working-class that were created on the spot in a makeshift studio. The exhibition reunites five of the murals Rivera produced for the first time in 80 years.

One, Agrarian Leader Zapata, is an icon in the Museum's collection. The show includes drawings, archival materials and designs for Rivera's famous Rockefeller Center mural, which he produced while working at the Museum. A richly illustrated book accompanies the exhibition. Diego Rivera... is supported by BBVA Bancomer, the National Council for Culture and the Arts, David Rockefeller and the Mexican Friends of Rivera.



Film at M
oMA
MoMA will present Raj Kapoor and the Golden Age of Indian Cinema January 5-16 with eight newly struck 35mm prints that offer an introduction to one of the most ravishing and influential periods of world cinema, the legendary output of actor, director and mogul Raj Kapoor [1924-1988]. Largely known to filmgoers of South Asia, Middle East and Russia, Kapoor is revered for the special-effects laden adaptations of Indian epics such as the Mahabharata and the Ramayana. During the 40 years of the so-called Golden Age of Indian cinema, he created a new idiom of emotional expression in his output for RK Films, the studio most associated with the expression "Bollywood."

The exhibition, presented with support of the gov of Ontario, will include Aag [Fire], considered one of the greatest Indian films and which reflects German Expressionist influences and the hyper-romantic style that became his trademark; Awaara [The Vagabond], a modern-day spin on Rama's banishment of Sita; and Barsaat [Monsoon], co-starring Kapoor, the interweaving story of a romantic and his more carnal best friend.

January 12-28 MoMA will host Global Film Initiative's Global Lens 2012, conceived to encourage filmmaking with GFI seed money in emerging film communities where economic realities make screen endeavors a challenge. The films are rooted in the social and political realities of the countries and creators.
The 10 award-winning films are fit the description of global. They're from Albania, Argentina, Brazil, Colombia, Iran, Iraq, Mexico, Morocco, Rwanda and Turkey.

Films include Berlin's prestigious Silver Bear winner [Outstanding Artistic Achievement] and Jerusalem's In Spirit for Freedom Award, Paula Markovitch's political drama, El Premio [The Prize], from Argentina and Mexico, about the jeopardy a political activist [Laura Agorreca] encounters when coming out of hiding; a darkly comic road trip pic from Iran, Mourning; a psychological thriller about present-day Moroccan traditions, Pegasus; Gustavo Pi's acclaimed portrait of artistic angst and ego in Rio, Riscado [Craft], about a struggling actress on the verge of her big break, which earned Karine Teles a Best Actress honor at their international film fest; and Tool Booth, an acclaimed "Everyman" film from Turkey, which won best film and actor there.

For the full roster of presented films, dates and show times, see Film Exhibitions at www.moma.org.

Ringing in the New Year


How would you like to spend New Year's Eve having a toast and enjoying the company of Marilyn Maye, Michael Feinstein and Kelli O'Hara; and the next afternoon, New Year's day with Julie Andrews - all live? Well, you can.
Miss Maye returns to her downtown stomping ground, the Metropolitan Room for a high-octane night on December 31 @ 8 and 10 with Marilyn by Request, and segues into the new year with shows January 4, 5 and 6 @ 7. She and M.D. Billy Stritch are creating the show based on audience requests when making reservations. December 31: 8, $45 cover, two-drink min; 10, $150, includes hors d'oeuvres, open bar and champagne toast; remainder of engagment, $30, plus min. To reserve, call (212) 206-0440 or order online at www.metropolitanroom.com.
Three-time Tony nom Kelli

O'H

ara, soon back on Bway in the musical Nice Work If You Can Get It, joins five-time Grammy nom Michael Feinstein for two shows, 7 and 10 New Year's Eve at Feinstein's at Loews Regency. For the early show, $175/$250 premium/$300 ringside plus $40 min, doors open @ 5:30 for cocktails and dinner. For 10:30, doors open @ 9:30, $350/$495/$600, inclusive of three-course dinner and champagne. To reserve, call (212) 339-4095 or book online @ www.Feinsteinsatloewsregency.com [service charges apply].



Julie Andrews, no stranger to PBS'Great Performances, returns to host New Year's Eve From Vienna: The New Year's Celebration 2012 live @ 2:30 P.M. on New Year's day with the Vienna Philharmonic and Vienna Boys' Choir. There'll be an encore performance that night @ 7:30. The concert is the largest world-wide event in classical music reaching over a billion people in 72 countries. No cover, no min.




The Chinese Are Coming, The Chinese Are Coming ~
Fabled Chinese Dance Companies Arrive Back to Back

China has long been divided, with competing philosophies and ideologies. New Yorkers will have the opt to experience two Asian dance companies, literally arriving back to back. They will provide dance enthusiasts with colorful and spectacular entertainment while getting over their messages.

One is the Bejing-based China Jinling Dance Company; the other, formerly known as Divine Performing Arts, is certainly Chinese but actually based here -- often appearing annually at huge venues. Both perform classical Chinese dance, ethnic, folk, and story-based dance, of course, with uniquely different slants.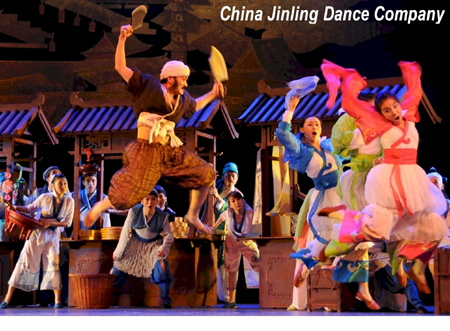 China Arts & Entertainment Group of the People's Republic presents China Jinling Dance Company's premiere of a lavish new dance drama, The Peony Pavilion @ the Koch Theatre, Lincoln Center January 5 - 8. It tells the story of forbidden love, written and first performed in 1598 during the Ming Dynasty.
The huge cast, appearing outside China for the first time, will showcase China's historical contribution to world theater and art. The production boasts "extraordinarily bold and visually stunning scenes," jawdropping complex choreography, and ornate, elaborate and dazzling costumes. Tkts are $19 - $149, available at the Koch box office or by calling (212) 496-0600.

Founded in 2006, the Shen Yun troupe, associated with Falun Gong spiritual practice and considered one of the world's premiere classical Chinese and music companies, performs globally to "revive the essence of 5,000 years of Chinese culture," which it asserts has been destroyed by Chinese [Communist] gov.

January 11 - 15, at the Koch, Lincoln Center, Shen Yun, will be presenting a mind-bogglingly huge cast in stunning, hand-made costumes "in a study in beauty and wisdom amid vigorous physicality" in spectacular performances of traditional and classical Chinese dance against animated backdrops "that take you to another world." Tenors, sopranos and vocalists perform solos accompanied by orchestra and the two-stringed erhu [violin]. Tkts are $80-$150, available at the Koch box office or by calling (212) 496-0600.
Things to Look Forward to in 2012

Beginning January 12 at Theatre Row's Beckett, veteran Bway/Off Bway actor and co-founder of the Negro Ensemble Co. Arthur French headlines a five-person cast for NEC's production of Cate Ryan's The Picture Box, about a young Southern black man coming to work for a L.I. white family. Award-winning actor Charles Weldon, NEC's A.D., directs. Tkts are $36.50 and onsale at Theatre Row's box office or through www.TeleCharge.com or calling (212) 239-6200.

Anna Deavere Smith's tour-de-force, Let Me Down Easy, airing on PBS Great Performances January 13 @ 9, examines human resilience through the lens of the debate on health care. In her signature performance style, she plays 20 characters, created from the 300 she interviewed. Among them: a minister, cycle champion, rodeo bull rider, sports columnist, choreographer, heavyweight boxing champ, supermodel, Texas gov, movie critic and Buddhist monk.

PBS Great Performances at the Met, January 20 @ 9 telecasts Donizetti's Anna Bolena, recounting the final days of Anne Boleyn, starring Anna Netrebko in another acclaimed performance. Ekaterina Gubanova plays Giovanna [Jane Seymour]. Marco Armillato conducts the mighty Met orchestra.

City Center's 19th Encores! season opens February 8 with Sondheim's Merrily We Roll Along, directed by James Lapine and based on Kaufman and Hart's "backward" play; continues March 28 with Rodgers and Hammerstein's rarely revived Pipe Dream, based on Steinbeck's forgotten novel Sweet Thursday; and closes May 9 with Styne and Robin's classic Gentlemen Prefer Blondes, adapted from Anita Loos' novel. Rob Berman is M.D. Each plays seven performances. Season and individual tkts are on sale now at the C.C. box office.


Leonardo Live, a first-ever art exhibit telecast, arrives in cinemas starting February 16 with the extraordinary London National Gallery's da Vinci exhibition.



New to DVD
It was hard to wait week after week for the next episodes of Season One of the gritty Justified [FX; 2010], adapted from an Elmore Leonard short story and set in backwoods of Harlan County, KY's coal-mining towns. That was solved by the DVD release of the 13 episodes, which unfold as a 21st Century Wild West chilling revenge drama with betrayal, double/triple crossing, brutality and hangings against a backdrop of two sons following quite different paths than their fathers. One is a soft-spoken, sharp-shooting U.S. marshal, portrayed by Timonty Olyphant [Deadwood], fighting moonshiners, vicious murders and drug runners; the other, a recently freed murderer and wacko white supremacist supposedly following a righteous path as a preacher. With its heavy quotient of violence, it wasn't for the faint-hearted.

The season benefited from excellent turns by Olyphant, all the while walking an easy gait, and Raymond Barry, as his father; but it was stolen outright by one of most sensational, menacing and mesmerizing performances of recent years from Walton Goggins [TV's The Shield; Straw Dogs], who received an Emmy nod for Outstanding Supporting Actor/Drama Series.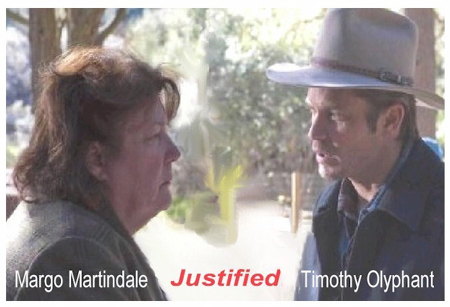 Just when you thought it couldn't get any more edge-of-the-seat, comes Season Two on DVD January 3 [Sony Home Entertainment; SRP $40] - just as Season Three takes off - and the introduction of another sensational actor in a memorable role, Tony and Drama Desk nom Margo Martindale ['04 revival, Cat on a Hot Tin Roof;.

She portrays charismatic criminal matriarch Mags Bennett, who poisons, maims and manipulates with her toxic applejack. Strange to find yourself rooting for such a frightening character, but you do. Martindale is just that darn good! It's one reason she took home the Emmy for Outstanding Supporting Actress/Drama Series.

"Emmy night was a wonderful and surreal evening!" recalls
Martindale. "I can't think of another show business-related experience that could compare. I'm grateful to have received this honor at this point in my life. I'm much more able to appreciate and savor the experience than I would've been when I was younger.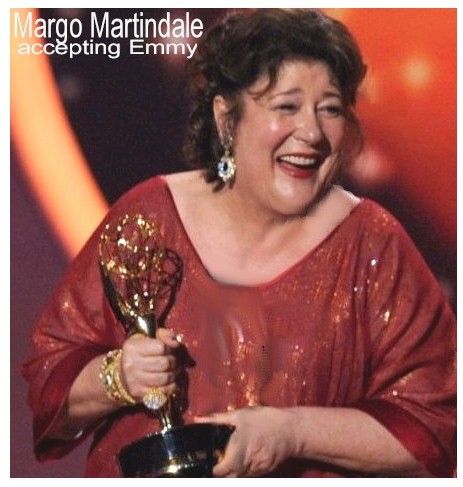 "Who said turning 60 was a bad thing?" she adds. "I hope this will open more doors for older women." As for the immense popularity of Mags on Justified, she says, "Viewers loved her because she's powerful, older and extremely mean!"
She's currently co-starring with Patrick Wilson in CBS' A Gifted Man as former nurse Rita Perkins-Hall turned managerial assistant to his Dr. Michael Holt at his Park Avenue practice.
Mags and Rita certainly inhabit entirely different worlds. "While they're both strong women who wield a certain amount of power in their paradigms," Martindale observes, "Rita operates within the confines of traditional behavior, whereas Mags makes her own rules and expects those around her to capitulate.

"Mags is a mountain woman who's extremely intelligent but not sophisticated," she adds. "Rita's right up to the moment in terms of knowledge of Dr. Holt's medical world, has fashion sense and is cosmopolitan. It's been fun to explore two very disparate women."
A Gifted Man shoots in Queens which is wonderful for Martindale, who lives in Manhattan. "It's been a real luxury to be picked up at my door for work," she laughs, "and delivered back after a day of shooting."
Martindale wants to return to the stage but "after playing Big Mama in Cat on a Hot Tin Roof, it's a little hard to find another role as tempting and fulfilling to dig into."

Martindale portrayed Nurse Klowen in 2009's Mercy, had a recurring role on Dexter and is well-remembered for those Downy commercials. One of her first TV roles was in the Lonesome Dove miniseries as tart Plump Ogallala. Onscreen, she played in Eastwood's Million Dollar Baby and opposite Susan Saradon in Dead Man Walking. Onstage, she appeared in the original WPA production of Steel Magnolias as Truvy.

Also Coming

January 3, The Windsors: From George to Kate [Athena; 1 ¾ hrs, B&W/Color; Viewer's Guide; SRP $30], drops a lavish doc, full of pomp, pageantry and splendor, which gathers nearly a century of archival film and stills from events including King George V's Silver Jubilee, the wedding of Princess Elizabeth to Prince Philip, George VI and Elizabeth II's coronation, Charles and Diana's wedding, Diana's funeral and on to William and Catherine.
January 31 drops the huge Agatha Christie's Poirot, Series 1 and 2 retro [Acorn DVD, Blu-ray], which premiered in 1989 and stars the incorrigible, indudable David Suchet, Hugh Frasher [Captain Hastings], Philip Jackson [Chief Inspector Japp] and Pauline Moran [Miss Lemon]; and Emmy-nom'd Masterpiece Theatre fav Poldark: The Complete Collection [1975], based on the Winston Graham novels set in 18th Century Cornwall about a Brit army officer returning to Cornwall from the American Revolutionary War.

Theaterlover Stocking Stuffer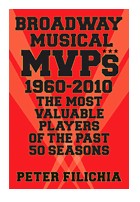 Columnist, theater historian and author Peter Filichia is out with another must-have book for avid theatergoers, Broadway Musical MVPS, 1960-2010: The Most Valuable Players of the Past 50 Seasons [Applause Books; trade soft; 335 pages; Index; two-page photo fold for every decade; SRP, $20]. Filichia's sharp humor is ample on his list of the best and brightest among producers, directors and choreographers [for example: Tammy Grimes, '60-'61 season for The Unsinkable Molly Brown, to Joe DiPietro, '09-'10 for Memphis]. Many are multitaskers, such as directors who choreograph or write the book or design costumes. He gives sports-themed awards in categories such as Comeback Player of the Year, Reliever of the Year, Rookie of the Year and Led League in Errors.

Onscreen
The Girl with the Dragon Tattoo isn't exactly what the majority would consider appropriate holiday entertainment, but that hasn't stopped [The Social Network, ... Benjamin Button] David Fincher' English language adaptation, starring the amazing Rooney Mara [TSN, Nightmare on Elm Street] as chameleon "Everywoman," PC hacker and P.I. Lisbeth Salander, and once and future 007 Daniel Craig from becoming an instant blockbuster.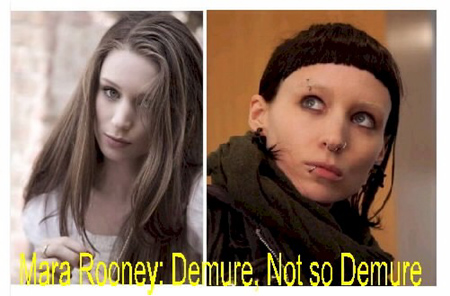 Fincher has upped the violence quotient, but made the story more accessible. Even if you haven't read the book or seen the Swedish original, you can figure things out pretty quickly as there are hints from very early about that serial killer. If you are wondering how the heck he/she got all those bodies from the various parts of Sweden into that state-of-the-art dungeon, join the club. Craig also proves to be a vigorous mountain climber, able to scale great heights in seconds. And Rooney, in the grumsome finale, proves to have amazing ESP and the ability to pick locks or go through walls. Stellan Skarsgård, a hardly recognizable Robin Wright and Christopher Plummer, very sadly without a lot of screen time, co-star.


Only in the last week TV commercials for Extremely Loud & Incredibly Close [Warner Bros.] appeared on TV for this poignant story of love, foregiveness and redemption. It's another class and very art house film running to beat the Oscar deadline. There've been some private screenings where the reaction has been muted or emotionally wrenching. There's def Oscar buzz.

Producer Scott Rudin [as active in theater as in film] and director Stephen Daldry's production of Jonathan Safran Foer's 2005 best-seller, with screenplay by Oscar winner Eric Roth [...Benjamin Button, Munich, Forrest Gump], stars Tom Hanks, Sandra Bullock and in a role that seems assured of an Oscar nod, youn gThomas Horn. It's the story of the aftermath of the 9/11 attack and Oskar, a nine-year-old boy's loss of his father who died in the World Trade Center and his search for the lock that matches a key his dad left behind.

Newcomer Horn was spotted by Daldry on Teen Jeopardy. With this cast and pedigree, you might think the Foreign Press Association, it's small membership always eager to kiss Hollywood VIPs xxxes, would have showered it with numerous noms, but they totally shut it out of the running. Yes, totally ignoring Horn's performance and the so far unsung superb performance of Bullock. Many members felt it was just too soon for such a film. So, now it's up to Oscar, who surely won't ignore powerbroker Rudin and the top-drawer stars.

Daldry [Billy Elliot, The Hours, The Reader] says, "Like so many others, September 11, 2001 changed my life and that's one reason I was so attracted to adapting the novel. It presents a hopeful view of the post-9/11 world." The film was shot here and Daldry pointed out that many of the crew members were first responders. "That started many conversations between us. Everyone was eager to share their stories."

Extremely Loud & Incredibly Close has a strong supporting cast, including stage legend and four-time Tony and three-time DD winner Zoe Caldwell as Oskar's granny, Max von Sydow, John Goodman, Tony and DD-winner and Oscar nom Viola Davis [surely to be an Oscar nom, again, for her performance in The Help], DD winner and Tony nom Jeffrey Wright and DD winner and Tony nom Stephen Henderson [famed for his roles in August Wilson plays]. Except for von Sydow, providing laughs and seemingly having a good time [even doing a bit of slapstick], and a very powerful sequence from Wright, these noted actors aren't given much screen time.

It opens here on Christmas day, just in time to make the closing date for Oscar consideration; however, until a few days ago, Daldry was still tinkering with the edit. Based on focus groups, talks with family members and early screening comments, he was concerned with how graphic to make the film. "I worried about what audiences should and shouldn't see. It's tough to articulate emotion and you don't want to sentimentalize or intellectualize. You want to be true to what happened. Like most directors," he laughs, "I'd keep shooting for another year, but we had to finish."

The film starts off awfully slow and really benefits from the lift it gets from Hanks' scenes; then, during the last 20 minutes, the top-caliber moments Bullock delivers. Still, it won't be everyone's cup of tea. At just over two hours, it def could have used some trimming and the middle rather keeps repeating itself.
It's not in 3-D and doesn't have a dead man walking, alking as in The Iron Lady. It's not holiday fare like My Week with Marilyn, The Artist, War Horse, Puss 'n Boots, The Adventures of TinTin or even Mission Impossible.

... But This Is - should you choose to accept it
There's a quite winning Tom Cruise, not afriad to show his crow's feet, in another mindless, edge-of-the-seat installment of Mission: Impossible, this one called Ghost Protocol Paramount] and helmed by Brad Bird [The Simpsons, King of the Hill, Up]. It's fun, makes more sense [you can actually follow the plot from the exciting opening prison break to the mission]. It benefits from Russian, European and Middle Eastern scenery and excellent featured work from Paula Patton [Precious], England's deft comic Simon Pegg [MI III, Shaun of the Dead, upcoming Star Trek] and Oscar winner Jeremy Renner [who, sadly, isn't given much to do]. As with most thrillers, there're enough holes to fill a donut shop; however, with a couple of extraordinary thrill sequences [about 25 minutes of them shot in IMAX], you don't care. It's the perfect escapism from the holiday blahs and art house flicks.
Here's a clip:

Season's Greetings

Happy Hanukkah, a Blessed Christmas
and a New Year filled with peace,
good health and prosperity!
Ellis Nassour is an international media journalist, and author of Honky Tonk Angel: The Intimate Story of Patsy Cline, which he has adapted into a musical for the stage. Visit www.patsyclinehta.com.

He can be reached at [email protected]





Why are you looking all the way down here?
For more articles by Ellis Nassour, click the links below!

Previous: TCM Remembers; Bonnie & Clyde; the Liberty Rises from Ruin; Gypsy of the Year; Judith Light; Who Gives a Hoot?; Soon on DVD; At the Met Museum; Holiday Entertainment: Theater, Circuses, Movies

Next: Jim Dale on the Road to Mecca; Audiences Loves You Porgy (and Bess); Monday, January 30th - Oh, What a (Busy) Night!; More Opera from the Met Archives; New to DVD/CD; Tony Bennett on Great Performances

Or go to the Archives