Athol Fugard's The Road to Mecca stars multiple Tony and Drama Desk winner Rosemary Harris, Carla Gugino [Suddenly Last Summer revival, After the Fall] and Tony and DD winner Jim Dale. It takes a while for the sparks to fly in this revival, actually making its Bway prem. They really begin to fly into Act Two when, under Gordon Edlestein's direction, Dale's actually in the play. He plays South African minister Marius Byleveld in the story of an reclusive elderly woman who's spent the years since her husband's death transforming her home into an intricate, dazzling and quite controversial work of art.

As Miss Helen appears increasingly unable to care for herself, not only has she become depressed but also pressures mount on her to sell her home and retire to assisted living. But that's the tip of the iceberg. There are startling revelations as Fugard reaches deep into Act Two: a long festering but hidden romance on Byleveld's part; and a secret the artist's friend Elsa has been keeping.
"I've been friends with Rosemary for many years," says Dale, "and always hoped we would work together. What a joy it is. She's an impeccable person, thoughtful, down to earth and loves to chat away with you. Rosemary, acting now over 60 years, knows a thing or two about the stage. She's one of the top ladies of American theater, right up there with Zoe Caldwell, Angela Lansbury and Marian Seldes; and in the rarefied company of our beloved Julie Harris. If Rosemary was in England, she'd be a Dame - no, she'd be queen!"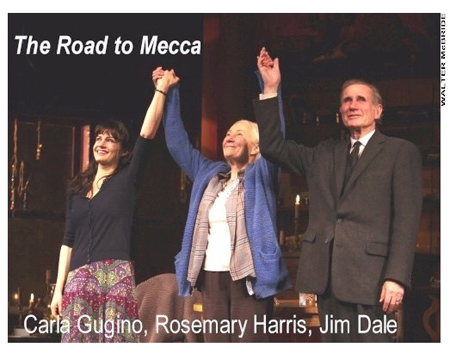 It's the first time he's met Gugino "and I'm happy to say that she's a love, onstage and off. But I'm not going to talk about her cute little doggie. Not a word will come from my mouth! I simply won't tell you what his best wishes were on opening night."
Dale, the man of a thousand and one voices [as evidenced by his Grammy wins for the Harry Potter audio book series]. "I love doing voices but it's one I've never used before," he explains. "I've never tried to speak Afrikan. I rented some South African films and played them over and over to help me along."

When playwright Fugard came to rehearsals, he asked Dale, "Where did you get that accent? It's spot on?" Dale confessed its origins. "It was no where near as broad as Athol's, which is very broad. No one has argued that it's not authentic."
The Road is a long haul with a lot of narrative. "Yes, you could say that. It was tough learning all the lines. For me, especially. The older you get, the harder it is. I have about 500 lines, but Rosemary and Carla, who talk away in Act One, had twice as many. The author had the opportunity to edit, but decided not to. So you can only go along with him.


"Athol was very encouranging during rehearsals," Dale continues. "[Director] Gordon [Edlestein], as far as the staging, dusting off and polishing was the perfect person for this play. We're a tight trio, even if at odds with each other. We have mistrust of each other in the story, but we have the trust of each other onstage."
Dale has observed something different at performances: rapt silence from audiences and no cell phones going off. "When I'm in a comedy or musical, I can tell from the laughter in the first few seconds if audiences are with you. But, in this play, you can hear a pin drop as we're speaking. Audiences are listening. Some nights, they're very quiet; then, at the end, you got that wonderful standing ovation. It's rather lovely."
The Roundabout's production begins Athol Fugard's 80th birthday celebration which continues next week at the spanking new Signature Theatre Company's new home, where Fugard is its inaugural Residency One playwright.



Audiences Responding to Porgy and Bess
To think that due to some criticism and controversy stirred up by a certain composer nearing the end of his marathon 80th bd celebration, the operetta Porgy and Bess, by George and Ira Gershwin, book by DuBose and Dorothy Heyward, which has now been transformed into a Bway musical, there was the chance it would never make it to Bway following its sold-out premiere at Boston's American Rep.
Audra McDonald, Norm Lewis and David Alan Grier are astoundign audiences.

McDonald has played Down Low before but here she totally transforms from a loose woman dispised by Charleston's Catfish Row shanty town folk into one passionately falling in love, and with a cripple everyone thinks of as a joke. When McDonald sings, she's sublime; when she's seductive, she's a revelation.

Lewis, who's been known to knock a few roles out of the ballpark here knocks this one into orbit. He has you in his pocket from his opening moments - and a bit worried. Is it possible for him to distort his leg to the degree he does without harming himself? At the curtain call, he's whole again and that's a relief.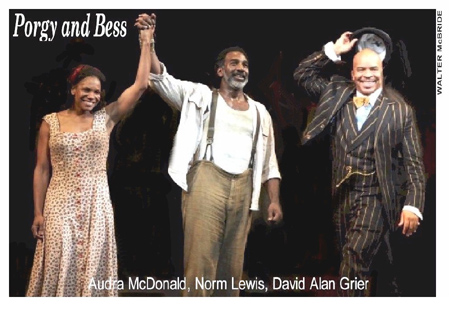 Grier is always full of surprises, but as Sporting Life he is simply a sensational presence on stage. All decked out in his NY finery, he struts his stuff and schemes with great exhilaration.
It doesn't stop there. Phillip Boykin as Crown creates one of the most formidable villians since Oklahoma!'s Jud Fry, and has the neatest curtain bow of many a year. You can't miss NaTasha Yvette Williams as Mariah and she plays with great warmth and poignancy, all the while stealing every scene she's in. And hardly anyone is off stage very long.
Nikki Renée Daniels [Clara], Joshua Henry [Jake], Bryonha Marie Parham [Serena] are also memorable. In fact, Tony nom'd director Diane Paulus [Hair] has flawlessly cast this classic and, along with collaborators Pulitzer Prize-winning playwright Suzan-Lori Parks and two-time Obie-winning composer Diedre L. Murray, made it new for a new generation to venerate.
Porgy and Bess has two additional co-stars: the magnificent orchestrations by William David Brohn and Christopher Jahnke; and the sound design [by Acme Sounds Partners] of the fierce hurricane that nearly blows everyone off the stage and audiences out the door.
Monday, January 30th - Oh, What a (Busy) Night
Just a Few of the Events ~
Theater Hall of Fame
Celebrating its 41st Anniversary on Monday, the Theater Hall of Fame will induct Tyne Daly and Ben Vereen; producers Woodie King Jr., Elliot Martin and George White; director Daniel Sullivan; costume designer Ann Roth; and, posthumously, director/writer/actor Paul Sills. The ceremoney takes place at the Gershwin.


Nightlife Awards
Scott Siegel loves packing his Town Hall shows with the largest and most exciting artists possible, and Monday @ 7 won't be an exception. At the top of the star roster for the 10th Annual Nightlife Awards are Lucie Arnaz and Tony winner Bill Irwin, who'll co-host and perform. As always, you can expect some surprises.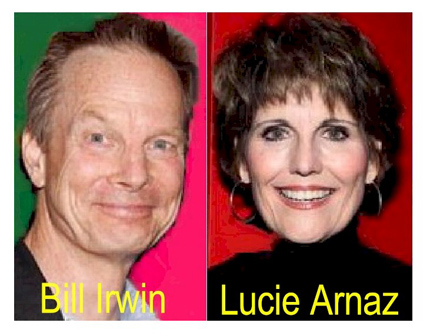 It will be quite an evening because one of the highlights will be the reuniting of the musical team Chris Durang and Dawne [John Augustine and Sherry Anderson] after 16 years. Durang, after launching this inventive comedy duo that was actually a trio, went on to become one of most eccentric and innovatie playwrights.

It's a celebration and entertainment, too. This is the awards show with a difference: no acceptance speeches! It's all performance start to end, with winners showing why they're winners.

Belter and charmer Terri White, who spent years as a popular piano bar entertainer before a spate of bad luck that had her sleeping on park benches then reaping great acclaim in Finian's Rainbow and the Follies revival, will be honored with a Nightlife Legend Award for her Contributions to NY Nightlife. Also on the honors list: Amanda McBroom ["The Rose"], for contributions to nightlife for her tunes and stunning performances; 90-year-old Jon Hendricks ["The Poet Laureate of Jazz"]; and Christine Lavin, comic folksinger/composer.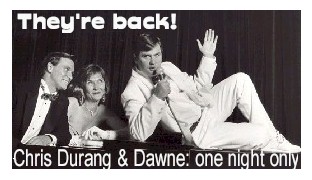 In honor of the 10th anniversary, past winners and participants elegant chanteuse and Nightlife Legend Karen Akers; comic Ray Ellin; jazz singer, guitarist, writer Allan Harris; Nellie McKay; jazz-pop singer Karen Oberlin; and jazz pianist Randy Weston.

The Nightlife Awards are sponsored by ASCAP, The Edythe Kenner Foundation, Jill & Irwin Cohen, TheaterMania.com, Eda & Stephen Sorokoff, Max Weintraub and Thoroughbred Records with support form the Berkshire Theatre Group and, among others, Feinstein's at Loew's Regency.

Limited seats are still available, $25 - $75, at Town Hall's box office.
Not Enough for You?
Signature Theatre Company Christens New Home
James Houghton, founding A.D., and Erika Mallin, exec director, will be front and center Monday as Signature Theatre, known for acclaimed work and bargain tickets that give everyone access to award-winning theater, enters a new era at its new home, the Frank Gehry-designed Signature Center, at 480 West 42nd Street, between Ninth and Tenth Avenues.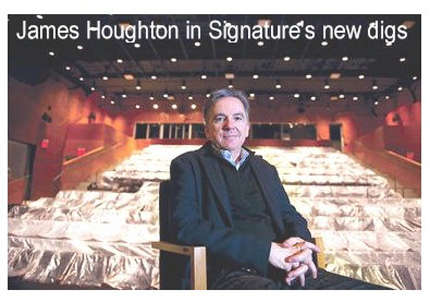 "After 20 years in limited space," points out Houghton, "this season heralds an enormous threshold moment, marking the debut of our new sprawling theater complex, designed by master architect Frank Gehry. Now we have a home that serves the breadth of our deep vision, a place where we can do it all - encourage and honor writers and build bodies of work."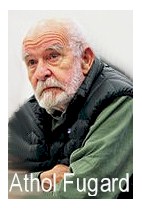 The Dewar's-sponsored gala will showcase one large and two intimate theatres, café, bar, bookstore, rehearsal studio and administrative offices. Guests will enjoy cocktails, a chef's tasting menu and entertainment.

Tuesday, Athol Fugard's Blood Knot [directed by the playwright] will open the Alice Griffin Jewel Box Theatre, named in honor of the beloved theater historian. It stars Colman Domingo [The Scottsboro Boys] and Scott Shepherd [Gatz] and runs through March 11.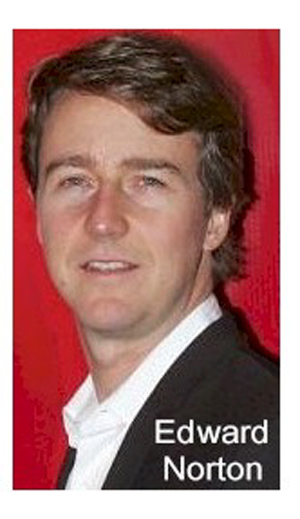 Edward Norton, who got his start performing in Albee's Fragments during the 93-94 season and returned in the company's production of Lanford Wilson's Burn This, has led the fundraising drive for the $66 million, 70,000-square-foot project. Horton Foote and Tennessee Williams have had Signature seasons.

When the company did its Albee season, the Pulitzer Prize and Tony and DD-winner hadn't had a play produced in NY in 10 years. "That's why," says Norton, "when James identified the task of exploring bodies of work - a sort of retrospective for drama - he hit on a necessary mission."


The company Houghton founded in 1991 first performed in a 79-seat space. "It occupies a unique niche among off-Broadway nonprofit theatres," says Emily Mann, director, playwright and A.D. of Princeton's McCarter. "There's no other theatre quite like it. Each season Signature's mission is to perform the work of a living playwright rather than, as Pulitzer-winning playwright Tony Kushner [whose work was presented last season] says, 'immediately lunging for whatever's new and shiny.'"
Sing Out, Anita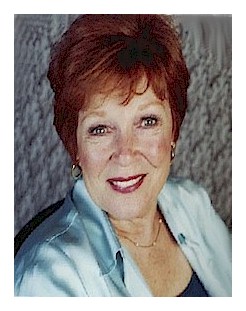 The star Irving Berlin and wife Ellin would call to come over to Sutton Place to serenade him with tunes from Mr. President when he was depressed will be serenading you Monday at Birdland @ 7 when she debuts her long-anticipated club act Anita Gillette: After All, directed by cab vet Barry Kleinbort.

Gillette's amazing career has segued from stage [Bway debut, 1959, Gypsy, starring the Merm; and onward to Simon's Chapter Two, for which she was Tony nom'd] and screen [Moonstruck, Bob & Carol & Ted & Alice, among many others] to TV [ a bevy of game shows, 30 Rock, CSI].

She'll serenade with over 15 tunes, including "Can't Be Bothered Now/"Happy Go Lucky," "Don't Tell Mama," "Teach Me Tonight," "Mira," "How Deep Is the Ocean," "Shall We Dance" and "Did I Ever Really Live"/"I Still Believe in Love." Paul Greenwood is M.D., accompanied by Steve Bartosik on drums and Steve Doyle, bass.


Gillette will soon be at Playwrights Horizons in The Big Meal, directed by Sam Gold [Seminar].
New to DVD
Andrew Lloyd Webber and Charles Hart's The Phantom of the Opera, directed by Harold Prince, with classic staging by Gillian Lynne and produced by Cameron Mackintosh and The Really Useful Company, already the longest-running show in Bway history, yet again makes history when it celebrates its 10,000th performance, which will benefit the Actors Fund, at the Saturday matinee, February 11. On the West End and Bway for over a quarter century is def theatrical history.

The London production, which celebrated 10,000 performances in 2010, was saluted in a lavish staging last October at Royal Albert Hall, which was theatercast worldwide. It headlined Ramin Karimloo and Sierra Boggess, the acclaimed stars of the POTO sequel Love Never Dies.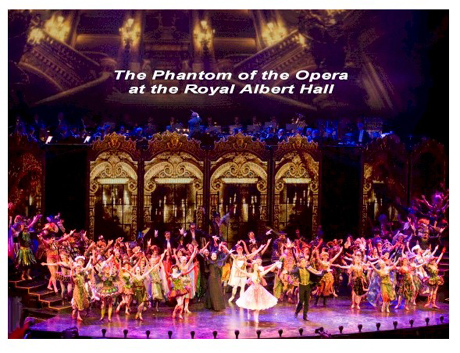 It reunited a number of Phantoms, including original star Michael Crawford and Colm Wilkinson; as well as Christines, including Sarah Brightman, hardly recognizable after obvious injections of a foreign substance and spotlighted in a hideous gown. Lloyd Webber, chicly, casually dressed and not the usual bundle of nerves, hosted the post-performance accolades. In an interesting moment, Sir Andrew, who'd been wed to Brightman, gushed over her as if she was his long lost love, so love really never dies! The singing was the thing, and that was glorious.

The Phantom of the Opera at the Royal Albert Hall drops on DVD and Blu-ray [Universal Home Entertainment] on February 7 with a live recording [Decca] to follow. PBS will telecast the spectacular on March 4.

POTO has won more than 60 awards, including seven 1988 Tonys, including Musical; and three West End Oliviers, including Musical. The original cast recording, starring with over 40 million copies sold worldwide, is the best-selling cast recording of all time.


The Bway production stars golden-voiced Hugh Panaro, Trista Moldovan as Christine and Kyle Barisich as Raoul.


Hello, Carol! It's So Good to Have You Back Where You Belong
That would be in our arms!
If Carol Channing didn't exist, no one could have made her up. The one-in- a-billion, unstoppable, megawatt dynamo Bway bombshell, the larger-than-life Carol Channing is back! No, not in yet another revival of her perennial fav Hello, Dolly! or even Gentlemen Prefer Blondes. She's back and she's, well, Carol Channing: Larger than Life [Entertainment One/Dramatic Forces], Dori Berinstein's doc that's as fun and as colorful as the dame herself.
For many, Miss Channing, now in her 90th decade and as spry as ever, was an acquired taste. Why do you think? Some believed that the facade was the real Channing, but buried deep inside was a very cool, very savvy gal who knew what she wanted and achieved it. She def was/is a kook of the first order, but a lovable one [and one with a heart of gold].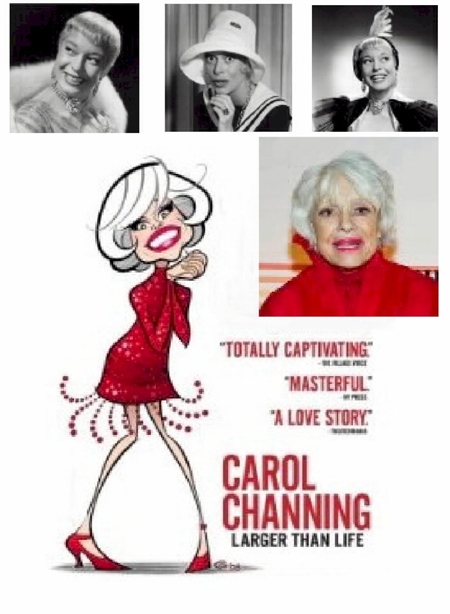 One thing for sure, as this film shows, is pray you never offended or slighted her or kicked higher than she kicked in a chorus line or, even worse, borrowed any of those diamonds and didn't return them. God, the memory this gal has! And that makes for 87 minutes of pure, unadulterated fun and entertainment.


Channing was the perfect and uplifting tonic for audiences right after WWII in Lend An Ear [her third Bway outing] and the assassination of JFK [with HD!]

Adding insight are original HD! co-star Mary Jo Catlett, longtime friend and colleague Marge Champion, one of her oldest friends, the late Betty Garrett [the recalling of their first screen kisses is a hoot!], Jerry Herman, Bob Mackie, Lee Roy Reams and comic/film legends Phyllis Diller and Debbie Reynolds.


The story of Bway's legendary performer, still kicking as you would know if you were in the New Amsterdam for the 2011 Gypsy of the Year Competition when she made a "surprise" appearance with her boys from two HD! revivals. She's still, as Berinstein and co-writer Adam Zucker's production notes note: "as colorful as the lipstick on her big, bright smile."

But life and one marriage wasn't always a bowl of cherries, and those revelations that not all weren't aware of add poignancy to what you're remembering about Miss Channing from those cherised moments in the theatre. The breezy doc is both an intimate peek into her early and later career and a rarefied journey inside one of Bway's most glamorous era. Above all, you'll come away still in awe, still inspired by one of American theater's incomparable legends.

New to CD from the Met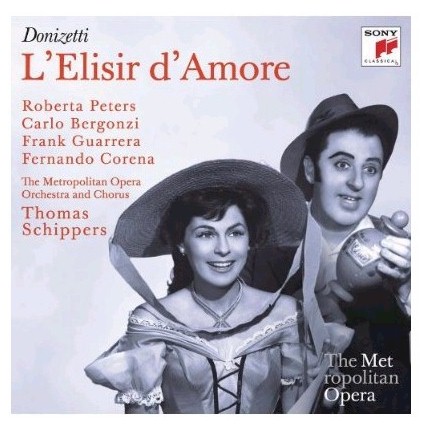 Opera lovers will be thrilled to find that Sony Classical is continuing its ongoing partnership with the Metropolitan Opera. The label has added four multi-disc sets drawn from historic Met live radio broadcasts.

All are on CD for the first time, remastered from original sources [SRPs, $16-$18]: Mascagni's Cavalleria Rusticana and Leoncavallo's Pagliacci [1964); Verdi's Ernani [1962]; Donizetti's L'Elisir d'Amore [1966]; and Verdi's Luisa Miller [1968].
The operas are gloriously sung by fabled Golden Age stars, respectively: Eileen Farrell, Richard Tucker, Lucine Amara, Franco Corelli; Carlo Bergonzi, Leontyne Price, Cornell MacNeil, Giorgio Tozzi; Roberta Peters, Carlo Bergonzi; and Montserrat Caballé, Sherrill Milnes, and, again, Richard Tucker. Conducting are Met stalwarts Thomas Schippers and Nello Santi.


New to CD
Masterworks Broadway/Sony also continues its vault of classic cast recordings previously unavailable in the CD era. A Thurber Carnival [1960]] and the all-star David Merrick Presents Hits from His Broadway Hits [1964] are available as downloads through digital service providers and as disc-on-demand, with the original cover art and liner notes, via ArkivMusic.com and Amazon.com. Both are accompanied by new illustrated albums MasterworksBroadway.com.
A Thurber Carnival played 223 performances at the ANTA [now Virginia]. The CD, with music by Don Elliott, includes sketches from the satirical revue which brought James Thurber's famous New Yorker cartoons and short stories to life. Tony-winner Peggy Cass [Mame], Paul Ford, John McGiver and the amazing Alice Ghostley were among the cast.
By 1964, just prior to his super smash Hello, Dolly!, Merrick was the King of Bway, with more hits than any producer before, so he decided to celebrate himself, which he often liked to do. The result was RCA's David Merrick Presents... Teen fav Ann-Margret, John Gary and the Merrill Staton Voices give lush treatment to a dozen songs from a dozen Merrick hits. Eight, including Gypsy, received Tony noms for Best Musical. Tracks include "Small World," "Make Someone Happy," "Take Me Along," "Love Makes the World Go Round" and "Anyone Would Love You." Peter Filichia provides notes. CD has original cover art.


Tune in Tonight


The much anticipated Tony Bennett: Duets II, airs tonight @ 9 on PBS Great Performances. Bennett, 85 but in incredible voice, collaborates with Andrea Bocelli, Michael Bublé, Natalie Cole, Sheryl Crow, Aretha Franklin ["How Do You Keep the Music Playing"] , Lady Gaga ["The Lady Is a Tramp"] , Josh Groban ["This Is All I Ask"], Faith Hill, Norah Jones, k.d. lang, Queen Latifah, John Mayer ["One for My Baby (and One More for the Road)"], Willie Nelson ["On the Sunny Side of the Street"], Amy Winehouse ["Body and Soul"] and Carrie Underwood.
The album took more than six months to record, with each track done face-to-face in studios around the world, from L.A. to Nashville to London.
With more than 50 million records sold worldwide and platinum and gold albums to his credit, Bennett has received 15 Grammys, ncluding the Grammy Lifetime Achievement Award. The MTV generation first took Bennett to heart during his appearance with the Red Hot Chili Peppers on the 1993 MTV Video Awards. He appeared on MTV Unplugged and the resulting recording of the same name garnered Grammy's Album of the Year.

Bennett's big break came in 1949 when Bob Hope noticed him working with Pearl Bailey in Greenwich Village. "Bob was down checking out my act," Bennett recalls. "Thankfully, he liked my singing and came back after the show. He said, 'Come on kid, you're going to come to the Paramount and sing with me.' But first he told me he didn't care for my stage name, which was Joe Bari. He wanted to know what my real name was. 'Anthony Dominick Benedetto,' I replied. 'We'll call you Tony Bennett,' he informed me. And that's how it happened. A new Americanized name, the start of a wonderful career and a glorious adventure that has continued for 50 years."
Ellis Nassour is an international media journalist, and author of Honky Tonk Angel: The Intimate Story of Patsy Cline, which he has adapted into a musical for the stage. Visit www.patsyclinehta.com.

He can be reached at [email protected]





Why are you looking all the way down here?
For more articles by Ellis Nassour, click the links below!

Previous: Holiday Spirit at the Met; Set Your Tivo/Mark Your Calendar; Chinese Dance Companies; Rivera/Film at MoMA; Maye, Feinstein and O'Hara and Andrews Ring in New Year; Coming Soon; Theater Stocking Stuffer; Onscreen; New to DVD

Next: SMASH: Will It Be a Smash?; Bway Week Ending, Off Bway Week Beginning; Encores!/Broadway by the Year Openers; Stars Salute Chenoweth; Brunch with the Stars; Phantom Sequel Onscreen; Carnaval in NYC

Or go to the Archives