Turner Classic Movies is airing a poignant end-of-year feature, TCM Remembers, which pays tribute to those in film who passed this year. It's done to a haunting tune, "Before You Go" from OK Sweetheart's CD. Check out the clip:
You'll recongnize many of the artists [James Arness, Jeff Conaway, Jackie Cooper, Peter Falk, Anne Francis, Betty Garrett, Farley Granger, Cliff Robertson, Jane Russell, Elizabeth Taylor]; and many other faces will ring a bell. Then there are those lesser known and long forgotten. In their day, some were major entities, others became veteran character actors.

Here are reference points to some of the female actresses: Leslie Brooks [looking like a chic sprite; 40s supporting actress; best known opposite Astaire, Hayworth and Eve Arden in Cover Girl], France's Paulette Dubost [30s-05 star; she was 100], Norma Eberhardt [B movies and lots of TV, but had a minor role opposite James Dean in Martin and Lewis' Sailor Beware], Edith Fellows [silents to talkies: Pennies from Heaven opposite Bing Crosby, the Peppers films and TV series], South Africian-born Sybil Jason [groomed to be a rival to Shirley Temple, with whom she co-starred in two films; 16 movies in five years, then retired] and Barbara Kent [segued from huge output in silents into talkies, retired '35; 103].
Also seen are: Marilyn Nash [after Chaplin's Monsieur Verdoux, she segued briefly into TV and retired], [Sweden's] Lena Nyman [I Am Curious (Yellow)], Japanese-born Tura Satana [sultry featured bits from Irma La Douce to Faster, Pussycat! Kill! Kill!], Miriam Seegar [silent star, made brief talkies foray before marrying; 103], Elaine Stewart [second-tier M-G-M star; Brigadoon, Young Bess, Bad and the Beautiful], Yvette Vickers [doing her best Rita Hayworth in the TCM clip; best known for TV roles and The Attack of the 50 Foot Woman's Honey Parker] and Dame Googie Withers [child actress to veteran character star, best known for Hitchcock's The Lady Vanishes, Powell/Pressburger's One of Our Aircraft Is Missing and Shine].
Between those remembered, the feature intersperses uncredited clips from over 20 films not associated with the stars. Even avid moviegoers and cinephiles will be hard pressed to name them all.
<?xml:namespace prefix = o />
Bonnie & Clyde and Lyricist Don Black
At Bonnie & Clyde's opening Frank Wildhorn, knowing how his shows are received critically, was smiling, joking and laughing. The persistent Wildhorn must have thick skin. He keeps coming back when others might have taken the money and be living the high life. Many are of the opinion that he got a raw deal, that B&C is far better than 99% of the critics thought.
Preview audiences seemed to be filling the house, but you never know the games played during previews. However, there was a majority of young people, which many felt boded well; then there was the fact that they were enjoying it. A reporter stood by the stage door barricades several nights and gauged audience comments. They were quite positive. No one's going to tell an actor they don't like a show, but the hundred or more that waited seemed to actually enjoy B&C. If you linked to The Box, comments were were generally "this is better than before," which, for a Wildhorn musical, is pretty close to a rave. It certainly wasn't everyone's cup of tea. A colleague was overheard stating, "It won't be around very long."
According to lyricist Don Black, "This time it seemed to all be coming together, to be working." But the Oscar, Grammy, Golden Globe and Tony winner and Songwriters Hall of Fame member who also wrote all those hit James Bond theme songs added, "You never know. You never can tell."

B&C is Black's first foray on Bway in seven years. The last time he had two shows opening about the same time - and closing about the same time. Dracula and Bombay Dreams.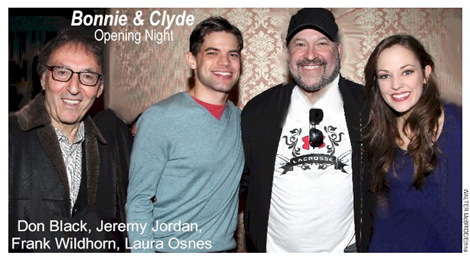 Dracula, which received a critical drubbing, is having a second life in Asia and Europe. "During previews," points out Black, "Dracula was a sensation. You couldn't get a ticket. We thought we'd be a smash. Then, we opened! The critics hated it, or at least the main critic [NYTimes] did. But we've moved on, giving it a new incarnation with some new songs."

Addressing the Bollywood musical, Bombay Dreams, Black says, "It was a different kind of entertainment, the story of an actor making it as a Bollywood star. We had a hit on the West End and a decent run on Broadway. Now, a screenplay's in the works."<?xml:namespace prefix = u1 />

He says it's important to score a winner on Bway. "Broadway's not the end of the world, but it's the head office. You want to succeed here for many reasons. It helps to have a hit for the future of a show."


Black was aware of Wildhorn's track record since Jekyll &Hyde and how he's become a sitting duck for critics but he was anxious to work with him again. "Frank's an absolute delight. It's amazing how he keeps reinventing himself. He's like a kid in a toy store. His enthusiasm rubs off on you.

"We couldn't have asked for a better director [Jeff Calhoun] or cast," he continues. "Laura [Osnes] and Jeremy [Jordan] are great. I felt we did something right. It's not only Frank's best score in years, but also something he hasn't done before."

It's hard to see "your baby" go down, especially since it's been in the works for 10 years. Because of the folklore surrounding Bonnie and Clyde, Black, who calls them "popular legends of the scrappy times of the 30s," feels the show will have legs on the road. "But Frank and I have been here before, so we dream with the breaks on. You just never know."

Bonnie & Clyde closes December 30.


Hospitality Group Returns the Liberty

The long-shuttered, decaying auditorium of the historic 1904 Liberty Theatre, whose entrance was on West 42nd Street, but whose auditorium was on West 41st Street, has risen from the ash heap of bird droppings, infestation and a putrid basement lake to become the showpiece of Times Square Hospitality Group's Famous Dave's restaurant.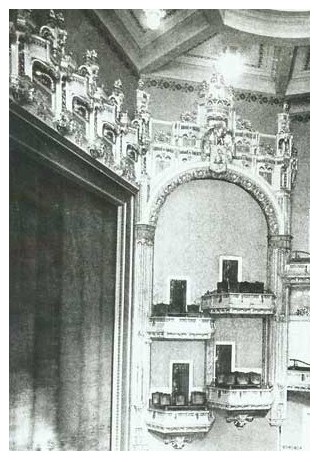 Ray Trosa of SIR Decor Designs spent four years rediscovering Liberty's history. He reinstalled original boxes that were salvageable and created concrete reproductions of those damaged beyond repair. The multi-million dollar rescue showcases the Liberty's eagle motifs and cathedral proscenium moldings. Enterting the restaurant, you'll find walls of history on the Liberty as theatre and grind house.

The stagehouse, which Fred and Adele Astaire, George M. Cohan and Jeannette McDonald once graced and home to George M. Cohan's Little Johnny Jones and the Gershwin's Oh, Kay!, is divided into two spaces: a state-of-the-art kitchen and, above it, a lounge with an outward view. The space, an already popular setting for opening night parties, holds up to 1,500.

Exec chef is Victor LaPlaca, formerly Todd English chef de cuisine and a driving force behind Olives. Mark Baker [Budda Bar, Lotus] will produce fashion and entertainment events. Now, the long-shuttered Times Square is the remaining theatre waiting for restoration. Good news: not for long. Though it's all hush-hush, a tenant deal's been signed and the space reopens in 2013.

Spectacular Gypsy Competition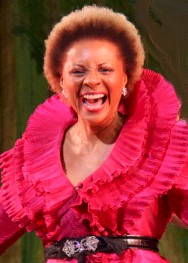 Two SRO performances of the 23rd Annual Gypsy of the Year competition held recently at the glorious New Amsterdam raised an all-time high of $4,895,253 [over a million more than 2010] for Broadway Cares/Equity Fights AIDS thanks to the tireless efforts of 53 Bway, Off-Bway and tour companies during the six week Fall drive.

Since 1989, the competitions have raised over $49-million to benefit BC/EFA and Actors Fund programs here and around the country.

Songs, skits, parodies and dances were performed by more than 300. Valerie Lau-Kee Lai directed, with Seth Rudetsky hosting. Stars of hot tkts made appearances: Nick Adams, Danny Burstein, Beth Leavel, Jan Maxwell, Patrick Page, Elaine Paige, Leslie Uggams and Terri White.

The original Bway cast of Grease opened with a spirited celebration of the show's 40th anniversary. Among the cast were Adrienne Barbeau [who knew her other famous asset was a great singing voice? She should be offered a musical], Walter Bobbie [yes, the one and same!], Barry Bostwick, Carole Demas, Katie Hanley and Ilene Kristen [the infamous Roxy on One Life to Live].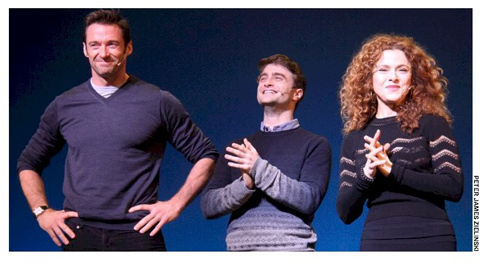 Hugh Jackman, Bernadette Peters and Daniel Radcliffe announced the grand total on the second day and presented awards to top fundraisers: musical, How to Succeed...; play, Other Desert Cities. Jackman was honored for raising $857,740 in three weeks at Hugh Jackman Back on Broadway, where he's literally been auctioning the shirt off his back.
The company of Billy Elliot, in their farewell appearance, took honors for the best onstage presentation while four young members from Mary Poppins was runner-up and wholesale scenestealers performing bits from A Streetcar Named Desire, Who's Afraid of Virginia Wolf and Cat on a Hot Tin Roof.

Judith Light


Somebody had to do it: break the levity, be serious and tell everyone why they were there; to put the mission of BC/EFA out there. No one could have done it better than actress and activist Judith Light. It was one of those rare times you couldn't hear a peep or a cough or see a cell phone light. It was as if you were the only person out there in the dark and Ms. Light had your rapt attention.

"It's been many years since we came together for the first Gypsy of the Year competition in 1989," she began. "At that time, the AIDS epidemic had taken from us a staggering number of people in just our community alone. People infected and affected by the virus lived in fear and desperate sadness, too often isolated and alone.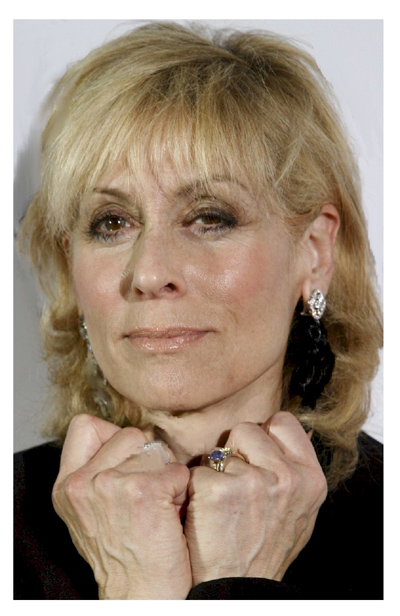 "No one in the audience that day had not been deeply affected by the disease in some way. For those of you too young to know anything of the disease other than today's medications and services, count yourselves lucky for it was indeed worse than anything you can imagine.



"Those of us who remember the early days," she continued, "surely recall the frustration and anger that spread as we faced an epidemic head on and fought to be heard. It would have been impossible to gather for an afternoon such as this and not remember what brought us all together.

Ms. Light then asked for a moment of silence. It's the only one at any BC/EFA event. "Today, 23 years since that first Gypsy of the Year," she stated, "we take a moment to reflect on those we love who cannot be here and those whose voices still cannot be heard - not just because of AIDS but for a variety of reasons and a multitude of challenges.

"Let us now, together, take a moment to recommit to reaching beyond ourselves," Ms. Light added, "to those who need us most - and to each other - with gratitude for the simple fact that we are together, here in this beautiful theatre - able, willing, and as ever, compelled to do our part, however small, to ensure that all are embraced in times of trouble, isolation or crisis. Thank you. Indeed, no one is alone. Now, let's have some fun!"

BC/EFA exec director Tom Viola said, "Judith's an extraordinary advocate and friend. Her reading of the moment of silence is like no other. It's truly the heart of the show. She does it with such deliberate care and emotional understanding of what she's expressing that it resonates even in the middle of a show that's raucous, outrageous, sentimental and funny. We're so grateful."


Who Gives a Hoot? Scott Siegel, That's Who

Scott Siegel's new Thursday late-night, 11

P.M.,

show at Feinstein's at Loew's Regency, Broadway Hootenanny, is winning fans [maybe because of the $15 cover charge]. Siegel, host of Town Hall's Broadway by the Year series, hosts in his dazzling coat of many colors which always generates comments.



There're different stars weekly along with surprise guests. Headlining Thursday are Tony winner and emerging film/TV star Alice Ripley; Joan Almedilla, a former Kim in

Miss Saigon

; and DD nom Christina Bianco,

Newsical

and

former star of Forbidden Broadway.
Last week Grammy-winner Larry Gatlin headlined with Jamie deRoy, Bonnie & Clyde actor Jon Fletcher [who received some backup from Claybourne Elder (Buck Barrow)] and William Michals [second Emile, South Pacific]. Featured were two performers from Siegel's Town Hall series Broadway Rising Stars, belter Courtney Simmons and tenor Paul Pontrelli. Jesse Kissel is

M.D.





It looks like a winter of hot Thursday nights with an incredulous roster of artists scheduled to appear. Among those will be Tony nom

Stephanie

D'A

bruzzo,

Tony winner Daisy Eagan, two-time Tony nom

Christopher Fitzgerald, Tony nom Anita Gillette, DD-nom Kerry

O'M

alley, Tony winner Brad Oscar, Patrick Page [Spider-Man...], Tony nom Martin Vidnovic,

Max Von Essen and

Tony nom Terri White

.



Hootenanny cover is $15 [$25 ringside] with a one-drink min. Reserve online at www.feinsteinsatloewsregency.com and TicketWeb.com or call (212) 339-4095 [service charges apply].


Streaming News


The first streaming service specializing in Brit TV, Acorn TV accessible on computers, Apple and Google TV and other portable devices, continues to grow with new additions: the critically-acclaimed Shakespearean master class series Playing Shakespeare, a must for theaterlovers; the savvy, gritty Cold War thriller Man in a Suitcase; and Above Suspicion, the new series from U.K.'s Prime Suspect creator Lynda La Plante.

The annual fee at acornonline.com/TV is $25, with the first episode of each series available free. Programming is refreshed weekly, with each season available for five weeks. Each week content rotates with two new seasons added.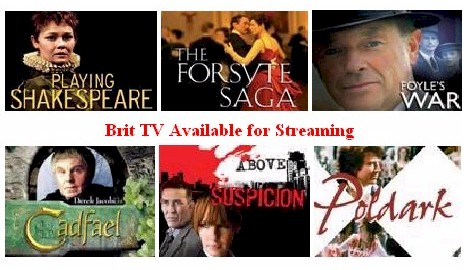 In Playing Shakespeare [2009; also available as a four-volume DVD set] features the Royal Shakespeare Company's John Barton in nine master classes featuring among others, Judi Dench, Ben Kingsley, Ian McKellen, Patrick Stewart and David Suchet.
Man in a Suitcase [1968; 15 episodes] Richard Bradford [The Untouchables] stars as a former American agent accused of treason and on the run from a host of enemies who becomes a private dick in this savvy but gritty Cold War spy thriller. A host of guest stars, including Donald Sutherland, Anton Rodgers, Nicola Pagett [Upstairs, Downstairs], Peter Vaughan and Judy Geeson [Mad About You], abound.

Above Suspicion stars Kelly Reilly [Sherlock Holmes] as Detective Constable Anna Travis, investigating almost decade-old gruesome murders of young women, Ciarán Hinds [Tinker Tailor Soldier Spy, Harry Potter].

Currently running are the classic miniseries The Forsyte Saga starring Damian Lewis [Showtime's Homeland], the acclaimed series Foyle's War [2002], starring Michael Kitchen as a police inspector during WWII; Derek Jacobi as a crusader-turned-mystery-solving monk in Norman England in Cadfael 1994]; and Poldark.
At the Met
The Renaissance Portrait from Donatello to Bellini, at the Metropolitan Museum through March 18, celebrates the Italian contribution to the rediscovery of the individual in art. Spanning eight decades, it's an unprecedented survey of portraiture ranging from painting and manuscript illumination to marble sculpture and bronze medals. It testifyies to the new vogue for and uses of portraiture in 15th-century Italy. The Met has brought together 160 works from international sources by Botticelli, Lippi, Mantegna, Verrocchio and others.



Holiday Entertainment
About the nicest and most thoughtful gift for loved ones during this festive holiday season would be tickets to a Bway or Off Bway show. There is an amazing range of plays and musicals from the long-run tried and true to the new season's crop. Can anything top live entertainment? Can anything top the magic of the lights going down, cell phones reluctantly being turned off [by some! ... lately, there are a lot of doctors in audiences!], the curtain going up and then coming up on, well, any number of things ... including a man in a gold lame outfit about to give a hapless young woman in a box a near heart attack?
Then there are the circuses ...
Circuses: Homegrown and Foreigngrown
The Big Apple Circus is as synonymous with NYC as our major tourist attractions. What better family holiday gift than a visit to our very own not-for-profit one-ring extravanganza and its spectacular 34th edition, Dream On, through January 8 at Lincoln Center, under the Big Top in Damrosch Park.
Sadly, this edition marks the farewell of one of circusdom's most beloved entertainers, International Clown Hall of Fame inductee Barry Lubin, a.k.a. Grandma, who's amping up his ever-reliable mirthful antics.

This edition showcases artists from seven countries. Managing the fun is ringmistress and belter Jenna Robinson. Providing edge-of-your-seat thrills and chills are Colombia's Flying Cortes presenting quite an audacious act of leaps and flips from trapezes high up in the rigging. Russia's Anna Volodko wraps herself in aerial ropes with elegance and poise acrobatics.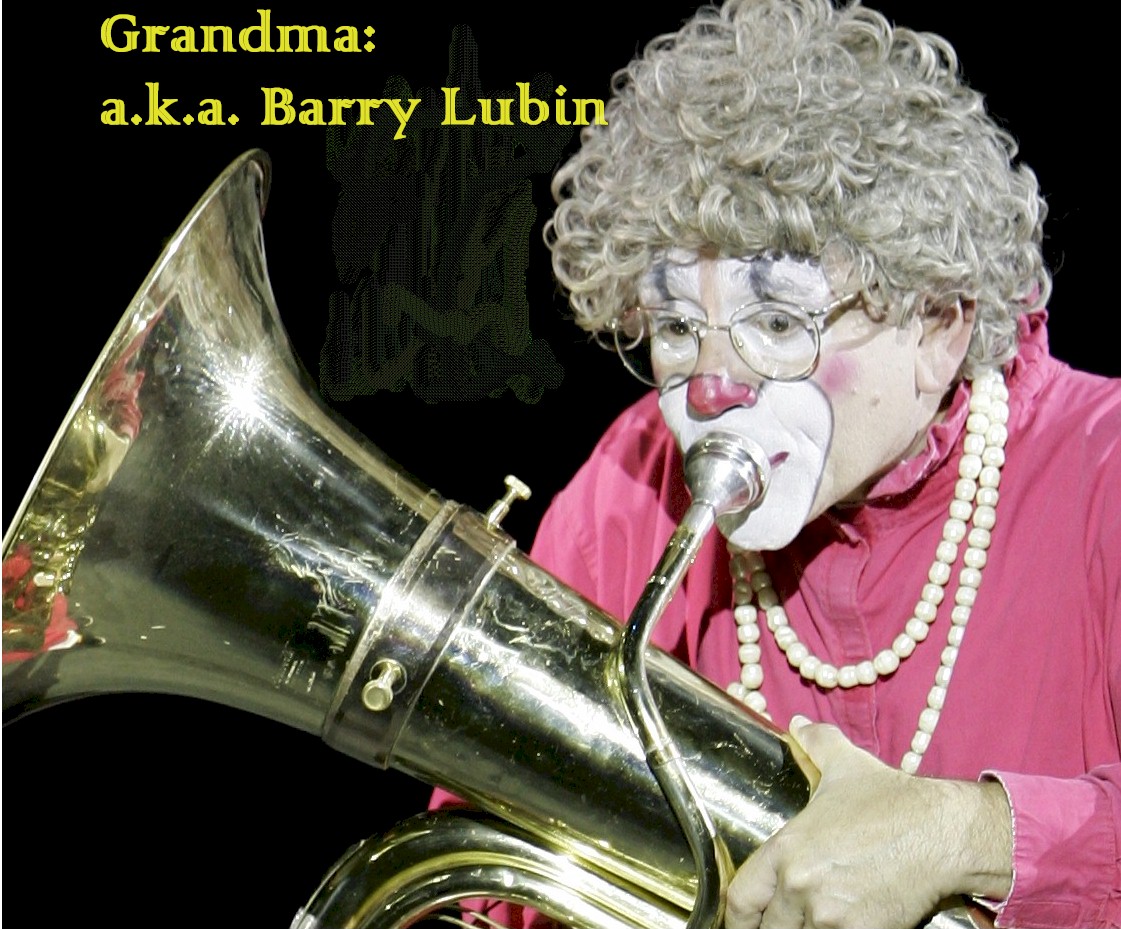 Melanie Chy amazes with spellbinding solo hand balancing. Not to be outdone, China's 11-strong Shandong Acrobats perform astounding human juggling. Horses are synonymous with the Big Apple. Jenny Vidbel commands lively Arabian stallions, who're beauties and deserving of more ring time.

There's more comic relief from Scott Nelson, a mischievous magician, and assistant Muriel Brugman, who conjur grand illusions that backfire. They're cirque royalty, having won numerous prizes becoming the first comedy duo to earn the International Federation of Magic Society's Grand Prix Award and the title "World Champions of Magic."

The two hour + show has more clowing, a bit too much in fact. After every acrobat, there's a clown bit, which really slows down Act One. The pace picks up remarkably in Act Two. Under A.D. Guillaume Dufresnoy and director/designer André Barbe and Renaud Doucet, the show is immensely enchanced by live music from the excellent Big Apple band, M.D.'d by Rob Slowik. Score composer is Mathias Rüegg, founder of the Vienna Art Orchestra.
Taking advantage of Fashion Week reception hall, there's a lot more room to stretch and lounge - and more room for concessions. Under Big Apple's one-ring, European-style tent, there're no bad seats as none are more than 50 feet from the action; but some are better and more comfortable. If you want to literally be in the show, go for the lower rungs and ringside
Tkts for Dream Big are $15-$75 and available at the circus box office, at www.bigapplecircus.org or by calling (888) 541-3750. New Year's Eve @ 9:30, there'll be a special performance with Champagne toast, gift bags, band and dancing in the ring. Tkts. are $25-$175.


Nothing can slow down the action at the New Victory's holiday spectacular, running through January 1, Cirque Shanghai Bai Xi in their NY premiere engagement. The 25 + member cast is young [12-29] and there's non-stop extreme high energy, directed and choreographed by Miao Miao Chen [alumna of one of China's premiere acrobatic troupes and recipient of numerous medals and awards], for a fast-moving 90 minutes [no intermission]. There're colorful costumes by the hundreds and a glittering gold curtain that welcomes audiences into the historic, intimate auditorium.
It's all acrobatic - with a little ballet thrown in [with the ballerina on pointe on her partner's shoulders and head!]. First called "Bai Xi," meaning 100 acts, this style of circus has been passed down, generation to generation, for 2,000 years - dating back to the Han Dynasty.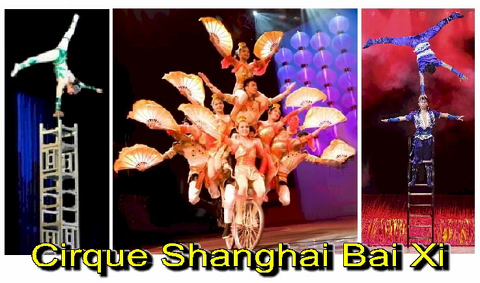 Cirque Shanghai is very pleasing to even the youngest child, but there's a lot to keep adult jaws dropping. There's not much to improve upon - well, okay, there's the music. It's so bombastic and over-amped that it often sounds distorted.

But the show's the thing. The tumbling, hand and people balancing, martial arts, contortion, high-risk roller skating, dancing dragons and daring do on the Wheel of Death will keep your hands in applause mode so much that they may actually hurt. It's rare to find a circus these days without Chinese acrobats, but in Bai Xi it's refreshing that there are numerous elements you rarely see - such as riding a unicyle atop an umbrella and a youngster climbing a three-story tower of teetering chairs.

The troupe's enjoying sightseeing around the City and anxious to meet audiences and practice their English. They do this in a meet & greet after performances. Yes, bring your camera. You can't take photos during the show, but it's anything goes afterward.
Tkts are $17-$55 [members, $11-$36]. To purchase, go to the New Victory box office, online at www.NewVictory.org or call (646) 223-3010.

And then there are the movies ...
Oscar-winners director Steven Spielberg and producer Peter Jackson teamed for the animated 3-D globe-trotting epic: The Adventures of Tintin [Paramount; opening tomorrow], spanning menacing criminals and ancient secrets. Based on characters created by Hergé, the story follows curious young reporter Tintin [Jamie Bell of Billy Elliot fame] and his dog Snowy [a scene-stealer if there ever was one] on a quest to discover mysteries entombed in a model ship to find a shipwreck that may hold the key to vast fortune and which opens a Pandora's box of one downright nasty curse.

The film's 3-D element is amazing depth of field that gives HD new definition. But for a film mainly targeted to the younger set, Spielberg misses the target on pop-out effects. There are many moments when they would've really worked without being too gimmicky. [At the media screening, the only really big pop out moment was when this message appeared onscreen: Put on your 3-D glasses!]. That said, the movie is fun and exciting, benefiting immensely from excellent voice casting.
Daniel Craig speaks for diabolical villain Ivan Ivanovitch Sakharine; Andy Serkis is cantankerous Captain Haddock and Simon Pegg, adding comic relief here [as he does opposite Tom Cruise in Mission Impossible: Ghost Protocol] and Nick Frost as bumbling detectives.

Veteran Spielberg collaborator [and Star Wars composer] John Williams [five Oscars, 17 Grammys, three GGs, two Emmys] returns after a three-year hiatus to score and conduct [Sony Masterworks]. Renée Fleming, accompanied by a 70-piece orchestra, sings "Presenting Bianca Castafiore," which includes excerpts from Rosina's "Cavatina" from Rossini's Barber of Seville and "Je Veux Vivre" from Gounod's Roméo et Juliette.

View Hollywood Reporter Stephen Gallaway's interview with Spielberg and Jackson:

Season's Greetings



Happy Hanukkah, a blessed Christmas
and a New Year filled with peace,
good health and prosperity!
Ellis Nassour is an international media journalist, and author of Honky Tonk Angel: The Intimate Story of Patsy Cline, which he has adapted into a musical for the stage. Visit www.patsyclinehta.com.

He can be reached at [email protected]





Why are you looking all the way down here?
For more articles by Ellis Nassour, click the links below!

Previous: The Gypsies Are Coming, The Gypsies Are Coming; BC/EFA; A Broadway Hootenanny; Peter Filichia's Broadway MVPs; Linda Lavin on CD, in Concert; New to CD; Upcoming TV, Film

Next: Holiday Spirit at the Met; Set Your Tivo/Mark Your Calendar; Chinese Dance Companies; Rivera/Film at MoMA; Maye, Feinstein and O'Hara and Andrews Ring in New Year; Coming Soon; Theater Stocking Stuffer; Onscreen; New to DVD

Or go to the Archives