It's that time of year when gypsies unite for Broadway Cares/Equity Fights AIDS. The always eagerly-anticipated all-singing, all-dancing Gypsy of the Year is not only one of the year's premiere events but also the biggest party in town with appearances by dozens of Broadway and Off-Broadway performers.

Every show on the main stem and some from the road will be represented. More 300 actors, singers and dancers will be on hand. There'll be star surprises galore - including an appearance by that Aussie wonder breaking house records at the Broadhurst and those door-bell ringing Mormons.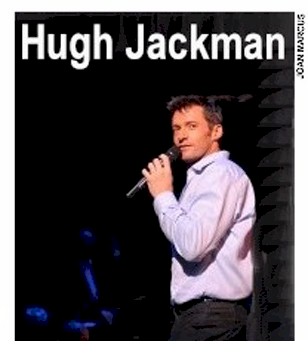 There are two shows: Monday @ 4:30 P.M. and Tuesday @ 2 P.M. at the super glorious New Amsterdam. Returning as host is Seth Rudetsky. Limited good seats available in the mezz, so hurry, hurry.

Coveted awards, presented by that Aussie, a.k.a. Hugh Jackman, Bernadette Peters and Daniel Radcliffe, will go to the top fundraising shows and for the best presentation.

Among this year's surprises is the reunion of the original Broadway cast of Grease - among them: Adrienne Barbeau, Walter Bobbie [yes, the one and same!], Barry Bostwick and Carole Demas - for a 40-year anniversary tribute opening number of the 23rd annual competition.


Celebrity presenters scheduled to appear at both shows include Nick Adams, Danny Burstein, Russell Fischer, Beth Leavel, Judith Light, Jan Maxwell and Patrick Page. There'll also be farewell appearance by the Bway cast of Billy Elliot, which closes January 8. During its three-year run, Billy Elliot raised more than $1 million.<?xml:namespace prefix = o /><?xml:namespace prefix = o />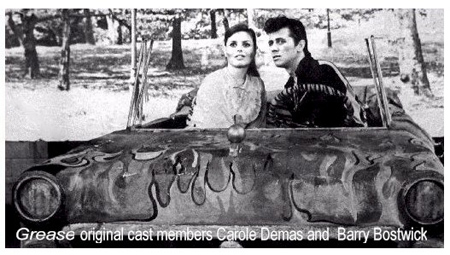 Judges include Stephanie J. Block, Jeff Calhoun, Kim Cattrall, Nikki M. James, Paul Libin [exec VP, Jujamcyn Theatres and BC/EFA board prez] and Tony Sheldon. On the panel also will be panel Sephanie Toups and Karen Walter, who won judging spots by being high bidders on exclusive VIP packages at September's BC/EFA Broadway Flea Market & Grand Auction.
Scheduled to perform are casts from The Addams Family, Anything Goes, The Awesome 80s Prom, Chicago, Follies, How to Succeed..., The Lion King, Mamma Mia!, Mary Poppins, emphis, Naked Boys Singing, NEWSical, POTO, Silence!, Sister Act and Spider-Man: Turn Off the Dark.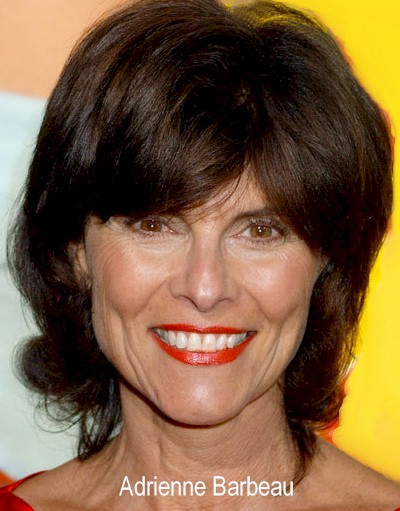 Now, back to some of the original cast of Grease: Barbeau, who portrayed Betty Rizzo, went on to become a pin-up model, TV star [Maude] and star of horror films. Bostwick, who played Danny, went on to stage [Tony winner and Drama Desk nom, The Robber Bridegroom]; film [Rocky Horror Show] and TV [Spin City, L&O, Cougar Town], fame.

Bobbie, in the role of Roger, after his song and dance career, went on to become one of theater's most sought after directors [Chicago revival; Venus in Fur]. Demas, who portrayed Sandy, segued into a regional TV and theater [co-star of the children's TV series The Magic Garden, regional work and a Luisa in The Fantasticks].
Grease, with music, lyrics and book by Jim Jacobs and Warren Casey, debuted at the Broadhurst in 1972, garnered seven Tony noms, played 3,388 performances [closing April 1980] and became a cultural landmark.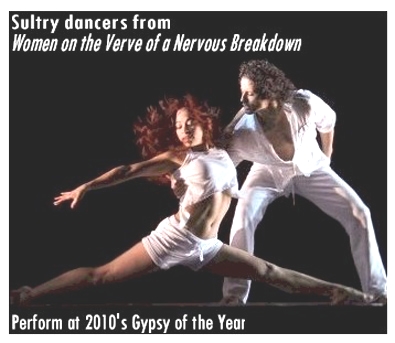 Last year, Gypsy of the Year raised $3,776,720, pushing the competition's 22-year total to $44,136,720.

There were so many highlights last year, everyone simply lost count. But one all will remember was the unstoppable Carol Channing, winner of two Tonys and a special Tony and celebrating 70 years in show biz, looking smashing and making a rare return to the musical stage. She brought the SRO house crashing down performing two of the most-beloved songs associated with her long career, "Hello, Dolly," serenaded by a huge chorus of male gypsies, and "Diamonds Are a Girl's Best Friend" from Gentleman Prefer Blondes.
VIP and priority tickets are $200 and $350 with standard seating from $20-$110.


A Salute to BC/EFA
World AIDS Day was yesterday and the media coverage brought to mind all that Actors Equity, the Actors Fund, theater community and theatergoers have done in the continuing fight for the cure.

Broadway Cares/Equity Fights AIDS is one of the nation's leading industry-based, nonprofit AIDS fundraising and grant-making organizations. Since 1988, BC/EFA programs and the fundraising events of the various shows, such as the annual six week period of theatre collections, the annual star-studded Broadway Flea Market and Grand Auction, Gypsy of the Year, Broadway Bares, the Easter Bonnet competition, Broadway Backwards and other events has raised more than $195 million for essential services for people with AIDS and other critical illnesses not only in the tri-state area but across the U.S.

BC/EFA awards annual grants to more than 400 AIDS and family service organizations and is supports the Phyllis Newman Women's Health Initiative on breast cancer and numerous programs at the Actors Fund, including the HIV/AIDS Initiative and the Al Hirschfeld Free Health Clinic.


New Feinstein's Series from Scott Siegel
New York City gets a hootenanny, but not the old-fashioned country kind. This one, The Broadway Hootenanny, is a new addition at Feinstein's at Loews Regency beginning December 8 of Scott Siegel's recent long-running Thursday late night entertainment series @ 11

P.M.

Siegel, best known as conceiver/host of Town Hall's acclaimed Broadway by the Year series [soon entering it's 12 th season], and Unplugged. [Soon, he'll soon be presenting the return to Town Hall of Jim Caruso's Cast Party concert, which this go-round will feature a full symphony orchestra.]
Broadway Hootenanny
will offer four stars weekly singing Bway's greatest songs. Tony nom Alan Campbell [Sunset Boulevard], Lauren Kennedy, Bill Daugherty and Carole J. Bufford will open the new series. Jesse Kissel will be

M.D.
Among future artists: Nancy Anderson, Christina Bianco, Scott Coulter, Ben Davis [Tony winner, Baz Luhrman's La Boheme], Natalie Douglas, Tony winner Daisy Eagan, Kevin Earley, Willy Falk, Tony winner Brad Oscar, Patrick Page [Spider-Man: Turn Off The Dark], Paul Schoeffler [Rock of Ages], Ryan Silverman [

POTO

], Tony nom Martin Vidnovic and Terri White.



Hootenanny cover is
$15 [$25 priority seating] and one-drink min. Reserve online at www.feinsteinsatloewsregency.com and TicketWeb.com or call (212) 339-4095.

New from Peter Filichia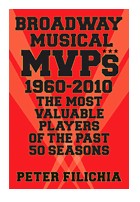 Prolific columnist, theater historian and author Peter Filichia is out with another must-have book for avid theatergoers, Broadway Musical MVPS, 1960-2010: The Most Valuable Players of the Past 50 Seasons [Applause Books; trade soft; 335 pages; Index; two-page photo fold for every decade; SRP, $20].

Filichia chooses, with his usual sharp humor, MVPs from a list of the best and the brightest among producers, directors and choreographers [for example: Tammy Grimes, '60-'61 season for The Unsinkable Molly Brown, to Joe DiPietro, '09-'10 for Memphis].

Many are multitaskers, such as directors who choreograph or write the book or design costumes. He gives sports-themed awards in categories such as Comeback Player of the Year, Reliever of the Year, Rookie of the Year, and Led League in Errors.


Cast Albums Winning Kudos
Anything Goes, Book of Mormon and How To Succeed...ave received Grammy-noms in the Best Musical Show Album category. The Awards telecast on CBS in February.

New to CD
Linda Lavin does have possibilities on a new CD and in concert. We've known that for a long time about the multiple Tony and DD winner, Golden Globe winner and TV legend [Alice]; however something we might often forget is her career as a dynamo singer. Reminding us of that is her debut CD, Possibilities [Ghostlight Records].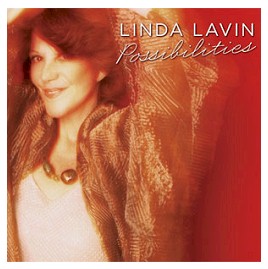 Lavin will be celebrating the CD release in concert at Birdland Monday @ 7 P.M., joined by old friend and Bway veteran Nancy Dussault, as well as Kate Jennings Grant, Brenda Pressley and Michael Esper, co-stars from her recent Off-Bway tour de force at the Vineyard, The Lyon.
"I wanted to record songs I grew up with," says Lavin, "and songs I've sung in my act. They're tune that mean a lot to me in terms of telling the story of who I am."

The 12 tracks feature a mix of Bway and standards, including "Corcovado (Quiet Nights of Quiet Stars)", "Hey, Look Me Over, " "In Love Again," "It Might As Well Be Spring," "Rhode Island Is Famous for You," "The Song Remembers When," "Two For the Road" and "You've Got Possibilities" [...Superman].

M.D. is Billy Stritch, who did the arrangements and plays piano, backed by John Brown on bass, Steve Bakunas [husband to Lavin] on drums, Ray Codrington on horns and Baron Tymas on guitar. Hal Prince, who Bway-debuted Lavin in 1962 in A Family Affair and cast her in ...Superman and Hollywood Arms supplies the liner notes.
In addition to commercial sites, you can order Possibilities at www.sh-k-boom.com/lindalavin.shtml. For reservations to Monday's Birdland concert, visit www.birdlandjazz.com.
Stage Door Canteen: Broadway Responds To World War II [DRG Records], a studio cast recording inspired by Ted Chapin's 92nd Street Y Lyrics & Lyricists program, features Anderson Davis, Jeffry Denman, Brandon Victor Dixon, Debra Monk and Betsy Wolfe in musical responses to WWII, including rarities and standards by Berlin, Bernstein, Comden and Green, Gershwin, Hart, Kern, Loesser, Porter, Rodgers & Hammerstein and Weill.

"What's heard on the CD," notes Chapin, "is an impression of a time in history, as seen through some extraordinary songs in extraordinary performances."


Stage Door Canteen features "God Bless America," "Oh, What a Beautiful Mornin'," "Oh, How I Hate to Get Up in the Morning," the poignant "Some Other Time" and a Christmastime medley of "White Christmas," "I'll Be Home For Christmas" and "Have Yourself a Merry Little Christmas." Some lesser known material by Berlin, Porter, R&H and Weill are tracks, respectively, "Ve Don't Like It," "Farming," "We're On Our Way" and "Buddy on the Nightshift."

Collaborating with Chapin, M.D.ing and arranging is Andy Einhorn. Hugh Fordin produced. Chapin, board chair of the American Theatre Wing, co-presenter of the Tonys and prez and exec director of the Rodgers & Hammerstein org, was inspired by the Wing's Stage Door Canteen, one of the Wing's many activities during WWII. It was a gathering place in Theatre District in the basement of the long-gone 3,500+-seat Paramount Theatre [now that space is a Hard Rock Cafe with a fiberglass reproduction of the famed marquee], where servicemen mingled with theater stars for food, drink, dancing and entertainment. A plaque commemorates the canteen on 44th Street, just off Bway.

The record label vaults are springing open with long lost classic studio recordings of shows previously unavailable on CD. Babes in Arms [1951], and pioneering all-black musicals Blackbirds of 1928/Shuffle Along [1953] have just been released [Masterworks Broadway; eight tracks]. Both releases are available as digital downloads and disc-on-demand, with the original cover art and new liner notes, via Arkivmusic.com and Amazon.com.

Babes...was the first serious attempt to record one of the most successful Bway shows by Rodgers and Hart at a time when old musicals were considered to be quaint relics. The recording honors the original score and generally follows the order of the songs. Mary Martin, one of theater's brightest stars, shines along with the irrepressible Jack Cassidy. Columbia's giant Bway cast recording producer Goddard Lieberson supervised under one of Bway's master M.D.'s Lehman Engel. The release is available as a digital download and as disc-on-demand [with original cover art and new liner notes] via Arkivmusic.com and Amazon.com. There's one sad note: the jacket for Blackbirds.../Shuffle... suffers from the use of the wrong colors against the cover background.


Blackbirds...gave Jimmy McHugh and Dorothy Fields their first Bway success, which included the now classics "I Can't Give You Anything But Love" and "Diga-Diga-Doo." Waving the baton is legendary conductor Lehman Engel. Thelma Carpenter and the legendary Cab Calloway co-star.

Shuffle... has Blake at the podium and on piano on four tunes featuring Carpenter and Tony nom Avon Long, including "I'm Just Wild About Harry" and "Love Will Find a Way."


Then there're two fine holiday stocking stuffers [from Masterworks Broadway, accompanied by new album pages and photos] for theater collectors:

The memorable 1985

Follies in Concert

,

recorded live at Avery Fisher Hall at what's now considered a historical event features an extraordinary

S.S.

hand-picked cast, which includes legendary soprano Licia Albanese, Carol Burnett, Liz Callaway, Betty Comden, Barbara Cook, Adolph Green, George Hearn, Howard McGillin, Liliane Montevecchi, Phyullis Newman, Mandy Patinkin, Lee Remick, Elaine Stritch and Jim Walton. The set includes Sondheim's score for the film Stavisky.

Just in time for the holidays comes the first digital release of Jerry Herman's 1996 TV musical starring Angela Lansbury, Mrs. Santa Claus

.

Set in 1910,

Ms. Lansbury is Santa's wife who takes matters in her own hands on Christmas Eve and drives his sleigh herself. Charles Durning, Michael Jeter and Terrence Mann co-star.


On

PBS

and New to

DVD




Multi-platinum-selling, five-time Grammy-nom Michael Feinstein is on PBS and on DVD in stores/online outlets with his new concert special The Sinatra Legacy [Image/Bounce; Blu-ray & DVD; 86 minutes; SRP $25/$23]. Backed by a 32-piece orchestra, M.F. sings and swings on a musical journey of Frank Sinatra and his contemporaries through such timeless tunes as "Once in a Lifetime," "I Thought About You," "Fly Me to the Moon," "So In Love," "Begin the Beguine," "For Once in My Life" and "New York New York."
Feinstein and Tony-winning Bway legend and soon-to-be Kennedy Center honoree Barbara Cook are appearing through December 30 at Feinstein's at Loews Regency. Their show features gems from the Great American songbook from composers such as Berlin, Ellington and Rodgers & Hart, in addition to Bway hits and holiday classics.

To celebrate Cook's Honor and, even perhaps to create a holiday bargain for nightclubbers, Feinstein's has rolled back prices to those of its '99 opening - when even then the supper club was considered a very upscale adventure in wallet-wopping night life: $60 cover and no min. Reserve online at www.feinsteinsatloewsregency.com or TicketWeb.com [service charges apply] or call (212) 339-4095.


Upcoming in January: That "Downtown" gal, t

wo-time Grammy winning

Dame Petula Clark, heads uptown to Park Avenue and Feinstein's, m

aking her first NY club engagement since the '70s. Reserve now.




Upcoming on PBS


December 16 @ 9

P.M.,

Great Performances and

PBS

Arts Fall Festival will present the Hamburg Ballet's different kind of mermaid: its unique interpretation, performed by the San Francisco Ballet, of a Hans Christian Andersen world classic: The Little Mermaid from San Francisco Ballet. Choreography, sets, costumes and lighting are by American John Neumeier, Hamburg's director and chief choreographer.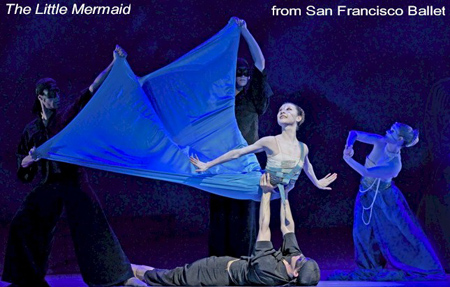 Neumeier blends dance, dramatic storytelling and spectacle into a most unexpected program. "Those expecting a simple ballet adaptation of an animated film will be surprised," he notes, "by this complex and intense portrayal of unrequited and unconditional love - one that's so strong it can overcome boundaries and transport the mermaid to new worlds. It shows the resilience of the human spirit."



SFB'

s Yuan Yuan Tan plays the title role. The score is by Russian-American composer Lera Auerbach and mixes haunting melodic passages with moody undercurrents. Neumeier created the ballet for the Royal Danish Ballet in 2005 to celebrate the 200th anniversary of Andersen's birth. The Hamburg ballet premiered in 2007.


Big Screen Holiday Fare

Joining the race for Oscar noms and opening on Christmas Day is another eagerly-anticipated holiday films, Stephen Spielberg's epic adaptation of War Horse [Dreamworks, Amblin, Disney] taken from the same source [the 1982 novel by Michael Morpurgo and the Tony-winning play by Nick Stafford] as the National Theatre of Great Britain

import currently selling out live at Lincoln Center.

It's the story of the remarkable friendship between a horse named Joey and young Albert, who tames and trains him. When they are forcefully parted, Joey begins an extraordinary journey through WWI, changing and inspiring the lives of those he meets -- British cavalry, German soldiers and a French farmer and his granddaughter -- before the story reaches its emotional reunion.



The cast features Jimmy Irvine as Albert [played onstage by Seth Numrich], Emily Watson as Rose [Alyssa Bresnahan onstage], David Thewlis as Lyons and Peter Mullan as Ted Narracott [Boris McGiver onstage].



In recent years, film adaptations of musicals and plays that open while the shows are still on Bway, seem to help the stage production rather than hinder it.


Here's a sneak preview:






The War Horse original soundtrack [Sony Records] by legendary film composer, five-time Oscar winner, four-time GG winner, Kennedy Center honoree and Spielberg regular John Williams [a career spanning six decades!] is just dropping into stores and online outlets.


"John's composed a score of such beauty and quiet majesty that one might think the earth was speaking through him, much as the heavens have always done," says Spielberg. "The score's a stand-alone experience and affected me deeply, as have so many of John's scores. He's made a special gift to me of this music, which was inspired not only by my film but also by many of the picturesque settings of the poet William Wordsworth, whose vivid descriptions of the British landscape inspired much of what you hear."


Ellis Nassour is an international media journalist, and author of Honky Tonk Angel: The Intimate Story of Patsy Cline, which he has adapted into a musical for the stage. Visit www.patsyclinehta.com.

He can be reached at [email protected]





Why are you looking all the way down here?
For more articles by Ellis Nassour, click the links below!

Previous: Theater and Arts Honorees; Broadway Unplugged Tonight; New Alan Ayckbourn, Films Open to Vie for Oscar Nominations/Soundtracks; More from the Met Archives; Broadway Stars on TV; New to DVD/CD; More

Next: TCM Remembers; Bonnie & Clyde; the Liberty Rises from Ruin; Gypsy of the Year; Judith Light; Who Gives a Hoot?; Soon on DVD; At the Met Museum; Holiday Entertainment: Theater, Circuses, Movies

Or go to the Archives