Move over Glee, there's something due any day, Monday, February 6, in fact. Who knows? Could be a hit. You'll right away, as soon as it shows. But will it be cannonballin' down through the sky or a gleam as bright as a rose?

With all the buzz, all the promo, do you think there's a miracle due? A hit TV series about Broadway? Is it gonna be great? Could be. Let's all hope it delivers [ratings].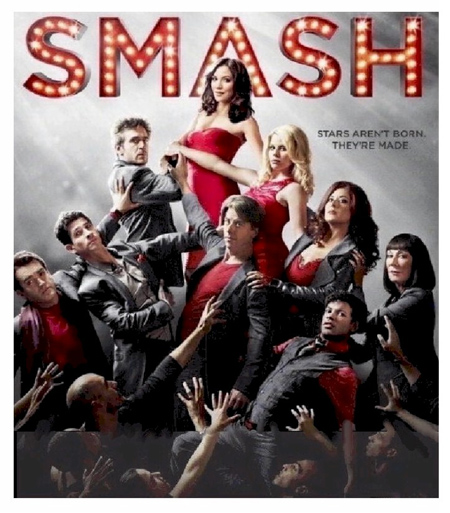 With a bow to Mr. Sondheim, who makes all things musical brilliant, let's welcome the arrival on Mondays @ 10 P.M. on NBC, beginning February 6, the night after the Super Bowl [as all the promos blare], the much-anticipated NYC/Bway-set SMASH [Universal, DreamWorks TV; Madwoman in the Attic Productions].

This musical drama and often fantasy [more on that later] about the creation of a Bway musical about Marilyn Monroe celebrates the thrill of sitting in those tight premium seats with your just-served drink in the non-spill souvenir cup as the lights go down and, hopefully, cell phones go dark, as the conductor cues the overture and the curtain goes up.

Or, if you're onstage, the nerves building as you wait in the wings only to find them disappearing as you experience that adrenaline rush when the spot hits you; and that exhilarating moment when you rush the stage for your call and find the audience on its feet in thunderous applause. That's show biz, folks!

Show biz is not real life, and the world of SMASH is TV Land. So don't expect huge doses of reality. When Anjelica Huston as Eileen Rand, the musical's tenacious producer, within days of hearing only one song, is asked by the director [already canceling other projects], "What happens after the workshop?" you're savvy enough to expect Eileen's reply: "I love the songs. I love the scenes. I love Marilyn. Why don't we just do it!"

SMASH is a theaterlover's delight, maybe even rapture. Besides a story of how the magic happens - and so 1, 2 Let's put on a show 3, 4 - there's no shortage of behind-the-scenes intrigue, bitchiness, Eves in the shadows, blind ambition, passion, romance and heartbreak. Written by Theresa Rebeck [Seminar] and Scott Burkhardt, with several episodes directed by Michael Mayer, it follows dreamers and schemers all with one burning desire, to be a smash - no pun intended.
The series certainly has good pedigree. Steven Spielberg and Robert Greenblatt [Six Feet Under] began development two and a half years ago for Showtime, based on a 1980 novel by the late and prolific writer/director of plays and films, Garson Kanin. Spielberg dreamed of making it for years. The original concept was that each season would follow the production of a new musical, and if successul that show would actually make it for real to Bway.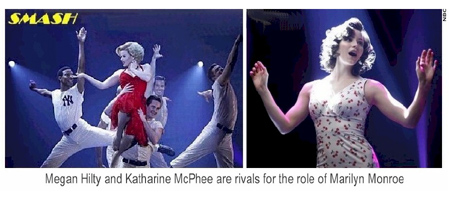 Tony and Drama Desk winners Marc Shaiman and Scott Wittman have written some of their best material yet. "Beautiful" and "Let Me Be Your Star" are among the tunes.
Cinematography, editing, special effects, production design, fantasy and stage sets are way above average for TV. David Marshall Grant, Craig Zadan, Neil Meron, Shaiman and Wittman are co-exec producers.

Starring as successful songwriting duo of Julia Houston and Tom Levitt are Debra Messing, quite a few rungs up the ladder in the acting department and far removed from Will & Grace, and Christian Borle.
Rivals for the role of MM are Megan Hilty as Karen Cartwright and Katharine McPhee as Ivy Lynn. Anjelica Huston is producer Eileen Rand and Jack Davenport protrays director/choregrapher Derek Wills.

How wonderful it would be for a huge Bway musical to be conceived, have songs written, a partial book, a savvy producer, an in-demand director/choreographer, auditions and the start of the workshop all before the end of the second episode - about 90 minutes [sans commericials].

We know there are at least 15 episodes shot [including, with the $7.5-million pilot, these seven Callbacks, Mr. DiMaggio, The Cost of Art, Let's Be Bad, Chemistry, The Workshop, The Coup]. Let's hope for huge ratings so there'll be a Season Two.
The heavy promotion may backfire, especially if the series doesn't deliver the audiences that made Glee a hit. The pilot doesn't begin with a lot of zing. The ultimate success of the series depends on how the major plot point, more than half way through the pilot, about the competition/rivalry to play Marilyn pans out. You can bet it won't be predictable.
You'll def have fun spoting some familiar hangouts and industry figures. When Eileen is speaking to Bernie, most folks won't know who he is, but you will. There is quite a shocker in Episode One: a young theater wannabe doesn't know who Michael Riedel is, which will come as a shock also to M.R. Episode Two gets a lot more serious and also interjects more than just theater into the plot line.

The show doesn't sugar coat for the masses and strives to be honest within the bounds of network TV. There are gay and lesbian elements along with the business' infamous lecherousness, bitchyness and camp; and there are plenty of insider jokes/dialogue.
Riedel may not be seen in the pilot, but he's lurking as you can often find him doing in the Theatre District. His head must be bigger than ever because he gets some soundbites he'll love and, no doubt, devour [kidding, M.R.!]. There'll be a ton of laughs as Tom calls him a "Napoleonic little Nazi." Don't know about M.R., but many will love the way Messing hisses "Riedel," as if she's referring to Sweeney's evil Beadel when she's cursingly pissed to find her secret project the lead in his column - until, just like in real life, she jumps for joy, literally, when he's written that he loves her work. Suddenly, from creep to "He's much smarter than people give him credit for. Everyone gets so mad at him, but he tells the truth." Ah, show biz!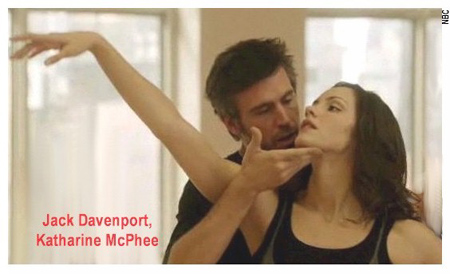 Tom is the ultimate optimist. "We are in an industry which is lousy with talent," he says. "Is it too much too ask for kindness, too?" Of course not, Tom. "Am I a crazy person because I still expect people to be, if not lovely, at least civil?" No, Tom, just delusional.
By the end of Episode Two, a choice is made; but, because of something that has happened and is only presented dartingly [don't blink], don't count the other MM wannabe out.


Keep an eye on Jaime Cepero [2010 75th anniversary Porgy and Bess tour] as Ellis, assistant to Borle, who's armed with boundless ambition and ruthless determination. Betcha he's going to pull a big surprise.
With shooting in NYC, local actors - as is the case with The Good Wife [set in Chicago, but shot here] and, among others, the L&O franchise - will certainly be seen to advantage. The cinematography and editing, often seguing from reality to fantasy [ala Nine], is stellar. The music by Marc and is way above average and some tunes will probably get exposure beyond the show.
You can expect a CD before long and, this being theater, you might even expect SMASH to actually birth Marilyn!: The Musical. Riedel call Bernie! Bet you won't even have to audition.
SMASH

Cast and Character Score Card

* Emmy winner Debra Messing [Will & Grace] - Julia Houston, a songwriter/lyricist/librettist and loving wife and mom. Messing's def one of the series blessings
*Tony and and three-time DD nom Christian Borle [Legally Blonde; soon, Peter and the Starcatcher - Tom Levitt, Julia's co-writing partner with a smash already at the Shubert
* Megan Hilty [9 to 5] - Ivy Lynn, acting 10 years, and now in a Bway musical, but it's the chorus. Playing MM is her game
* Katharine McPhee [runner up, fifth season, A.I.] - waitress Karen Cartwright, not from Kansas, but Iowa, who's also in the game
*Oscar- winner Anjelica Huston - Eileen Rand, the musical's tenacious producer, who's dealing with a pending divorce, a vindictive soon-to-be ex and financial dilemmas
* Jack Davenport [Pirates of the Caribbean] - Derek Wills, the brilliant and womanizing director, who unlike in real life has no qualms about putting the lead in a compromising position

* Tony nom and DD-winner [as well as four-time nom] Brian d'Arcy James - Frank Houston, Julia's husband, a teacher who's now a house husband
* Raza Jaffrey - Asian Brit Dev Sundaram, Karen's live-in, who works in city gov
* Jaime Cepero - Ellis Tancharoen, Tom's personal assistant with an agenda of his own
* Michael Cristofer - Jerry, Eileen's soon-to-be ex and ex-producing partner, who adds good doses of venom
* Will Chase - Michael Swift, a Bway star and Julia's old flame
* Uma Thurman - a movie star [Episode Five] who wants to star in Marilyn: The Movie


Save and Go
Broadway Week ends February 4. Go to nycgo.com/broadwayweek for participating shows for 2-for-1 tkts. Enter to win tkts for a year!. The promotional code is BW2012. Service charges apply. Use the code at box offices and save.
Just as Broadway Week comes to an end, tourism org NYC & Company kicks off their fifth of Off -Broadway Week with 2-for-1 tkts for 39 Off-Bway shows through February 12. For participating shows, go to nycgo.com/offbroadwayweek. They include limited-engagement productions Carrie, Galileo and Look Back in Anger and long-run hits Avenue Q, Fuerza Bruta: Look Up, Rent and Stomp.
Encores! Rolls into 19th Season

City Center Encores! 19th season begins February 8 with extended performances of Sondheim's Merrily We Roll Along, with book by George Furth. Longtime Sondheim James Lapine will direct. M.D. is Rob Berman, with musical staging by Dan Knechtges [Lysistrata Jones, Xanadu]. There'll be 15 performances, through February 19. Saturday mats will be followed by cast and artistic team discussions.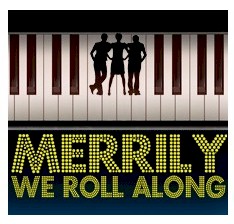 Headlining the 30-member cast are Colin Donnell [of Anything Goes is Franklin Shepard], Celia Keenan-Bolger, Adam Grupper Lin-Manuel Miranda, Elizabeth Stanley and Betsy Wolfe.

The production will be a bit of a departure for Encores!, which revives the original original of a show, is based on Furth and Sondheim's rewrite for the 1985 La Jolla Playhouse run with elements of the 1990 Leicester, England, and 994 York Theatre production.

Merrily We Roll Along is the story, told backwards [1980-1955], of the compromise of youthful ideals, based on the 1934 Kaufman and Hart play. It examines the lives of three people whose friendship is tested by time, events, ambition and fate. While the Bway outing was shortlived, the score - which includes some of Sondheim's most brilliant and bruising songs, such as "Not a Day Goes By," "Old Friends," "Our Time" and "Opening Doors" - never lost favor.

Donnell plays Franklin Shepard, an idealistic Bway composer turned Hwood mogul; Miranda is Charley Kringas, Shepard's partner and best friend; Keenan-Bolger portrays Mary Flynn, their loyal but disillusioned friend; Wolfe, Shepard's wife; and Stanley, Gussie Carnegie, the star of the duo's first.


Lead Sponsorship for Merrily is provided by the Shen Family Foundation, Douglas Cramer and Hugh Bush and Perry and Marty Granoff. Encores! sason sponsors are Newman's Own Foundation, the Stephanie & Fred Shuman Fund, Stacey and Eric Mindich and Daryl and Steven Roth.
Coming up is Laura Osnes starring in Rodgers and Hammerstein's Pipe Dream, playing seven performances March 28 - April 1. The Encores! presentation marks the first time the musical will be seen on the NY stage since the 1956 original. Jule Styne and Leo Robin's Gentlemen Prefer Blondes will close the season.

<?xml:namespace prefix = u1 />
Season tkts are available at the City Center box office. Individual tkts are $25-$125, but only limited seating is available. Book also through CityTix, (212) 581-1212, or online at www.NYCityCenter.org.

Broadway by the Year Returns

The 12th season of the acclaimed Broadway by the Year concert series kicks off at Town Hall February 13 @ 8 P.M. with The Broadway Musicals of 1946. Creator, writer and host Scott Siegel says, "One reason for the longevity of Broadway by the Year is the depth of commitment so many stars have made. Our audiences are passionate about their love for show music. The shows represent the link between Broadway past and present, loving the old music while warmly embracing the current stars.

The season opener has quite a lineup: Ben Davis, Dameka Hayes, Marilyn Maye, Jessie Mueller and Kerry O'Malley [both straight out of On a Clear Day...], Alice Ripley, Noah Racey [who'll also choreograph], and Tom Wopat. Songs will be performed from Annie Get Your Gun, Call Me Mister, Park Avenue and St. Louis Woman. Ross Patterson is M.D., accompanied by his Little Big Band.
Upcoming: March 19, The Broadway Musicals of 1950 [Guys and Dolls, Call Me Madam, Out of this World, Dance Me A Song]; May 14, The Broadway Musicals of 1975 [A Chorus Line, The Wiz, Chicago, The Rocky Horror Picture Show, Shenandoah]; and June 11, The Broadway Musicals of 1987 [Les Miz, Starlight Express, Into the Woods, Stepping Out, Stardust].
Tkts are $45 - $50 and 45, and available at the Town Hall box office and through TicketMaster, (800) 982 2787 or www.ticketmaster.com.
All-Star Lineup Salute Kristin Chenoweth
Drama League's 28th Annual Musical Celebration of Broadway on February 6 at the Pierre honors Tony and Emmy-winner Kristin Chenoweth. The gala always presents a stellar show with a Who's Who of show biz. This one's no different: Brent Barrett, Laura Benanti, Jason Graae, Joel Grey, Cheyenne Jackson, Norm Lewis, Debra Monk, Donna Murphy, Marni Nixon, Brad Oscar, Elaine Paige, Carole Shelley, Marlo Thomas, artists from Sesame Street, and, in tribute to Chenoweth, Wicked original and current cast members.

There'll also be performances by seven actors chosen from youth programs at Tada! YouthTheater, Rosie's Theater Kids and young actors in Bway shows [Petra Jevremov, Andie Mechanic from The People in the Picture; Rachel Resheff, Mary Poppins, and Carly Rose Sonenclar, Wonderland]. Bruce Barton will announce. Evan Pappas directs, with Steve Freeman as M.D. Proceeds support the League's Directors Project educational initiatives.


D. L.'s online auction is currently live through February 5. You can vie for over 45 luxury items at www.biddingforgood.com/thedramaleague. Tkt start at $750. To purchase or for more information, call (212) 244-9494 X. 27 or online at www.dramaleague.org/events/2012-benefit-gala.
Brunch with the Stars
You can have brunch, sort of, with many of your favorite stage stars, all thanks to an idea veteran production stage manager Roy Harris, now on Roundabout's The Road to Mecca, had. And while you're eating you're helping a good cause.
There's a tradition on Bway. "Let's do brunch," says everyone, but because of time restraints of having to be at shows often an hour or more before curtain, it's not always possible to go out. So, if you can't go to brunch, bring brunch to the theatre.
More Recipes & Reminiscence [Broadway Cares, 117 pages, soft cover, 40 B&W photos/sketches, spiral bound; $10 plus postage and handling] is Harris' tribute to the fun times he's hosted with company members and crew doing pot luck Sunday brunches the last 12 years, beginning with the 2000 production of A Moon for the Misbegotten and ending with 2011's The Lyons and Good People.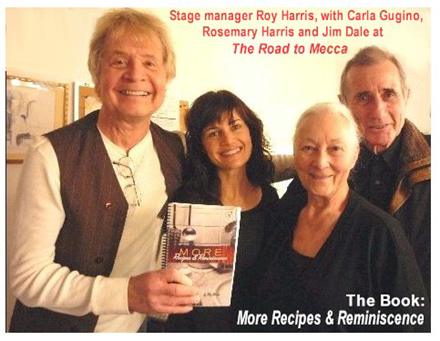 "I've been fortunate in the artists I've worked with the 25 years," says Harris, "and needed a way to express my appreciation. I came up with 56 artists - and asked them to give a recipe that they particularly liked. Often, the recipe was the item brought to the brunches. In addition to the array of dishes, there're stories on our working relationship and friendship. I love the stories. The recipes are sort of like the icing on the cake."
Recipes & Reminiscence sold out and this book, in a new printing, is a sequel with many of the original artists and several new ones. Among the more than 50 are Jane Alexander, Joan Allen, Eileen Atkins, Kevin Bacon, Andre Bishop, Patricia Clarkson, Tyne Daly, Blythe Danner, Judith Ivey, Madeline Kahn, Laura Linney, John Lithgow, Cynthia Nixon, Tony Roberts, Frances Sternhagen, Daniel Sullivan, Wendy Wasserstein, Dianne Wiest, and Joanne Woodward.
"I'm proud of the artists I've worked with," states Harris, "which made it
fun to remininiscence about the several times I staged managed with them or the only time. Take Dan. We've done 21 shows! His contribution and that of my beloved friend Wendy are heartfelt. Besides the work being wonderful, Sundays were always a treat you looked forward to. All that wonderful food - and beverages, always a surprise. You never knew what anyone would bring!"
The book can be ordered at www.BroadwayCares.org, by calling Peter Borzotta, (212) 840-0770, and Amazon.com. Harris' latest book, Brunch over Broadway, all recipes, is also available [$20]. All proceeds benefit the programs of Broadway Cares/Equity Fights AIDS.


Love Really Never Dies: The Phantom Returns
We may not be able to see Andrew Lloyd Webber's sequel, Love Never Dies, to his POTO world wide blockbuster on Bway, but on February 28 and March 7 @ 7:30 P.M. there'll be a worldwide cineplex premiere of the fully-staged production from Melbourne's Regent Theatre [NCM Fathom and Omniverse Vision], where it opened last May. The Melbourne production will also soon be available on DVD and Blu-ray.
Among area theatres hosting are the AMC Empire, AMC Kips Bay 15 and Regal's Union Square 14. [Presenter NCM Fathom is the Metropolitan Opera's partner in the telecast of live opera to movie screens in HD.]

This presentation, directed by Simon Phillips and sporting a new
design by Gabriela Tylesova and an all-Aussie team,
was taped live in September. All this just as the West End

POTO

celebrated its 25th anniversary with a lavish Royal Albert Hall staged concert and the Bway production's topping 10,000 performances to insure its rep as the longest running Bway show ever.


Lyrics are by Glenn Slater and Charles Hart [POTO], with a book by Ben Elton, Slater and Lloyd Webber. The score is quite ecletic and boasts one absolutely sensation power ballad, "'Til I Hear You Sing," sung by the Phantom. Daily Mail theater critic Michael Coveney wrote, after seeing an advance screening, "It's the best film of a stage musical I've ever seen." That's a far cry from the London reviews on the opening.

The musical, starring the golden voiced Sierra Bogess [The Little Mermaid] and Ramin Karimloo [who headlined the Royal Albert Hall concert], opened at London's Adelphi in March, 2010 [closing after just over a year], directed by Jack O'Brien and choreographed by Jerry Mitchell. The show closed in November 2010 for substantial re-writes and reopened with new direction from producer Bill Kenwright [Blood Brothers]. A planned Bway production was postponed; however, Lloyd Webber, pleased with the Aussie production, is weighing bringing it here.

[Trivia: In 2007 is was announced that the sequel would be delayed because Lloyd Webber's six-month-old Turkish Van kitten got inside his Clavinova digital piano and deleted the score. Lloyd Webber eventually reconstructed it.]
The telecast, another testament to the power of the Phantom and also Lloyd Webber's Really Useful marketing group, will headline Ben Lewis as Phantom and Anna O'Byrne as Christine Daaé, among a cast of 36, spectacular sets and colorful costumes with the score performed by a 21-piece orchestra.

At first, Lloyd Webber didn't regard Love Never Dies as a sequel, stating, "It's a stand-alone piece." Eventually he went on to admit, "It clearly is a sequel, but I really do not believe that you have to have seen Phantom of the Opera to understand Love Never Dies."

Love Never Dies is set in 1907, about a quarter century after the original, which takes place in 1881. Christine is invited to perform at a new Coney Island attraction, Phantasma by an anonymous impresario and, with her husband Raoul and son Gustave arrives unaware she's been tracked down by that certain gent, who kept a low profile for much too long "beginning a new life in New York." Continuing the story didn't sit well with a lot of POTO fans, but in spite of negative and luke warm reception it managed a decent W.E. run and original cast two-disc recording.
Love Never Dies tkts are $18 and available at participating theater box offices and online at www.fathomevents.com/loveneverdies.aspx, where there'll also be a list of locations. You can pre-order the DVD [Universal Studios], dropping in the U.S. on May 29, at Amazon.com [SRP, $20].


Sondheim K-12
Children will listen, hopefully, on February 5 @ 11 A.M. in Kaufman Center's Merkin Hall [129 West 67th Street, between Broadway and Amsterdam] when Broadway Playhouse, in its sixth season, presents Stephen Sondheim: Introducing Broadway Classics to a New Generation. There'll be mini-musicals, medleys, sing-alongs and interactive games for kid-friendly explorations of Sweeney Todd, Into the Woods, Follies and A Funny Thing Happened... Sean Hartley hosts. The series concludes March 18 with "Yip" Harburg and two of his most famous works: Finian's Rainbow, The Wizard of Oz. Tkts are $20 and available at the Kaufman box office, www.kaufman-center.org/mch or by calling (212) 501- 3330


Carnaval in

NYC

World Stage Productions/Broadway Asia present Brazil! Brazil!, with a cast of 15, blending the rhythms of Carnaval in Salvador and Rio with capoeira, acrobatics, samba and soccer-inspired street dance - all in celebration of Brazilian history, culture, and the peoples' indomitable spirit. Brazil! Brazil! plays at the New Victory February 10 - 26, right in the middle of actual Carnaval south of the border. Much of the music is by actual Carnaval composers, and will make you want to get up and dance.
The show is an intense one hour, no intermission. Tkts are $14-$38 [members, $9-$25] and available at the New Victory box office or online at www.newvictory.org.

Here's a sneak peak. Make sure your speakers are on:
Ellis Nassour is an international media journalist, and author of Honky Tonk Angel: The Intimate Story of Patsy Cline, which he has adapted into a musical for the stage. Visit www.patsyclinehta.com.

He can be reached at [email protected]





Why are you looking all the way down here?
For more articles by Ellis Nassour, click the links below!

Previous: Jim Dale on the Road to Mecca; Audiences Loves You Porgy (and Bess); Monday, January 30th - Oh, What a (Busy) Night!; More Opera from the Met Archives; New to DVD/CD; Tony Bennett on Great Performances

Next: Best of Cast Party II; Post Mardi Gras in New Orleans; National WWII Museum; Fred and Adele; On DVD: Downton Abbey and Real High School Musicals; Last Chance; Cinema for Smithsonian; Remembering Whitney Houston; Mark Your Calendar

Or go to the Archives