24 Hours Can Go So Fast
The 24 Hour Musicals, created from scratch over a 24-hour period by a bunch of insanely talented artists, unfolded last night at the Gramercy Theatre as a benefit for The Exchange, a not-for-profit organization that develops new theatre work through productions and its development center in the Catsklls, The Orchard Project. Here are my pix of the four mini-musicals and of the after-party at the National Arts Club. For more information, click here
********************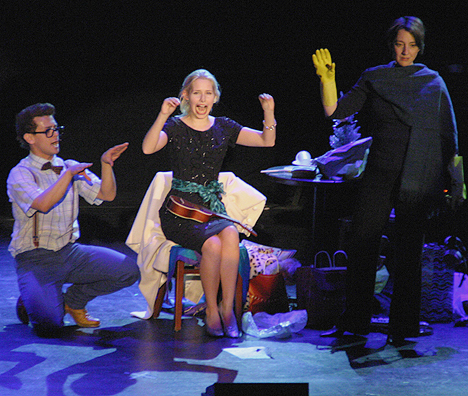 Michael Longoria, Nellie McKay, and Theresa McCarthy in Multiphobia; book and lyrics by Brian Crawley; music and lyrics by Gabriel Kahane; directed by Ted Sperling; musical direction by Andy Einhorn; choreography by Denis Jones.
---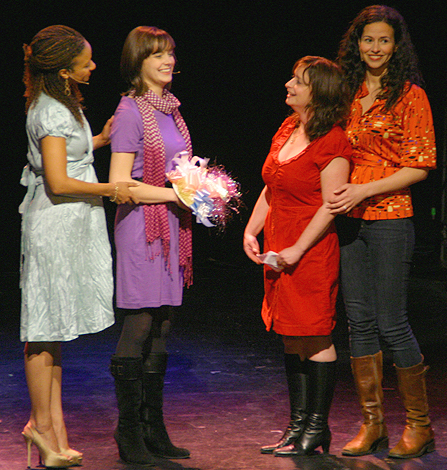 Tracie Thoms, Marnie Schulenberg, Rachel Dratch, and Mandy Gonzalez in Rachel Said Sorry; book by Gina Gionfriddo; music and lyrics by Lance Horne; directed by Maria Mileaf; musical direction by Fred Lasson; choreography by Melissa Rae McMahon and Sean McKnight.
---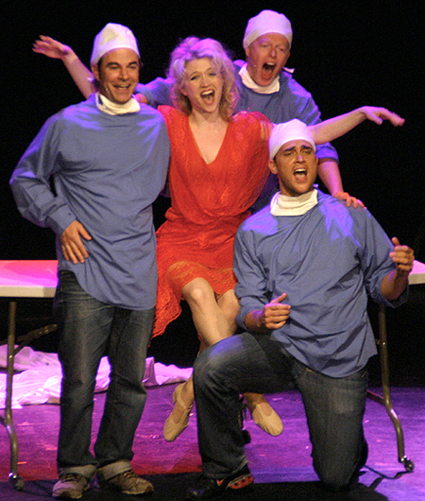 Roger Bart, Scarlet Strallen, Jesse Tyler Ferguson, and Cheyenne Jackson in Dr. Williams; book by Rinne Groff; music and lyrics by Justin Paul and Benj Pasek; directed by Trip Cullman; musical direction by Oran Eldor; choreography by Sean McKnight and Melissa Rae McMahon.
---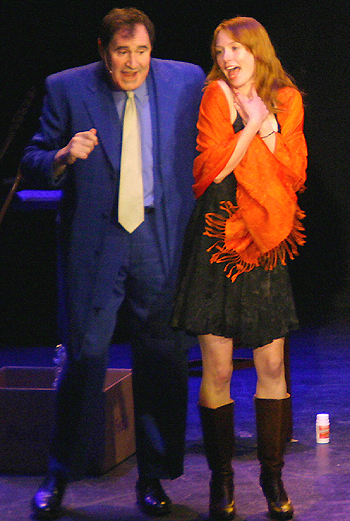 Richard Kind and Alicia Witt in Islands; book by Jonathan Marc Sherman; music and lyrics by Robin Goldwasser and Julia Greenberg; directed by Sam Gold; musical direction by Wendy Cabot; choreography by Denis Jones.
---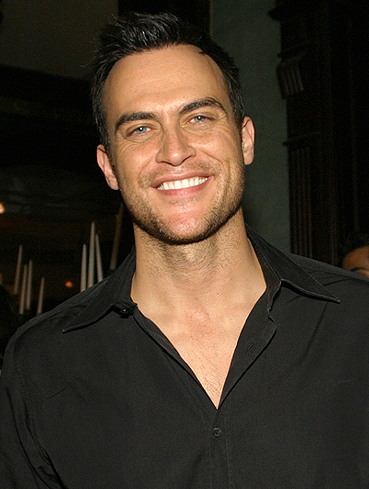 Among the company members seen decompressing at the party after their ordeal was Broadway heartthrob Cheyenne Jackson.
---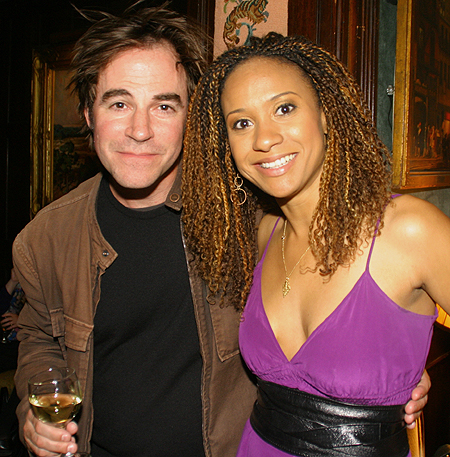 Roger Bart (late of Young Frankenstein) and Tracie Thoms (late of Rent).
---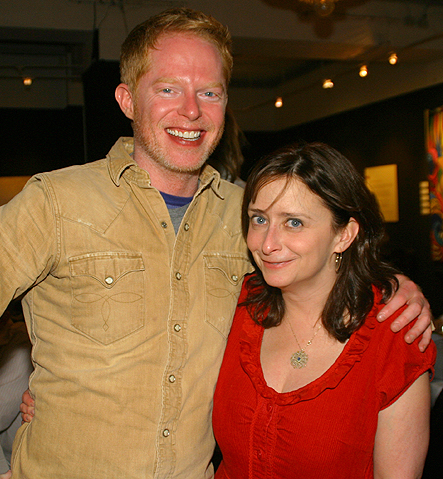 Jesse Tyler Ferguson (The 25th Annual Putnam County Spelling Bee) and Rachel Dratch (Saturday Night Live).
---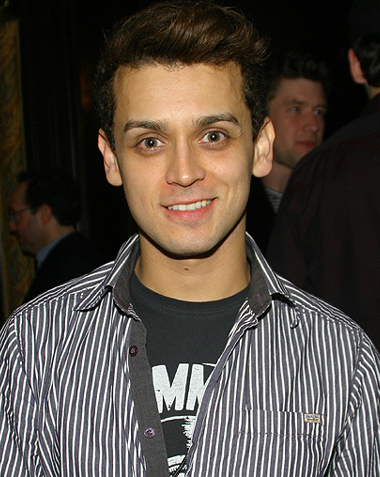 Michael Longoria, who spent three years playing two roles (Joe Pesci and Frankie Valli) in Jersey Boys.
---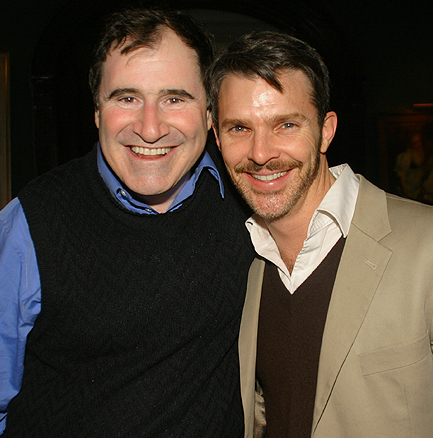 Broadway vets Richard Kind and Denis Jones.




Published on Tuesday, April 14, 2009




Michael Portantiere has more than 30 years' experience as an editor and writer for TheaterMania.com, InTHEATER magazine, and BACK STAGE. He has interviewed theater notables for NPR.org, PLAYBILL, STAGEBILL, and OPERA NEWS, and has written notes for several cast albums. Michael is co-author of FORBIDDEN BROADWAY: BEHIND THE MYLAR CURTAIN, published in 2008 by Hal Leonard/Applause. Additionally, he is a professional photographer whose pictures have been published by THE NEW YORK TIMES, the DAILY NEWS, and several major websites. (Visit www.followspotphoto.com for more information.) He can be reached at [email protected]


Why are you looking all the way down here?
For more articles by Michael Portantiere, click the links below!

Previous: Dear Abby

Next: Bring On the Broadway Boys!

Or go to the Archives