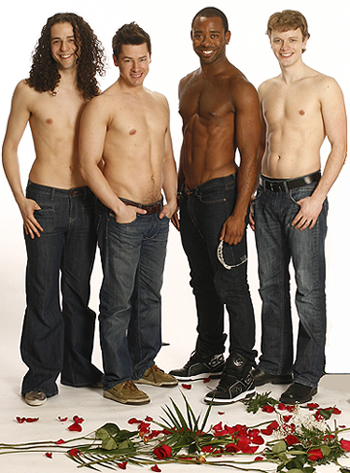 Bring On the Broadway Boys!
It's such a fabulous idea that it's amazing no one thought of it before: Round up some of Broadway's hottest male performers to represent the shows in which they appear and have them compete for the crown in an annual beauty and talent pageant to benefit a very worthy cause.
Now in its third year, The Broadway Beauty Pageant (fomerly titled Mr. Broadway) wil take over Symphony Space this coming Monday, April 20, at 8pm. The contestants, pictured here from left to right, are Anthony Holllock ("Mr. Hair"), Adam Fleming ("Mr. Wicked"), James Brown III ("Mr. Little Mermaid"), and David Larsen ("Mr. Billy Elliot") -- plus the estimable Tony James ("Mr. Lion King"), who couldn't make it to the publicity photo shoot at Carol Rosegg's studio.
As if having cute guys go for the gold in talent, swimsuit, and interview competitions weren't enough to sell tix, the pageant has even more to offer. Although the winner is ultimately chosen by audience vote, this year's panel of celebrity judges consists of four of the quckest wits on the planet: Charles Busch, Ana Gasteyer, Beth Leavel, and Seth Rudetsky. The reigning Miss New York, Leigh-Taylor Smith, will crown the winner. And the whole shebang will be hosted by Tovah Feldshuh, who's currently winning plaudits for her Broadway performance in the title role of Irena's Vow.
Tovah hosted the first of these pageants, two years ago -- and that's a story in itself. "It was a very last minute thing," she remembers. "Someone couldn't show up, so they called me at the 11th hour. I wore a beautiful dress with a lot of diamonds. I'm going to be very elegant again this year. I won't show up in a black Armani suit -- which is gorgeous too, but rather than being sleek and chic, I think I'll over-dress. And I love looking at guys, so what could be better for me? It'll be a riot."
The Broadway Beauty Pageant benefits the Ali Forney Center, which provides housing and other services for homeless LGBT youth, many of whom are on the streets because they've been disowned by their families. While Tovah has no doubt that this year's pageant will be a blast, as the previous two have been, she recognizes the deadly serious importance of the cause the event is benefiting -- and she draws a parallel to the work of the real-life woman she portrays in Irena's Vow:
"During World War II, Irena Gut Opdyke saved the lives of 12 Jewish acquaintances and a newborn baby by hiding them in the basement of a high-ranking Nazi official's home. The Ali Forney Center performs a similarly courageous and vital service. It's all about bravery in the face of opposition. That a child would be thrown out of his home for being gay is an outrage. That two brothers walking arm in arm in New York City were attacked because they were perceived to be gay is also an outrage. And why should people who are straight care that people who are gay want to marry each other? What's the problem? To be able to empathize with those who are not like us is the most crucial pro-peace actvitity one man or one society can do for another."
Tickets for The Broadway Beauty Pageant are available online via SymphonySpace.org and are priced at $50, $75, and $150. Symphony Space is located at 2537 Broadway at 95th Street. Hope to see you there!
********************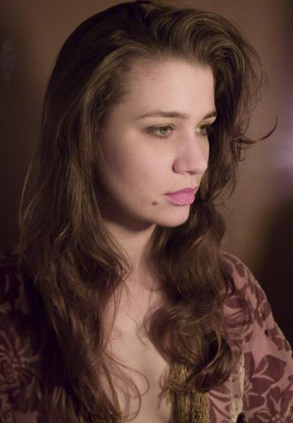 And Then There's Maude
Maude Maggart is one of my favorite singers, so I was there with (figurative) bells on for the opening performance of her current gig in the fabled Oak Room of the Algonquin Hotel, which continues through May 23.

She did not disappoint -- not that I ever dreamed she would. USA-Today has described Maude's vocal tone as "sulty-sweet," and that's spot on; she can sound wondefully wistful, sexy, romantic, or innocently childlike, depending on the material. I've always thought her singing calls to mind Twiggy's beguiling performance on the cast recording of My One and Only, except that Maude's voice has greater range and a larger variety of colors.

All of this is brought to bear in her present show, which ranges from the American songbook classics "The Man I Love", "Love is Here to Say" (both by the Gershwins), and "Moonshine Lullaby" (Irving Berlin) to more-recent-vintage items such as Dolly Parton's "Coat of Many Colors," Maury Yeston's "My Grandmother's Love Letters," The Roches' "Runs in the Family," and Babbie Green's "No Way, Jose."

Whether or not you can make it to the Oak Room, be advised that the gorgeous Ms. M's latest CD, titled Maude Maggart Live, includes transporting renditions of "Skylark," "I Can't Get Started," "All the Things You Are," "The Song is You," and other perennials. My advice is that you get yourself to Amazon.com or to your local record store (if such things still exist) and pick up the disc for a listen or two -- or a hundred.




Published on Thursday, April 16, 2009




Michael Portantiere has more than 30 years' experience as an editor and writer for TheaterMania.com, InTHEATER magazine, and BACK STAGE. He has interviewed theater notables for NPR.org, PLAYBILL, STAGEBILL, and OPERA NEWS, and has written notes for several cast albums. Michael is co-author of FORBIDDEN BROADWAY: BEHIND THE MYLAR CURTAIN, published in 2008 by Hal Leonard/Applause. Additionally, he is a professional photographer whose pictures have been published by THE NEW YORK TIMES, the DAILY NEWS, and several major websites. (Visit www.followspotphoto.com for more information.) He can be reached at [email protected]


Why are you looking all the way down here?
For more articles by Michael Portantiere, click the links below!

Previous: 24 Hours Can Go So Fast

Next: She Dreamed a Dream in Time Gone By

Or go to the Archives