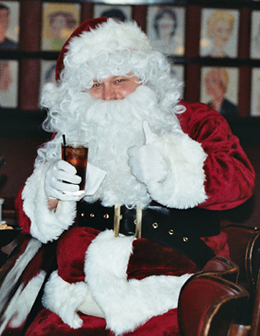 Show Me Christmas!
It probably has something to do with theater people really wanting to help bring audiences out of the doldrums engendered by the still faltering economy, but there seem to be way more Christmas-themed shows scheduled this year than ever before. Aside from the usual extravaganzas, such as the Radio City Christmas Spectacular, the New York City Ballet production of The Nutrcracker, and the return to Broadway of White Christmas, there are plenty of smaller-scale shows that promise loads of holiday cheer. Here are a few that are bound to make you merry.
First out of the gate is The Joe Iconis Christmas Spectacular at Ars Nova, Dec. 5 & 6 at 8pm. Iconis is a songwriter of note, and the show will feature brand-new holiday songs as well as old favorites. And get a load of the cast: Two of the funniest women in the universe, Susan Blackwell and Mary Testa, will be on hand for this "insane celebration of all things red and green," along with Annie Golden as "The Rock and Roll Christmas Angel," and such other talents as Liz Lark Brown, Bill Coyne, Matt Hinkley, Lorinda Lisitza, Jason Tam, and Jason "Sweet Tooth" Williams (that's him as Santa in the photo at right). I'm told that both shows are practically sold out, but if you want to try to get in, visit www.ArsNovaNyc.com.
Brent Barrett, one of Broadway's best singers, has a new Kritzerland CD titled Christmas Mornings, which you should definitely get a hold of -- and he's celebrating the album's release with two concerts at Birdland, on December 13 and 14. If you're smart enough to get yourself to the club on one of those evenings, you'll hear Barrett wrap his gorgeous pipes around such classics as "Winter Wonderland," "Christmas Waltz/It's the Most Wonderful Time of the Year," "Lovers on Christmas Eve" (from I Love My Wife), "O Holy Night," "The Christmas Song," and "A Place Called Home" (from the Alan Menken/Lynn Ahrens version of A Christmas Carol). For more info, go to www.birdlandjazz.com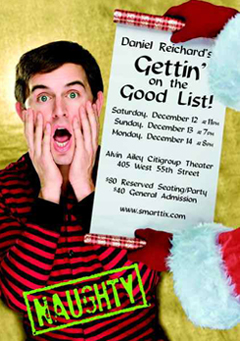 The amazingly talented Daniel Reichard (Jersey Boys, Radiant Baby, Forbidden Broadway, etc.) will sing the hit songs of artists such as Bing Crosby, George Gershwin, Coldplay, Alicia Keys, and Paul Williams in his Christmas show, a benefit for the human relief organization International Partners in Mission. Cutely titled Gettin' on the Good List, the show is slated for December 12, 13, and 14 at the new Alvin Ailey Citigroup Theater (405 West 55th Street, at Ninth Avenue). Reichard will be joined by surprise guests, including Broadway stars and New York City personalities, for what's billed as "a fully-realized Christmas extravaganza." Click here for more information or to purchase tickets.
Another Broadway star with a great voice, James Barbour, will give a series of holiday concerts December 11-19 at Bill's 1890 Restaurant & Café (57 East 54th Street, between Park & Madison), with musical direction by the revered opera maestro Constantine Kitsopoulos. In addition to a slew of holiday songs, the evening will feature a reading of Clement Clarke Moore's classic 1822 poem "The Night Before Christmas," which Moore wrote for his nine children while they lived in the building that now houses Bill's 1890. (How's that for site-specific theater!) Barbour's special guest for this engagement will be stage veteran, recording artist, and concert Diva Stacy Francis. For tickets, go to www.smarttix.com

If you're in the mood for a Christmas show quite a bit different from the norm, head on down to historic Judson Memorial Church in the Village and check out this year's revival of Al Carmines' Christmas Rappings, "a high-spirited, often hilarious take on the traditional Christmas story, based on the birth narratives in four gospels." A 100-member company including solo vocalists, a chorus, dancers, and a pianist will perform this "joyous oratorio," December 4-19. The show has been presented "frequently though intermittently" since its premiere in 1969, and has become a Greenwich Village tradition in and of itself. For more information and/or reservations, go to www.judson.org.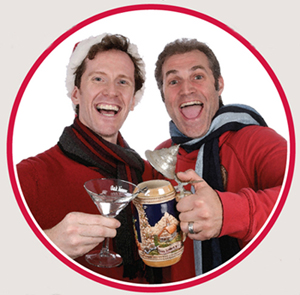 Marc Kudisch and Jeffry Denman -- the former a three-time Tony Award nominee, the latter a 2009 Astaire Award nominee -- will bring a brand-new Christmas show titled The Holiday Guys to the Gotham Comedy Club (208 West 23rd Street) every Monday evening this month, December 7, 14, 21, and 28, at 7pm. It's described as "a non-traditional, traditional holiday show complete with song, dance, and silliness." I'm here to tell you that when these guys duetted on "Have Yourself a Merry Little Christmas" at the recent Broadway Unplugged concert at the Town Hall, the audience went nuts; so I for one am definitely going to attend their holiday show, with (Christmas) bells on! And I'm hoping that Kudisch will reprise his brilliant rendition of the (in)famous South Park song "A Lonely Jew on Christmas," which I was lucky enough to catch him performing several years ago in a holiday show at the no-longer-extant Sam's restaurant on West 45th Street. For ticket information, go to www.gothamcomedyclub.com or call 212-367-9000.

On December 14 at 9:30pm, Joe's Pub will showcase the second annual New York City Christmas concert, featuring special guests Sherie Rene Scott and Raul Esparza as well as performances by Orfeh, Sally Wilfert, Sierra Boggess, Chester Gregory II, Andy Karl, Tyler Maynard, and other fun folk. Stafford Arima will direct the concert, which is being presented by ASTEP (Artists Striving to End Poverty) and Sh-K-Boom/Ghostlight Records. For more info, visit www.joespub.com.

Last but decidedly not least, the long-awaited Off-Broadway premiere of Sister's Christmas Catechism, by the creators of the hilarious, long-running hit Late Night Catechism and starring everyone's favorite "Sister," Maripat Donovan, is playing through January 3 at The Downstairs Theatre at Sofia's (227 West 46th Street). To purchase tickets, go to www.entertainmentevents.com. Have a merry!




Published on Wednesday, December 2, 2009




Michael Portantiere has more than 30 years' experience as an editor and writer for TheaterMania.com, InTHEATER magazine, and BACK STAGE. He has interviewed theater notables for NPR.org, PLAYBILL, STAGEBILL, and OPERA NEWS, and has written notes for several cast albums. Michael is co-author of FORBIDDEN BROADWAY: BEHIND THE MYLAR CURTAIN, published in 2008 by Hal Leonard/Applause. Additionally, he is a professional photographer whose pictures have been published by THE NEW YORK TIMES, the DAILY NEWS, and several major websites. (Visit www.followspotphoto.com for more information.) He can be reached at [email protected]


Why are you looking all the way down here?
For more articles by Michael Portantiere, click the links below!

Previous: Well Met

Next: Hugh Jackman and Daniel Craig: Gypsies of the Year

Or go to the Archives